Wichita Falls Rider 2023 RB/LB Anquan Willis (6'1, 220) had a tremendous junior season, leading the Raiders on a deep playoff run.
Willis could smile and keep a positive attitude even during a tough moment following a season-ending loss to Lubbock Cooper. Something very apparent as DCTF spoke to him post-game regarding the successful season and where his program will go from here.
"I feel like we came a long way. We made a lot of memories together. We felt like this was it," Willis said. "We definitely are going to work twice as hard."
Despite a tall task on Friday, Willis was able to flash his ability on both sides of the ball against a physical Cooper team upfront.
Willis opened the game with two sacks off of the edge, helping set the tone for what would end up being a low-scoring grinder. By the conclusion of the game, he'd finish with three total (sacks). The most noticeable trait he showed was a quick first step and his violent demeanor at the point of contact.
From an offensive perspective, Willis was never able to truly get loose, but he showcased some of the potential that he displayed during the duration of the season. A campaign in which Willis broke school records for both rushing touchdowns and points scored in a season.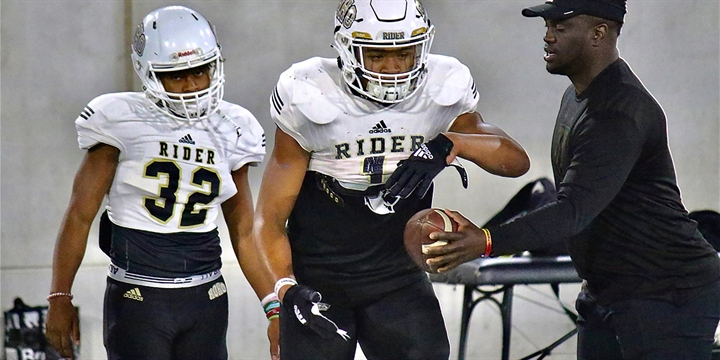 A good way to describe Willis' running style is fierce and determined. He doesn't necessarily have that "next gear," but he has enough speed paired with bullying style to get the job done with effectiveness at the prep level.
Recently, Willis' name has started to pick up on the recruiting trail.. While it's still early, SMU and Texas Tech have decided to extend offers with others beginning to show interest. Schools contacting the Rider star include Houston, Oklahoma State and Vanderbilt.
Regarding Texas Tech, head coach Joey McGuire offered Willis over a phone call on the sideline during the post-game of a playoff win over Carrollton Creekview. The moment was caught on video going viral within the TXHSFB world. Since then, Willis reports that the two have been building a relationship.
"My first offer was Texas Tech. He (Joey McGuire) called me over the phone, and we still talk to this day. It's a good college, and I could see myself playing there," Willis told DCTF.
SMU followed up a couple of days later. However, with the recent coaching change on The Hilltop the status of that offer is a bit unknown at this point. Nonetheless, Willis spoke highly of the Mustangs and noted the campus as something that stands out to him.
Willis noted that he does have a preference in position. While his Texas Tech offer was at linebacker, the Rider product does enjoy the scoring aspect of playing running back.
"I know my Texas Tech offer was at linebacker," Willis said. "I've always played running back and middle linebacker. I like hitting people, of course, but I like scoring touchdowns too."
One other note of interest is that he grew up a fan of Florida. That sentiment still stands today for Willis, and that would be a dream offer for the rising star.
This article is available to our Digital Subscribers.
Click "Subscribe Now" to see a list of subscription offers.
Already a Subscriber? Sign In to access this content.