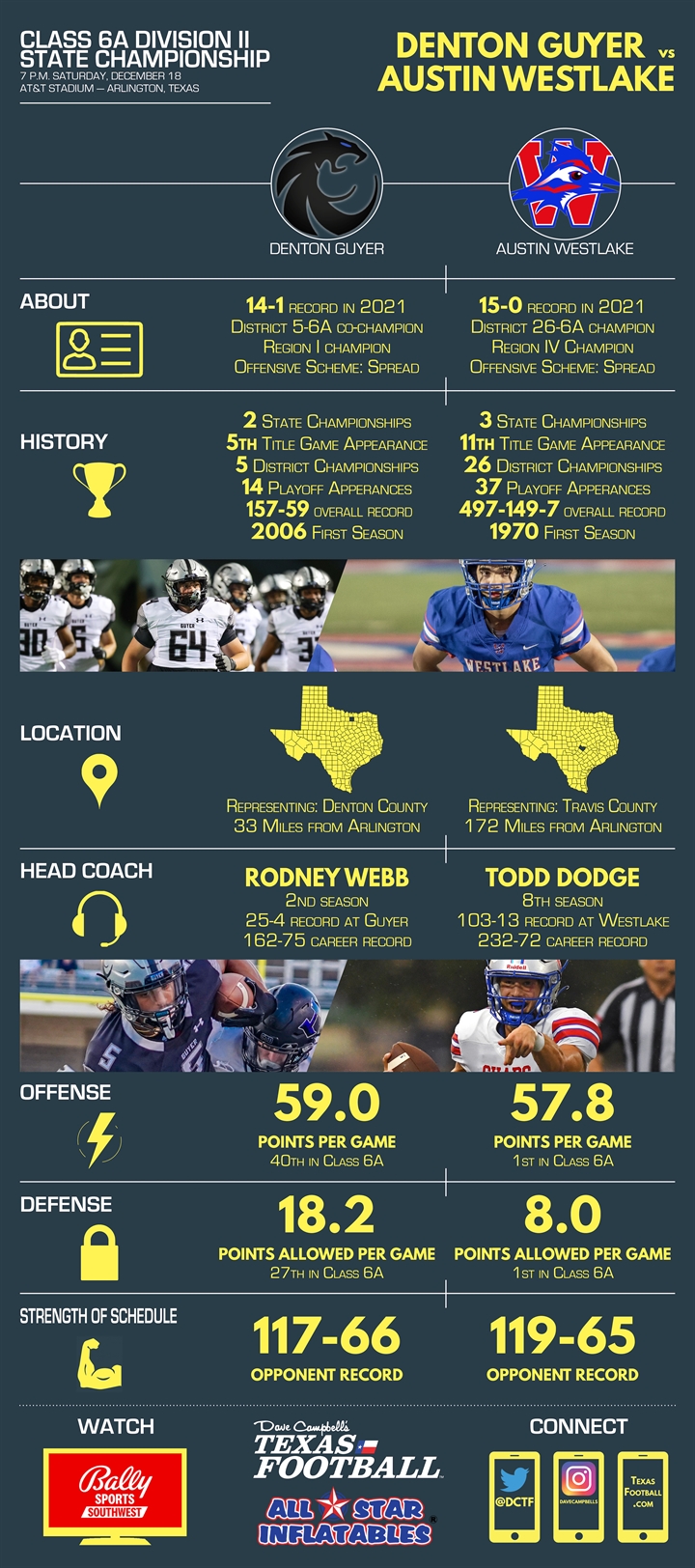 Denton Guyer (14-1) vs. Austin Westlake (15-0), 7 p.m. Saturday at Arlington's AT&T Stadium
It's a rematch of the 2019 state title game where Austin Westlake routed a banged up Denton Guyer squad to give head coach Todd Dodge his first state title at Westlake. It was also former head coach John Walsh's final game at Guyer. This time around Westlake is seeking its third consecutive state title, Dodge is coaching in his final game before retirement and Rodney Webb is now the head coach at Guyer. Guyer played a perfect half of football last week in its semifinal win over Tomball. The Wildcats raced out to a 45-0 halftime lead and then cruised to an easy 59-14 victory. QB Jackson Arnold threw only eight passes on the night, but three went for touchdowns and the Guyer defense really stuffed Tomball's offense and set its offense up with good field position time and time again. The Wildcats defense forced a pair of turnovers and they had a punt return for a touchdown. Westlake in a battle of unbeaten teams absolutely blasted defending Division II state champion Katy, 45-14. QB Cade Klubnik tore the Katy secondary apart with 313 passing yards and five touchdowns and Westlake's defense held Katy to just 99 yards rushing and less than three yards per carry. Westlake was sensational in all three phases of the game, racing out to a 38-0 lead and cruising to the victory. Westlake is widely considered the top team in Texas; the Chaps have no weaknesses and are loaded with depth and superior talent. Guyer has been a roller coaster ride in the playoffs struggling in the third and fourth round of the playoffs before playing maybe their best game of the year against Tomball. Arnold as a wide-eyed freshman came into the game two years ago against Westlake in the second quarter and looked like a freshman against a lethal defense in Guyer's shutout loss. Arnold is now a junior and one of the top 2023 QB's in the country. An upset win in the state title game would be a full circle journey for the Wildcats QB. If Guyer plays like it did in the first half against Tomball, the Wildcats have a shot at the upset. But they've got to be perfect to beat this Westlake squad.
Stepp's Pick: Austin Westlake by 17
PLAYERS TO WATCH
Austin Westlake
QB Cade Klubnik - Arguably the top quarterback in the country, the Clemson commit is lethal with his arm and equally as dangerous when he scrambles out of the pocket. He shredded a very good Katy defense for over 300 yards and five touchdowns in the state semifinals last week.
WR Jaden Greathouse - Of all the weapons Klubnik has at his disposal, Greathouse is at the top of the list. The 6-foot-2, 206-pound junior is a handful to tackle, can beat you deep and make the tough catch over the middle. One of the top WRs in the country, Greathouse already has offers from Arkansas, Baylor, Miami, Oklahoma, Penn State and Texas.
DE Colton Vasek - At 6-foot-6 and 230 pounds, the junior edge rusher is one of the stalwarts on quite possibly the best defense in the state that has held 10 opponents to single-digits, including four of the last five. A high-level Division I prospect.
Denton Guyer
QB Jackson Arnold - What a difference a few years makes. Two years ago as a freshman, Arnold was thrust into action unexpectedly in the state championship game against Westlake and things didn't go well. Fast-forward to the present and Arnold has developed into one of the top junior quarterbacks in the country, including from Alabama. This will by far be his biggest test of the season, but no one is doubting Arnold's abilities in getting the job done.
S Peyton Bowen - One of the top safeties in the country regardless of classification, Bowen seeks defenders with a reckless abandon. He had an INT and scored on a punt return last week against Tomball. Watching him take on Westlake's talented wide receivers will be incredibly interesting. He already holds offers from Notre Dame, Alabama, Arkansas, Auburn, Baylor and many others.
WR Grayson O'Bara - One of the fastest receivers in the state, O'Bara will take the top off of any defense he faces. He's committed to Dartmouth.
(William Wilkerson)
KEY MATCHUPS
Westlake's Cade Klubnik vs. Guyer's Jackson Arnold
These two were underclassmen when Westlake knocked off Denton Guyer to win the Class 6A Division II title game. Klubnik, now a Clemson commit, is a senior on the verge of breaking Sam Ehlinger's record at Westlake for touchdown passes thrown in a career after passing for five scores in a blowout victory against Katy. Jackson, who was thrust into that game as a freshman after an injury to Eli Stowers, is a junior holding offers from programs such as Oklahoma. The quarterback who wins the dual likely leads his team to a championship.
Denton Guyer's offensive line vs. Westlake's defensive line
Denton Guyer scored 59 points in the semifinal win over Tomball. The Wildcats scored 45 in the first half. Guyer scored three rushing touchdowns in the win, and it'll need that type of production on the ground to contend with Westlake. The Wildcats can't win without balance. The Westlake defense is giving up eight points per game in 2021. No team scored more than 21 points against Westlake in the first 15 games of the season. The defensive line is the main reason why the program is on the verge of a third straight title.
Westlake vs. A letdown
Perfection is hard to achieve and even harder to maintain. Westlake is 44-1 over the last three seasons. The previous two ended in a championship, and the Chaparrels are only one performance away from capping off a third consecutive title to help head coach Todd Dodge ride off into the sunset. The offense is led by the best quarterback in the state and the defense only gave up 121 points in the 15 games this season. No one is picking Denton Guyer to win, and that puts pressure on Westlake.
(Mike Craven)
PREDICTIONS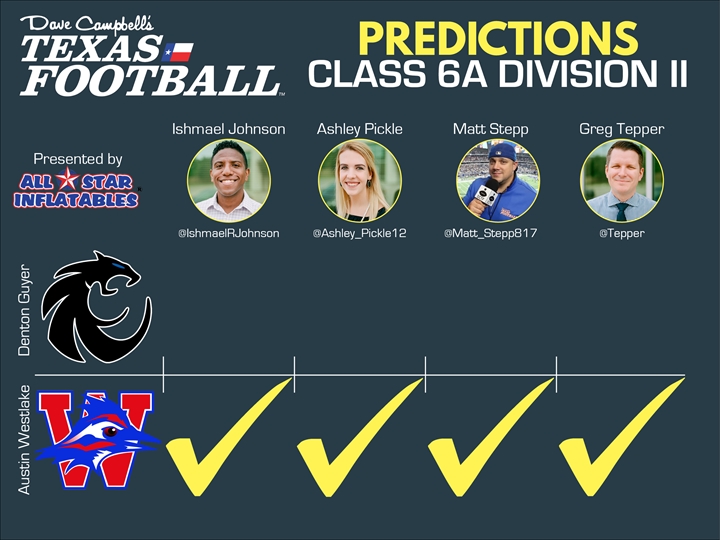 This article is available to our Digital Subscribers.
Click "Subscribe Now" to see a list of subscription offers.
Already a Subscriber? Sign In to access this content.