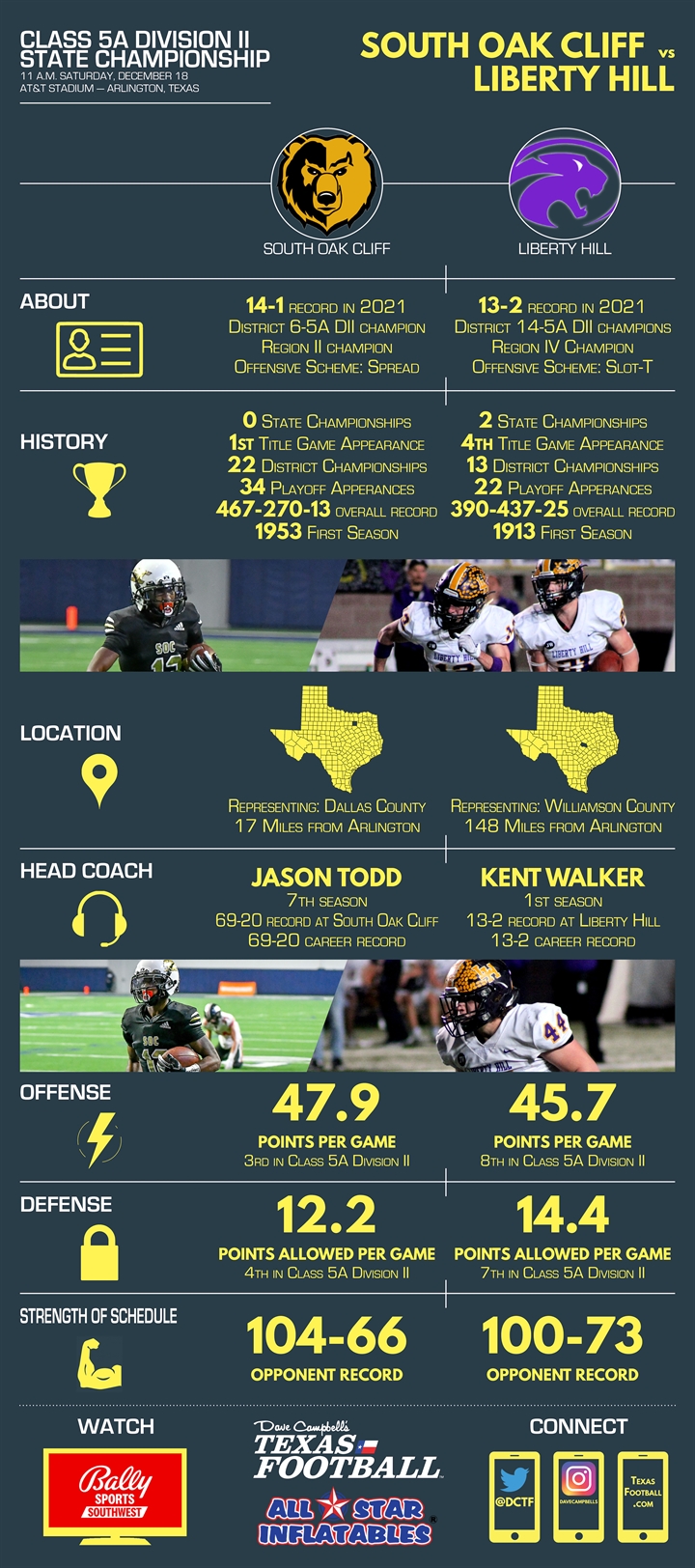 South Oak Cliff (13-1) vs. Liberty Hill (13-2), 11 a.m. Saturday at Arlington's AT&T Stadium
It's a fascinating contrast of styles in the 5A Division II title game as ultra-talented South Oak Cliff looks to bring home the first state title for Dallas ISD (officially) since 1958 takes on Liberty Hill and its incredible Slot-T offensive attack. South Oak Cliff continued its magical playoff run by going on the road to Abilene and blowing past Lubbock Cooper with a 44-10 win. SOC got 191 passing yards and two touchdowns from QB Kevin Henry-Jennings, two touchdown runs from Qualon Farrar and WR Kylin Mathis hauled in five passes for 123 yards and two touchdowns to lead the Golden Bears, who quickly jumped on Cooper and got the Pirates out of their game plan of running the football. Liberty Hill avenged its heart-breaking semifinal loss to Crosby with a dominant 42-14 win over the Cougars. RB's Joe Pitchford and Noah Long ran for two touchdowns each in the win and the Panthers defense was sensational holding a speedy Crosby offense in check. Liberty Hill had a big goal line stand on the opening drive of the game and then the Panthers got a fumble return for a touchdown in the second quarter to all but put the game away at 21-0. SOC's speed, versatility on offense is a matchup nightmare for Liberty Hill, but at the same token, South Oak Cliff has never gone against this efficient and difficult to prepare for Slot-T offense of Liberty Hill, which relies heavily on misdirection and flawless execution. Expect a shootout in this one, but SOC's defense, with its speed and physical nature, will find a way to get a key stop in front of what is expected to be a massive home crowd.
Stepp's Pick: South Oak Cliff by 6
PLAYERS TO WATCH
Liberty Hill
RB Joe Pitchford - The sophomore ran 22 times for 150 yards and two touchdowns last week after a 12-67 outing against Alamo Heights.
RB Andon Thomas - The senior has accounted for three touchdowns the last two weeks, including a 110-yard, two TD effort against the Mules.
RB Noah Long - The talented sophomore followed a 13-carry, 80-yard, 1-touchdown effort against Alamo Heights with a 97-yard, two-touchdown game last week against Crosby.
South Oak Cliff
DB Kyron Chambers - The Arizona commit has great size (6-foot, 195 pounds) and the speed to lcok down an entire side of the field. Teams rarely throw his direction, and understandably so. Only problem is, fellow shutdown DB Abdul Muhammad patrols the other side.
WR Randy Reece - One of SOC's plethora of weapons out wide, Reece displayed his game-breaking abilities by taking the opening kickoff 82 yards for a touchdown in the state semifinal victory over Lubbock-Cooper. Ky Mathis had five receptions for 123 yards and two scores for SOC.
RB Qualon Farrar - The North Texas commit is nearly impossible to bring down in the open field. He took two of his seven carries to paydirt last week.
(William Wilkerson)
KEY MATCHUPS
Liberty Hill's Slot-T vs. SOC's assignment and alignment
The Liberty Hill offense is unique. The Panthers rush to the line of scrimmage, snap the ball in a blink of an eye and then use motion and misdirection to confuse opponents after the snap. It's a varied attack that doesn't lean on one single player. The key to stopping the Slot-T, or at least slowing it down, is to not overreact. SOC must line up correctly and lean on its keys to stay in position against a deadly rushing attack.
South Oak Cliff vs. History
Liberty Hill is a multiple-time state champion. The Panthers were a force at the Class 3A and Class 4A levels before making the jump to Class 5A Division II. Success, and late runs into the playoffs, are commonplace. Not so much for South Oak Cliff. SOC isn't as seasoned in big games. And SOC carries the weight of an entire city on its shoulders. A Dallas ISD team hasn't won a state championship in football since 1958. The last team to reach a championship game was Dallas Lincoln in 2004.
Quick-strike offense vs. Methodical offense
South Oak Cliff is a big-play team. In the win over Lubbock-Cooper in the state semifinal, SOC returned the opening kickoff for a touchdown. It only needed about eight minutes of total offense to score its next three touchdowns. Liberty Hill, on the other hand, is death by a thousand needles. The Panthers take time off the clock, rarely pass, and don't mind grinding out drives that average three yards a play. The clash between these two teams is fascinating for a variety of reasons with their offensive approaches amongst the most important.
(Mike Craven)
PREDICTIONS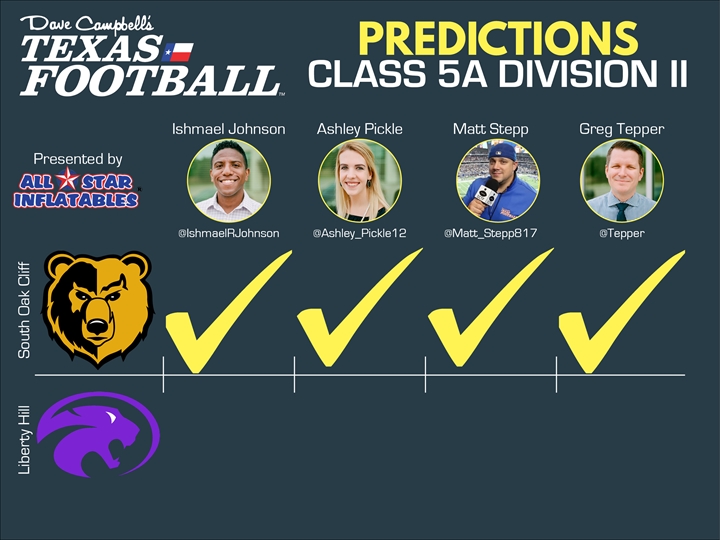 This article is available to our Digital Subscribers.
Click "Subscribe Now" to see a list of subscription offers.
Already a Subscriber? Sign In to access this content.