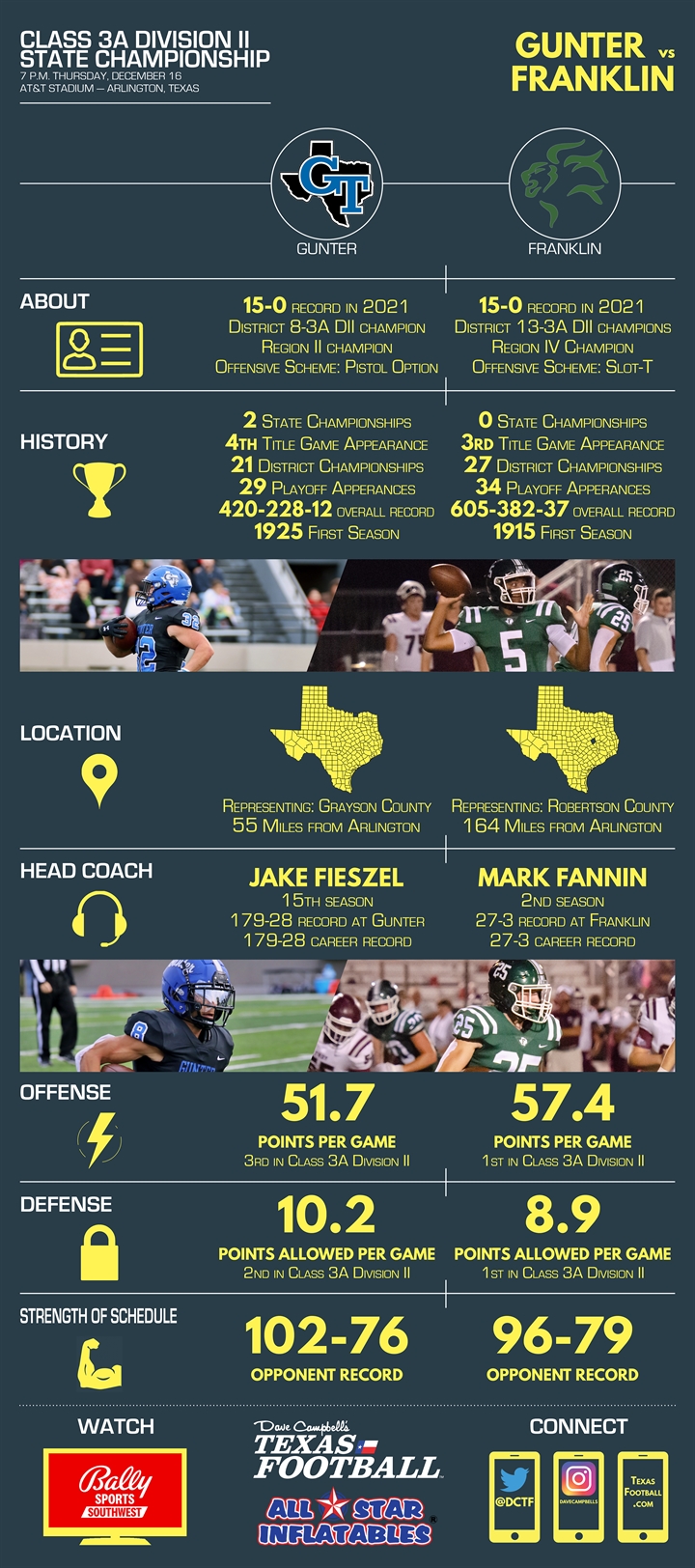 Gunter (15-0) vs Franklin (15-0), 7 p.m. Thursday at Arlington's AT&T Stadium
It's a battle of unbeaten teams that for the most part have clearly been on a collision course since the start of the season. If you like the running game this will be your jam as the Gunter Tigers employ a pistol option offensive attack, while Franklin brings their version of the Slot-T back to the state title game after coming up short a year ago. Gunter blitzed previously unbeaten Lubbock Roosevelt last week 47-12 as the Tigers were led by Ethan Sloan who ran for 80 yards and three touchdowns and also returned a kickoff for a score. QB Hudson Graham ran for 114 yards and threw for 110 yards and a touchdown to lead a dynamic Gunter attack. The real story was the Gunter defense, which completely shutdown Lubbock Roosevelt's dynamic option-based offense. Franklin got pushed by an outstanding Waskom squad last week, but the Lions defense rose to the occasion in a 28-14 win. Tied at 14-14 going into the fourth quarter, Franklin's duo of Bryson and Bobby Washington broke long touchdown runs to break the tie and send the Lions to their second straight state title game. On paper this is a toss-up, both teams are incredibly evenly matched and both have big game experience on the field and on the sidelines, little things make the difference in this one and when it comes to the little things I give a slight edge to Gunter in this one.
Stepp's Pick: Gunter by 2
PLAYERS TO WATCH
Gunter
RB/DB Ethan Sloan - Game-changer. Just get the ball in Sloan's hands and watch him work. He scored four times last week, including taking a kickoff 76 yards to the house. As dynamic as they come.
QB Hudson Graham - The Texas Tech commit spearheads a talented Tigers offense. He's more than capable of turning a game on its head with his legs, as evident by his 129-yard, two-TD performance in the Division II Region II championship win over Holliday, and can make any throw you need him to.
WR Cole Lemons - Just throw it up and let Lemons go get it. The all-star WR is Graham's favorite target, and rightfully so. At 6-foot-4 an 185 pounds, Lemons is a matchup nightmare for most any DB he faces. Defenses are often forced to rotate safeties over the top for help. Most times that doesn't matter.
Franklin
RB Bryson Washington - His district's MVP as a sophomore, Washington is one of the best running backs in the state regardless of classification. He showed why last week by rushing for 147 yards and two scores on 18 carries (keep an eye on his younger brother Bobby). Bryson is also one of Franklin's best defenders.
ATH Malcom Murphy - Another game-changer for the Lions, Murphy only needs a smallest of holes to break off a big play. He's just as electric on defense and proved as much by forcing a fumble inside the redzone against Waskom last week as the Wildcats were looking to tie the game.
LB Haze Tomascik - The leader of the Lions' defense, Tomascik is simply a tackling machine. He will find his way into the backfield more times than not. He and fellow linebacker Colby Smith will be tasked with slowing down that Gunter offense.
(William Wilkerson)
KEY MATCHUPS
Gunter's Ethan Sloan vs. Franklin's defense
Ethan Sloan accounted for four touchdowns in Gunter's semifinal win over Roosevelt. His 1-yard touchdown run was the only score of the first quarter. His 76-yard kickoff for a touchdown in the second quarter broke the game open. He added two more rushing touchdowns by the end of the game. Franklin must take away Sloan's penchant for finding the end zone to keep the Gunter offense in check.
Franklin's rushing attack vs. Gunter's defense
Both teams value rushing the football. Franklin is led by a pair of backs in Bryson Washington and Malcom Murphy. The duo combined for two touchdowns in the first half of their 28-14 win over Waskom in the semifinal round. Washington would add a 45-yard touchdown run in the third quarter to give Franklin a lead. Washington added a 63-yard touchdown run in the fourth quarter to put the game away. To win, Gunter's defense must find an answer to the two-headed rushing attack in order to force Franklin into third-and-long situations.
(Mike Craven)
PREDICTIONS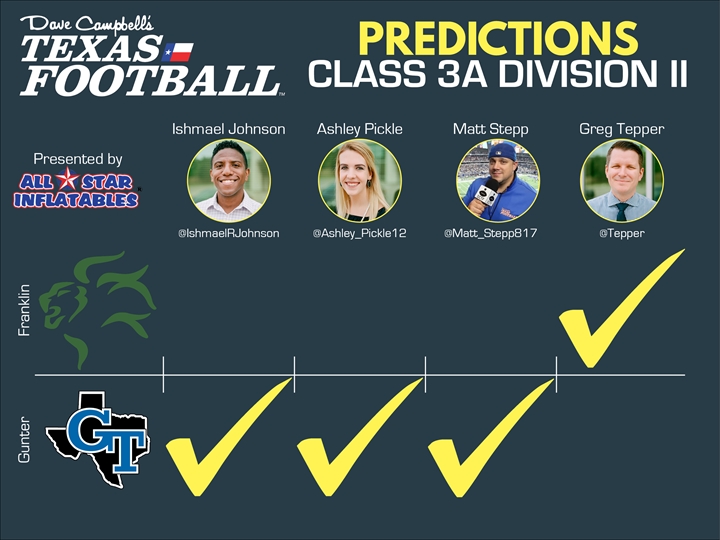 This article is available to our Digital Subscribers.
Click "Subscribe Now" to see a list of subscription offers.
Already a Subscriber? Sign In to access this content.