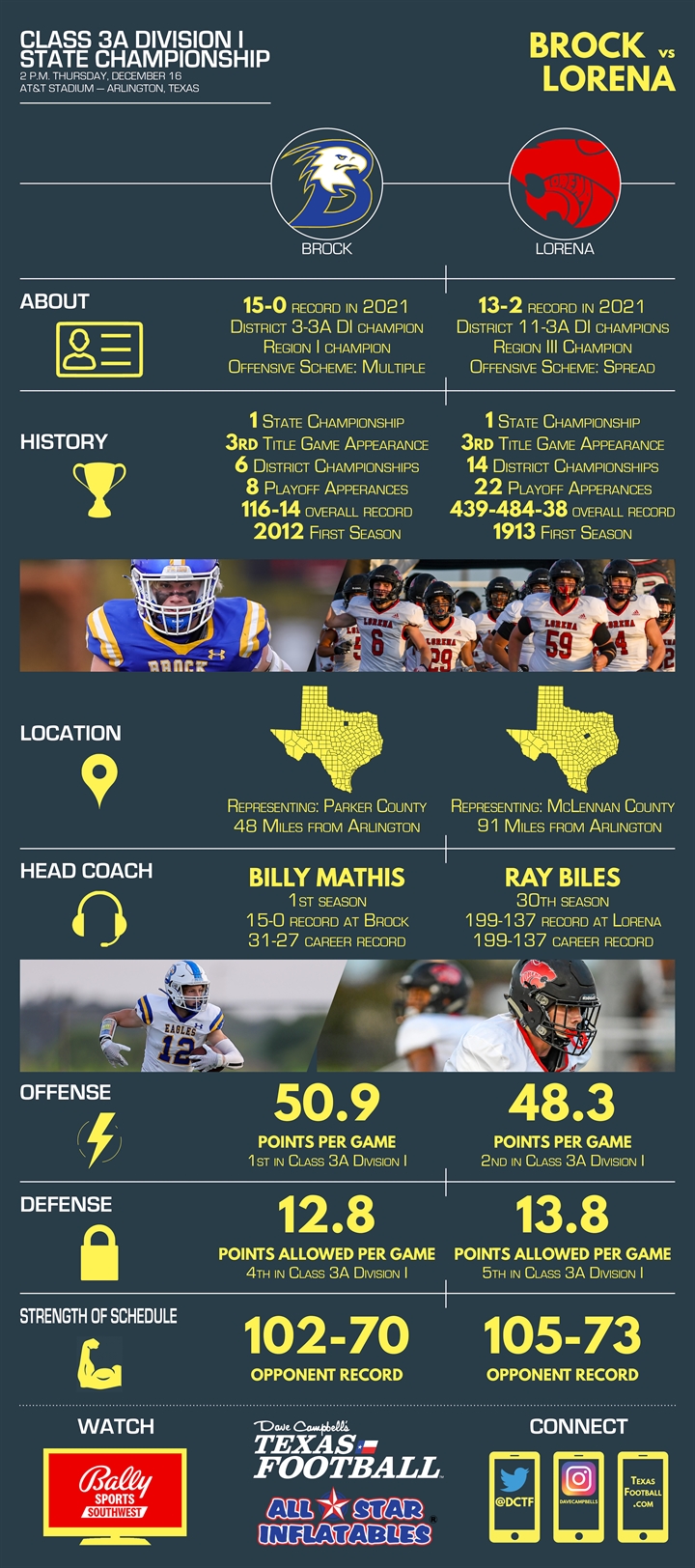 Brock (15-0) vs. Lorena (13-2), 3 p.m. Thursday at Arlington's AT&T Stadium
Both teams will look to bring home their second state championship on Thursday afternoon, but Brock's success is a bit more recent as the Eagles last won a title in 2015 and played for the title in 2017. Lorena's title came in 1987 and the Leopards hadn't been past the regional finals since 1989. Brock got tested for the first time all season last week in a 35-28 overtime win over previously unbeaten Mount Vernon. It was a game full of roller coaster emotional swings as Brock raced out to a 21-7 halftime lead, before Mount Vernon rallied to take a 28-21 lead in the fourth quarter. Brock tied it up late and then scored on its opening series in overtime to take a lead, before the defense came up with the game winning interception to send the Eagles to their third state title game. QB Tyler Moody's second of two touchdown passes proved to be the game winner as he hooked up with TE Nathan Jones, a Minnesota commit, for the game winning TD. WR Elijah Potts ran for a score and also caught a touchdown pass from Moody for the Eagles. The big question for the Eagles is the health of star RB Kutter Wilson, who got banged up in the regional finals against Whitesboro; he did play last week but looked to be much less than 100 percent. Will an extra week of rest benefit the Brock star? Lorena has been a buzz-saw in the playoffs with five playoff wins coming by an average margin of 38.2 points. Last week the Leopards blitzed surprising Lago Vista 55-17 as RB Rhett Hanson ran for four touchdowns and talented sophomore WR Jadon Porter added in a touchdown rushing and receiving as the Leopards poured on 42-first half points to blow past Lago Vista. Both teams are complete. Brock may have the slight edge in the trenches, while Lorena gets the edge at the skill spots. Brock's defense and experience in this big playoff environments proves to be the edge.
Stepp's Pick: Brock by 3
PLAYERS TO WATCH
Brock
RB Kutter Wilson - Brock's 2,600-yard bell-cow has great balance and rarely goes down after the first hit. It's been his show this year for the high-powered Eagles.
QB Tyler Moody - With Wilson manning the ground game, Brock's offense has hit a new level this year with Tyler Moody's arm. The 5-foot-10 quarterback has flashed the ability to stretch defenses and has most importantly limited his mistakes with just four interceptions to 43 touchdowns.
DL Kadyn P Mathews - Off the edge, it's hard to think of a more impactful player than Kadyn P Mathews for Brock. His explosiveness in the pass rush and run game is why he leads the team in both sacks (13) and tackles for loss (24).
Lorena
RB Reed Michna - One-half of Lorena's two-headed rushing attack. Reed Michna averages over eight yards per carry and has 20 touchdowns to his name on the ground.
RB Rhett Hanson - Okay, does one 6-foot running back not interest you? How about two? The big-play back for the Wildcats, Rhett Hanson is the Leopards' other 1,000-yard rusher with over 20 touchdowns to his name. Tough to tackle and once he reaches the second level, is rarely beaten.
LB Braylon Henry - Lorena's breakout sophomore on defense will be key in slowing down Brock's high-scoring offense roaming the field. He leads the team in solo and total tackles and has 14 tackles for loss to his name as well.
(Ishmael Johnson)
KEY MATCHUPS
Lorena running back Rhett Hanson vs. Brock defense
Lorena scored 55 points in its win over Lago Vista to advance to the state championship game and a matchup with Brock. Four of the touchdowns scored in the semifinal win were by Hanson, who amassed 200 rushing yards on 18 carries. He'll be the No. 1 priority for the Brock defense when the two teams clash on Thursday afternoon at AT&T Stadium. Brock will want to make Lorena one-dimensional and taking away Hanson is the quickest way to force Lorena off script.
Brock secondary vs. Lorena wide receiver Jadon Porter
The sophomore wide receiver is a favorite target of Lorena quarterback Ryne Abel, who threw a pair of touchdown passes in the blowout win over Lago Vista in the semifinal round of the state playoffs. Porter caught 51 passes for 1,107 yards and 12 touchdowns through the first 12 games of the 2021 season. He's over 2,000 yards receiving in his career. The Brock secondary must prevent big plays from Porter and the passing game, or it'll be an impossible challenge to keep Lorena from putting up a lot of points.
Brock's experience vs. Lorena's perseverance
Lorena head coach Ray Biles is in his 30th season as head coach of the Leopards. The clash against Brock will be the first state championship appearance for Lorena since 1989. The Leopards haven't won a state title since claiming a Class 2A championship over Refugio in 1987. Brock, on the other hand, didn't launch a football program until 2011, but that hasn't stopped the Eagles from winning. Brock won a title in 2015 and were back in the championship game in 2017. The Eagles were state semifinalists in 2018. Brock knows about the big stage. Will that experience be the difference in a close game?
(Mike Craven)
PREDICTIONS
This article is available to our Digital Subscribers.
Click "Subscribe Now" to see a list of subscription offers.
Already a Subscriber? Sign In to access this content.