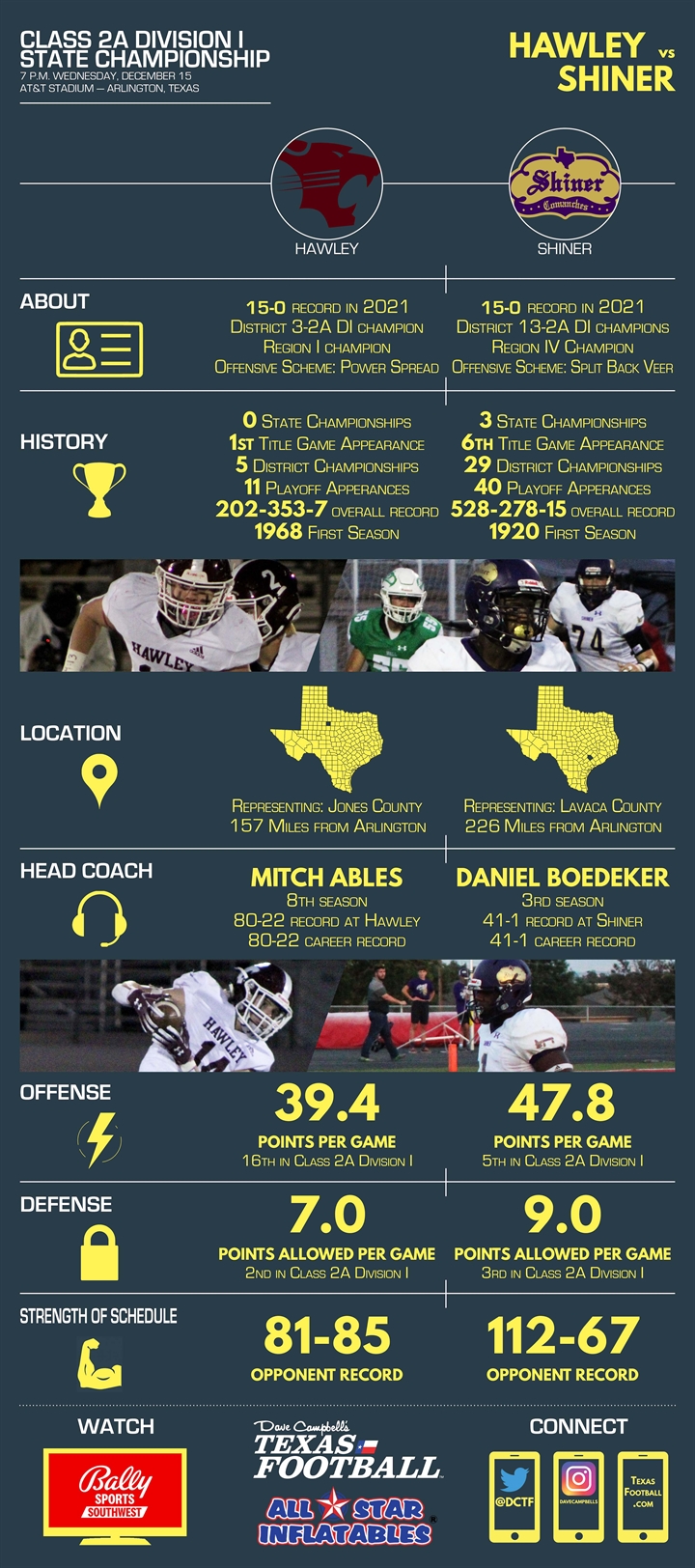 Hawley (15-0) vs. Shiner (15-0), 7 p.m. Wednesday at Arlington's AT&T Stadium
The 11-man title games open up with a doozy on Wednesday night as Hawley, making its first-ever title game appearance, takes on defending state champion Shiner. Hawley, who started football up in 1968 and didn't make its first playoff appearance until 2005, has a chance for history after the Bearcats knocked off Marlin 19-12 last week in a defensive slugfest. Senior ATH Aeneas Segura tallied 70 yards of offense and had all three Bearcats touchdowns in the win, while RB/DE Diontay Ramon was a menace on both sides of the ball. Hawley's defense contained a dynamic and speedy Marlin offense to just two touchdowns and forced four Marlin turnovers, which proved to be key in the win. Shiner got its first real test of the season in a showdown with fellow unbeaten Timpson, but the Comanches made the key plays down the stretch when needed to get a chance at a repeat after a 35-28 win. Shiner's combination of Doug and Dalton Brooks again led the way as senior Doug ran for three touchdowns and topped 100 yards rushing, while Dalton had over 200 yards on the ground and a touchdown and he also nabbed the game-saving interception with less than a minute remaining as Timpson was driving for the game-winning score. Hawley's big advantage on Marlin last week was in the trenches; that advantage won't be there against a Shiner squad that is excellent up front. Hawley, like every other 2A team in Texas, simply won't have an answer for the Brooks Brothers. The Comanches get their back-to-back state titles this year.
Stepp's Pick: Shiner by 16
PLAYERS TO WATCH
Shiner
The Brooks Brothers - I'm combining Dalton and Doug Brooks into one section because you'll hear about them enough. The intimidating Doug will bring the thunder and likely a viral play or two while Dalton, the FBS recruit, will make you fear the outside run once you're tired of getting beat up in the middle.
TE/LB Tyler Bishop - Just when you think Shiner is all ground-and-pound with the Brooks', they'll roll the surehanded Tyler Bishop out for wide open short routes. On defense, he's also one of the roamers that will patrol the middle of the field and the line of scrimmage.
QB Drew Wenske - The reason Shiner's offense has been unbeatable this year is in part thanks to the dual nature of its signal-caller to offset the Brooks brothers. Any time Wenske tucks and runs, it's viable for 20-plus yards, just like when he pops back for the occasional passing opportunity. Big plays only here.
Hawley
WR/S Kason O'Shields - Not only Hawley's leading receiver but their main man on punts and one of their main defenders in the secondary. The junior will play a factor in all three phases of the game, but perhaps his biggest impact will be in the punt return game where he has three touchdowns this season.
WR/DE Diontay Ramon - Another lengthy playmaker for the Bearcats with 19 tackles for loss to his name and eight sacks. He along with Aeneas Segura will find themselves all over the field for Hawley on both sides.
OL/DL Kyle Nicholas - When you face someone like Doug Brooks and a front like Shiner's, your own trenches become invaluable. Kyle Nicholas leads the team with 29 tackles for loss and has 102 total tackles. He'll be critical in slowing down Shiner's rushing attack.
(Ishmael Johnson)
KEY MATCHUPS
Hawley defensive line vs. Shiner offensive line
Games are won in the trenches, particularly in state championship games. The Shiner run game – led by Doug and Dalton Brooks – is tough to stop, but the Hawley defensive line can win its battles. The offensive line for Shiner is hard-nosed and athletic bunch. Hawley must match that physicality and get to the Brooks bros in the backfield before the duo builds steam. This game could get ugly if Doug or Dalton reach the second or third level of the Hawley defense on a regular basis.
The Brooks brothers vs. Everybody
The job of containing Doug and Dalton Brooks can't fall to one unit of the Hawley defense. Stopping the train that is Doug Brooks and the electricity that is Dalton Brooks requires a total team effort. Coaches preach running to the football 12 months out of the year. The Hawley defense must buy-in to that mantra or the Bearcats are in trouble. Hawley is a physical group that slowed down Marlin in the state semifinals, and an even bigger effort is needed to pull the upset at AT&T Stadium.
Shiner defense vs. Hawley's Aeneas Segura
Aeneas Segura scored all three of Hawley's touchdowns in its win over Marlin last week. He's a do-everything player for the Bearcats – earning yards as a receiver, a traditional runner, and even on direct snaps as a wildcat quarterback. The ball touches his hands when Hawley needs a big play. Shiner must be up to the challenge of stopping Segura for four quarters. Shiner's chances of winning grow if Hawley is forced to find important plays from other sources of offensive production.
(Mike Craven)
PREDICTIONS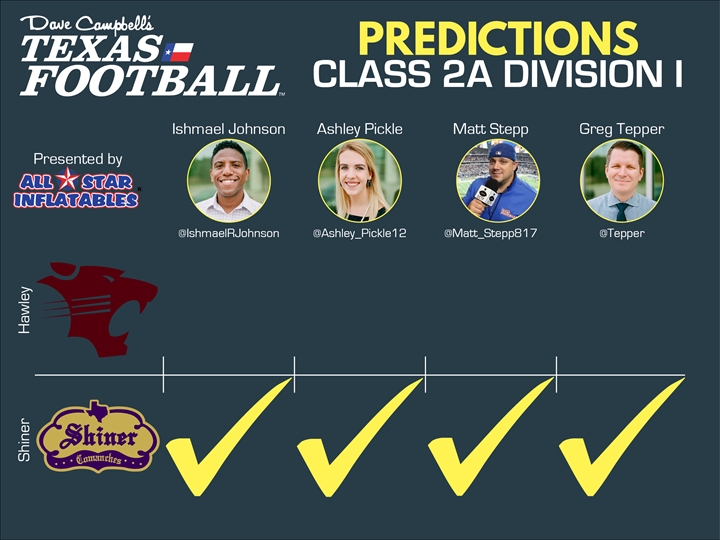 This article is available to our Digital Subscribers.
Click "Subscribe Now" to see a list of subscription offers.
Already a Subscriber? Sign In to access this content.