The state of Texas may be known for high-flying offenses, but in 2021, it's defense that will rule the day — and the cover of Dave Campbell's Texas Football.
Dave Campbell's Texas Football revealed the cover of its 2021 summer edition on Friday — the 62nd annual "bible of Texas football" — featuring a quartet of stars from Texas A&M's ferocious defense: linebacker Micheal Clemons, defensive end DeMarvin Leal, cornerback Myles Jones and safety Demani Richardson. The headline lays out the stars, and the stakes: "THE NEW CREW: A&M's defense leads the Aggies' national title charge." The four Aggies are the first defensive players to grace the cover of the magazine since TCU's Tommy Blake in 2007, and the first defense-only cover since Aggie legend Dat Nguyen in 1998.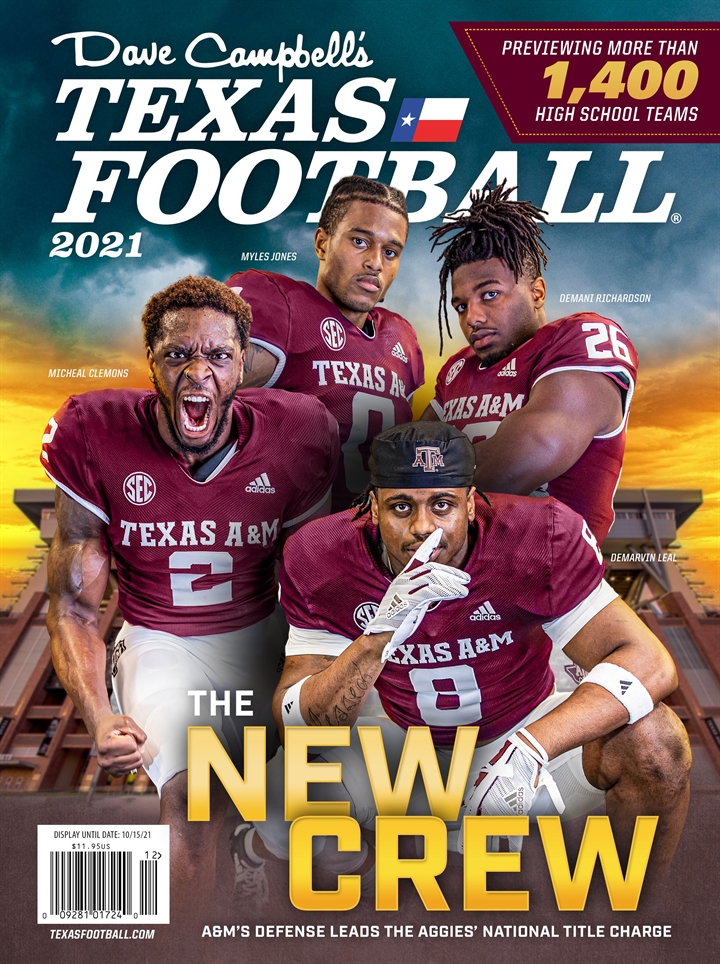 "Every year, choosing the cover subject of Dave Campbell's Texas Football is our most difficult decision, because it goes down in Texas football's rich history," managing editor Greg Tepper said. "It's our responsibility to select one of the most compelling stories in the state that year. The buzz around Texas A&M is palpable — the Aggies are bona fide national title contenders thanks in large part to their hard-charging defense, reminiscent of those iconic 'Wrecking Crew' units. It takes a special defense to find its way onto our cover, but make no mistake: this Texas A&M defense is special, and worthy of being on the cover of Texas Football."
For the sixth straight year, the magazine features a second "gatefold" cover, and this year's coverboy is no stranger to the big stage: Carthage coach Scott Surratt, posing with his jaw-dropping eight state championship rings. With a wry smile and fists full of jewelry, Surratt is truly "the lord of the rings."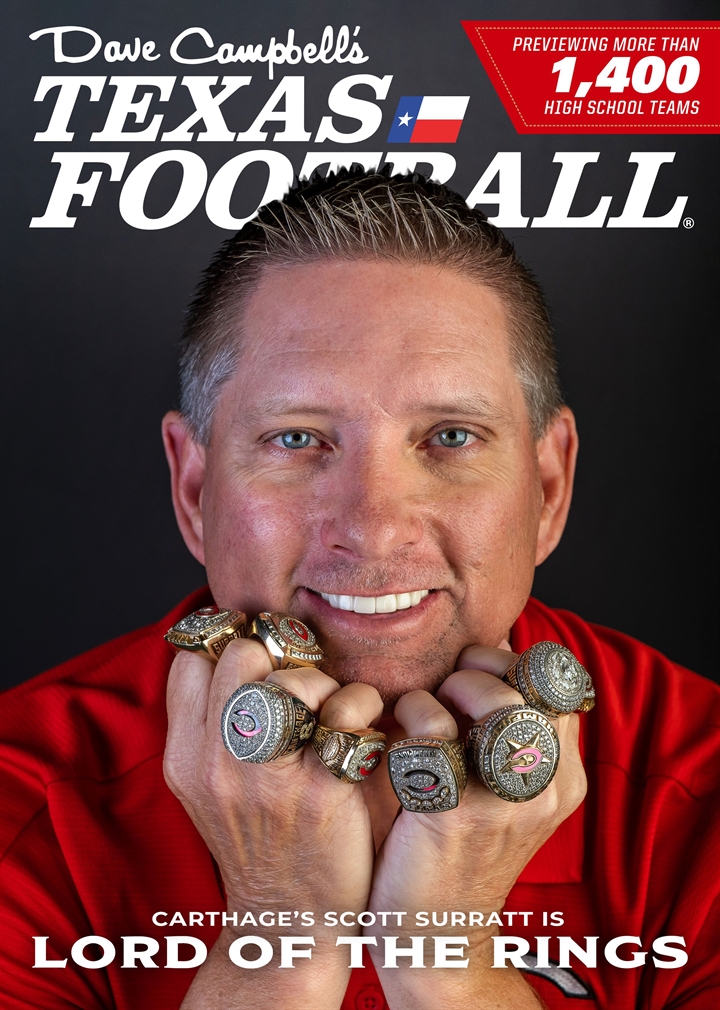 "In the lauded history of Texas high school football, few have done what Scott Surratt has," Tepper said. "His eight state championships put him only behind the legendary Gordon Wood in the 11-man ranks, and he's the only man in Texas high school football history to win eight 11-man titles at a single school. What he's built at Carthage in such a short period of time is nothing short of remarkable and, frankly, cover-worthy."
The 400-page all-color annual magazine covers football in Texas — from high school to recruiting to college to the pros — as nobody else can. Inside the magazine, readers will find:
An insider's look at the Texas A&M defense, its nod to history and its bright future, written by Texas Football's Shehan Jeyarajah
An outstanding secondary feature on how Scott Surratt was able to build Carthage into a Texas high school football juggernaut, written by magazine icon David Barron
The third annual 40 Under 40, spotlighting the best young coaches in Texas
In-depth analysis of every Texas college football team — all 47 of them — from five-page spreads for each FBS program to insightful previews of each junior college squad, and everything inbetween
Deep-dive conference previews, including whether a Texas team can crash the Big 12 party, A&M's path to a potential national title through the SEC, a fascinating AAC chock-full of contenders, which Texas team could become kings of Conference USA, Texas State's sleeper status in the Sun Belt, and more
Individual team previews of more than 1,400 Texas high school football squads
An expanded preview of the private school ranks — our biggest private school football preview ever
The Preseason All-Texas College team, honoring the top college players in the state
The annual Super Teams and Top 300, honoring the top recruits in the state
The coveted Coverboy spot for every high school classification
GET YOUR COPY EARLY
Want your copy of Texas Football before it hits newsstands? Become a Dave Campbell's Texas Football Insider! Get two magazines — the 2021 summer edition and the 2021 recruiting edition (coming in December) — as well as a year's worth of exclusive online content at TexasFootball.com, including digital archives of all 60 editions of Texas Football, expanded previews of every Texas high school football team, exclusive podcasts, never-before-seen recruiting analysis from Next Level Athlete, expert insights year-round and more. SUBSCRIBE BY JUNE 9 TO ENSURE YOUR MAGAZINE IS SENT TO YOU BEFORE IT HITS NEWSSTANDS.
MEDIA REQUESTS
To request interviews with Managing Editor Greg Tepper, please contact greg.tepper@texasfootball.com. To download high-resolution images of the cover, visit http://tiny.cc/DCTFCover2021. Subscribers should begin to receive magazines the third week in June; the magazine should hit newsstands across Texas beginning the first week in July.
About Sports In Action, LLC
Sports In Action, LLC owns the Dave Campbell's Texas Football media brand. Dave Campbell's Texas Football is a registered trademark of Sports In Action, LLC. Sports In Action, LLC is a Texas-based Limited Liability Corporation and is based in Lewisville, TX.
This article is available to our Digital Subscribers.
Click "Subscribe Now" to see a list of subscription offers.
Already a Subscriber? Sign In to access this content.