Steve Spurrier, Jim Tressel, Hayden Fry are Hall of Fame football coaches. Bo Schembechler and Woody Hayes will soon join that list of elite coaches who Sam Houston coach K.C. Keeler has passed on the all-time NCAA career wins list.
Keeler was likely to be inducted into the College Football Hall of Fame prior to this season. On Sunday, he cemented his spot as a future Hall of Famer.
"I think it's hilarious they're mentioning me with Jim Tressel, and Bo Schembechler, and Woody Hayes," Keeler said. "I don't know them as coaches. I don't know how they did it, but I know how I do it. I have a phenomenal staff. I hire people smarter than myself and that's the key to success for people in my world...it's pretty cool being mentioned with those coaches because they're icons and I don't see myself that way."
Flashback to January 7, 2013. That is the day Keeler was fired from Delaware after 11 seasons, 86 wins, three appearances in the national title game and the program's only FCS national title.
Keeler began questioning what his future would hold. Then he received a call from a former player and his current offensive coordinator, Ryan Carty.
"When I got fired, I wasn't sure I was going to coach again," Keeler said. "Ryan called me and he said, 'Coach, this is bullshit but you can't worry about that. You have to handle the adversity just like you taught us.' It meant so much to me that one of my former players reached out and told me that he's learned a lot of lessons from me and it's time for me to learn those same lessons."
Despite amassing 174 career coaching wins and eight trips to the national title game during his time at NCAA Division III Rowan and Delaware, Keeler did not receive interest from other schools. He thought he was being blackballed, so he gave up his dreams of coaching and went to work in the media.
One day, he was driving to his job at NFL Films, and was about to fly to serve as commentator on an ESPN broadcast. Everything changed for Keeler when he received a phone call from Sam Houston athletic director Bobby Williams. Only one thing was on the two men's minds: Winning a national championship.
"Bobby had seen me coaching in three national championships," Keeler said. "He told me I would be a natural at Sam Houston. I was all in."
Keeler was very successful during his first 10 years at Sam Houston leading the Bearkats to the second-most wins in FCS football during his time in Huntsville but one thing was still missing from his resume at SHSU.
"I didn't move my family to Huntsville, Texas to just coach football," Keeler said. "I wasn't here to win ball games, I'm here to win a national championship. That's what drives me."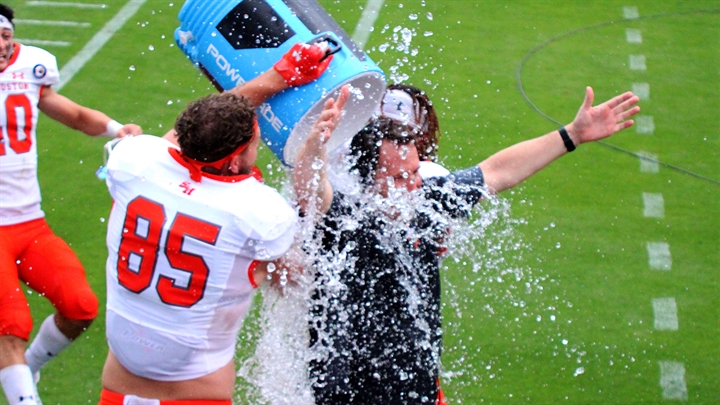 On Sunday in the pouring rain, Keeler and his Bearkats accomplished the mission with a thrilling 23-21 victory over South Dakota State for the first national championship in program history. With the win, Keeler passed Tressel for most playoff wins in FCS history and became the first coach to ever win FCS championships at multiple schools.
"I got a little emotional with our players last night," Keeler said following the game. "I told them, I said -- there was a point that I didn't know if I was ever going to coach again. Not because I didn't want to, I just didn't know if anyone was going to hire me."
Now that Keeler has completed his ultimate goal at Sam Houston, don't expect him to seek out a job at an FBS institution. He knows what he is building in Huntsville – the fact that he can win a national championship – is special.
"I've had opportunities to move on from here but I've not seen an opportunity that was good enough to leave here," Keeler said. "I love it here. It's special trying to win a national championship. Going to the Beef O'Brady Bowl, I'm not sure how excited I am about the Beef O'Brady Bowl."
While Keeler's coaching career is far from complete, his legacy will undoubtedly include a spot alongside the greatest coaches in the College Football Hall of Fame in Atlanta.
This article is available to our Digital Subscribers.
Click "Subscribe Now" to see a list of subscription offers.
Already a Subscriber? Sign In to access this content.