If I had to build a team around one 2022 Texas high school football player right now, I'm going with Humble Summer Creek offensive tackle Kelvin Banks.
I'll get lambasted for this, particularly from the DFW and Austin areas where two franchise quarterbacks reside; Cypress Bridgeland, I see you too. And that's OK. I get it.
But I'm going to go against the grain a bit and stick with the best player that I've personally seen from this class (mind you, I've not seen them all) and that's Banks.
The way he dominated the Next Level Athlete Texas Top 100 Showcase in Houston in early 2020 was a sight to behold. He was literally a brick house. Whatever you threw his way from a defensive lineman's standpoint, he stopped and did so with what looked to be relative ease.
Turn on the film, and it's more of the same.
Banks was committed to Oklahoma State at the time, but offers started to flood in once word got out about his dominant performance.
Texas Tech, USC, LSU, Oregon, Texas A&M, Auburn and Baylor all offered between Feb. and early July. He decommitted to the Pokes on July 12.
Since then, he's collected offers from Colorado, Arkansas, Tennessee, Georgia Tech, Alabama, Ole Miss, TCU, Oklahoma, Missouri, Maryland and Florida. That's in addition to the Utah, Florida State, Arizona State, Houston and Texas offers he had prior to his OSU commitment back on Sept. 29, 2019.
Yeah, he's that good.
At a solid 6-foot-5 and 300 bills, Banks has the length (6-10 wingspan), flexibility and quickness to be a franchise left tackle or interior lineman.
He's rated as one of two five-star prospects in the DCTF Hot 100 along with the all-world talent out of Southlake Carroll, Quinn Ewers.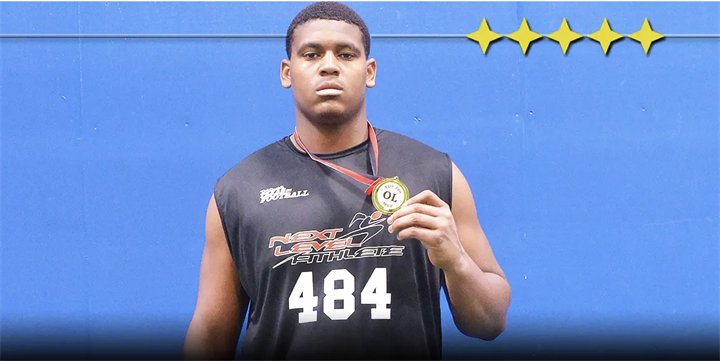 Uh, dude, why not take Ewers here and have your franchise QB locked in; build around him?
Again, I get it. Ewers, Austin Westlake's Cade Klubnik or even Cypress Bridgeland's Conner Weigman all have insane arguments. The way Nick Evers has come on as of late is reason enough to consider him too.
Throw in fellow offensive linemen Devon Campbell (Arlington Bowie), Kameron Dewberry (Humble Atascocita) and the Duncanville duo of Jaylen Early and Cameron Williams and things get downright silly.
Pause: Imagine actually having to make these selections, and the pressure those front offices must feel. I'm typing this in pajama pants and a sweatshirt, while eating Triscuits with a cat on my lap and a blanket on my feet. What do I know?
Not much. But I do know that Banks has all the makings of being a bonafide multi-year starter at left tackle at every level he plays on from here out. Gimme the guy tasked with protecting the quarterback and I'll find a signal-caller a bit later.
Banks announced a Top 8 of Arkansas, LSU, Oklahoma, Oklahoma State, Ole Miss, Oregon, Texas and Texas A&M last month. Once he's done dominating at one of those lucky programs, I fully anticipate him shaking hands with Roger Goodell at an NFL Draft in the future.
Now that I've got that figured out, anyone know Kliff Kingsbury's cell? Wanted to see if I could join him at his crib for the draft this week.
This article is available to our Digital Subscribers.
Click "Subscribe Now" to see a list of subscription offers.
Already a Subscriber? Sign In to access this content.