Rebuilding projects aren't exclusive to football teams. Sometimes they apply to the booster clubs that support them.
Such is the case at Terrell High School, where a group of dedicated parents looks to grow the reach of the recently formed Terrell Football Booster Club while the coaches work to grow the Tigers' on-field successes.
"I can see things changing [on the field]," Felicia Call, the club's treasurer, said following a three-win season that represented more total wins than the school had in the 2018 and 2019 seasons combined. "You see the work that they are putting in and we want them to be proud of that and have what they need."
For Call and the rest of the football boosters, making sure the players have what they need starts with the most essential of needs: meals to keep them going during long days of school and practice.
"We just want to feed the boys," she said. "That's the first goal. We wanted to have a hot meal for the varsity all year and have a pantry up there because football is six days a week. They are in class from 7:20 a.m. to 3 p.m. and then have practice. Lunch at school isn't really enough to feed a regular boy, never mind a football player."
To fill the pantry, the booster club members spend their evenings making sandwiches that the players can have between school and practice. Call said the club aims to provide ham and cheese sandwiches but that most of the players prefer a simpler PB&J.
Along with stocking a pantry with sandwiches, the club wants to provide the team with hot meals on Thursdays and Fridays, but Call said that became a challenge when a number of businesses that support the program had to cut back their donations due to financial impacts of COVID. Similar to many booster clubs, Call said 2020 proved a difficult year to build any positive momentum in fundraising and membership.
With 2020 in the rear-view mirror, Call hopes 2021 offers brighter prospects. The club's board already has plans to grow its membership by developing relationships with parents of rising freshmen who are used to taking a hands-on approach after supporting youth and middle school football programs.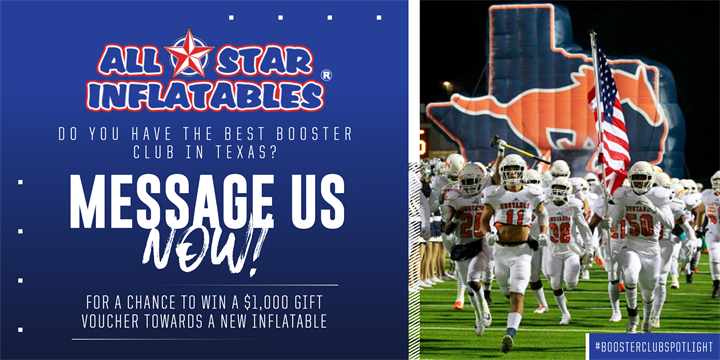 "We want to energize the new parents," Call said. "We are seeing a lot of participation in little league football, and we hope we can bring that participation into our club as these kids get to high school."
With increased parent involvement, Call believes the club will be able to do more to support the program. The first task is setting the club's budget. That will be contingent on an allocation from the school district and dues before the club begins new fundraising efforts beyond selling ads in the football program and spirit wear.
"We hope we get to have theme nights that can be sponsored so we can get more people interested in the club and coming to the games," Call said.
Call hopes the club will raise enough in 2021 to meet two big goals. First, she wants to provide a catered, pregame dinner for the varsity players.
"That would be nice," she said. "It's a lot of work to feed the kids and make sandwiches. You're talking two sandwiches for each kid every night. That adds up quickly."
The second goal is replacing the team's inflatable, which ruptured during the last game of the 2019 season.
"We really want to get a new tunnel," she said. "Our goal was to do that in 2020, but that was a secondary goal to making sure we could feed the boys."
With the basic need prioritized, Call and the club can get back to focusing on making sure the players know their hard work is appreciated. A Terrell graduate herself, she recalls her high school days when the Tigers had a bit more bite than they've displayed of late.
"I remember what this program has been before and I want to see that come back," she said. "The coaches are going above and beyond, and the boys are working really hard. We want them to be proud of that hard work and we want to do our part for them."
This article is available to our Digital Subscribers.
Click "Subscribe Now" to see a list of subscription offers.
Already a Subscriber? Sign In to access this content.