Welcome to TXHSFB Inside the Numbers — where Dave Campbell's Texas Football take the data that makes up Texas high school football, and try to figure out what it means looking back and looking forward. Today: the best most improved Texas high school football offenses in 2020.
There's not a ton to say about Leander Rouse in 2019 — they just weren't very good, and a lot of it can be traced back to offensive woes. The Raiders scored just 99 points in their ten games in 2019, good enough for 119th out of 127 teams in Class 5A Division I in scoring offense. The result: a 1-9 season.
But if there's not much to say about Rouse in 2019, they sure got the entire state talking in 2020.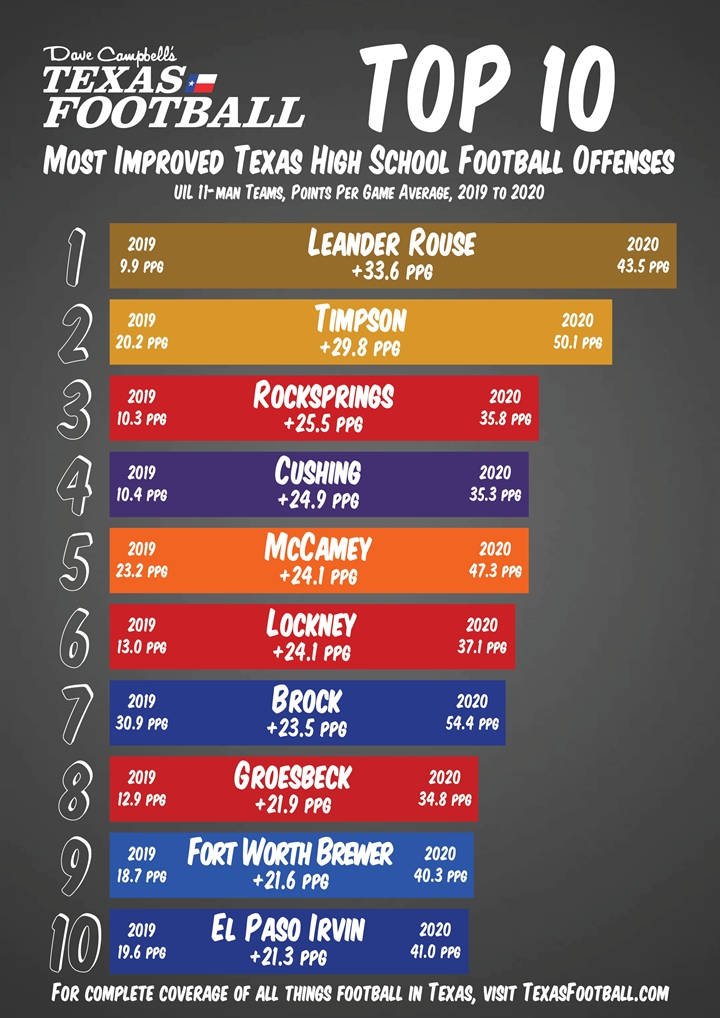 The Rouse Raiders were the state's most improved offense in Texas high school football in 2020, making an astonishing 33.6 point-per-game improvement from 2019 to 2020 to lead all UIL 11-man schools. Perhaps we should've seen it coming — coach Joshua Mann's squad returned ten starters from the 2019 offensive unit heading into the season, and a drop from 5A Division I to Division II certainly helped as well. But between super sophomore quarterback Mason Shorb, electrifying junior running back EJ Moore, a trio of 900-yard receivers in Troy Oliver Jr., Jalen Becerra and Drew Henson, and a sturdy offensive line, the Raiders' offense went from the basement to the penthouse, fueling them to a breakout 10-2 campaign.
Rouse was far-and-away the most improved offense in Texas, but there were other substantial leaps offensively as well, most notably at the 2A ranks. Timpson's stunning run to the 2A Division I state semifinals was fueled by an offensive renaissance, as the Bears improved 29.8 points per game to more than 50 points per contest in 2020. Rocksprings and Cushing each went from dismal (10.3 and 10.4 points per game in 2019, respectively) to downright dangerous (35.8 and 35.3 points per game in 2020, respectively) to give the Angoras and Bearkats a significant push. McCamey rode a breakout senior season from quarterback Ivan Rubio to a 24.1-point improvement last season, while the Lockney Longhorns put together their first winning season (7-2) since 2004 on the strength of a 24.1-point improvement offensively.
Rounding out the top 10, Brock is perhaps the most unexpected entry here, but the perennial 3A powers took their already electrifying run-first offense to new heights, leaping 23.5 points per game; Groesbeck's attack showed its horns to surge to a 21.9-point improvement; Todd Peterman is starting to work his magic at Fort Worth Brewer, as the Bears' offense showed some serious teeth; and El Paso Irvin may have only played five games, but the Rockets made them count, going from 19.6 points per game in 2019 to 41 per game.
The most improved offense in Class 6A was San Antonio Marshall, who went from 15.5 points per game in 2019 to 36.1 last season; in Class 5A, it's the aforementioned Leander Rouse; the biggest leap offensively in Class 4A came from Sanger, which improved 18.4 points per game from a year ago; Brock is 3A's most-improved attack; and Timpson led the way for 2A squads.
This article is available to our Digital Subscribers.
Click "Subscribe Now" to see a list of subscription offers.
Already a Subscriber? Sign In to access this content.