Homeless.
The sheer thought of the word makes you shudder and immediately count your blessings.
For Fort Worth Arlington Heights' Leslie Adindu, it is his reality.
A family dispute culminating in his father's move to New Orleans left Adindu without a place to live in Fort Worth.
The 19-year-old found himself living in a shelter.
It's at this point where this story could go one of two ways: Adindu, down on his luck, could have simply thrown up his hands, torn up the cards he'd been dealt and faded into the background.
Or, or, he could have authored one of the most inspirational stories you'll ever hear.
Guess which path Adindu chose?
"He didn't know how to put pads on"
Arlington Heights defensive line coach Charles Perry won't soon forget the first time he laid eyes on Adindu, who had moved to Texas from Nigeria with his father in the fall of 2019.
It was during PE class when Perry noticed a well-put-together 6-foot-1, 190-pound kid he didn't recognize. Perry approached him about playing football; Adindu was more interested in soccer.
After some convincing, Adindu wound up playing junior varsity football as a junior on the defensive line.
"He didn't know how to put the pads on," said Arlington Heights head coach Phil Young. "He didn't know the rules of the game, it was a clean slate.
"Think about it, you come across the world, to a new country, to play a new game. It's tough and he just worked and worked, and he made some great strides as a junior."
Then COVID-19 interrupted everything.
"We tried to keep tabs on our kids, do at home workouts and such, but we lost Leslie," Young said. "He disappeared; we couldn't reach him by cell phone, no one saw him, we thought maybe he just went back home to Nigeria where his mother still was."
Adindu hadn't gone back to Nigeria at all. It was around this time when he had the family dispute and his father moved to New Orleans.
He was homeless.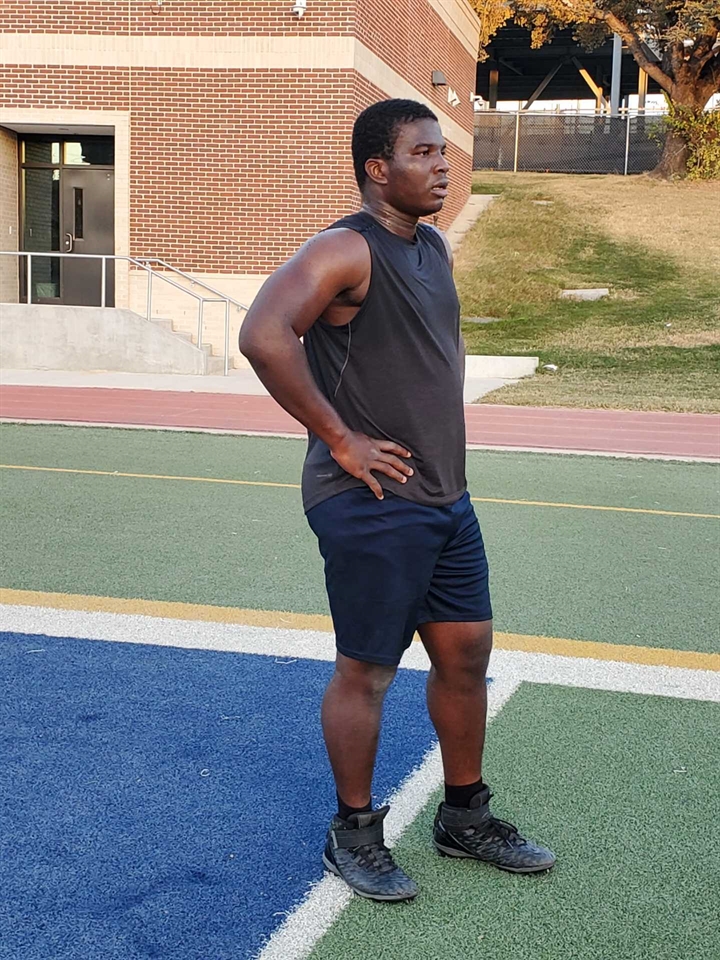 "It just guts you"
Who is that?
The Arlington Heights coaching staff simply could not recognize the hulking figure who'd shown up for the first day of practice in September.
Standing in front of them was a 6-foot-3, 285-pound specimen. Their eyes widened; their mouths grinned.
"We thought it was a different kid at first when he walked up, and then we found out it was Leslie," Young said.
After talking to him, Young and the rest of the staff quickly learned what had happened in the months since the pandemic started.
"I mean you hear something like that and your heart breaks," Young said. "He's a good kid and he's out there all alone. It just guts you."
Young found out that because Adindu was a legal adult at 19 years old, he had to hold a job to keep his place in the shelter. When Young heard Adindu's work schedule was 3-7, his heart sank because he thought it would conflict with school and practice time.
"Leslie said three to seven and I thought, 'Oh man you can't make practice.' But he quickly corrected me and said, 'No Coach, 3-7 a.m. I work and then I'll come to school.'"
Wait, what?
Young was floored. That type of perseverance was to be rewarded by crushing opposing offenses on Friday nights with the rest of his teammates. There was just one issue: Adindu was two and a half weeks too old to play UIL football. He filed for an over-age waiver, which was denied.
"My heart broke," Young said. "I thought football would help Leslie's chances of getting out of his situation. But after a few minutes I realized just because he couldn't play games didn't mean we couldn't help him."
"For Leslie to do that, just shows what kind of heart he has"
Young sat down with Adindu to figure out how to proceed and make the most of this situation.
"I told Leslie if he came to school everyday and showed up at practice and worked out, we'd play him in our scrimmages to get a little tape out there, we'd bug every college coach in the country at every school we could until we found someone who'd give him a shot," Young said.
Adindu held up his end of the bargain. He showed up on time to school each and every day, coming to practice and working as hard as the rest of the team despite not having a game to look forward to on Friday night.
"For Leslie to do that, just shows what kind of heart he has," Young said. "There aren't a lot of kids who would keep showing up and working after being told they were ineligible. For him to do that, made us work even harder to find him a spot."
Young went to work. He had the coaching contacts; he just needed a program to see the upside that Adindu presented.
Enter Southwest Baptist University, a Division II school in Bolivar, Missouri.
"When the coaches came down here to visit we went to the shelter to pick Leslie up so he could go on his official visit. When he walked up their eyes got big because he's a great looking kid who hasn't scratched the surface yet of what he can be," Young said.
Adindu's visit went great and he committed on the spot.
He put pen to paper on Wednesday and signed his National Letter of Intent with Southwest Baptist on National Signing Day.
"The thing that makes this so special is Leslie had so much working against him, at any turn he could have given up," Young said. "He totally trusted his coaches and never waivered, he did his part 100 percent and is such a humble kid. It's the most rewarding experience I've ever had as a coach; we get victories on the field and those are great, but this win is bigger. He's so excited and he has everything in front of him."
Adindu did all of this while working from 3-7 a.m., going to school, showing up to practice and never playing a varsity snap.
The entire state of Texas is rooting for you Leslie. You've always got a home here.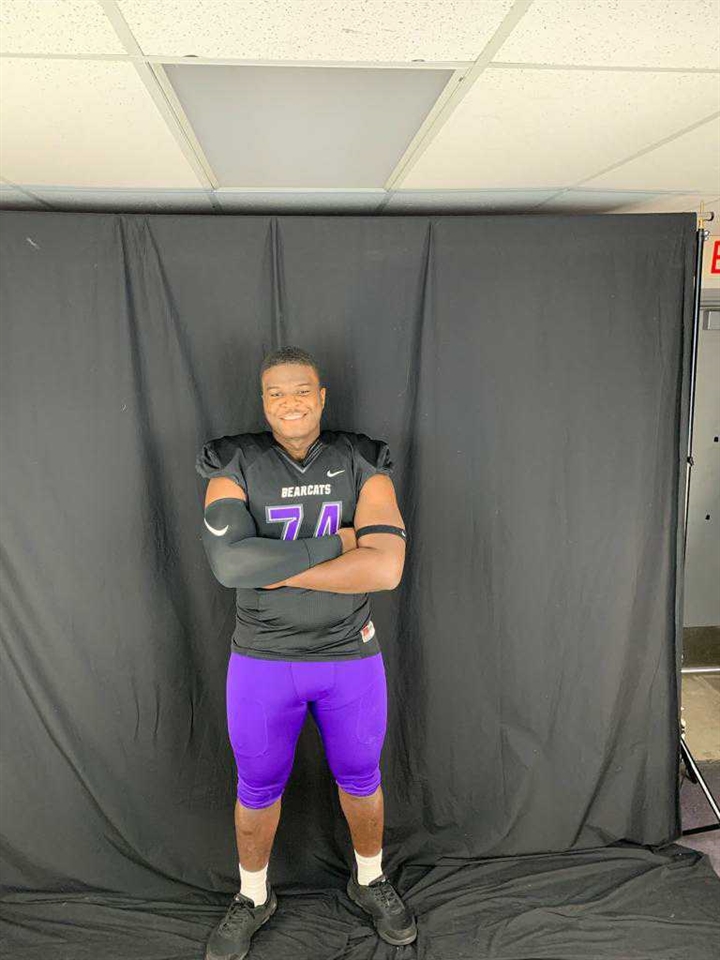 This article is available to our Digital Subscribers.
Click "Subscribe Now" to see a list of subscription offers.
Already a Subscriber? Sign In to access this content.