Alright it's time to laugh at our mess-ups — again.
Everyone makes mistakes and that certainly includes us at Texas Football. But part of this job is accepting that mistakes will be made and that, in the end, the game of football is played on the field meaning countless teams will over and underachieve. After all, it's only based on what we can project from behind our computer screens. It's part of the fun of doing this.
We take pride in what we do, but we also take pride in getting proven wrong by watching teams hit their stride and go on historic runs.
Now that the 2020 season has (finally) ended, we can look back on five teams that surprised us most this season based on their projections inside the 2020's Dave Campbell's Texas Football Magazine.
Just like last year, these aren't the only teams we got wrong, as opposed to just the five that most outperformed what we expected.
5. Lucas Lovejoy Leopards (13-1)
What we said: Unranked, Lucas Lovejoy would finish third in District 7-5A DII
What they did: Regional final, won 7-5A DII
When Chris Ross was announced as the new head coach at Lovejoy, we knew he was a dynamite hire that could take the Leopards far. But we didn't expect everything to come together right away.
Ross' offense pumped out 445 yards per game and was the fifth-best offense out of 5A DFW programs ahead of traditional juggernauts like Highland Park and Ennis. Quarterback Ralph Rucker took his game to a new level as a senior throwing for 3,423 yards and 47 touchdowns to just three picks throwing to Reid Westervelt (Over 1,800 yards) and Luke Mayfield. Oh, and Rucker added nearly 1,000 yards on the ground too.
Lovejoy used its high-powered attack to roll all the way to the state semifinals where the team gave eventual state champion Aledo its toughest test of the season, narrowly losing 52-48.
4. Buffalo Bison (12-2, 6-2)
What we said: Unranked, Buffalo would finish fifth in District 13-3A DII
What they did: Regional final, finished second in 13-3A DII
Buffalo's 8-3 mark in 2019 was a solid follow-up to Brandon Houston's stellar debut with the Bison in 2018. But there was no way Buffalo would be able to up that mark in a much tougher district in 2020, right?
The unranked Bison were put in the same district as preseason No. 8 Franklin, No. 14 Rogers and No. 21 Clifton. That apparently didn't matter as Houston's Bison rolled past Rogers twice, 46-28 and 37-35, beat Clifton, 41-23, and made their first-ever regional final run that included a win over George West as well.
The Bison offense was held below 30 points just twice in 2020, both games coming in September early in the season. Coach Houston knows offense and he looks to have the Bison positioned as an emerging contender in the eastern CenTex area.
3. Buda Hays Consolidated Rebels (10-4, 5-2)
What we said: Unranked, Buda Hays would finish fourth in District 26-6A
What they did: State semifinal, finished third in 26-6A
When Buda Hays hired Les Goad, it was a statement for the Rebels. They wanted a coach with pedigree and experience of winning around that area of the state. Goad's recent success at the 4A level spoke for itself and his first two years at 6A Hays were promising with a pair of 8-3 finishes. But the Rebels getting thrown into arguably the toughest district in Central Texas in realignment didn't help our expectations for the program heading into 2020.
Goad didn't fully translate his slot-T bonafides to Hays, but the offense he did install, a motion-heavy, power-rushing attack out of the pistol and shotgun, set the team out for success this season.
Behind quarterback Durand Hill, and a host of rushing options led by Michael Boudoin III, Hays ran for nearly 3,000 yards and finished third in the gauntlet District 26-6A with signature wins over Austin High and Austin Bowie.
The Rebels then upset ranked San Antonio Johnson in the area round and favored Austin Vandegrift in the 6A DII Region IV final, 38-10. The senior-heavy team only fell short to the eventual 6A DI champion Katy Tigers in the program's first state semifinal appearance since 1996.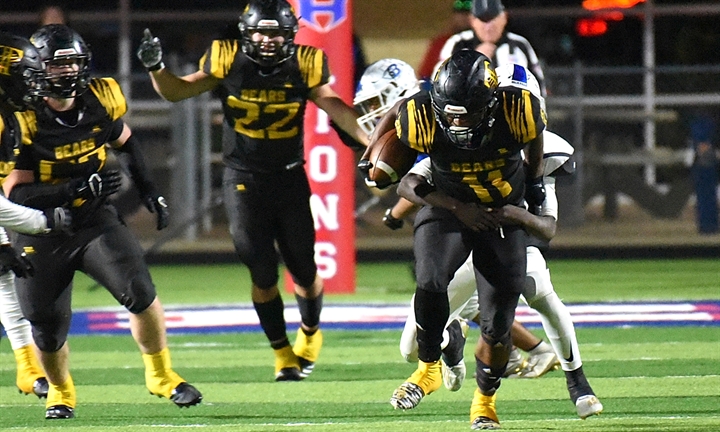 2. Timpson Bears (14-1)
What we said: Unranked, Timpson would finish fifth in District 10-2A DI
What they did: State semifinal, won 10-2A DI
Okay so now let's get to the real big misses.
Timpson! Where did you guys come from?!
The Bears went 5-6 in 2019 and had to replace some key pieces so naturally, we were skeptical about their prospects for 2020. In fact, we picked them to miss the playoffs entirely being in a district with three other teams ranked in the 2A DI Preseason Top 25...our bad.
All Timpson did was beat all three of those ranked teams by an average of 44.3 points in the regular season. Read that again, FORTY-FOUR POINTS. Not only did they surpass expectations they outright dominated the competition.
Timpson was two-sided juggernaut that held teams to single digits or less seven times and averaged 50 points per game before falling to eventual 2A DI state champion Shiner in the semifinals, the program's deepest postseason run in its history.
Here's a big apology to the Bears and a guarantee that Timpson will not be overlooked in 2021.
1. Tuscola Jim Ned Indians (14-1)
What we said: Unranked, Jim Ned would finish second in District 3-3A Division I
What they did: 3A DI state champions, won 3-3A DI
It's only fitting that the number one team we overlooked in 2020 went all the way and won a state championship. When we looked at the Indians, we looked at a team that was maybe a year away. They had a very solid 7-4 record in 2019 led by some talented sophomores and had us optimistic about the trajectory of the program but still likely to endure growing pains.
What we didn't see coming at all was junior running back Xavier Wishert exploding into one of the best two-ways players in the state. The Indians' workhorse ran for over 2,000 yards and led the team in total and solo tackles. Defensively, senior Austin Martin dominated up front and other juniors such as Zach Henderson and Tate Yardley vastly improved from over a year ago to embody the toughness of their head coach, Matt Fanning.
Then the Indians pulled off one of the best post-season runs beating No. 1 Brock, a very good Mount Vernon and then upsetting Hallettsville and 2020 Mr. Texas Football Jonathan Brooks in the 3A DI state championship. Wishert matched the Texas signee carry-for-carry and helped erase a 21-point deficit as the Indians captured their first state title.
Jim Ned didn't win a lot of its playoff games pretty, but who's looking for pretty when the results come up W? The scary part about this team is they're ready to run it back with a host of returners.
Spoiler alert for the 2021 summer magazine, the Indians are going to an early favorite to do it all over again.
This article is available to our Digital Subscribers.
Click "Subscribe Now" to see a list of subscription offers.
Already a Subscriber? Sign In to access this content.