The reformed Van Athletic Booster Club isn't wasting any time getting back up to speed.
When club president B.J. Anderson hung up his football coaching whistle and moved back to his hometown with his family a few years ago, he noticed the high school's athletics program didn't have an official support organization.
"I can remember when I played football here and how important that was," Anderson said. "When we came back, we saw a real need. We wanted to try and kick it up again and create that energy."
Anderson went to work with wife Stacey, who was also a Van native, to build a support system for all of the school's athletic programs. He also called some old friends – athletic directors at schools where booster clubs have had great success supporting student-athletes.
"I called Scott Surratt at Carthage, John King at Longview, Mike Wood at Kilgore," he said. "I asked them how their booster clubs worked."
Armed with some how-to guidance from a few coaching legends, Anderson developed his club's goals and went to work.
"We are trying to create a best-in-class atmosphere for all of our student-athletes," B.J. Anderson said. "The superintendent is behind us and supports us. We have lots of real hands-on supporters."
In two years, the club has grown its membership significantly, which has helped meet the needs of the school's teams. Working closely with Athletic Director Jared Moffatt, Anderson and the club's board has been diligent about supporting each of the Vandals' teams.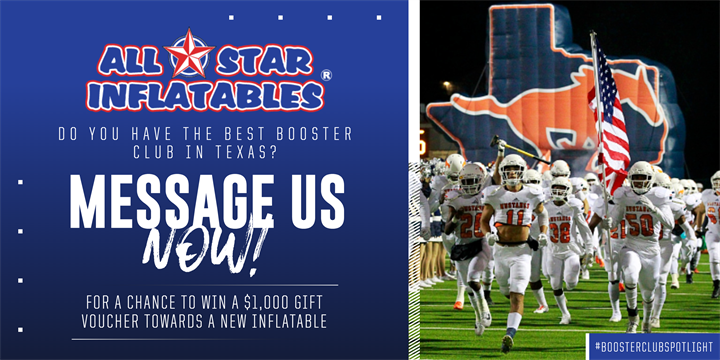 "We have a really good board," Anderson said. "We've wanted to do it right from the beginning. We are learning through some things, but this has been profitable, and we are helping to make this a best-in-class experience for our kids."
The club's added heaters for the sidelines of the football field and dugouts at the baseball and softball fields. The club purchased L-shaped protective screens and batting cages for the baseball team.
"When teams need help, they reach out and we do our best," Anderson said. "If the coaches don't have enough budget to cover a need, we try to cover it."
To help cover the needs, the club has gotten to work. Anderson said the club has sold padded advertising signs that can be placed on the school's different fields.
"We want to recognize those businesses that have taken a leadership role with helping the club get off the ground," he said.
Anderson says the fundraising effort will continue as the winter and spring sports seasons continue. Track meets, baseball games, and softball games provide opportunities to sell concessions, and the club will also try new things to generate interest and revenue.
"We will be trying to get creative to raise money," Anderson said. "We're reaching out to parents to create energy and grow our membership. We hope that can rock us into the summer, and that point we can start getting ready for the fall seasons."
To help with creating awareness, the club's purchased a trailer and wrapped it in Van colors. The trailer will travel from place to place and serve as a mobile store where fans can purchase spirit gear to support the Vandals.
"The trailer has been a good place for us to get started," Anderson said. "We'll sell shirts, hats and jerseys from it, all kinds of spirit gear. Everyone is looking for good spirit gear."
This article is available to our Digital Subscribers.
Click "Subscribe Now" to see a list of subscription offers.
Already a Subscriber? Sign In to access this content.