The book on the 2020 season is now officially closed with Alabama winning the national championship on Monday night. Regardless, it's never too early to start looking ahead to the future of Texas football, and that starts right here.
The state is getting a makeover in 2021 with several of the state's most recognizable quarterbacks gone and a new face at the state's flagship program. However, the new generation of stars is ready to take over.
This is not a lookback to credit a job well done. The slate is wiped clean. This ranking is only based on what we believe each team in this state can – and will – accomplish in 2021.
That said, there's still plenty of moving parts. One program still has several players who could opt to return for another senior season. Another is stockpiling transfers and the market has not dried up. Plus, the NCAA could pass a one-time transfer waiver and make things even crazier.
Here is our way-too-early ranking of the FBS programs in Texas for 2021. Please note, teams are ranked relative to competition.
12. UTEP Miners
2020 Record: 3-8
Key Returners: DL Praise Amaewhule, RB Deion Hankins, WR Jacob Cowing
Key Losses: DB Dy'Vonne Inyang, DB Broderick Harrell
UTEP finally looked on the path to growth in 2020. The offense took a new shape with QB Gavin Hardison and receiver Jacob Cowing grew into a real difference maker. The Miners won multiple games for the first time in four years.
And then, UTEP coach Dana Dimel announced that both coordinators will not return.
To be clear, major strides have happened in the Dimel era, but the Miners unquestionably have the most questions heading into 2021. What systems will they run? Will the development continue? There's so many unknowns for a team that's probably not talented enough to assume improvement.
11. North Texas Mean Green
2020 Record:
Key Returners: OL Jacob Brammer, LB KD Davis, RB Oscar Adaway III
Key Losses: WR Jaelon Darden
For the second offseason in a row, North Texas is in the market for a defensive coordinator. By any measure, the Mean Green were among the worst in the country on that side of the ball.
In some ways though, the offense is even more concerning. Seth Littrell's knack for working with quarterbacks did not pay off as the starters combined to complete just 54 percent of their passes. With Jaelon Darden off to the NFL, things won't get any easier.
Littrell is a good coach and has built a solid foundation at North Texas. However, his last two teams have been unequivocal disappointments. Littrell has to turn the tide in 2021.
10. Texas State Bobcats
2020 Record: 2-10, 2-6 Sun Belt
Key Returners: QB Brady McBride, WR Marcell Barbee, DL Nico Ezidore
Key Losses: LB Hal Vinson, WR Jah'Marae Sheread, WR Jeremiah Haydel
If Jake Spavital was hoping for a quick turnaround at Texas State, the 2020 season was a dose of reality. After some legitimately encouraging performances early in the year, the Bobcats fell to worst in the state.
Now, Spavital has turned to the transfer wire, adding eight FBS transfers, an FCS All-American and JUCO – and no high schoolers. It's a daring move to sell out and try to compete instantly.
Thankfully, the schedule is much more manageable in 2021 with FIU, UIW and Eastern Michigan on the docket. The Bobcats also get South Alabama, ULM and Troy at home. There's upside for these Bobcats, and they need to find it quickly.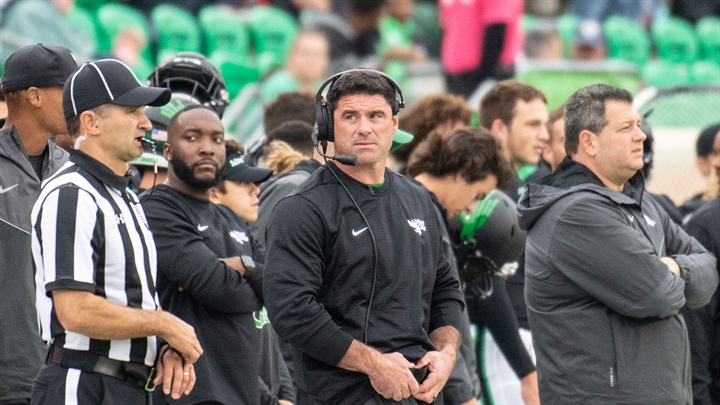 9. Rice Owls
2020 Record: 2-3, 2-3 Conference USA
Key Returners: RB Khalan Griffin, LB Antonio Montero
Key Losses: DB TyRae Thornton
Rice football remains almost in exactly the same encouraging place as last season following a limited five-game season. The Owls are building a strong culture and are starting to learn how to win football games. The future looks bright.
But for all the cultural boost, the roster is in an interesting position. Several seniors have yet to make decisions about returning after an abbreviated season, including QB Mike Collins, WR Austin Trammell and LB Blaze Alldredge. All were fantastic in limited time this season.
Whether those players return for another season will ultimately determine whether the Owls are a decent team or one that has a chance to be special. With so much uncertainty, it's hard to know where to forecast the Owls.
8. Houston Cougars
2020 Record: 3-5, 3-3 AAC
Key Returners: CB Marcus Jones, QB Clayton Tune, DB JoVanni Stewart
Key Losses: DL Payton Turner, WR Marquez Stevenson, LB Grant Stuard
When D'Eriq King opted out of the 2019 season, Dana Holgorsen put all his eggs in the 2020 basket. That makes the 3-5 season that emerged even more disappointing.
The Cougars only beat Tulane, Navy and South Florida in 2020 and would have picked up more losses if not for canceled games against SMU and Tulsa. Heading into 2021, the Cougars lose several of their best players to the NFL.
There is plenty of context to go around, but a 7-13 record through two seasons under Holgorsen simply isn't good enough. The rest of the AAC is leaving Houston in the dust.
7. Texas Tech Red Raiders
2020 Record: 4-6, 3-6 Big 12
Key Returners: WR Erik Ezukanma, LB Colin Schooler, RB SaRodorick Thompson
Key Losses: OL Jack Anderson, DB Zech McPhearson, WR TJ Vasher
The Red Raiders once again struggled in close games in year two of the Matt Wells era and major changes came down the pipe. The Red Raiders released offensive coordinator David Yost and replaced him with former Tech QB Sonny Cumbie.
The offense was a struggle under David Yost, but there's lots of air raid style talent on the roster starting with quarterback Alan Bowman. The defense has consistently made strides under defensive coordinator Keith Patterson and is ready to take the next step behind what could be an elite linebacker corps.
We thought Texas Tech could be in line for a breakout season in 2020. Well, that didn't happen. Maybe 2021 could be the year?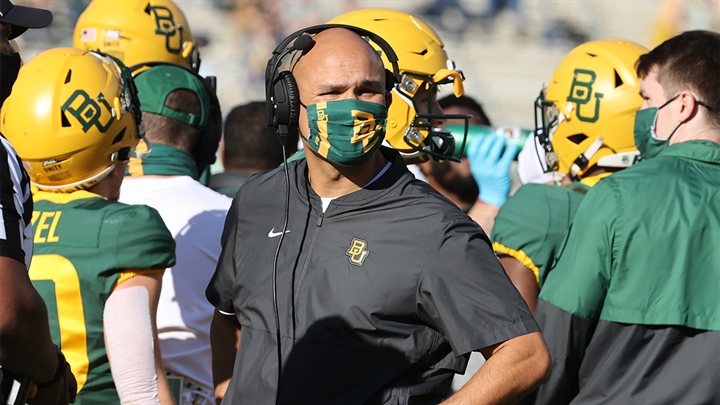 6. Baylor Bears
2020 Record: 2-7, 2-7 Big 12
Key Returners: LB Terrel Bernard, WR RJ Sneed, DB Raleigh Texada
Key Losses: QB Charlie Brewer, RB John Lovett, DL William Bradley-King
After the disastrous offensive performance in 2020, Larry Fedora, Joe Wickline and Jorge Munoz are out. Jeff Grimes, Eric Mateos and Chansi Stuckey are in.
There's plenty of offensive talent to work with on the roster. Four talented quarterbacks will fight for the starting job. Receiver RJ Sneed is a star in the making. Getting Mateos and Grimes in the door to work with the offensive line could have major benefits – the Bears have struggled at the position for five years now.
If the offense figures itself out, the defense is ready for a major step forward. Terrel Bernard, Raleigh Texada and Jalen Pitre make up one of the most terrifying defensive corps in Texas. Remember, this is a program that was playing in the Big 12 title game one year ago. A resurgence could be coming.
5. TCU Horned Frogs
2020 Record: 6-4, 5-4 Big 12
Key Returners: QB Max Duggan, RB Zach Evans, DL Ochaun Mathis
Key Losses: DB Trevon Moehrig, DB Ar'Darius Washington, LB Garret Wallow
The Horned Frogs lose three of their top defenders, but the pieces are falling into place for TCU to have a breakout 2021 season.
The Horned Frogs quietly won five of their final six games, including a big win over Oklahoma State. The defensive line started to find its groove. Now, almost that whole rotation is returning to make the Horned Frogs a dark horse Big 12 contender.
Replacing offensive coordinator and QB coach Sonny Cumbie is the biggest question facing the Horned Frogs, but an elite stable of running backs – Zach Evans, Darwin Barlow, Kendre Miller, Daimarqua Foster – will make the job much easier. Ultimately, the ball is in Max Duggan's court.
4. SMU Mustangs
2020 Record: 7-3, 4-3 AAC
Key Returners: WR Reggie Roberson, RB Ulysses Bentley IV, LB Delano Robinson
Key Losses: QB Shane Buechele, DB Brandon Stephens, DB Eric Sutton
If anyone thought SMU was going to be a one-year blip under Sonny Dykes, the 2020 season should ease their fears.
The future looks a little different with Shane Buechele off to the NFL, but newcomers Tanner Mordecai and Preston Stone will make the battle for the starting job fierce. The Mustangs also got a huge boost when receiver Reggie Roberson announced he will return in 2021; Roberson could be the best in the state.
There could be some growing pains heading into the 2021 season with the roster turnover, but the pieces are there for SMU to once again be a factor in the AAC championship race.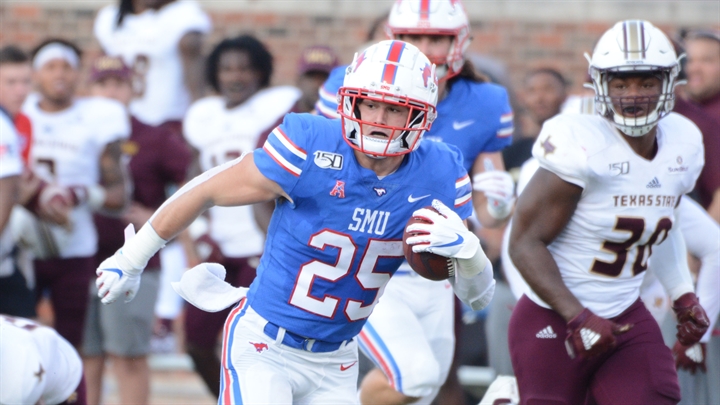 3. Texas Longhorns
2020 Record: 7-3, 5-3 Big 12
Key Returners: WR Joshua Moore, LB DeMarvion Overshown, RB Bijan Robinson
Key Losses: QB Sam Ehlinger, LB Joseph Ossai, OL Sam Cosmi
The 2020 season marked the end of an era. Quarterback Sam Ehlinger is gone. Head coach Tom Herman is gone. Welcome Steve Sarkisian to the mix.
Sark is fresh off a national championship game win and coordinating arguably the greatest offense of all time. DeVonta Smith, Najee Harris and Jaylen Waddle ain't coming to the 40 Acres with him, but the Longhorns have plenty of talent on campus. Bijan Robinson will push UTSA's Sincere McCormick and Texas A&M's Isaiah Spiller for the title of the state's best running back.
Whether Sarkisian can reach new heights in his first season at Texas comes down to whether the receiver room is ready to be elite. While Moore and Jake Smith have played well at time, it may be too much to ask.
2. UTSA Roadrunners
2020 Record: 7-5, 5-2 Conference USA
Key Returners: RB Sincere McCormick, DB Rashad Wisdom, WR Zakhari Franklin
Key Losses: DL Solomon Wise
Jeff Traylor led UTSA to being the breakout team of the 2020 season. There's no reason to believe anything is going to change in 2021.
Texas Football Player of the Year Sincere McCormick leads the way. Frank Harris showed some encouraging signs. Several key players on defense could be back. Why not just run it back?
UTSA won its last three games of the regular season by a combined 124-58. If the Roadrunners can start the year at that level of play, UTSA will be a legitimate Conference USA contender.
1. Texas A&M Aggies
2020 Record: 9-1, 8-1 SEC
Key Returners: DL DeMarvin Leal, LB Aaron Hansford, RB Isaiah Spiller
Key Losses: LB Buddy Johnson, QB Kellen Mond, DL Bobby Brown III
Jimbo Fisher's Texas A&M Aggies are here and they are here to stay. The Aggies put together one of the best seasons in recent program history culminating with an Orange Bowl and they will start the season at the top of the state.
The Aggies created their biggest mismatches in the front seven and that won't change soon. Texas A&M brings back many of the leaders of its defensive resurgence, including Leal, Jayden Peavy and Aaron Hansford. Offensively, Haynes King, Zach Calzada and Eli Stowers will compete to replace Kellen Mond.
The biggest question mark for this team comes up front as offensive linemen Dan Moore, Ryan McCollum and Jared Hocker are all off to the NFL. However, All-American Kenyon Green and strong O-Line coach Josh Henson give us enough confidence that the situation will work itself out.
This article is available to our Digital Subscribers.
Click "Subscribe Now" to see a list of subscription offers.
Already a Subscriber? Sign In to access this content.