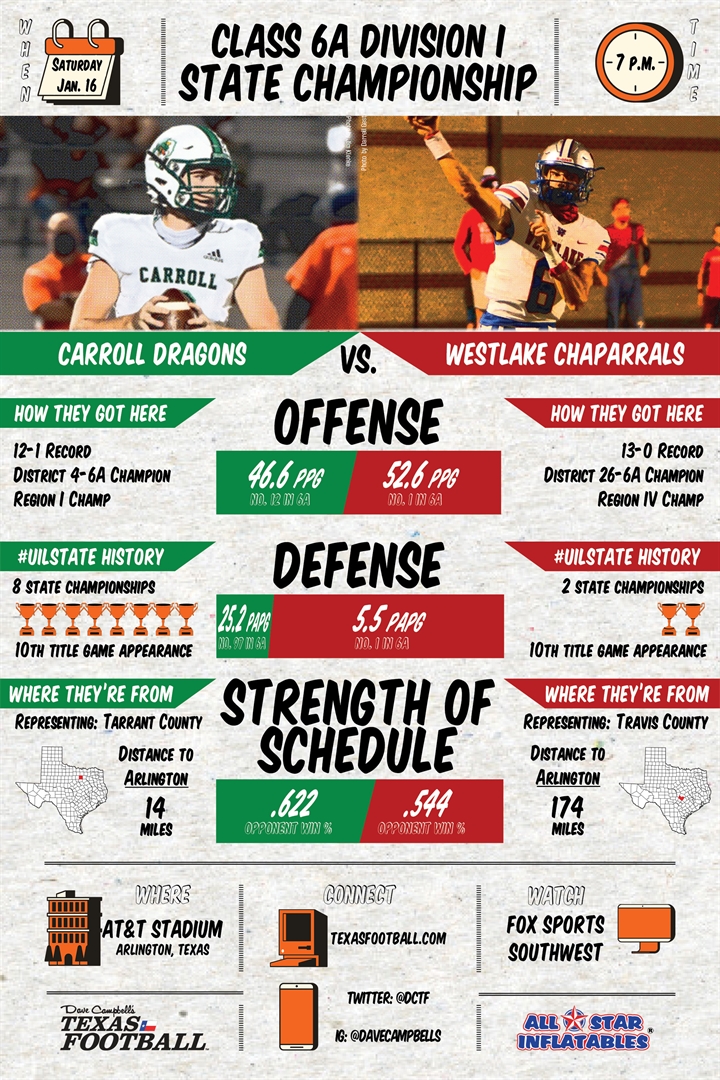 Looking for a place to stay for the game? Check out Live! by Loews
GAME PREVIEW
While most of the talk surrounding this game will revolve around the father/son coaching dynamic between Austin Westlake's Todd Dodge (father) and Southlake Carroll's Riley Dodge (son), the matchup on the field is equally intriguing.
Both teams were underdogs last week and both proved the doubters wrong.
Southlake Carroll was without head coach Riley Dodge, who was home dealing with Covid-19, stunned Duncanville, 34-27.
The Dragons defense, which struggled in the first half, made some key adjustments and shutout the vaunted Panthers offense in the second half.
With much of the attention from Duncanville focused on Ohio State commit QB Quinn Ewers, Carroll unleashed sophomore RB Owen Allen, who ran for 192 yards and two touchdowns and he chipped in 53 receiving yards. Ewers was held relatively in check with just 168 yards and a touchdown pass along with a rushing touchdown. The Dragons ability to run the ball and control the clock, especially in the second half, proved to be a huge difference along with two key turnovers that were forced by the Carroll defense.
Austin Westlake kept their unbeaten season alive as they went to Houston and knocked off two-time defending 6A-Division I state champion North Shore in a 24-21 classic.
The Chaparrals offense struggled mightily in the win as they only picked up 245 yards of offense with QB Cade Klubnik having a hand in all three Westlake touchdowns, including the game winning touchdown run on 4th and goal with just under two minutes left in the game.
Westlake's defense was the story of the game forcing three North Shore turnovers and finding a way to contain an explosive passing game by using their defensive line to dominate and get pressure on North Shore QB Dematrius Davis.
This game will come down to the Westlake defense against the Carroll offense; if Carroll can handle the Westlake defensive front the Dragons have a shot, but don't expect two straight subpar offensive performances from Austin Westlake's offense. Klubnik has a big game in the title game and Westlake brings home their second straight state title.
Stepp's Pick: Austin Westlake by 8
PLAYERS TO WATCH
Southlake Carroll:
QB Quinn Ewers – The reason the Dragons are in this position is because of their star quarterback, and one of the nation's best quarterback prospects in recent memory, according to every scout you talk to. Ewers struggled against a strong Duncanville defense and will arguably face an even better defense against Austin Westlake.
TE R.J. Maryland – Austin Westlake isn't going to let Southlake Carroll run, point blank. Sophomore Owen Allen is a talent and 2,000-yard rusher, but the Chaps' front seven thrives against the run, meaning the Dragons' physical tight end will be the mismatch target they'll need to rely on in tough situations. Maryland is more than up to the task.
Offensive Line – Did I mention that Westlake's front seven is nasty? The Chaps' defense held North Shore to just 21 points, only the second team to do so over the last three seasons. Protecting Quinn Ewers is the most important thing Southlake Carroll can do to ensure it has a shot as a state title.
Austin Westlake:
LB Nick Morris Jr. – Tony Salazar's scud missile on defense has unmatched closing speed. The future Duke Blue Devil has 75 tackles and 13 sacks this season roaming the second level for the vaunted Westlake defense.
QB Cade Klubnik – Quinn Ewers isn't the only highly-touted prospect in this game. Klubnik made some big-time throws against North Shore in the semifinal game during the Chaps' game-winning drive and has over 3,000 yards and 30 touchdowns to his name this year. Just the latest talented QB to come from Todd Dodge.
DL Hayden Bray – I could've gone with Westlake's star sophomore WR Jaden Greathouse here as well, but I decided to give two spots to the Chaps' defense. Bray's relentless pass rush and stalwart ability against the run anchors the Westlake front and makes him a nightmare to block through the whistle.
- Ishmael Johnson
KEY MATCHUPS
Dodge vs. Dodge
Saturday boasts one of the most special types of high school football: a father versus a son. Westlake coach Todd Dodge coached this very same Carroll team to four state championships and ranks among the top coaches in Texas high school history. His son, Riley, led Carroll to a state title in 2006 and now has his alma mater in the state title game in just his third season. Can the son best the father, or does the father still have a few tricks left up his sleeve in their first ever meeting?
Carroll OL vs. Westlake front
Southlake Carroll has created an offensive lineman development machine over the past few years and this season is no different. However, Westlake rode its defensive front to the state championship game two years in a row, giving up a combined 52 points all playoffs long. It's an unstoppable force vs. an immovable object and only one will emerge.
- Shehan Jeyarajah
PREDICTIONS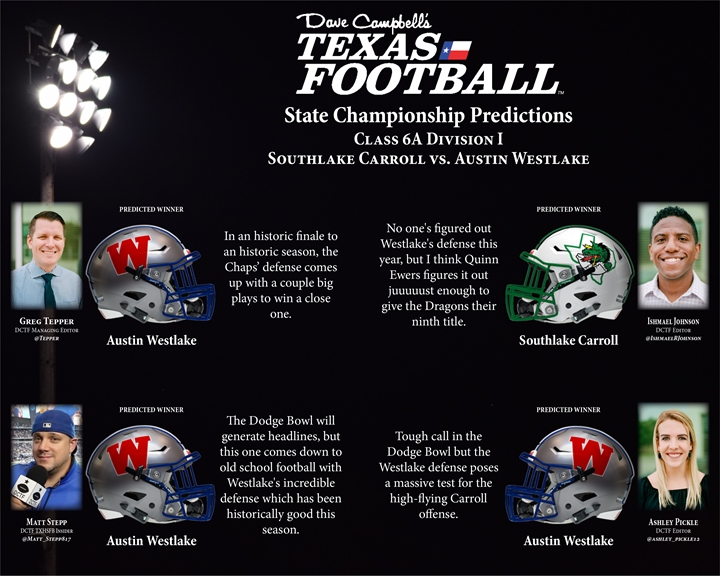 Playoff Central: Everything you need to follow the playoffs in one place. Brackets, times, locations, names to know, expert breakdowns and predictions.
This article is available to our Digital Subscribers.
Click "Subscribe Now" to see a list of subscription offers.
Already a Subscriber? Sign In to access this content.