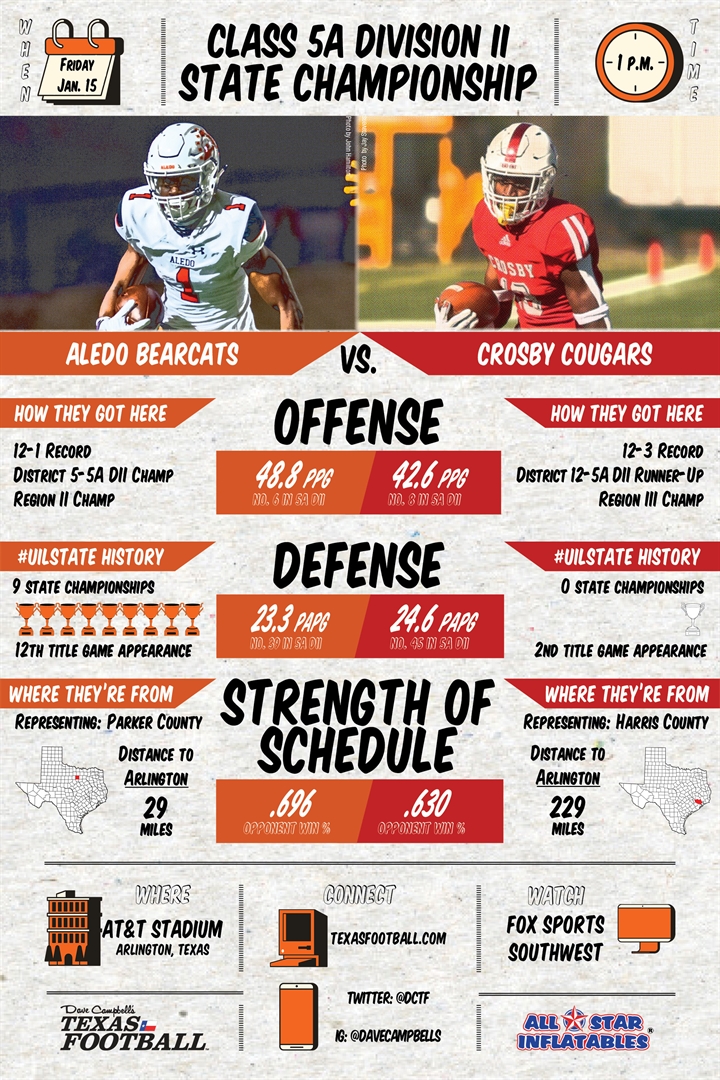 Looking for a place to stay for the game? Check out Live! by Loews
GAME PREVIEW
Aledo will look to win its record 10 state title and this time the Bearcats look to do it over a Crosby squad playing in its first state title game since 1960 when they were a Class 1A school.
Aledo, who had a scare in the regional finals against Lovejoy the previous week, had no such issues last week rolling past Wichita Falls Rider, 55-28.
Alabama WR commit Jojo Earle didn't appear to be 100 percent as he only touched the ball four times, but still managed 80 yards and a touchdown. So the Bearcats got behind their big offensive line and Lamar RB commit DeMarco Roberts, who ran for 155 yards and four touchdowns on the night.
Crosby had to survive an epic semifinal showdown as the Cougars made a late two point conversion stop to get past Liberty Hill and the vaunted Slot-T offense, 62-61, in an overtime thriller.
QB Deniquez Dunn, still not 100 percent on his bad ankle, looked much healthier last week throwing for 213 yards and three touchdowns while adding in 72 yards rushing and a touchdown. Reggie Branch added 119 yards on the ground and four touchdowns and 83 receiving yards and a touchdown.
Crosby's defense, at least early on, looked like they'd be up to the task against the Liberty Hill offense. But they were torn to shreds in the final three quarters as Liberty Hill finished the game with 693 yards of offense.
Crosby is going to come into this game heavy underdogs, but they've knocked off four straight teams ranked in the final top 10 in 5A-Division II, so they are going to throw everything and the kitchen sink at mighty Aledo. Unfortunately, Aledo's massive and tough offensive line combined with an outstanding front seven on defense dominate this one start to finish.
Stepp's Pick: Aledo by 17
PLAYERS TO WATCH
Aledo
RB DeMarco Roberts - Not only is he the best 5-foot-8, 160-pound football player in the state, the Lamar signee might be the best player going for the Bearcats right now. He's been simply sensational as both a running back and a kickoff returner, returning a kick off 88-yards for a TD in a nail-biter against Lovejoy a few weeks ago.
WR JoJo Earle - There's a reason he's headed to play for Alabama. You'll see it on full display in this one.
S Bryan Allen Jr. - The LSU commit is the star of a secondary that is going to have its hands full with the dynamic playmakers that Crosby presents. He's equal parts athletic and football savvy, and simply a joy to watch roam the backend of Aledo's defense.
Crosby
QB Deniquez Dunn - The Cougars will go as far as Dunn and his ankles will take them. Dunn has been dealing with an ankle injury and clearly wasn't 100 percent against Liberty Hill. But he's got plenty of heart; a solid week of rest before facing this Bearcats defense will be just what he needs before gameday.
WR Reggie Branch - Dunn's facorite weapon is Branch, who has signed with Incarnate Word. The dynamic playmaker is a tough matchup due to his 6-1, 180 frame, speed and leaping ability. He's a nightmare in space.
C Tyler Thomas - He deadlifts 500 pounds and benches 325 pounds. In other words, he has no problem pushing around defensive linemen and paving the way for the Cougars' electric offense. He'll need to be on his game to matchup with Aledo's stout defensive front.
- William Wilkerson
KEY MATCHUPS
Crosby QB Deniquez Dunn vs. Aledo LBs
Crosby's offense has reached another level since the playoffs started, averaging 51.8 points per game. Dynamic quarterback Deniquez Dunn has been right at the center of that explosion. Dunn excels at getting out of the pocket and forcing teams into mistakes at the second level, so Aledo will have to be prepared to play heavy contain to prevent big plays.
Aledo's OL vs. Crosby's DL
It comes as no surprise, Aledo has some straight-up dudes on the offensive line. There's a reason Aledo has been able to control every game they've played since losing to 6A finalist Cedar Hill on Oct. 16. Crosby has played some strong offensive lines, but nothing like this. How will the Cougars react?
- Shehan Jeyarajah
PREDICTIONS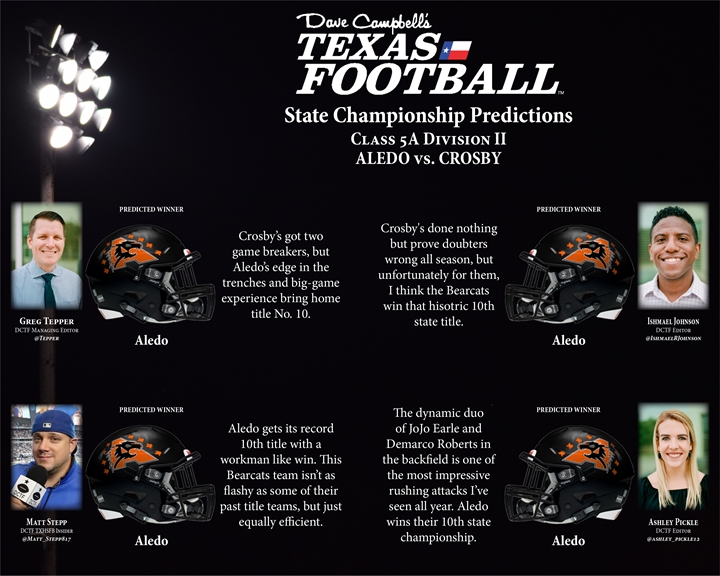 Playoff Central: Everything you need to follow the playoffs in one place. Brackets, times, locations, names to know, expert breakdowns and predictions.
This article is available to our Digital Subscribers.
Click "Subscribe Now" to see a list of subscription offers.
Already a Subscriber? Sign In to access this content.