There aren't many words to describe how dominant North Texas wide receiver Jaelon Darden was in 2020.
Darden leads the nation with 19 receiving touchdowns and ranks top three with 1,190 receiving yards in just nine games. Many of the receivers who trail close behind have played as many as 11 games.
In his career finale, Darden caught eight passes for 173 yards and four touchdowns, all of which were enough to clinch the program record for receptions, receiving yards and receiving touchdowns. After 2020, there is no question of who is the greatest receiver to play for the Mean Green.
"I expected it to be honest," Darden said. "I believe in my work ethic."
Wait, he expected to be a Biletnikoff semifinalist, All-American, lead the nation in receiving touchdowns and to leave North Texas as the leader in every receiver category four years after barely getting in the door at an FBS school?
"Just go back to the work ethic," Darden said with a half-smile. "It's a lot of work put in behind this. A lot of people don't see this."
Ask UNT coach Seth Littrell about why Darden is special? Work ethic. Ask UNT receivers coach Tommy Mainord? Work ethic. Teammates? Family? Staff? Work ethic. Work ethic. Hard work. Work ethic.
"When he walks onto the field, he has the confidence that he's the best one out there," Mainord said. "That confidence is built in his work ethic. That's who he is by nature. It's well earned."
After hearing the same answer over and over again from so many different people, you almost start to believe it. So where does this legendary work ethic come from? To answer that, you have to go back home to Darden's home in Houston, Texas and ask the people who know him best.
"There's a lot behind this," Darden said. "There's a lot to why I'm working so hard."
* * *
Manya Darden was the father of two exceptional boys and husband to Tamishe. He worked hard and always wore a smile. He loved encouraging others and making people laugh, and took great pride in his son Jaelon's exploits on the football field. Over the summer, Manya died suddenly of a heart attack during surgery.
"I say he's one of our soldiers and one of our soldiers was down," Tamishe Darden said. "He was one of the main leaders in [Jaelon]'s life and was the greatest inspiration to him."
From Manya and Tamishe, Jaelon learned the importance of hard work. Even while working tough schedules, the Dardens set time aside to make sure Jaelon made it to youth football leagues on time, that he performed well in school and worked on his craft.
Raised around family, it was instilled at a young age that no one accomplishes something alone. On the playground as a child, Darden was always supporting other kids and trying to bring everyone up with him. His brother wasn't his only sibling in his eyes. Everyone he grew up with was family.
"I think it's part of his morals and the foundation of what he grew up on, how his parents raised him," Tamishe Darden said. "He's always been like that. He always had a tremendous, giving heart. He's not selfish at all."
Darden really committed himself to football greatness in high school, but playing at Aldine Eisenhower meant living out some of that selflessness. Darden agreed to play quarterback on his high school team, even though he knew his college future wasn't at the position. Without question, lack of film at slot receiver – and missing some time as a senior following a transfer eligibility issue – kept Darden from receiving more attention. Plus, pesky questions about his 5-foot-9 frame followed him.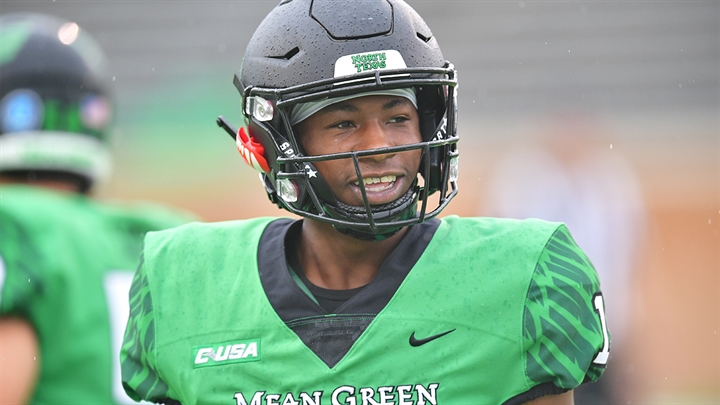 With 2017 National Signing Day days away, North Texas lost a commitment from another player. On the other side, Darden's commitment to UNLV fell through at the last minute leaving him without a home or a plan. At the last minute, Mainord reached out to Darden and extended him a scholarship.
"The Bible says the first shall be last and the last shall be first," Tamishe Darden said. "At the very last moment, North Texas extended an invitation. The things that you don't expect are always the things that have the best outcomes."
After the discouraging recruiting process, Darden decided to double down. Instead of just enjoying his role as the last man in the door, Darden got to work.
In a room with talented receivers like Jalen Guyton and Rico Bussey, Darden tried to find ways to set himself apart. First up: his weight. Darden needed to get stronger to play against FBS competition, so he spent extra hours in the weight room. Based on his physical gifts, Darden knew his path to the NFL started with route-running, so he spent countless hours working on the details, even outside of team activities.
"When you saw his work ethic, you knew he was going to be something special," said Mainord, who has been UNT's receivers coach since Darden arrived. "It's not just practice. It's getting the extra video work in and working in the weight room. Every drill or play that he runs, he's got his mind set on how he wants it done, and it's done to perfection."
Almost immediately, his work paid off. Darden got on the field as a true freshman and fielded 32 catches and three touchdowns. His ascent from that point was meteoric. Darden doubled his yardage as a sophomore and tripled his touchdowns as a junior. Now a senior, Darden is the most decorated receiver in UNT history.
"He loves football and wants to be great at it," Mainord said. "Even when we were in quarantine over the summer, when we weren't around our guys, he came in the best weight he's ever been. Even when he was down in Houston, he was just training and training and training. He will just work and work and outwork anybody."
The work ethic isn't the only value from his father that followed him to Denton. Even as a young player, Darden's big brother personality shone through. The whole receiver room has grown closer as a result.
"When I first got here, I was lost," wide receiver Deonte Simpson said. "I went to him and helped me out a lot. He was really just everything you can ask for in a teammate. There are a lot who get all these accolades and forget who they are. He kept his head down, and not many people can do that."
* * *
When Darden came back to Denton for the 2020 season, he was a man on a mission.
"I really locked into football the month after my dad passed," Darden said. "I just went into Kobe mode. It's just a mode I've gone into that I can't come out of."
The physical gifts were all there. He proved that with marathon workout sessions and nearly 1,600 receiving yards in his first three seasons as a complementary piece. With COVID-19 making team workouts a luxury, Darden flipped on the tape to become an expert on defense.
Darden watched his old film to see the little details he needed to improve. He also asked for charts from coaches on terminology and scheme so he could win the mental battle before the game starts.
"He understands defenses to where the game slows down for him," Mainord said. "That it makes sense. He's started understanding where they're going to be and where he needs to be and when he catches the ball, he knows where he's supposed to be."
A perfect example came in the finale against UTEP. Down 14-7 in the second quarter, Darden saw the safeties creep down into the box in zero coverage to stop the run on first down. The cornerback took a good angle to stop the deep pass, but Darden broke into a slant across the middle and broke into top speed at a superhuman rate.
Milliseconds later, Darden was free, the cornerback was on the ground and the entire UTEP defense was running 10 yards behind and he ran into the end zone with ease.
"When he gets on the football field, he tunes out all the other problems he has in his life and focuses on football," Simpson said. "When he's tuned in, he's tuned in."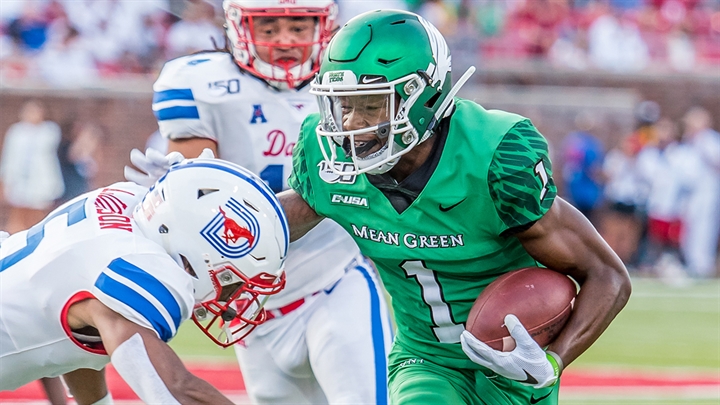 The beauty is in the results. Only one receiver since 2015 has matched Darden's 20 touchdowns in one season. That player – LSU receiver Ja'Marr Chase – needed 14 games to do so in 2019. Darden also ranks among the national leaders in broken tackles, yards per route run and yards after the catch.
"He's been an unbelievable guy to coach," Littrell said. "He deserves it. The plays he's made, the yards, the touchdowns, he's had a tremendous year."
Through all the success in his breakout senior season, the memory of his father and all the people Darden plays for has fueled him to greatness.
"There's no doubt, he's playing for a purpose," Mainord said. "That was a tough time for him. He's really playing for something bigger than himself."
* * *
Darden's sensational senior season launched him into the national spotlight. Already, Darden has collected Conference USA MVP, DCTF Offensive Player of the Year and All-America nods from ESPN and Pro Football Focus. More honors could come this week.
After the regular season finale, Darden opted out of the bowl game and turned his focus to training for the 2021 NFL Draft. Despite Littrell's success at North Texas, the Mean Green still hold the dubious honor of longest streak among major college teams without an NFL Draft pick.
The Mean Green have not produced a single draft pick since sixth rounder Cody Spencer in 2004. To find a pick higher than the sixth round, you have to go back to 1989. That will change.
"I think he's a legitimately high-level NFL-caliber athlete in terms of his quickness, his speed and that sort of thing," said Pro Football Focus NFL Draft analyst Mike Renner. "He's playing at a different sort of level than the kids he's going up against."
Renner compared Darden to Chicago Bears wide receiver Darnell Mooney, who fell to the fifth round and has made teams pay. With Mooney's success and Darden's versatility, Renner believes that Darden could threaten to be a Day 2 pick.
"I think the rise of more players his size being not just productive but some of the best players at their position – like Tyreek Hill – is helping players like him realize that with the way offenses are going, you don't have to be 6-foot, 200 pounds to win on the outside or be productive," Renner said. "You can do a lot of different things in an offense and you want the guys who can be dynamic in space. That's Darden."
But for those who love Darden most, when he is drafted isn't important. North Texas was the last team to offer Darden. One team taking one chance set in motion a series of events that changed a player and a program. Remember, the last will be first and the first will be last. It will happen again.
"Soon as he gets drafted, we're going to throw a party," Simpson said with a grin. "It would be so big for us. We know all the hard work and time and effort he's put into it. When we hear his name, we'll probably be more excited than he is.
"Every day I think about that. He's going to go to the league and I get to witness him every day."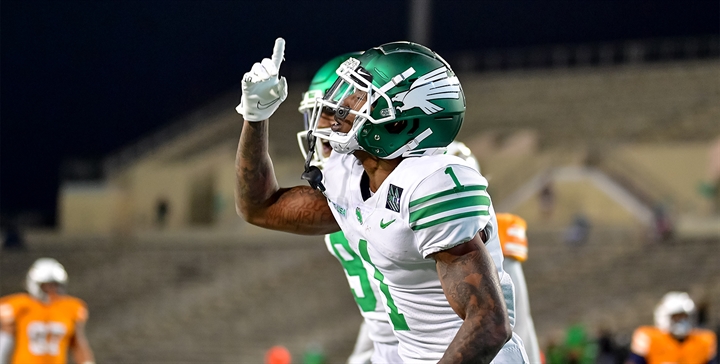 When Tamishe Darden was asked what it would mean for Darden to get drafted into the National Football League, she had to pause and reflect.
"Wow," she said. "That would mean a lot. It would mean that all our effort and hard work wouldn't be in vain."
When Jaelon Darden is drafted and his years of hard work come to fruition, it won't just be for him. It will be for his mother and father who fought to put food on the table. It will be for his brother and all the siblings he grew up with who taught him never to through life alone.
It will be for the coaches and teammates who believed in him. And it will be the sweet satisfaction of knowing that every extra rep, every sacrifice his parents made for him was worth it. It will be to make his father proud.
"It's as if when he gets on the field and the ball touches his hands, he sees his dad at the end zone," Tamishe Darden said. "When he makes it to the end zone, not only does he congratulate himself, he always throws his hands up to give reverence and to have the humility to know that it's not his work.
"He didn't get there alone – all of us helped him get there."
___
Photos by John Hamilton and North Texas Athletics
This article is available to our Digital Subscribers.
Click "Subscribe Now" to see a list of subscription offers.
Already a Subscriber? Sign In to access this content.