NOTE: The game was originally scheduled for Dec. 16 at AT&T Stadium in Arlington, but had to be postponed due to Covid-19. It will be played on Jan. 5 at 6 p.m. at San Angelo Stadium.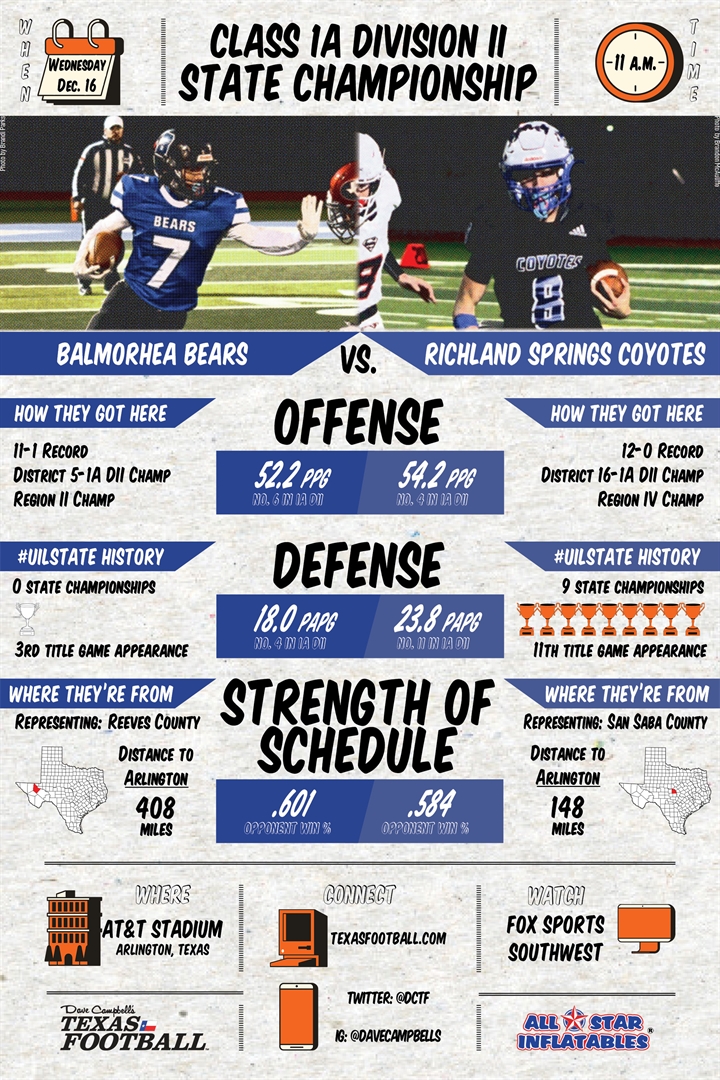 GAME PREVIEW
Death. Taxes. Richland Springs.
In a year when the entire world has been turned upside down, one thing remained upright: the Richland Springs Coyotes will play for another state title. A win this time around would be a state record 10th state championship - all since 2004 - with head coach Jerry Burkhart.
The Balmorhea Bears, on the other hand, are looking for their first-ever state title, after falling in the title game in 2016 and 2017.
Of course, their head coach, the incredible Vance Jones, has won three state titles as a head coach himself. He led Marathon to the title in 1976 and Garden City to a pair of championships in 2009 and 2010.
Balmorhea came into the season as the favorite to win their first title and were able to navigate their way to the championship game despite going through one spell where they were only able to play one game in a five-week span.
They are led by 12 seniors, who experienced Jerry's World as freshmen the last time the Bears reached the final. Balmorhea made playoff runs the past two years as well, but was placed in Division I during that stretch.
The Bears will play mostly a tight formation and run, run, run the ball. When they do pass, look for quarterback Drew Laramore, who made some big-time throws in their semifinal win over Groom. Laramore has thrown for only 369 yards on the season with nine touchdowns, but made the big plays when it mattered.
The option-centric running attack will primarily center around Tomas Contreras, a sophomore on a squad full of upperclassmen. He has carried the ball 129 times for 1,420 yards and 35 touchdowns so far this season. Expect Angel Iniguez and Dylan Aguirre to get plenty of touches as well.
Richland Springs' offense is more balanced, but will mostly be run through the coach's son, Landon Burkhart. The senior is a dual-threat spread back who gained 1,270 yards rushing with 24 touchdowns and threw for another 1,154 yards and 23 touchdowns.
All of that was accomplished in just 11 games, as the Coyotes as well had problems trying to fill their schedule this season.
Richland Springs will play out of both a spread and tight formation, but is expected to run way more spread than any of the other teams playing on Wednesday.
For the Coyotes to grab that 10th title they will not only rely on their passing game, but also the running ability of Jadeyn Bryant and Zane Capps; those two have figured prominently in the playoffs.
The key to this game, however, will be defense. Which team will be able to slow down the other? Balmorhea will rely heavily on their depth, where they are able to platoon at most positions.
That specifically means DE's Lauro Matta and Sean Orozco. The pair accounted for 85 and 57 tackles, respectively, this season. Along with NG Armando Mendoza, the Bears will look to contain the Coyotes at the line.
Richland Springs doesn't have the luxury of a platoon, as they rotate in very few players. That could spell trouble for the Coyotes late in the game. In their last two games, the Coyotes surged out to big leads only to see their opponents claw back late.
Bryant leads the Coyotes in tackles with 70.5 on the season. He has recovered an incredible 12 fumbles. Burkhart ranks second with 50.5 tackles and a pair of interceptions. Capps also grabbed two interceptions and was next on the team with 49.5 tackles.
In the end, this should be a fairly even ballgame. The only thing that is for certain this time around is that the winning team will be wearing blue.
Granger's Pick: Balmorhea 60, Richland Springs 48
- Granger Huntress
PLAYERS TO WATCH
Balmorhea
No. 7 Tomas Contreras – A sophomore on a very senior-laden team, he leads the Bears with 1,420 yards rushing and 35 touchdowns in just 11 games. Expect the Bears option offense to run primarily through him. Defensively, he has 22 tackles and a pair of interceptions.
No. 14 Lauro Matta – It is tough to single out just one player on defense, but Matta will need to be a force up front if the Bears are going to stop Richland Springs. The senior led the team with 85 tackles, but also scooped up four fumbles, returning two for touchdowns.
Richland Springs
No. 22 Landon Burkhart – The son of the head coach is a threat in the backfield as both a runner and passer, leading the Coyotes with 1,270 yards passing and 24 touchdowns, as well as completing 65-of-96 passes for 1,154 yards and 23 touchdowns. The senior also has 50.5 tackles and a pair of interceptions.
No. 12 Jadeyn Bryant – The defensive leader for the Coyotes, the junior end has 70.5 tackles. His most impressive feat may be his 12 fumble recoveries in only 11 games. King is also the second-leading rusher on the team with 576 yards and 16 touchdowns.
PREDICTIONS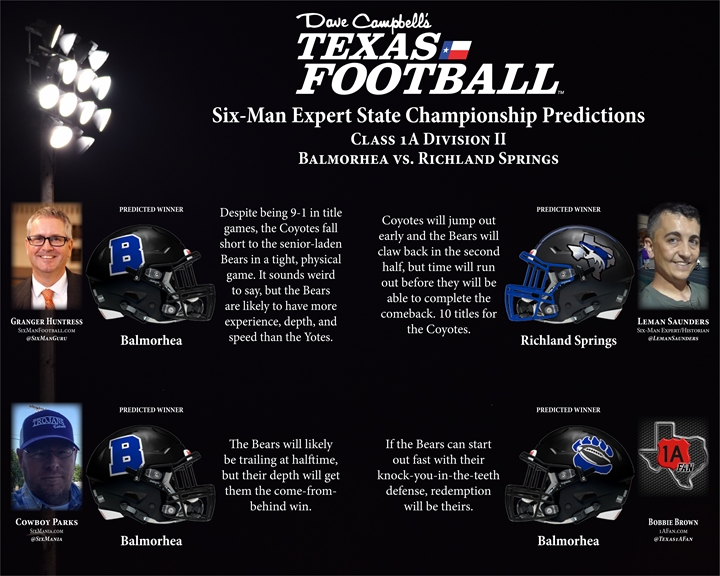 Playoff Central: Everything you need to follow the playoffs in one place. Brackets, times, locations, names to know, expert breakdowns and predictions.
This article is available to our Digital Subscribers.
Click "Subscribe Now" to see a list of subscription offers.
Already a Subscriber? Sign In to access this content.