Every Thursday during football season, North Texas athletic director Wren Baker sits by his computer and anxiously waits for the winning lottery number to pop up on his screen: zero.
"You're watching for testing results kind of like the rest of America was watching for election results a couple weeks ago," Baker said. "For every result that comes in, the situation changes."
Plenty has to go right to play football in a global pandemic. Your program has to contain or eliminate cases of COVID-19. If you have positive cases, you have to make sure the infected individuals don't take out a whole unit through contact tracing. And then when everything is right on your own, you have to hope everything went right on your opponent's end too.
Three weeks in a row now, North Texas has rolled snake eyes.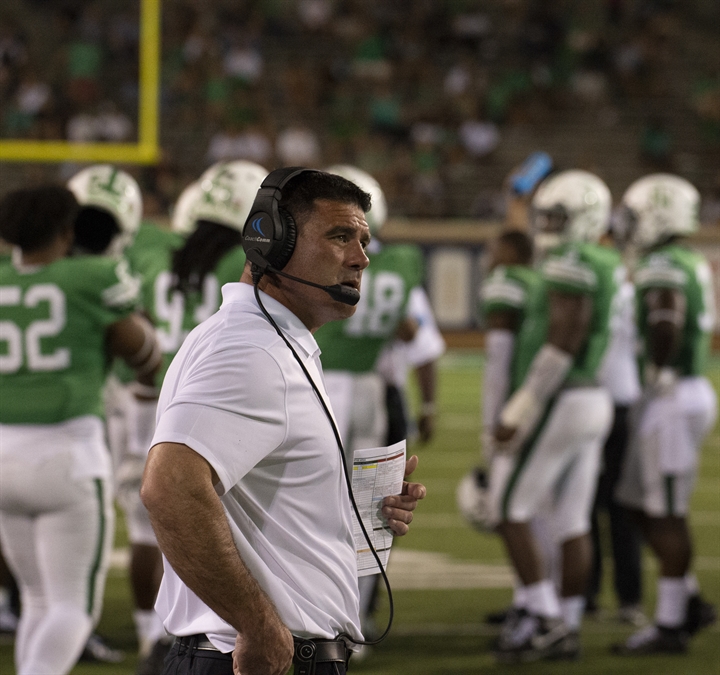 First it was a matchup against UTEP postponed by shocking case numbers in El Paso County. Disappointing, but reasonable enough.
Then, a game against Louisiana Tech was lost. There were cases in both programs, but North Texas' roster was eventually unable to play.
Last week, UAB had to pull out at the last second on Thursday evening because of rising cases in their program.
Thanks to an unfortunately placed bye week before this nightmare stretch, that means North Texas will have waited an absurd 35 days between games. Every week, it's been a team Zoom meeting on Thursday with more bad news.
"It's just weird," defensive back Makyle Sanders said. "It's been really kind of disappointing not being able to play. It's weird. It's just something we've got to fight through."
The last time North Texas played a game – an encouraging 52-35 win over Middle Tennessee – the Dodgers were still fighting through the NLCS, Michigan was a top 20 team and Halloween was weeks away. No other FBS program in Texas has waited more than three weeks between games.
The immense lapse couldn't have come at a worse time. The Mean Green are breaking in a new defense and still working to replace quarterback Mason Fine. Newly-hired quarterback coach Tate Wallis was arrested two days before UNT's first game, complicating an already murky quarterback battle. A 1-3 start was far below expectations.
Against Middle Tennessee, the Mean Green finally put consistent drives together on both sides of the ball. And then, their season just… stopped.
"It gets frustrating if you allow it to," North Texas coach Seth Littrell said. "We want the opportunity to get out there and play – our players do, our coaches do, our fans do, our administration, everybody. When things get cancelled, it's never easy."
For assistant vice president of football operations Shane Elder, the last several weeks have been an assault on his self-professed Type A personality. Game day logistics are planned weeks or months in advance. Losing control of his circumstances has been an adjustment, especially with all the extra logistics work his staff had to put together.
Three buses during most games turns to five on road trips to spread out. Same for the charter plane, where a traveling party of 175 became 120. Hotel ballrooms had to be expanded for social distancing at team dinners. All that planning has been for nothing.
Instead, his power has been replaced with having to call hotels and vendors each week and give them the bad news. Telling hotels that they're about to lose tens of thousands of dollars in bookings due to cancellations has been the toughest part of the year.
"It's been frustrating," Elder said. "The first time it was like, okay, I get what this is about. Then it kind of gets more frustrating when you go on. At the same time, you have to keep things in perspective."
That stress stretches all the way to the top office in UNT athletics. Baker knew heading into the season that it could be more transient than expected. Before the season, he raised eyebrows by suggesting as much as 25 percent of games could be postponed. College football reached that mark last weekend.
However, even reasonable expectations weren't enough to prepare him for the constant onslaught of COVID complications. He estimates that 60 percent of his time is spent dealing directly with COVID-related issues. With 35 days of complications and missed games, the frustration rises.
"It's an emotional rollercoaster for sure," Baker said. "I'm sure it's a challenge for our coaches and our players because there's so much work and prep that goes into preparing for an opponent...you have to stay ready I think."
On the field, perhaps no one has more to lose than wide receiver Jaelon Darden. The Houston Eisenhower product led the team in receiving yards as a junior, but went supernova once conference play started. In three conference games – three! – Darden posted 36 catches for 552 yards and five touchdowns. In fact, Darden still leads the nation with 10 receiving TDs despite playing half as many games as second place Marcell Barbee.
Darden has produced consistently during his past three years at North Texas, but he's still losing critical opportunities to put more film on tape in his new role. Professional scouts can't stop by practice as usual. The effortlessly optimistic Darden is trying to make this situation a positive.
"I feel like everything happens for a reason," Darden said. "I feel like this is God just giving me a chance to enhance and get more here (points at forehead) more so than on the field. I've been really taking time to study film."
Staying positive hasn't been easy, but shining attitudes like Darden's help. Littrell and the coaching staff has tried to keep the atmosphere light. Without the physical grind of a game to look forward to, the staff has run more best-on-best practices, which ups the competition. They've also given out a few more practice awards to keep morale high.
However, no group has done it better than the defensive back group. With games being postponed and cancelled, Saturdays are for paintball.
"It's been fun," said Sanders, who claims to be the most accurate paintball shooter in the secondary. "It's bringing us closer. We just happened to go out of nowhere one day and have been continuing to go as the games get cancelled."
That energy from off-field bonding has translated to the field, even as the season has become one long practice.
"Our kids have been awesome, they really have," Littrell said. "Obviously very disappointed on Thursday nights, but every week they've bounced back great. I think [Tuesday] is as good of energy as I've seen, so they're overcoming it."
After all of the frustration of previous weeks, the game against Rice looks promising. The Mean Green are close to full strength. Rice's numbers have been low. Everyone from players to coaches to administrators to fans are praying this is the moment North Texas can finally get back on the field.
"Last week, I was excited and it just happened to get cancelled out of nowhere," Sanders said. "This week, I'm going to stay a little cautious, but stay excited at the same time."
Regardless, the players will practice. The coaches will coach. The administrators will organize. Dozens will converge at Apogee Stadium, do their job and hope – after 35 long days – for the best.
"At some points you want it to come to fruition, you know?" Elder said. "See the work you've been doing, see a game, win a game, enjoy that and experience that again."
This article is available to our Digital Subscribers.
Click "Subscribe Now" to see a list of subscription offers.
Already a Subscriber? Sign In to access this content.