A large portion of the Flower Mound Marcus (5-0) success can be attributed to the high-level play that 2021 QB Garrett Nussmeier (6'2, 180) has brought to the table. He is ranked #18 in the DCTF Hot 100 and is the No. 2 QB in the state. Nussmeier is an LSU commit and an Elite 11 Finalist.
Nussmeier became the Marauder's career touchdown passing leader in a cross-town win over Flower Mound in 'The Mound Showdown.'
A couple of weeks ago, 'The Mound Showdown' rivalry game between Marcus and Flower Mound High had a lot of hype surrounding it, with both teams having plenty of talent on both sides of the ball to ignite some fireworks. However, the game belonged to Nussmeier with a record-setting night for the senior.
In the win, Nussmeier showed an uncanny ability not only to extend plays but makes plays with both his legs and arm. The biggest takeaway was his calm demeanor while under duress. Even with the talented Flower Mound defensive front barreling down on him, he was still able to make some impressive down-the-field passes.
The four-star's game is hard to scout because his style of play has a level of improvisation that makes every down feel like school-yard football, and we say that as a compliment.
Nussmeier likes to model his game after a certain LSU Tiger that had a national championship season in 2019: Joe Burrow.
"Put 9's tape on from LSU last year. That's how I play. That's the level I aspire to play at one day. That's the guy that my game models after a lot," Nussmeier said about Burrow and his style of play.
For Nussmeier and Marcus, ' The Mound Showdown' game was about coming full circle from where they found themselves two years ago in 2018 when Flower Mound dismantled Marcus 59-21. That team led by a younger Nussmeier would only finish 5-5, but growth would come from that experience.
"This (game) was big to me, especially just with the disrespect that happened my sophomore year, I wasn't going to let it happen again. I made a promise to my teammates I would never let us lose another Mound Showdown. For us to come out and do it two times in a row is awesome," Nussmeier said after the game.
Nussmeier has taken his lumps as a player while also experiencing tremendous success. Since his sophomore year, he's made great strides in his overall game, but one trait that stands out the most is his confidence in his abilities. He does not lack it, and the LSU commit could fill up a room with it. By and large, it's a big part of why he is able to pull off some of the plays that he does in games.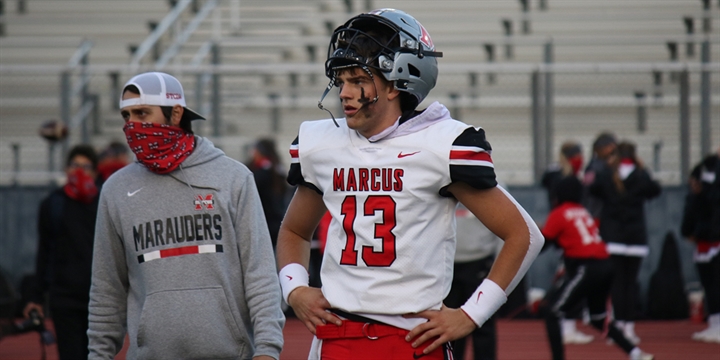 Like their quarterback, this Marcus team has navigated both periods of growth and success over the past couple of seasons.
They are eager to take the next step by advancing past the second round—something they haven't done since 1995 when they finished as 5A Division II State Finalists.
This year their leader believes they have the playmakers to do it.
"I think honestly overall, we just have a really great team. I do my part, I do my job but overall, I just feel like we have a lot of guys that can go play. We have a great coaching staff, great support staff, and a great community that is fully behind us," Nussmeier said while speaking about his team.
When asked if he understood that a lot of his team's success would come down to him being able to put them over the top Nussmeier had this to say, "I don't really think about it. I feel like there is nobody in this state that is really better than us. Like really better than us. I feel like we can go into any game and go win it."
If you're looking for a surprise team to make a run in the playoffs, this would be a strong pick. Their star player feels like they can; maybe you should too.
This article is available to our Digital Subscribers.
Click "Subscribe Now" to see a list of subscription offers.
Already a Subscriber? Sign In to access this content.