This is a Public Service Announcement to college football programs across the country: Offer Dane Jentsch.
Please.
Time has long expired for those of you contemplating whether to take a chance on the senior quarterback from Grandview High School.
That time is now, and you know it.
Yeah, yeah, we get it; he's not 6-foot-3 and 220 pounds.
But you know what the 5-foot-10, 190-pound Jentsch is? One of the state's all-time great high school football players. A winner. A leader. Someone your program would benefit from having on your roster.
Here's a little refresher for you:
He's the only player in the history of Texas high school football – THE HISTORY OF TEXAS HIGH SCHOOL FOOTBALL - to win both offensive and defensive MVP honors in the state championship game twice.
He threw for 2,598 yards and 35 touchdowns while running for 1,269 yards and 16 scores in leading the Zebras to their first state title as a sophomore. Oh, and he also added 92 tackles and an interception for good measure.
Last season, Jentsch posted 4,377 total yards of offense and 49 total touchdowns while pulling down a team-high 8 interceptions during another state championship season.
In the Zebras' 42-35 win over Pottsboro to "secure the bag," Jentsch passed for 218 yards and rushed for 152 yards and a score while also recording five tackles, a tackle-for-loss and an interception.
He's 35-4 as a starting quarterback and 15-1 in the playoffs.
Jentsch is "Big Stage" certified.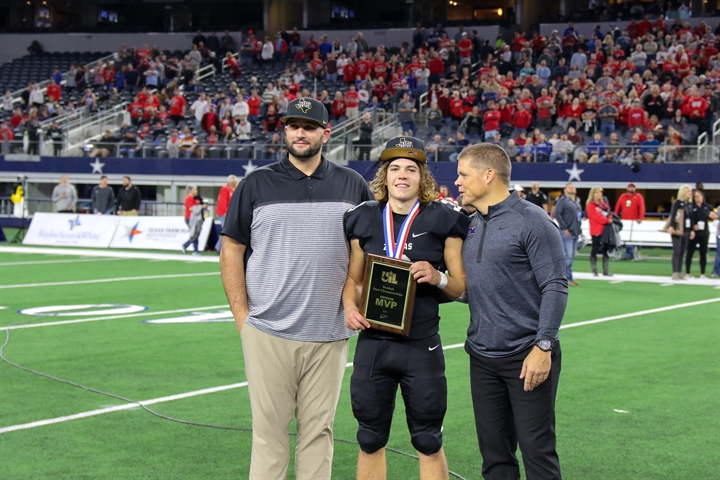 Kudos to Texas Wesleyan and Hardin Simmons for seeing the value in Jentsch and extending him an offer.
As for the rest of you, what gives?
"I know 100 percent why: it's because of my height," Jentsch said. "Colleges come up to [Grandview head coach Ryan] Ebner and they'll like me, but then they'll ask how tall I am and then they move on."
Ebner has seen that play out one too many times.
"I had a coach come to see one of our kids once and he told me that if [Dane] was two or three inches taller he'd have 31 Division I offers," Ebner said. "But he is 5-11 and 190 pounds, so I don't know. I guess a lot of the big, big schools have a particular body type they want. There's nothing else it could be.
"He's never been in trouble. He makes great grades. His dad's a coach for us. His mom works in the elementary. And he doesn't even really lose."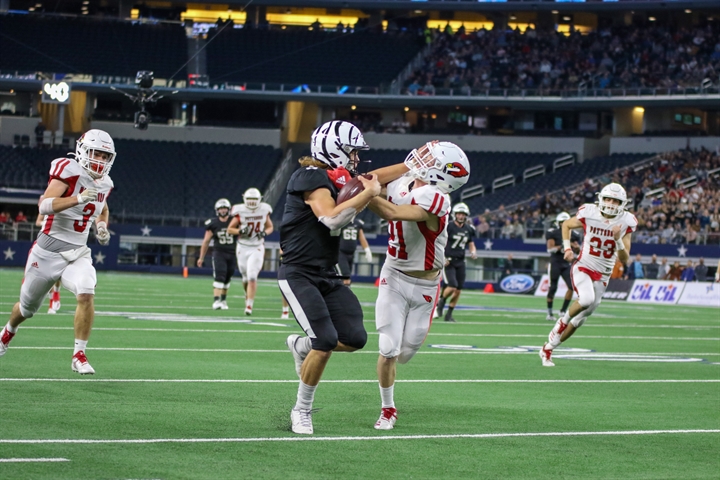 Ebner had gone with the flow of the recruiting game early on, telling Jentsch that if he won another state title as a junior he'd see interest pick up.
"And it did a little bit," he said. "There is definitely more interest from the smaller schools, but I just thought there would be offers thrown left and right. There is a lot of interest, but nobody has taken that chance. I feel like if one does, then others will follow."
It all just adds fuel to Jentsch's eternal flame.
"It makes me want to go out there and try even harder, having coaches regret not picking me up," said Jentsch, who started his career as an outside linebacker.
Jentsch is doing what he can to get in front of as many recruiters as possible. He tries to follow at least one new coach a day on Twitter and follows most of them up with a DM.
"Most of them don't DM me back," he said. "I think the smaller schools are waiting on the bigger schools to pick me up, and the bigger schools see that I don't have offers and just don't mind it.
"I'm just being patient. I talked to Tarleton [Jentsch's father, Clint Jentsch, was an All-American linebacker there in the early 1990s] and they said they would offer my at the end of the season. That's a DI I'd want to go to. I'm just being patient right now and hoping for the best."
For those unsure on whether to offer, Ebner has an idea.
"Bigger school wise, I tell them why don't you just offer him as a preferred walk-on? I promise you by his junior year he'll be a team captain," he said. "Redshirt him the first year and then maybe he gets an opportunity to be on special teams his redshirt year; you'll watch him go down there and tackle, so you'll start him. Next year he'll start somewhere else."
So, colleges, what are you waiting for?
Offer Dane Jentsch.
This article is available to our Digital Subscribers.
Click "Subscribe Now" to see a list of subscription offers.
Already a Subscriber? Sign In to access this content.