When Katy cornerback Bobby Taylor first saw the video of police shooting Jacob Blake in the back seven times in Kenosha, Wis., it made him angry.
When he saw videos of 17-year-old Kyle Rittenhouse walking through the same streets with a long gun, shooting protestors and then walking by police without being arrested, he was infuriated.
"That was the breaking point for me," Taylor said. "I felt like I had to do something about it any way I can."
Taylor, a blue-chip prospect with offers from the nation's top programs, decided to use the biggest platform he has: football. To bring attention to racial injustice, Taylor and fellow blue-chip cornerback Hunter Washington announced they will sit out of Katy's scrimmage and first regular season game. Katy faces Klein Collins in a scrimmage on Sept. 17 and opens the season against Clear Springs on Sept. 25.
"I just want to raise awareness," Taylor said. "I want people to wake up and see this isn't a joke...I just want people to know that people are being treated differently. People have got to accept that."
Their decision is the culmination of rising unrest in America that has intensified over the past several months. The police killings of George Floyd in Minnesota and Breonna Taylor in Kentucky – along with the killing of jogger Ahmaud Arbery by vigilantes – led to nationwide protests about racism and police violence.
In the days after the Wisconsin shooting, the NBA shut down for two days in an unprecedented wildcat strike during the playoffs. The NHL and MLB followed suit. Multiple college football programs across the country held practice walkouts, including Texas, Baylor and Texas Tech.
Black students make up 12.6 percent of Texas public schools and far less of most colleges. However, Black men are far better represented on the football field. Black athletes across the state of Texas are using their platforms to speak out about issues facing their communities.
In East Texas, players at 3A Queen City High School were inspired by the actions of the other leagues. The town of fewer than 1,500 residents located 10 minutes west of the Arkansas border had lost 26 consecutive games heading into the season opener against Linden-Kildare. Still, some had more than football on their mind.
During the national anthem, several athletes – black and white – decided to take a knee. Others who stood supported their teammates by putting a hand on the shoulder of their kneeling teammates. But inside the program, everyone was on the same page.
"The ones who kneel, they're not trying to make the others feel bad for not. The ones who stood, they're not trying to make the others feel bad for kneeling," Queen City coach Eric Droddy said. "They're in it together."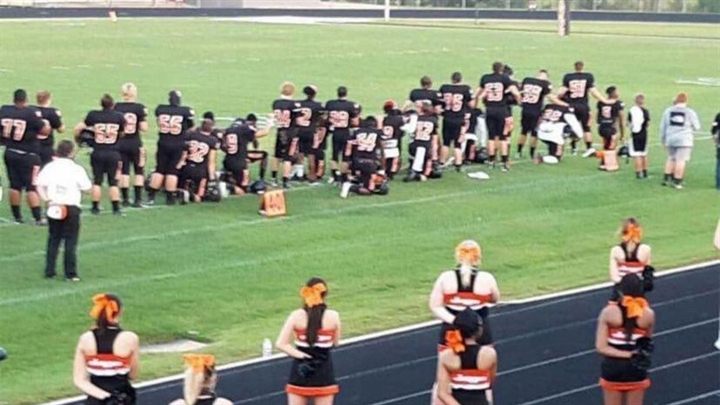 The game was Droddy's first as new coach at Queen City. It would have been easy for him to try and ignore the issue, especially in a small town. However, all summer long, he embraced the opportunity to have difficult conversations with his diverse team. After the conversations, one of his sons on the team even decided to kneel in solidarity.
Queen City football heard some pushback from adults in the community after the decision, with several saying kneeling during the anthem was disrespectful to the troops. However, Droddy served in the Marine Corps from 1993 to 1997 before becoming a high school football coach. His brother has also worked as a state trooper for the past decade. The decision to support his players was a deeply personal one.
"I know what people have fought and died for and it was for all opportunities, not just for those who choose to stand but also those who choose to kneel," Droddy said. "There's things going on in their society that they're worried about, that they want to see changed. That's one reason it's so emotional for me. Seeing them band together and do it as a group and not leave each other alone, that just goes to the culture they're creating as team members."
That unity did translate to the football field. Queen City beat Linden-Kildare 14-0 to win the Cass County Clash and snap a 26-game losing streak, which ranked among the longest in the state.
Three years ago, CJ Ingram-Lewis and his cousin, Larry McCullough, made national news when they were kicked off a high school football team affiliated with Victory & Praise Worship Center in Crosby for taking a knee during the national anthem in 2017. For Ingram-Johnson, seeing player activism spread at all levels in 2020 is gratifying.
"Honestly, it's the best feeling in the world," Ingram-Lewis said. "I'm proud of everybody, man."
Ingram-Lewis was inspired to follow Colin Kaepernick's lead by his parents, who he says raised him to be "unapologetically Black" and ensured he knew Black history. He felt racism first hand while growing up in Tennessee and when he went to private school. And with three years of perspective since his decision, Ingram-Lewis has no regrets about standing up for his beliefs.
"Sometimes I do think, dang, we did do this three years ago and nobody supported us," Ingram-Lewis said. "I know things take time...I think people are more open to hear what the protest means [now]. It's not about disrespecting people, we just want to be heard and we want to get justice for certain things."
However, the protests aren't an endgame. Droddy is working with his players to decide how the team can turn their unity into action. College athletes are holding voting drives and raising money for various causes. And for high-end recruits like Katy's Taylor and Washington, recruiting is just another opportunity to ask coaches to stand with them.
But most importantly, athletes view the job of these protests as keeping the conversation about racial injustice alive. They're hopeful change will come.
"I know we're getting somewhere," Taylor said. "I know it's probably a little slower than we wanted it to. Hopefully we can keep that going as long as we need to until we get change. Until then, we must keep pushing."
This article is available to our Digital Subscribers.
Click "Subscribe Now" to see a list of subscription offers.
Already a Subscriber? Sign In to access this content.