Oh, so you think you've been waiting a long time for sports to return? For Texas high school football to be in the headlines for what happens on the field, instead of when something might happen on the field?
There's only so much cornhole one can take. We get it.
But these past four or five months pales in comparison to the three years – minus a single half of football – that Denton Guyer's Grayson O'Bara has had to endure.
His tumultuous journey to present day began back on July 1, 2018 – the summer before his freshman season - when an ATV accident nearly cost him his right arm; as in gone, amputated.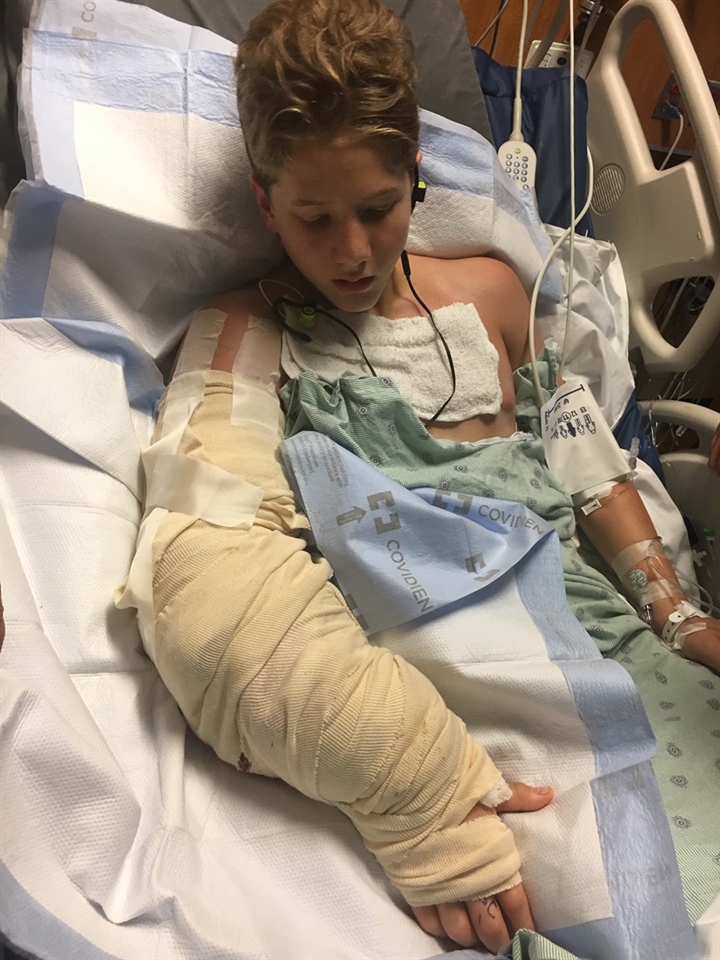 "It's a scary situation sitting in the hospital thinking I might lose my arm," he said. "No 14-year-old kid is going to handle that well."
Not only did he break his humerus bone - that long bone that runs from the shoulder to the elbow, but O'Bara ruptured every artery in his arm, which caused an overwhelming loss of blood.
He also severed all of the nerves in that arm, which caused him to lose all feeling in his right hand.
"Everything in that right arm was destroyed," he said.
Not ideal for anyone, much less a wide receiver.
"My whole life is around football and being a receiver… you need two hands to catch the ball, of course," he said. "It was a scary situation."
He was rushed to Parkland Hospital and immediately taken into surgery, which lasted for roughly seven hours. It was during that surgery – the first of five surgeries he's had – that doctors were confident the arm could be salvaged.
A huge sigh of relief, but O'Bara was definitely not out of the woods.
His two-week stay in the hospital was followed by 11 months of unbearable rehabilitation.
"It was a struggle," he said. "I started out at five days a week just trying to work stuff out and stay positive. I was just slowly, slowly, slowly trying to get some movement in my hand. Just trying to move around marbles. Holding up a pencil, just simply holding things; my arm couldn't move."
O'Bara said you'd thought he won the lottery if he picked up a marble. Contemplate that for a second. A marble.
He stayed the course, though, and reduced the amount of weekly rehab he had to endure from five days a week, to four, to three until he was finished.
The physical struggle then transitioned to a mental battle.
"I knew I was going to play football as soon as I got out of the hospital," he said. "My first goal was to play football that spring; nothing was going to stop me. My mindset every day was just looking at the glass half full instead of half empty."
Mind you, this was a 14-year-old at the time showing this type of drive and determination.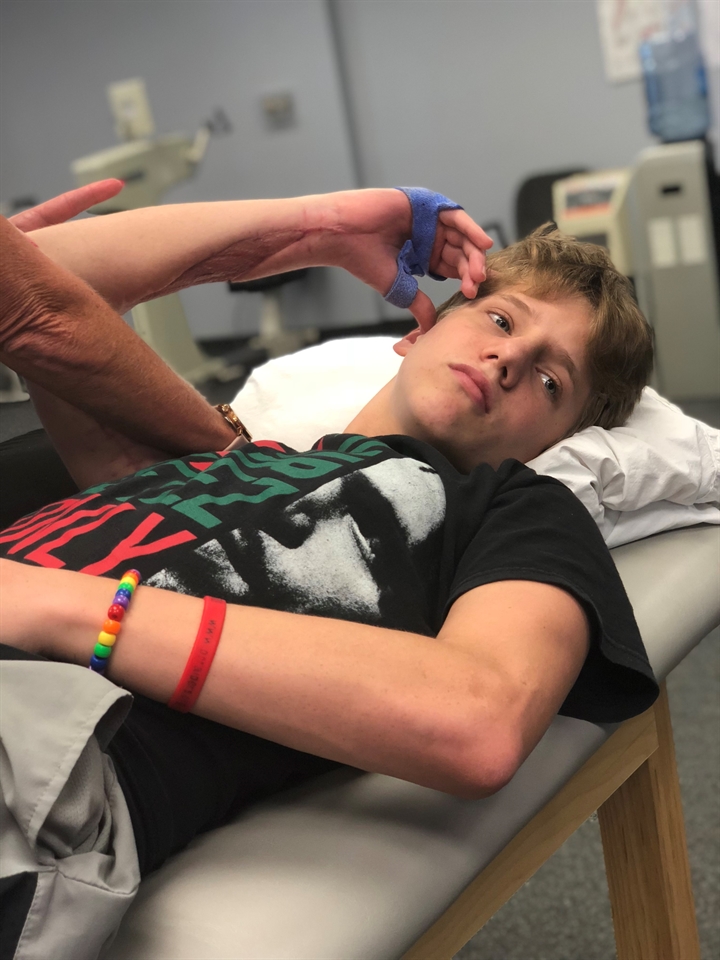 He was finally healthy thanks to some other-worldly leadership and compassion from Guyer's strength coach Kyle Keese and athletic trainers Janna Roper and Derek Abell, as well as then-Guyer head coach John Walsh, who has since accepted the same position at San Marcos High School.
"It started out just developing his confidence back," Keese said. "Before he got hurt, man he loved playing football. He was a go-getter. He had always wanted to play at Guyer forever. His older brother [Grant O'Bara] played here. For that to happen to him right before his freshman season was about to start hurt him a lot psychologically."
Keese, who was recognized as the Southwest Region Coach of the Year by the National High School Strength Coaches Association in 2019, said he had to find alternative means for O'Bara to workout at first.
"We had to train in unconventional ways," he said. "A lot of times we focused on range of motion with his arm. For a while he couldn't even shake someone's hand. There was actually no movement in his hand for a while.
"If I'd write a workout, there were a lot of things he couldn't do so I'd have to modify it. I didn't want him to go to workouts and just sit on the sidelines; that's just going to make him down even more. So we had to get creative in developing his weight, his strength and his speed. He was never sitting in a corner waiting for workouts to be done. He was just as busy as anybody else in the room, regardless of the situation."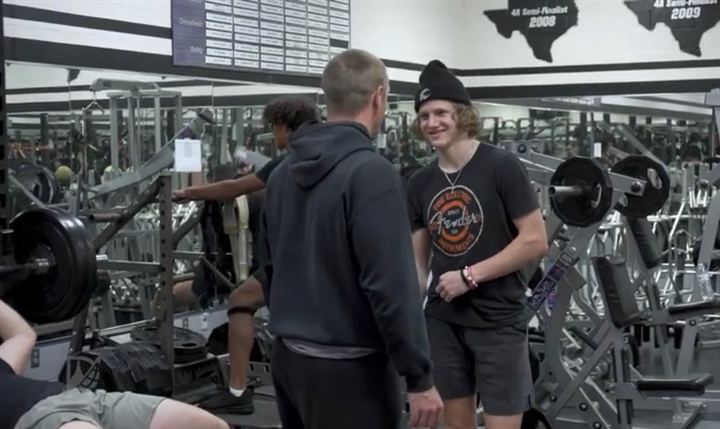 It was finally time to play football again. Walsh had O'Bara, then a sophomore, start out as a defensive back on the junior varsity.
During the first series of the first game – his first live high school football action ever – O'Bara went in for a tackle and snapped his collarbone.
Seriously.
"It was terrible pain," he said. "I knew I broke it."
O'Bara wasn't about to come out of the game that quickly. He'd been through worse. So he played the rest of the first half before he fell on his shoulder diving to deflect a pass in the third quarter.
"I was in shock because I worked so hard to get that opportunity to play again," he said.
Just like that, O'Bara's season was over before it started… again.
It was back to rehab.
"It was a motivational thing for me, really," he said. "I was just thinking that I've seen what no one else has seen with my arm. I know I can get through anything. If I have one more rep and I don't think I can do it, I just tell myself I've done much worse than this."
That mindset surprised absolutely no one that's come to know what O'Bara is about.
"The way that Grayson's built, he's hard-nosed and did not quit," Keese said. "He wanted to prove everyone wrong. He knew he had a long path to get to where he wanted to be, but would do whatever it took to get there."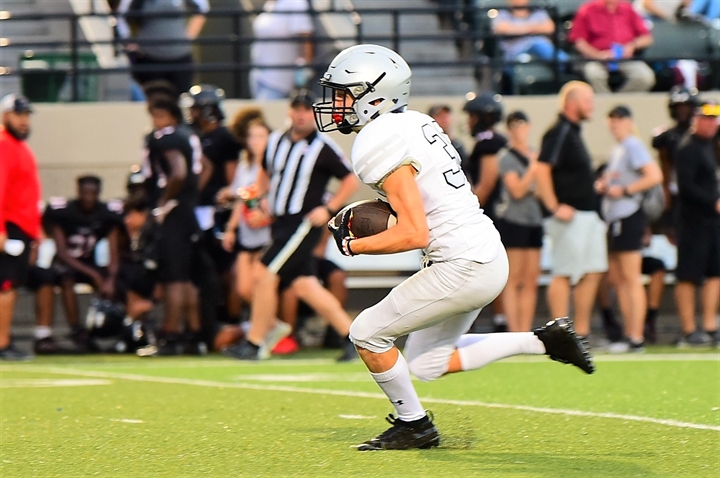 Now a junior, O'Bara said he is "100 percent ready to go" for Guyer, who lost to Austin Westlake in the 6A, Division II state championship in 2019. And he'll do so as a starting wide receiver.
"There is a sensation in the hand, but that's just a mental thing," O'Bara said. "The physical, I try to catch every pass that comes to me, that's always been my thing. The only thing for me is the pain. If it hits me in a weird spot in my hand, there is a weird feeling."
But that's nothing that O'Bara can't overcome. He's been through worse.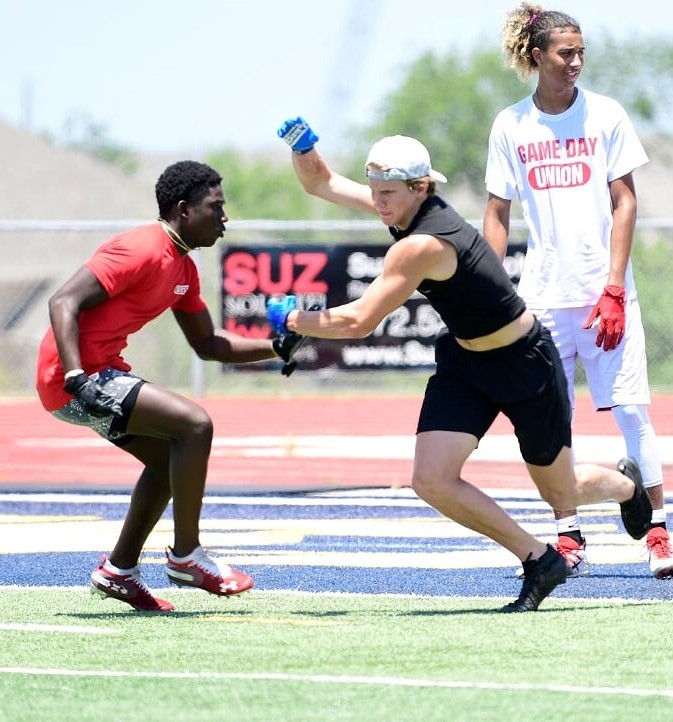 This article is available to our Digital Subscribers.
Click "Subscribe Now" to see a list of subscription offers.
Already a Subscriber? Sign In to access this content.