We're counting down the list of the 50 most important college football players in Texas in 2020.
Defining the most important players in Texas can be difficult. We have to take into account role, team success and what a team would do without them. Additionally, we're throwing our own perspective in the mix.
Of course, this list does take some suspension of reality. We don't know for certain how college football leagues will handle the COVID-19 pandemic. The SWAC became the first to push football to the spring on Monday. For our purposes, we're assuming all football will happen.
50. WR Xavier Gipson, Stephen F. Austin
Freshman sensation earned all-conference nods at both receiver and kick returner in his first year in Nacogdoches. He'll be asked to take on an even bigger role on an improving Lumberjacks team in 2020.
49. DB Raleigh Texada, Baylor
Nine starters are out on defense for Baylor, but the two left are stars. Texada ranks among the best cover cornerbacks left in the state. Whether he's up to the task of covering No. 1 receivers will decide whether the Baylor pass defense can stay strong.
48. DB Devin Hafford, Tarleton State
The All-American defensive back missed 2019 with a season-ending injury. With Tarleton losing the vast majority of production, Hafford will need to get back to form right away to lead the transitioning Texans to Division-I.
47. RB Quardraiz Wadley, UTEP
Wadley was poised for a big senior season before a season-ending injury cut it short. However, that could work to the Miners' favor, as he can lead a more experienced, talented offense in 2020.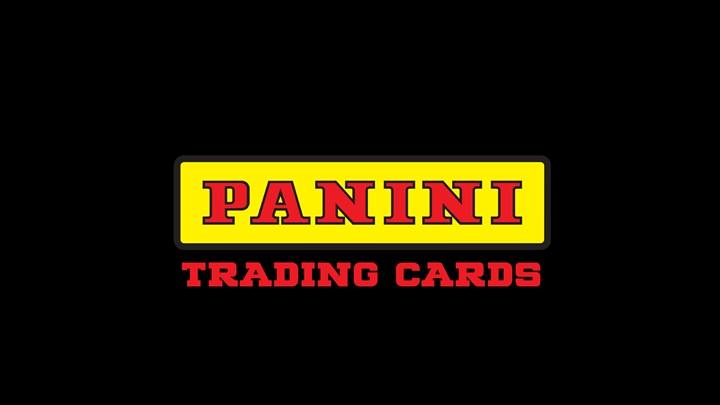 46. QB Jon Copeland, UIW
UIW couldn't quite replicate its magical run to the FCS playoffs in 2019, but don't blame Copeland. The Argyle native set a program record for yards, touchdowns and completions in Eric Morris' second season and led UIW to the program's best two-year stretch. With more experience, expect bigger things in 2020.
45. DB Jarron Morris, Texas State
Texas State's defense lost several of the best defenders in recent memory, including Bryan London and Frankie Griffin. However, Morris is back at defensive back. He'll need to shut down some top receivers to push Texas State's defense in the right direction.
44. DB Michael Lawson, Lamar
Do-everything defensive back finished his first year on campus with 94 tackles, 8.5 tackles for loss, seven passes defended and five interceptions. He now must replicate that production in a new defense under new coach Blane Morgan.
43. DE Payton Turner, Houston
Turner has become a mainstay on the Cougars' defensive line, but must be even more than that in 2020. Houston has intriguing players in the second and third level of the defense, but Turner has to up his QB pressure production for the defense to be ready to take a step towards strong – especially in a rush-heavy Joe Cauthen D.
42. WR Donnie Corley, Texas Southern
Despite playing in a struggling offense, Corley managed to establish himself as a star. He caught 72 passes for 1,039 yards in just 10 games. For the Tigers to win some games, Corley needs to play an even bigger role in 2020.
41. RB SaRodorick Thompson, Texas Tech
The Irving native stepped into a crowded running back room as a sophomore and made it his own. Against Baylor, he carried it 28 times, and against Texas, he was on the field almost every snap. Now, he's ready to be the full-time bellcow.
40. WR Kevi Evans, Hardin-Simmons
Hardin-Simmons is a perennial national title contender, but the Cowboys must overcome losing top running backs Jaquan Hemphill and Bryson Hammonds. Evans excelled as a sophomore with 109.7 all-purpose yards a game, and will be the centerpiece if HSU is able to compete for another ASC title.
39. TE Kylen Granson, SMU
The best tight end in Texas quietly played in Dallas last year. Granson starred in his first season after transferring from Rice, posting 721 yards and nine touchdowns. Especially with James Proche off to the NFL, Granson will be an important security blanket for SMU's passing offense.
38. DL Trace Mascorro, Sam Houston State
Mascorro was tremendous in his first season as a Bearkat, earning Southland Conference Newcomer of the Year honors and finishing with 15.5 tackles for loss. He'll be an All-America contender if he can help Sam Houston's defense stick at an elite level with more consistency on offense.
37. RB Keaontay Ingram, Texas
The Texas run game has improved each of Tom Herman's seasons in Austin, but Ingram has yet to have a breakout moment. With an improving offensive line, Ingram's production will be even more important.
36. LB Riko Jeffers, Texas Tech
The linebacker tradition at Texas Tech has quietly become quite impressive, with Dakota Allen and now Jordyn Brooks heading to the NFL. Jeffers now has to step into the role in Keith Patterson's defense; is he ready for that spotlight?
35. OL Spencer Burford, UTSA
Burford was a big-time acquisition when he decided to stay in San Antonio, and his production is matching his immense talent. For the offense to get better, he now must take on a leadership role at the AlamoDome.
34. LB Richard McBryde, SMU
During an interview this spring, McBryde was asked when he got a good handle on the defense. His answer? January. Now that he has a sixth year of eligibility, McBryde will play a pivotal role on a rebuilding SMU defense.
33. DT Dion Novil, North Texas
Defensive coordinator Clint Bowen constructed his own odd-front defense, which is built around having a dominant nose tackle. Novil showed flashes of being an all-conference talent in his first season as a starter – seeing growth from him would raise the ceiling of UNT's defense dramatically.
32. WR Jhamon Ausbon, Texas A&M
Texas A&M's receiver room is quickly filling with young talent, but the Aggies still have one proven commodity to lead the way. The senior is fresh off his best season with 872 yards, and has a special connection with Kellen Mond that will be critical during a pivotal 2020.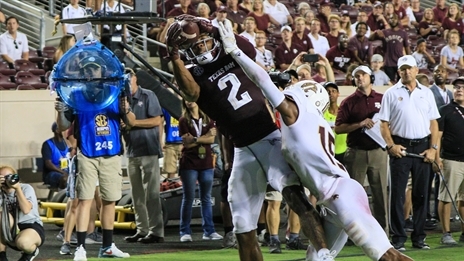 31. QB Mike Collins, Rice
Collins showed his potential during stints at both Penn and TCU. However, his fit with the Owls could be the best yet. Collins will be able to process a new offense quickly and brings easily the most accurate arm on the roster.
30. S Ar'Darius Washington, TCU
Washington was rated the second-best safety in America last season by Pro Football Focus – behind only his teammate, Trevon Moehrig. Now, he'll be asked to play a more every-down role. TCU needs big things from the Shreveport native.
29. QB Miklo Smalls, Texas A&M-Commerce
The only thing standing between Texas A&M-Commerce and playoff success in 2018 was quarterback play. Enter Miklo Smalls. The Rice and Independence CC transfer was tremendous in 2019, and helped lead the Lions to the third round of the playoffs. With two years of eligibility left – and Tarleton State out of the way – Smalls can make the Lions a legit national title contender once again.
28. OL Connor Galvin, Baylor
Baylor's offensive line looked completely different when the Katy product was healthy and in the starting lineup. Now, heading into his true junior season, he can help pave the way for a dynamic offense under Larry Fedora.
27. DL E'Monte Smith, Mary Hardin-Baylor
The Austin Connally product exploded in his first year as a full-time starter, leading the way with 20.5 tackles for loss, 10 sacks and even four pass breakups. With Tevin Jones and Joey Longoria gone, this is Smith's national championship caliber defense.
26. DB Dominique Ramsey, Texas A&M-Commerce
Ramsey holds the distinction of being one of the top defensive backs and returners in the state of Texas, and has earned All-America nods at both positions. He's back for his senior year and can lead the Lions to another Lone Star Conference title.
25. OL Jack Anderson, Texas Tech
Before Anderson missed the 2019 season, we picked him as our top offensive lineman in Texas. Now, he's back to lead the Red Raiders' line. Tech lost longtime contributors at both tackle spots, so Anderson must elevate his game to keep the Red Raiders in bowl contention.
24. WR Jaelon Darden, North Texas
Few receivers were more important to their team last season than Darden, who caught 76 passes for an otherwise disappointing Mean Green offense. With a new quarterback under center and possession receiver Michael Lawrence gone, Darden might have to do even better in 2020.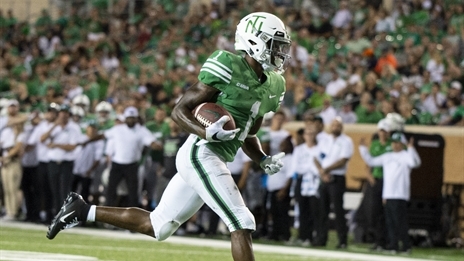 23. OL Sam Cosmi, Texas
No Texas Longhorn is better poised to end the first round pick drought on the 40 Acres, but first he has some unfinished business. The Longhorns are searching for their first Big 12 title since 2009, and continuing the growth on the offensive line
22. QB Bailey Zappe, Houston Baptist
Zappe made the leap towards star in his third season, and the Huskies' record followed. He threw for 300 in a near-upset of UTEP, added 513 in an upset over South Dakota and eventually finished with 3,811 yards and 35 TDs. Can he lead Houston Baptist to its first ever winning season in 2020?
21. DB Demani Richardson, Texas A&M
Richardson was fantastic in his first season as an Aggie, capping it off with eight tackles and two tackles for loss against Oklahoma State in the bowl game. Now, he'll lead what could be one of the best units on the best team in the state if things go well.
20. LB Blaze Alldredge, Rice
The longest winning streak in Texas belongs to the Rice Owls, which won three straight games to close 2019. The most impressive unit by far was the run defense, which Alldredge quietly speared into being of the state's best. Now that the back end of the defense is growing up, expect Alldredge to lead Rice to new heights.
19. RB Isaiah Spiller, Texas A&M
The rising true sophomore running back nearly cleared the 1,000-yard plateau in his first season on campus, and should be aided by a revamped receiver group and experienced O-line. The sky's the limit – and growth could help take the Aggies to SEC title contender.
18. LB Grant Stuard, Houston
Few players improved as much over the course of 2019 as Stuard, who embraced his nickelback role. Now, defensive coordinator Joe Cauthen is trusting the 6-1, 210-pound Stuard with a role in the box. If he adjusts well, the Houston front seven becomes far more dangerous.
17. LB Garret Wallow, TCU
Wallow showed big-time potential as a sophomore, but took the superstar leap in 2019. He posted 125 tackles and 18 TFLs in just 12 games. The TCU front six is typically a strength of the team – Wallow will have to elevate the whole unit for the Horned Frogs to compete for the conference.
16. LB Terrel Bernard, Baylor
When Clay Johnston went down in 2019, Bernard suddenly became the state's most dominant linebacker. With nine starters gone to graduation and the NFL, Bernard will need to be even better than his breakout 112-tackle sophomore season.
15. QB Brady McBride, Texas State
Perhaps no player got more unsolicited praise while going around Texas last year than Texas State's practice squad QB. Now, the Coppell product is eligible and will be relied on to fix a mediocre offensive attack. For Texas State to compete for a bowl, McBride must be one of the Sun Belt's best.
14. WR Marquez Stevenson, Houston
Don't let Stevenson free in the open field. Just don't do it. His 1,926 receiving yards, 764 return yards and 20 all-purpose touchdowns over the past two seasons don't even do justice to how dangerous he is with the ball in his hands. If Clayton Tune can get Stevenson the ball with more consistency, he could be Texas' top receiver.
13. DB Jefferson Fritz, Mary Hardin-Baylor
The best small college player in Texas mans the backfield in Belton. The perennial All-American wreaks havoc on the back end of UMHB's elite defense, and even averaged 44.4 yards per punt last season. It's his time to shine as a senior, and for the state's best pound-for-pound squad.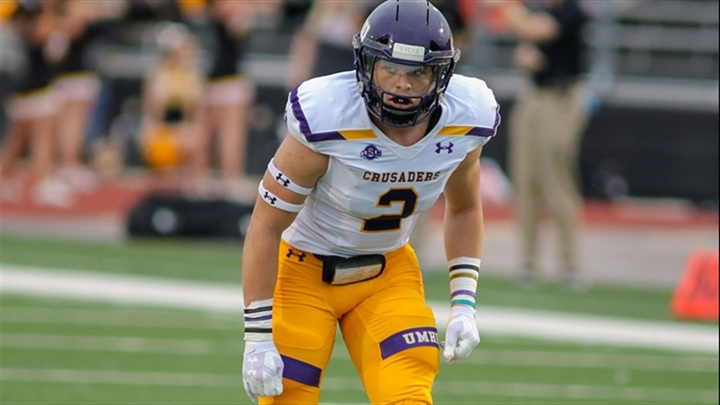 12. QB Alan Bowman, Texas Tech
Bowman might be the biggest acquisition in the state after missing all nine conference games with a season-ending injury. The Grapevine product ranked among the best in the nation as a freshman, and steps into a team ready to take the next step.
11. DL Joseph Ossai, Texas
The state of Texas doesn't have an elite pass rusher at this point – but Ossai has the best shot of getting there. The Conroe native is moving to an edge rusher role after dominating the Alamo Bowl with six tackles for loss and three sacks. Texas' pass rush was relatively lackluster in 2019, so Ossai needs to be a big-time contributor to make up for it.
10. DL Bobby Brown, Texas A&M
Texas A&M's defensive line is projected to be one of the elite units in the state this year, but the Aggies are looking for a game-changing talent to replace Justin Madubuike. Could Brown be that guy? He's steadily improved every game as an Aggie, so his breakout moment could be right around the corner.
9. RB Sincere McCormick, UTSA
On offensive plays where Sincere McCormick touched the ball as a rusher or receiver, UTSA averaged 5.86 yards per play. On all other offensive plays, UTSA averaged 4.79 yards per play. Yeah, McCormick is a game-changer.
8. WR Reggie Roberson, SMU
When Roberson dropped out of the lineup against Houston last season, the offense got noticeably worse. The Mustangs averaged five fewer points, 64 fewer yards and four percent lower completion percentage in the games that Roberson missed. Plus, SMU lost three of its last five after a perfect start. Is this all due to Roberson? Probably not, but there's no question SMU's offense will get a big boost from getting the state's best receiver back in the mix.
7. QB Max Duggan, TCU
Can TCU get back to its 10-win ways after two straight disappointing seasons? Well, look no further than the QB position. Duggan understandably struggled in his first season, but showed flashes of brilliance in season-defining wins over Texas and Texas Tech. If that Duggan can become the norm, TCU's trajectory changes dramatically. If not, the Horned Frogs might be spending another holiday season at home.
6. DB Caden Sterns, Texas
Would a fully healthy Sterns have changed the Longhorns' trajectory in 2019? It's hard to say, but the four games he missed – Kansas, Oklahoma, TCU, West Virginia – were especially embarrassing displays for the pass defense. If Sterns can get back to his freshman form, it will make new defensive coordinator Chris Ash's life much easier.
5. DB Trevon Moehrig, TCU
Pro Football Focus rated Moehrig the best safety in college football a season ago by a vast amount. With the Horned Frogs getting some big-time contributors via the transfer market on both sides of the ball, Moehrig's lockdown ability will be even more important in trying to get TCU back into Big 12 contention.
4. QB Charlie Brewer, Baylor
Perhaps no individual offensive player in the Power Five will take on more responsibility for the offense than Brewer in 2020. Several top contributors are off to the NFL, and the defense won't be elite again. For Baylor to get to eight wins, the passing game will have to take off under new OC Larry Fedora. Every Texas high school fan knows, Brewer has the potential for greatness in a QB friendly offense.

3. QB Shane Buechele, SMU
We put Buechele on the cover for a reason – he was arguably the most important player in the state in 2019. With James Proche off to the NFL and several defenders gone, he will have to play just as big a role for the Mustangs to replicate their magical success.
2. QB Kellen Mond, Texas A&M
Everything is set up for Texas A&M to have a special 2020. The schedule is as easy as it will ever be in the SEC West, and the Aggies are experienced. But for Texas A&M to take the leap towards title contender, Mond has to become one of the state's best signal-callers. He has it in him.
1. QB Sam Ehlinger, Texas
There are many ways to determine who the most valuable player in Texas is. We can pick the most productive player. We could look at the teams with the highest expectations. We could see which signal-callers have the most burden on their shoulders. No one brings all those factors together more than Ehlinger, who is trying to lead Texas to its first Big 12 championship since 2009.
This article is available to our Digital Subscribers.
Click "Subscribe Now" to see a list of subscription offers.
Already a Subscriber? Sign In to access this content.