Take a sip of water real quick.
Finished?
How long did that take?
However long it may have taken pales in comparison to the time it took Andrew Mukuba and his family to retrieve water when they were living in Harare, Zimbabwe.
The Mukubas would walk four miles through the nation's capital city where they'd wait in a long line for a pump that they'd use to fill canisters. That water would then be used to drink, shower, cook and clean clothes.
It would have to be rationed between himself, his little sister, little brother, his older sister, his two older brothers and his mother and father in their one bedroom home.
"There was time when we would go two or three nights, maybe a whole week without electricity," said Mukuba, who slept on the floor along with his other older siblings; his younger siblings slept in the bed with his parents. "That was kind of hard. We had to use candles, but those don't last forever. That's when I learned, at a really young age, that nothing is given to me. I have to go earn it."
Earn it, he has.
When Mukuba was nine, he and his family decided to move to America in hopes of a better life.
"What I really pictured was that we had finally made it; that we weren't going to struggle anymore," Mukuba said. "But then when we got here I realized the hustle was still the same. You had to go and find ways to make money, ways to provide for your family."
They ended up in Austin where Mukuba shifted his energy to football. He's since transformed himself into one of the most sought after recruits in the country for the LBJ Jaguars.
Don't just take our word for it. Simply look at his list of offers, which boasts over 30 of them from the top programs in the country.
The No. 1 safety and No. 30 prospect in the state on TexasFootball.com was getting so overwhelmed with phone calls at the beginning of the quarantine period that he whittled those schools to a top 12, which includes Texas, Arizona State, Auburn, Alabama, TCU, Georgia, Michigan State, Missouri, LSU, Clemson, UCLA and Arkansas.
"I would say that Andrew is the best [safety] in the state," LBJ head coach Jahmal Fenner said. "One thing that I can say he has that a lot of DBs don't have is he has the natural ball skills; he's just as dynamic at receiver as he is a DB. I tell recruiters all the time, if you want a guy that can not only react and cover as good as any DB, but also has the ball skills – he becomes a receiver when the ball is in the air – he has all those instincts and abilities."
Mukuba (6-foot, 185) actually started out as a running back when he began playing football in fifth grade.
"I was a running back my whole life because I was just faster than everyone and could run around them," he said.
He spent his first two years at LBJ as a receiver until he found his calling as a defensive back during a camp at The University of Texas.
"Summer of sophomore year I went to a UTSA camp as a receiver. I got two reps the whole camp," he said. "I realized there were only a few DBs that were rotating and that I could have got more reps as a DB. The next camp I went to was a Texas camp and I went as a DB and did my thing. No balls were caught on me."
Missouri caught wind and became his first offer, opening the floodgates to the rest of the country.
"Mukuba is rated as a four-star defensive back, but he is a freakish athlete," said Greg Powers, President of Next Level Athlete and the senior recruiting analyst for TexasFootball.com. "He makes highlight-worthy plays on offense, defense and special teams.
"One thing about him that I love is his desire to compete. That combo of skills will make him a player who should be an instant contributor to any college team right away."
Which school that ends up being remains to be seen, but the picture is clearing up for him a bit.
"There are some that are standing out," he said. "I'm just gonna keep it honest with you, I don't really talk to Alabama, Auburn or Georgia. I don't communicate with those schools at all.
"I talk to LSU, Clemson, Texas, Arizona State, TCU, Michigan State, UCLA, Arkansas and Missouri."
Wherever he ends up will generate buzz from coast to coast. But the simple fact that he'll arrive with a full scholarship, especially given his humble beginnings, is reason enough to give him goosebumps.
"It's big. Right now, I live with a single parent so it would be hard for her to pay for it," he said. "It's really a blessing knowing that I'm going to school on a full scholarship, so my mom doesn't have to worry about paying for anything. Plus, I have two little siblings and that sets the bar for them."
Mukuba hasn't just set the bar for his siblings to strive for, he's elevated the bar for the LBJ program along with fellow four-star recruit Latrell McCutchin.
"I want you to put this out there: We are the best duo in the nation. Literally, in the nation. I want that to be known," said Mukuba of he and McCutchin, a cornerback who committed to Oklahoma last week.
The attention they've brought to the program hasn't been lost on his head coach.
"It's definitely a huge motivation for other players in the program," Fenner said. "LBJ has always had a history of having some big-named guys – Shon Mitchell, DJ Grant, Shannon Crenshaw – a long list of guys. We had kind of lost some of that attention because we hadn't been getting big-time recruits. But since these two guys have come on campus I've seen a huge change in the focus in our athletes, the hunger and desire to develop and play at the next level."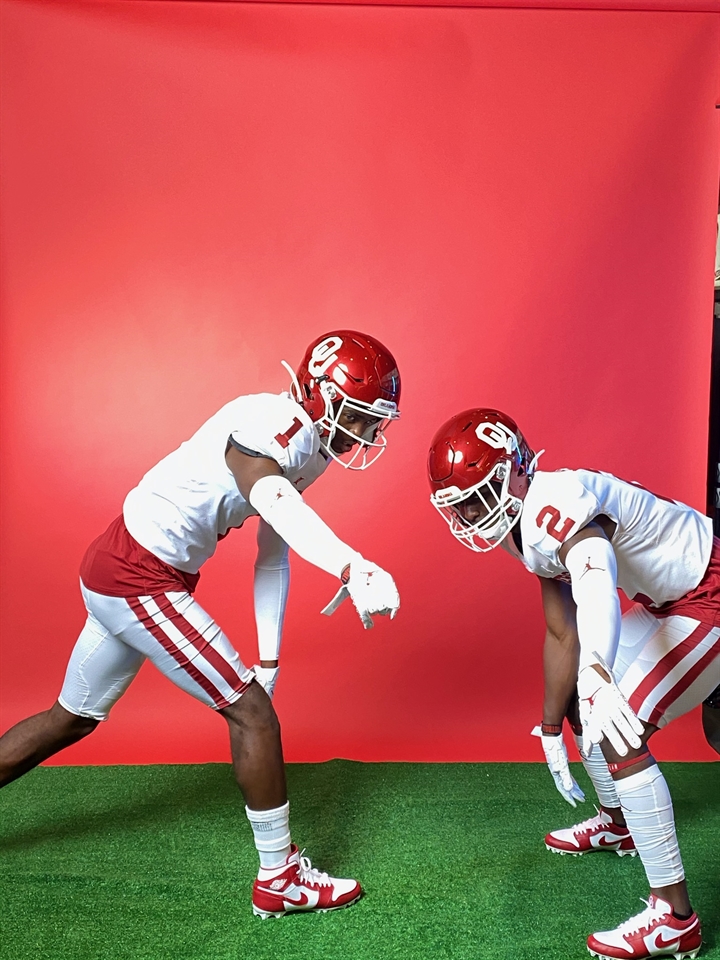 This article is available to our Digital Subscribers.
Click "Subscribe Now" to see a list of subscription offers.
Already a Subscriber? Sign In to access this content.