Excuses simply aren't allowed in Dumas, Texas.
Don't want to go to work? Coach Murga showed up.
Not in the mood for practice? Coach Murga's there.
Too tired? We can promise Coach Murga's exhaustion far exceeds what you're feeling, but he's still out there giving it his all.
If anyone is worthy of an excuse in Dumas, located 45 miles north of Amarillo in the Texas panhandle, it would be Antonio Murga. But you'll never hear one from the high school's offensive line coach/Spanish teacher who is going on Year 2 of battling Stage 4 pancreatic cancer, which, as of now, has no cure.
This week provided the perfect example. Murga, 45, has been on a break from chemotherapy treatments since March but went back to his doctor in Amarillo on Monday for a check-up.
"My cancer market numbers are going up again," he said. "There is an active cell somewhere. I'm going to get a scan tomorrow to try and figure out what's going on. Will start chemo again on Monday."
That news is enough to make anyone want to curl up in a ball, but Murga had other business to tend to.
Monday also happened to be the first day the UIL allowed coaches and student-athletes to return to school for summer workouts. Dumas was going to be on the field bright and early. There was no questioning whether he'd show up.
"He was here to start the day and then he ran over to his doctor's appointment, and then he was back," Dumas head coach Aaron Dunnam said on Tuesday. "Then he was here at 5:30 a.m. this morning ready to go again."
Ponder that for a second, if you will.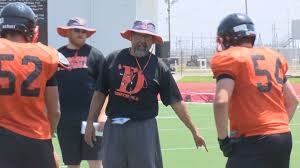 Murga's been making those bi-weekly trips down to Amarillo and back since 2018 when he first started experiencing stomach pain.
"I didn't think anything of it," he said. "As time went on, it started hurting more and more. Being stubborn as I am, I didn't do anything about it. In May I went to the doctor and they thought it was a stomach infection."
Antibiotics helped, but the pain came back. The doctors wanted to do more test.
"But, again, I'm stubborn so I didn't do it," he said.
The pain got really bad during a coach's retreat in July 2018. Coincidentally enough, Murga, who weighed 240 pounds at the time, started dieting.
"Weight started falling," he said. "Got to the point where I started going back to my normal eating habits, which are horrible, and I was still losing weight. I was down to 220."
He finally got that sonogram in Amarillo. Initially the doctors thought it was his gallbladder, but the news got much worse.
"July 29, 2018 they told me there was a big mass on my pancreas and a whole bunch of spots on my liver; 'too many to count' were their exact words," he said.
He started chemotherapy treatments on Aug. 27, 2018, which happened to be the first week of the football season.
Guess who showed up on gameday?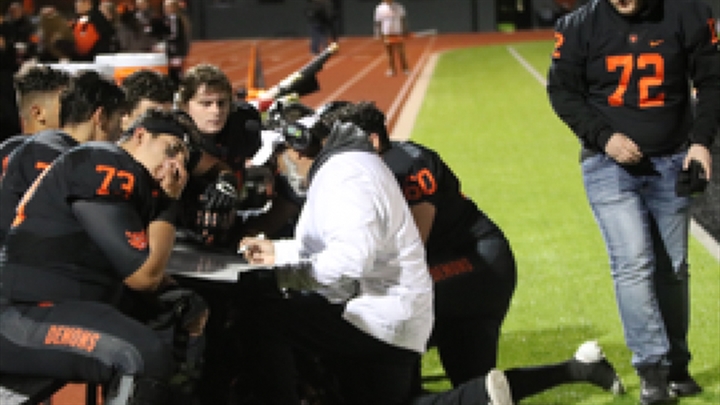 "[The doctors] were convinced that I needed to stay home and take care of my health," said Murga, who graduated from Dumas in 1993. "I'm going into my 22nd year of coaching, and I always told my boys [Andrew and Aaron] that adversity is going to pull a knife on us but we're going to pull a machete. I had two options, I could stay here and just die or I could practice what I preach; no matter what happens, we've got a job to do. Life happens. I went to work."
Every two weeks on Monday, Murga would travel to Amarillo for a five-hour chemo session. He'd drive back to Dumas, take a short nap and be there for practice. Never missed a day.
"They hit me with the strongest chemo treatment there was," he said.
Per the doctors at Texas Oncology – Amarillo Cancer Center, these treatments are going to be a part of Murga's life forever.
"As of now, there's no cure for pancreatic cancer, but there's treatment," he said. "I'm fortunate that mine mutated to BRCA 1, the same cell that causes breast and ovarian cancer. I say that because it gives the doctor more options for treatment. Last July, they tested the DNA of the tumor and that's when they found out. About that same time, the FDA approved breast cancer medicine for pancreatic cancer."
He's had 16 treatments of the breast cancer medication and 20 treatments of radiation.
"I'm just always tired," he said. "My conditioning, I was an offensive lineman and we don't like conditioning to start with, but it's gotten worse. That 2018 season I hardly walked anywhere. I would have the golf cart to go everywhere. I sat on the sidelines, would pull a cooler up and sit. I was just tired. I could sleep at the drop of a hat."
This is where the power of the Dumas community really came into play.
Dumas ISD gave Murga a full-time substitute to help him teach Spanish in 2018.
"The community, my coaching buds, the support has been unbelievable," Murga said. "The song says, 'You're only 17 in your hometown,' that's true but they also have treated me like a son, a brother. The community rallied together; they did a whole bunch of fundraisers. They would look out for my son, who was 10 at the time, just to make sure they were OK. If I needed to go to the doctor, take a nap, there was no problem. Whatever I needed they were willing to do it for me at the drop of a hat."
Supporting Murga is the least Dunnam and his staff could do.
"He means everything to us," Dunnam said. "He exemplifies everything that we're trying to instill in our football program. It's almost two years since he was diagnosed, and he hasn't missed a day.
"He would go get chemo treatment in the morning and then come to practice and just love and coach his kids with everything that was inside of him. At times you'd look over on the side of the field and he'd be throwing up. He's been an inspiration for our kids, our staff and this entire community. We've all taken this fight together."
Murga's perseverance through these tough times has offered Dunnam and his staff the perfect rebuttal for anyone looking to slack off.
"There's never an excuse from him," Dunnam said. "That's spilled over to our kids. They have no excuse. If our kids ever do have an excuse or tell us why they can't do something, we usually shut that up really quick with an 'Oh, you can't do that but Coach Murga is doing what he's doing?' You can't fight that.'
Excuses simply aren't allowed in Dumas, Texas.
This article is available to our Digital Subscribers.
Click "Subscribe Now" to see a list of subscription offers.
Already a Subscriber? Sign In to access this content.