It's been 37 years since an SMU player appeared on the cover of Dave Campbell's Texas Football. But Shane Buechele is used to making history.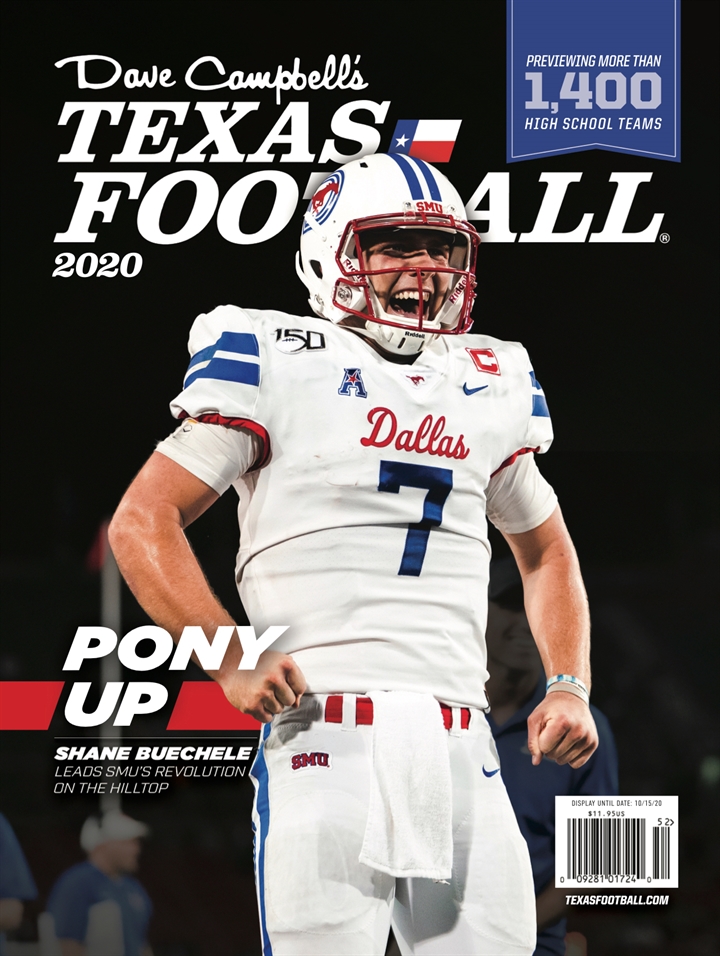 Dave Campbell's Texas Football revealed the cover of its 2020 summer edition on Monday — the 61st annual "Bible of Texas Football" — featuring SMU quarterback Shane Buechele. The headline says it all: "PONY UP: Shane Buechele Leads SMU's Revolution on the Hilltop." Buechele is the first Mustangs player to grace the cover of the magazine since Lance McIlhenny in 1983.
"The cover of Dave Campbell's Texas Football is our most important decision of the year, and our toughest, because it matters to so many Texans and football fans," managing editor Greg Tepper said. "We always want to capture one of the most compelling stories in the state. What's going on at SMU definitely fits the bill — here's a quarterback in Shane Buechele and a program in SMU that reinvented each other, leading to heights they haven't seen in more than three decades. That's truly remarkable, and certainly worthy of being on the cover of Texas Football."
For the fifth year, the magazine will feature a second "gatefold" cover, and this one is an important nod to history: an illustration documenting and celebrating 100 years of UIL Texas high school football, embodied by players past and present. The cover — expertly designed by Peyton Aufill — features images spanning the decades: Bob Estes from the 1922 Abilene Eagles; Charlie Haas from the 1935 Corpus Christi Buccaneers; the 1949 2A state champion Littlefield Wildcats; Ed Bernet from the 1950 Highland Park Scots; Warren McVea from the 1963 San Antonio Brackenridge Eagles; Billy Sims of the 1973 Hooks Hornets; Todd Dodge of the 1980 Port Arthur Jefferson Yellow Jackets; Jerod Douglas of the 1993 Converse Judson Rockets; Graham Harrell of the 2003 Ennis Lions; and Caleb Lantelme of the 2019 West Texas Comanches.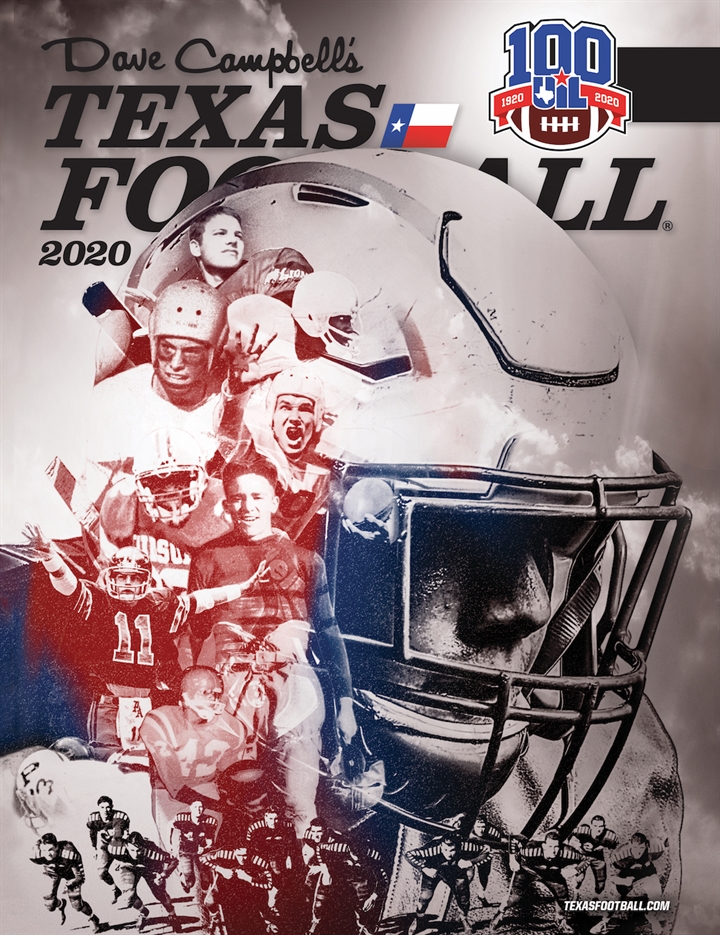 "How do we celebrate something as big as 100 years of UIL football?" Tepper said. "It was a challenge we faced, but in collaborating with a tremendous designer like Peyton Aufill, I feel like we captured the message we were looking for — there's nothing quite like Texas high school football, past, present and future.
The 400-page all-color annual magazine covers football in Texas — from high school to recruiting to college to the pros — as nobody else can. Inside the magazine, readers will find:
An remarkable in-depth look at how Shane Buechele and SMU re-invented one another, written by Texas Football's Shehan Jeyarajah
A sensational secondary feature on why, after 100 years, Texas high school football remains a touchstone for so many Texans, written by Jay Plotkin
The second annual 40 Under 40, spotlighting the best young coaches in Texas
In-depth analysis of every Texas college football team — all 47 of them — from five-page spreads for each FBS program to insightful previews of each junior college squad, and everything inbetween
Deep-dive conference previews, including Texas A&M's chance to crash the SEC Championship party, a wild and thrilling Big 12, the most competitive AAC in history, an analysis of how Texas teams will fare in Conference USA, Texas State's sleeper status in the Sun Belt, and more
Individual team previews of more than 1,400 Texas high school football squads
An expanded preview of Class 1A in partnership with SixManFootball.com — our biggest six-man football preview ever
The Preseason All-Texas College team, honoring the top college players in the state
The annual Super Teams and Top 300, honoring the top recruits in the state
The coveted Coverboy spot for every high school classification
GET YOUR COPY EARLY
Want your copy of Texas Football before it hits newsstands? Become a Dave Campbell's Texas Football Insider! Get two magazines — the 2019 summer edition and the 2019 recruiting edition (coming in December) — as well as a year's worth of exclusive online content at TexasFootball.com, including digital archives of all 60 editions of Texas Football, expanded previews of every Texas high school football team, exclusive podcasts, never-before-seen recruiting analysis from Next Level Athlete, expert insights year-round and more. SUBSCRIBE BY JUNE 5 TO GUARANTEE YOUR MAGAZINE ARRIVES BEFORE IT HITS NEWSSTANDS.
MEDIA REQUESTS
To request interviews with Managing Editor Greg Tepper, please contact greg.tepper@texasfootball.com. To download high-resolution images of the cover, visit http://tiny.cc/DCTFCover2020. Subscribers should begin to receive magazines the third week in June; the magazine should hit newsstands across Texas beginning the first week in July.
About Sports In Action, LLC
Sports In Action, LLC owns the Dave Campbell's Texas Football media brand. Dave Campbell's Texas Football is a registered trademark of Sports In Action, LLC. Sports In Action, LLC is a Texas-based Limited Liability Corporation and is based in Lewisville, TX.
This article is available to our Digital Subscribers.
Click "Subscribe Now" to see a list of subscription offers.
Already a Subscriber? Sign In to access this content.