The mindset was as simple as it was powerful: We're gonna win.
Easy enough to say, but much harder to turn into reality.
That especially rang true for a Bruceville-Eddy program that hadn't experienced the thrill of a district championship in 34 years leading up to the 2019 season.
Might as well have made it 35, right?
Yeah, you must not know Kyle Shoppach.
He knew he had his work cut out for himself when he took over the program prior to last season. But he knew if he could get his players to buy-in to what he and his coaching staff were selling, that streak would be no longer.
"What I didn't know was how starved for football success they were until I got here," he said. "Tapping into that was what was so fun about it. They wanted you to push you, show them their flaws."
Two-a-days weren't fun. The Eagles were being pushed harder than ever. It was all part of Shoppach's process.
"We wanted them to understand that the reason they had failed before was because they didn't work to be winners," he said. "They just worked to work. We started showing them that this work that we're doing has a payoff. If you'll follow the plan, you will win."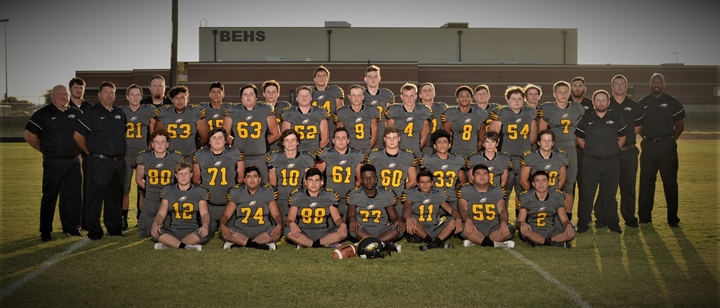 The season started off promisingly with a 40-33 victory over Rio Vista before a tough test against a Rogers team the following week that ended the season 11-2.
Bruceville-Eddy almost immediately found itself down 14. Oh, no.
"Nightmare start," Shoppach said.
Alas, the Eagles fought their way back to tie the game, 21-21, at halftime.
"When we went into the locker room I told them that team beats them by 40 a year ago," Shoppach said, 'and you're tied with them!'"
The second half didn't play out the way the Eagles' had hoped it would, but they took what they learned from that loss and turned it into a 31-13 victory over Chilton the following week. Then they faced Granger, who was ranked No. 7 in the state at the time, and defeated the Lions in overtime.
"Then they were sold," Shoppach said.
All of a sudden that two-game winning streak turned into three, then four, then five, then six, then seven before a showdown with rival Bosqueville for the outright District 8-2A, Division I championship on Nov. 1.
No big deal. A win would only give Bruceville-Eddy its first district championship in 34 YEARS!
"I had been a part of some pretty big games in my career," Shoppach said. "That game against Bosqueville tops them all."
That includes the 2000 state championship game in which he was a first-year coach on Mart's staff.
"It didn't feel like the weight of the community was on our shoulders because Mart always wins. But the weight of the community was on these kid's shoulders," he said.
The Eagles came away victorious, 46-39.
"There were grown men and women crying on the field as if they'd just had their first-born child," Shoppach said.
That's not hyperbole. Tears flowed well into the early morning hours of the following day.
"It was one of the most special things I've ever done," he said.
What made it that much more special was that outside linebacker Colby Tolbert's father, Ed Tolbert, and defensive lineman Ian Moore's father, Brent Moore, were both on that last district championship team.
In fact, Brent Moore held several offensive records that were broken in 2019.
"He was very supportive," Shoppach said. "He just kept telling me to break those records."
They did. Twenty-one school records to be exact.
Quarterback Trapper Ensor broke every passing record you could think of. Running back Nathan Quattlebaum rushed for 2,626 yards.
"By the end of the season, those kids believed that they were going to win," Shoppach said. "It had the feel of a program that had won all their life."
Bruceville-Eddy's season came to an unfortunate end in the bi-district round of the playoffs, but that's only made the drive for success that much stronger for the town of less than 2,000 located between Temple and Waco.
Shoppach likes his odds of winning another district championship. The Eagles return 13 juniors that all played significant roles in 2019.
Though "the momentum train has stopped and it's unfortunate" with schools across the country shut down due to COVID-19, Shoppach will make sure there's one thing front-and-center on everyone's mind whenever they get back on the field: We're gonna win.
They know the feeling.
This article is available to our Digital Subscribers.
Click "Subscribe Now" to see a list of subscription offers.
Already a Subscriber? Sign In to access this content.