Jake Jackson was celebrating a friend's birthday at Casa Garcia's Mexican Restaurant in Kyle, Texas when a stranger approached him.
"I've seen your story and need to help out somehow," she said. "So, I've paid for your entire table."
There were 10 of them. The bill was north of $300.
"I can't thank people enough," said Jackson, a junior at Hays High School in Buda.
But, why? What would propel someone Jackson had never met to do something so generous?
Let's rewind the tape back to July 2018, the summer of Jackson's freshman year, when he and some friends were swimming at Texas State in San Marcos.
"There's this cliff that me and my friends found that we would always jump off of," he said. "I was feeling like a daredevil that day, so I got in with the water that was flowing down in the waterfall and I ran with it and jumped out. I slipped and fell into the waterfall, so it pushed me down into this air bubble. I was almost drowning at that point. Then I got sucked back into the waterfall and it pushed me down to these rocks and I hit my shin. I cut it clean open."
Jackson admits now that he needed stitches. But at the time? Yeah, he was going back in the water.
"I'm a kid," he said.
Jackson didn't think much of the injury. At worst it was just a calcium deposit or scar tissue from the waterfall incident. So he played – and starred – as a sophomore on Hays' junior varsity team, scoring 15 touchdowns.
By season's end, though, the bump grew to be the size of a baseball.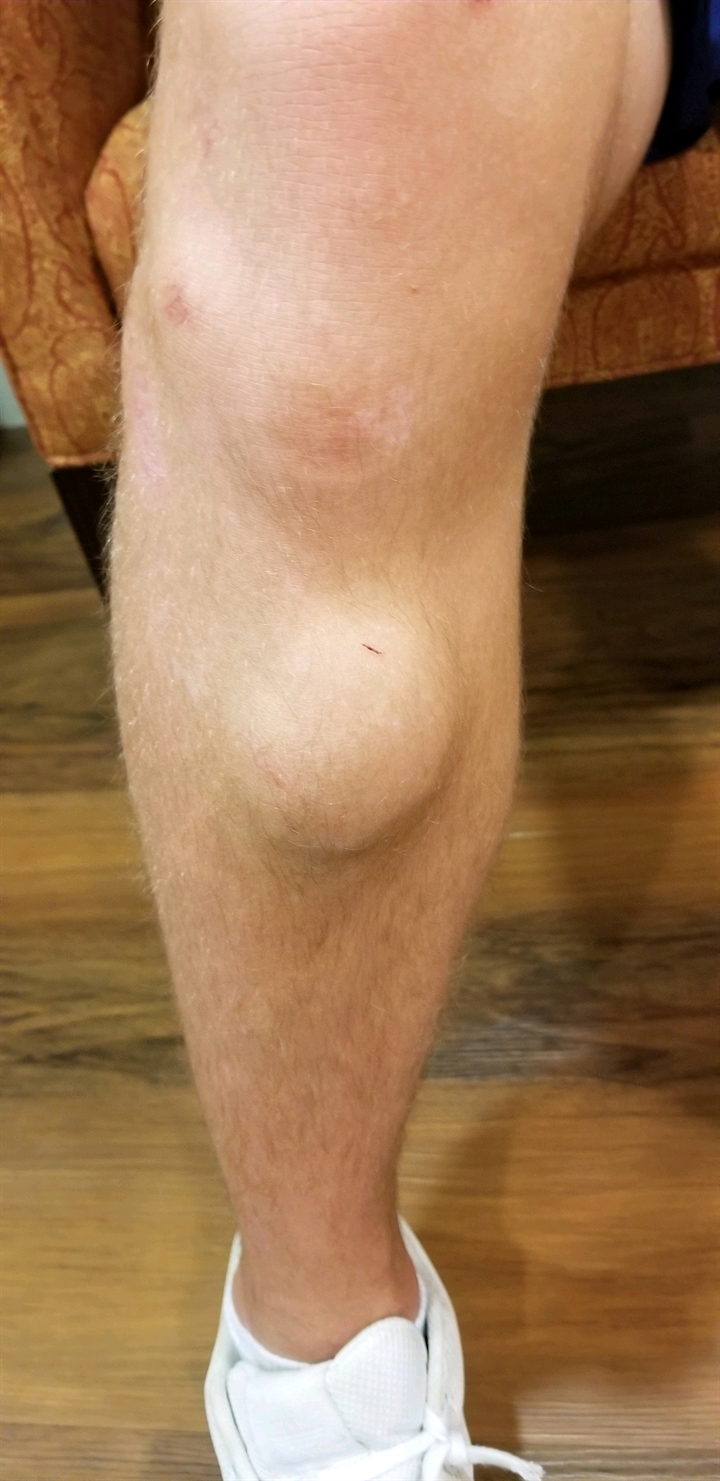 He and his best friend started wondering: What if it's cancer? It's not cancer, right?
Fast-forward to July 2019 when Jackson was presented with his first diagnosis.
"They told us it was Alveolar soft part sarcoma," his mother Alyson Jackson said. "It's a very, very rare type of tissue sarcoma. But it had grown and attached to his shin bone. After they biopsied [the tumor], they decided they were going to have to carve a centimeter around the exterior of where it attached. So, in August we had surgery that removed a big chunk of his bone."
If the story had just ended there…
Doctors from Dell's Children's Blood and Cancer Center in Austin discovered there was another tumor growing in the bone underneath the initial tumor. The Jackson's spent the next three weeks seeking medical opinions across the country until doctors could uniformly give them an answer as to what this was.
The answer arrived. Jake had high-level osteosarcoma. He needed immediate chemotherapy.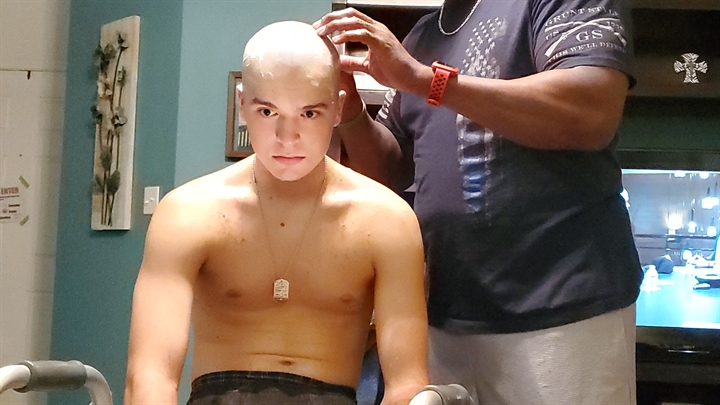 "When they first told me the first type of cancer I had, I asked if I had to go through chemo," he said. "They told me no. All it would take is surgery.
"So I'm fine until they actually find out what it is and tell me that I have a more intense cancer and would have to go through chemo. I was mad. I was beyond mad because they told me all these things I wouldn't have to do that I ended up having to do."
Tears followed.
By this time, football season had kicked off and Jackson, seeking any sense of normalcy, found his way to the Hays sidelines in his wheelchair to support his teammates.
On this particular evening, though, Jackson, a self-admitted "stubborn person," decided to ditch his wheels and cheer on his Rebels as they faced Austin Anderson. He wasn't supposed to put more than 10 percent of his weight on his leg if he was to walk at all. That didn't go as planned.
This game carried extra weight because both teams decided to "green out" in support of his fight with bone cancer. Jake was in his element, feeling confident, wheelchair be damned.
"That night, after me walking on my leg so much, I guess it weakened me," he said. "When I got home, I get out and had the game ball that the entire team had signed. I was going up my driveway and I dropped it. My stupid self, I tried to hop down the driveway to get it."
Oh, no.
A bad hop snapped his right leg where he'd previously had surgery.
He was rushed to the hospital to take care of that situation as he had a pretty big day the following morning: the beginning of his chemotherapy treatments.
Each of these require a four-hour bag of fluids to be pumped through what's called a Broviac port, or a line that goes in his chest, over his pectoral muscle and into his heart.
And you thought self-isolation was tough?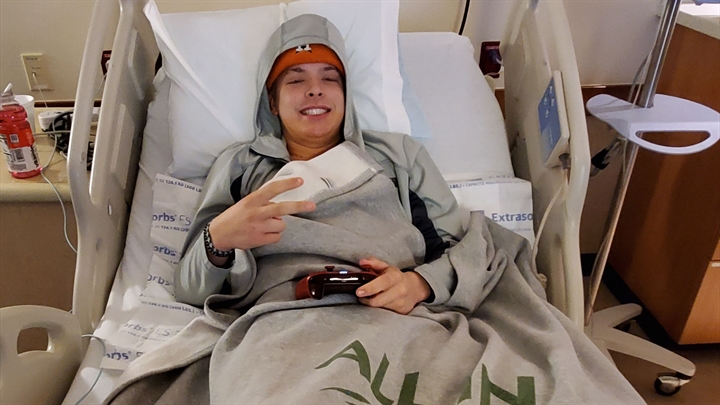 Sixteen treatments later and Jackson is finally cancer free. He goes in for a treatment on March 24 and will only have three more treatments after that.
He'll have to be monitored the rest of his life, but the hardest part of this journey appears to be in his rearview.
Once he's cleared of chemo on April 16, he'll turn his attention toward getting ready to play football as a senior, and fully expects to be a contributing factor for Hays, which went 8-3 in 2019.
"Never a quitter," he said.
Never.
Getting to this point required a lot of internal fight, which Jackson has in spades. But it also helped immensely to have the loving support of his mother and the overwhelming backing of an entire community.
"I've been really amazed at not only our community but of some of our opponents and how they provided some support as well," Hays head coach Les Goad said. "Aside the various fundraisers, people have provided meals and financial help to keep him at the forefront of this battle. There have been multiple groups, concerts, that people have come up with."
Jackson said he's had meals bought for him from random strangers at least 20 times.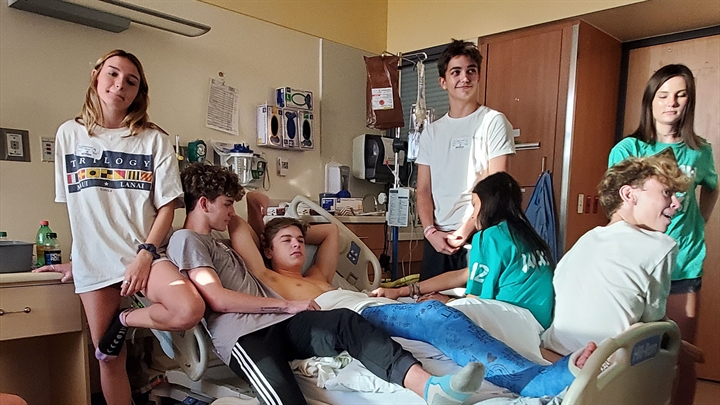 "The amount of support I got just dumbfounded me," he said. "I didn't like it at first because it was just so much. I think on Instagram – follow him at @jjakejackson - I gained 700 followers in one day. They next day I'd gain 200. All these people wanted to interview me. Then there were benefits."
And then there was the kind lady at Casa Garcia's that decided that picking up a $300 tab to show support for someone who had been through so much was the least she could do.
Good luck on Tuesday and with those final chemo treatments, Jake. You've got the entire Texas high school football community backing you now.
We'll see you on the field next season.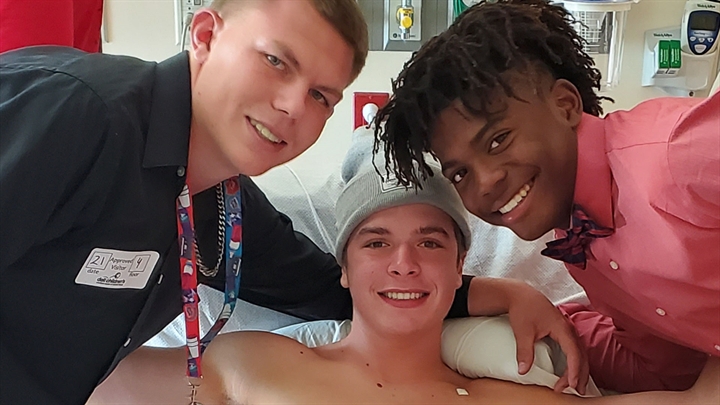 This article is available to our Digital Subscribers.
Click "Subscribe Now" to see a list of subscription offers.
Already a Subscriber? Sign In to access this content.