WE'LL ANNOUNCE THE WINNER AT NOON ON MONDAY DURING OUR "TEXAS FOOTBALL TODAY" PODCAST, WHICH YOU CAN WATCH LIVE RIGHT HERE:
http://facebook.com/davecampbells
We crave competition.
It's good for the soul.
Unfortunately, we don't have much of it these days due to current circumstances.
However, we know the importance of it and the outlet it supplies all of us, especially on Friday nights across the great state of Texas.
So we've partnered up with All-Star Inflatables to bring you the Texas High School Football Helmet Challenge!
We've selected 64 of the best helmets in the state for you to vote on and crown a champion.
BRACKET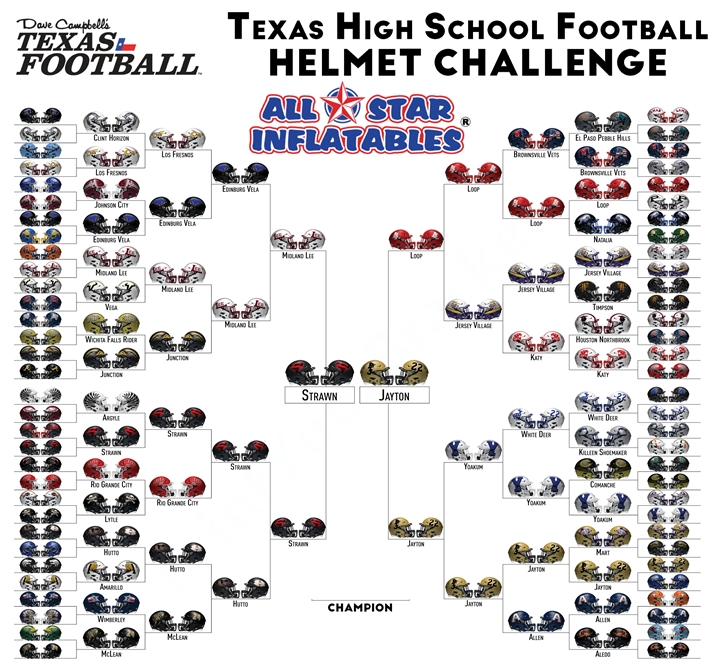 SCHEDULE
(Voting will end at 11:59 p.m. CT on the final day)
Final 4 voting: March 30-April 1
Championship Voting: April 2-April 4
Announcement of winner: April 6
SOCIAL
Vote early, vote often and spread the word on social media using #TXHSFBHelmetChallenge!
Best of luck!
_____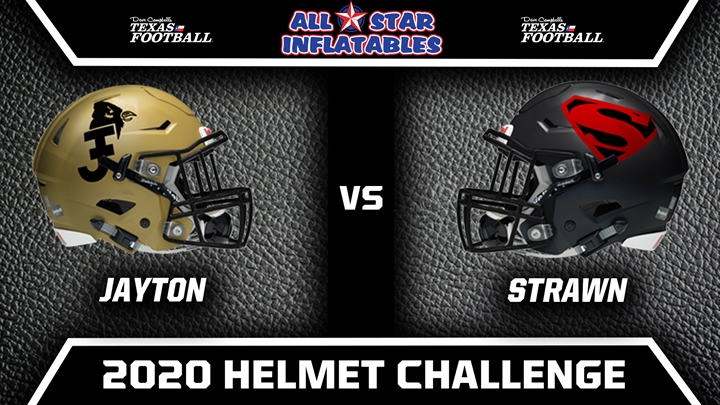 CLICK THE TEAM NAME BELOW TO VOTE
_____
Become a DCTF Insider today for exclusive insight from the best team of reporters in the Lone Star State! CLICK HERE!
Your subscription will include:
Instant access to all of our content that is marked Insider at www.texasfootball.com.
Includes exclusive podcasts, recruiting news, and our full High School Football rankings and score predictors
A mailed copy of the Dave Campbell's Texas Football Preview
A mailed copy of the Recruiting/Rising Edition of Dave Campbell's Texas Football
Access to Dave Campbell's Texas Football vast array of archived magazines
This article is available to our Digital Subscribers.
Click "Subscribe Now" to see a list of subscription offers.
Already a Subscriber? Sign In to access this content.