Welcome to TXHSFB Inside the Numbers — where Dave Campbell's Texas Football take the data that makes up Texas high school football, and try to figure out what it means looking back and looking forward. Today: the winningest Texas high school football districts after the 2020 UIL Realignment.
The 2020 UIL Realignment certainly shook things up in Texas high school football, with teams changing classifications, regions and districts. It's a brave new world in Texas high school football for the next two years, and coaches, players and fans across the state are still trying to process everything.
But the question everyone wants to know: what are the toughest districts in the state of Texas?
There's a lot of different ways to skin that cat — we've tried at TexasFootball.com, whether it's with computer rankings or our own subjective expertise. But maybe we need to think simpler. After all, the name of the game is winning...so what if we just looked at the districts that won the most?
So that's what we did: we took the total number of games that the teams in each district won in 2019, divided it by the number of teams, and came up with an average number of wins for each district. And if you want to find the winningest district in Texas, you need to look south, and think small.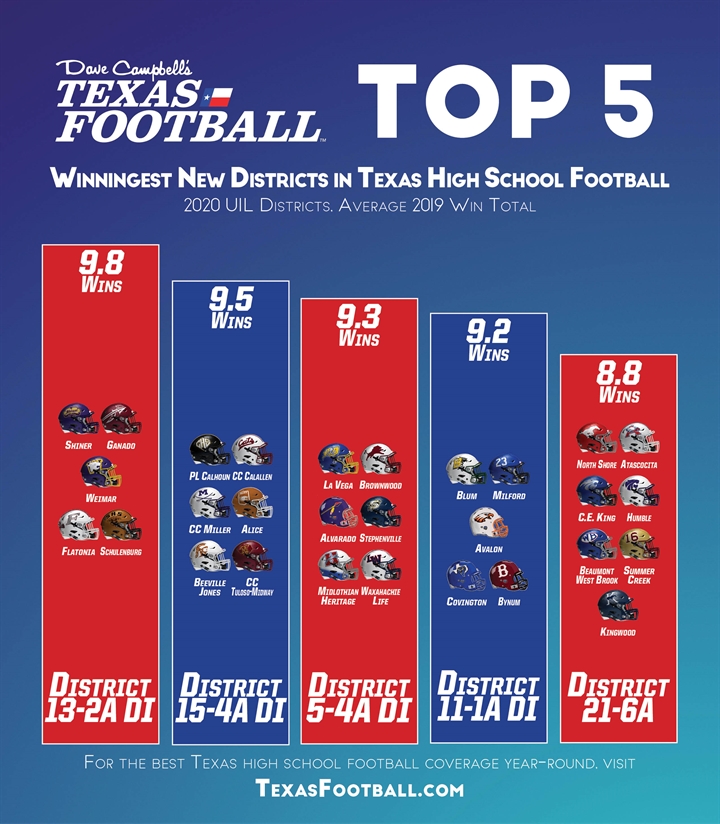 The new Texas high school football district that won the most in 2019? That'd be District 13-2A Division I, comprised of some of South Texas' best small-school programs. Last year, this district averaged an astonishing 9.8 wins, and it's easy to see why. You've got Shiner (12-1), a perennial 2A power; Ganado (10-4), a 3A dropdown that got hot late last season; Weimar (10-2), who has established itself as one of the toughest outs in Texas; Flatonia (11-2), who makes the jump to Division I after a remarkable 2019; and Schulenburg (6-5), who totes the worst record in the district and still finished with a winning record. That's depth, and an instance where the numbers and conventional wisdom seem to line up.
Staying south, District 15-4A Division I is next up, clocking in at 9.5 wins on average, and this may be an instance where that doesn't do the district justice. With three 11+-win teams (Corpus Christi Calallen, Corpus Christi Miller and Beeville Jones), another pair of 9-win teams (Port Lavaca Calhoun and Alice) and a respectable CC Tuloso Midway squad (4-6 a year ago), this is a deep district. But what makes it even tougher: five of the six teams are drop-downs from Class 5A; only Beeville Jones won their games as a 4A program a year ago. The Coastal Bend district of doom is plenty tough.
Rounding out the top five, you have District 5-4A Division I, the dangerous Central Texas/Big Country amalgamation headlined by Waco La Vega, Brownwood, Midlothian Heritage and Alvarado that averaged 9.3 wins; District 11-1A Division I, a sneaky-tough six-man district that features a defending state champ (Blum), a 2018 runner-up (Milford) and three other teams that won a minimum of seven games (Avalon, Covington and Bynum); and the Houston area juggernaut in District 21-6A, with a state champion (North Shore), a regional finalist (Atascocita), a 2018 runner-up (West Brook), an under-the-radar 10-win team (Humble) and plenty of depth.
The winningest district in Class 6A is District 21-6A (8.8 wins); the winningest 5A district is District 4-5A Division I (7.7 wins, led by Red Oak, Burleson Centennial, Colleyville Heritage and Birdville); the winningest 4A district is 15-4A DI (9.3 wins); the most successful 3A District is District 7-3A Division I (7.2 wins, anchored by Grandview, Whitney, Dallas Madison and Dallas Life Oak Cliff); the 2A crown belongs to 13-2A DI; and the winningest 1A district is 11-1A DI.
This article is available to our Digital Subscribers.
Click "Subscribe Now" to see a list of subscription offers.
Already a Subscriber? Sign In to access this content.