Welcome to TXHSFB Inside the Numbers — where Dave Campbell's Texas Football take the data that makes up Texas high school football, and try to figure out what it means looking back and looking forward. Today: the best most improved Texas high school football teams in 2019.
Coming into the 2019 season, there wasn't a whole lot to say about the Post Antelopes. Sure, they'd had some success — 21 total wins from 2015 to 2016 being the most recent highlight — but coming off of a desperately underwhelming 4-7 season the year prior in which they'd been outscored by 60 points, it was hard to feel particularly bold about the Bold Gold.
Maybe we should've. Maybe everyone in Texas should've.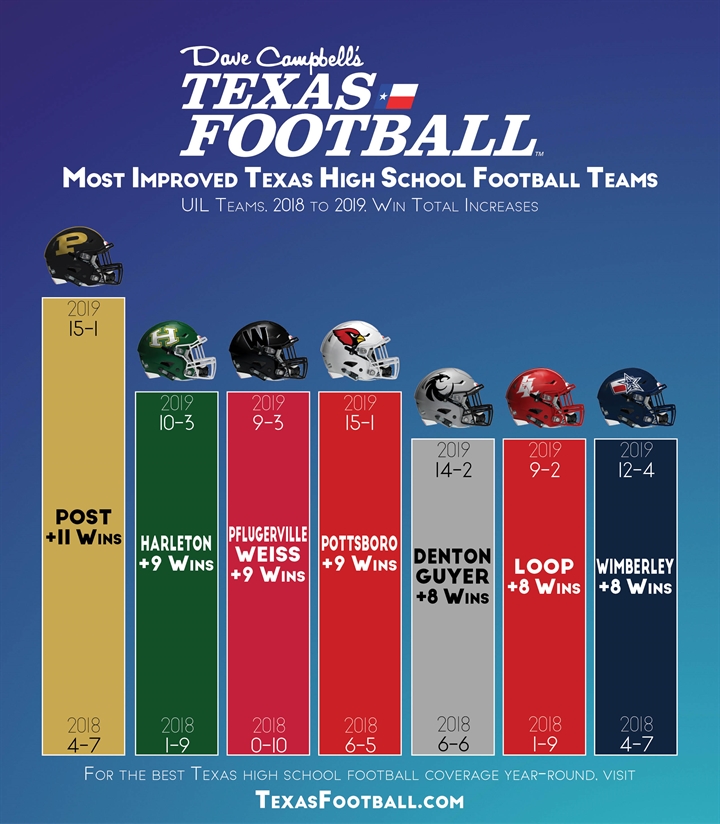 The Post Antelopes put together the most substantial leap in the win column in Texas high school football from 2018 to 2019, moving from a lackluster 4-7 season to an unforgettable 15-1 mark. The nine-win improvement sparked coach Michael Pittman's squad to the first state title game berth in program history, fueled by stars like Ashton Jefferson, Slayden Pittman and Taytem Thetford. Their win-total increase wasn't just impressive — it was a full two wins better than any other Texas high school football team accomplished last season.
Just behind the Antelopes are a trio of squads spanning across the classifications, each of whom improved their record by nine wins in 2019. The largest and newest of the bunch is Pflugerville Weiss, a second-year varsity program that went from a bad-but-not expected winless debut campaign to a thrilling 9-3 mark this season. Like Post, Pottsboro also made its first state championship game appearance, and did so by turning a 6-5 season last year into a 15-1 record this season. Last but certainly not least, first-year coach Kyle Little certainly made his impact felt at Harleton, where he turned the 1-9 Wildcats into a legitimate power, driving them to their first 10-win season since 2004.
Three more teams were able to improve their win total by eight wins in 2019 — Denton Guyer, which went from 6-6 to 14-2 in a run to the state championship; Wimberley, which also made a state title game run after going from 4-7 to 12-4; and six-man upstart Loop, which flipped the script on 2018 by going from 1-9 to 9-2.
The most improved team in Class 6A was Cedar Park Vista Ridge, as the Rangers went from 1-9 to 8-3 in the span of a year; Pflugerville Weiss was 5A's most improved team; the 4A "most improved" crown belongs to Wimberley; 3A's biggest leap belonged to Pottsboro; Post was the most-improved team in 2A; and Loop topped all six-man schools as the most improved team in Class 1A.
This article is available to our Digital Subscribers.
Click "Subscribe Now" to see a list of subscription offers.
Already a Subscriber? Sign In to access this content.