Piper Carson: Do we have Whataburger Super Team results yet???
Ish Johnson: Yes! Happy Friday!
_____
@MikePar61546669: Do you think Texas A&M Kingsville moving in the right direction with their new coach. They have a lot to fix.
Shehan Jeyarajah: TAMUK is unquestionably taking a risk by turning the program over to a coach who hasn't coached at the collegiate level in more than a decade. Mike Salinas even spent 2019 away from high school after getting into private business.
However, he does have experience with the program both as a player and coach. He had other success in the conference at West Texas A&M, a stint at FCS Sam Houston State and quite a bit of success at the high school level. This is a big step for Salinas, but the talent and potential is there.
The key question will be about administrative buy-in. TAMUK has struggled to keep up with other Lone Star Conference teams from a facilities perspective. It reportedly scared off some other high-profile candidates. For Salinas to have a chance, that has to change.
_____
Andrew Christensen: If you were the owner of an NFL and had to hire a Texas high school football coach to be your head coach who would you go with?
Matt Stepp: Carthage HC Scott Surratt, the man is a wizard!
Ish: Jason Herring from Refugio. I'm all about adaptability and doing what you can to get the most out of your team, so give me the coach who's been notorious for successfully switching philosophies multiple times to fit his personnel every year. 2A to the NFL? Sorry for the crash course learning curve, coach…
Greg Powers: This is tricky because the things that make an NFL coach successful aren't at all the things that make a high school coach or college coach successful. That being said, NFL is all about wins and Duncanville head coach Reginald Samples has a lot of them. He is also the master of holding elite players accountable and getting them to buy into the team concept. He's proven to be a program changing leader and I think he commands the type of respect from his players and peers that an NFL head coaching gig demands.
_____
@bench424nmore: Any consideration for issuing a post season magazine in January to recap the year in high school football? #AskDCTF
Ish: I prefer to not die on the job, thank you. But in all seriousness, everyone's focus naturally turns toward the next season once the old one ends and we start looking ahead to the summer magazine soon after as well. That is why we do have the recap sections in the summer edition, though!
_____
@theJRatcliff: #AskDCTF Here's a lighthearted food question: Favorite pizza toppings, and favorite pizza crust style?
Greg Tepper: I'm a regular crust guy, though my St. Louis wife will swear by thin crust pizza with disgusting Provel cheese on it. REVOLTING. As far as toppings, my go-to is sausage and mushroom, but I'm pretty much open to anything aside from fruit.
Ish: Jalapeños and green peppers and thin crust NY style, the only way!
Stepp: Thin crust and ground beef
Powers: Pepperoni, Traditional (New York) crust. But I like them all.
Shehan: I'd say my classic answer is pepperoni and sausage on a New York Style thin crust pizza. Since my wife is vegetarian, though, it throws a wrench in things. Now, I'm starting to really like spinach on pizza too.
Ashley Pickle: Toppings: Canadian Bacon, Bacon and pineapple. Yes, I'm one of "those" people. Crust: Thick
_____
Tyler Johnson: Who do you see in next years 4A DI state game? I'm expecting Argyle and Lampasas.
Ish: You're trying to get me in trouble with some fanbase seven months before the new season, aren't you? All I'll say is Calallen might have something to say down there in Region IV.
Stepp: This is a difficult question to answer before realignment, in my opinion the unquestioned pre-season number one team in 4A D1 next year will be Waco La Vega. Don't forget about Corpus Christi Calallen or Port Lavaca Calhoun down from Class 5A either.
Powers: I do not now how all the regions will stack up, but it is going to be hard for me to pick against a Waco La Vega team that returns two stud running backs in Elisha Cummings and Jar'Que Walton. We did not really get the chance to see that 1-2 combo shin in this year's state title game but both guys are explosive and have home run ability. So that is my very early pick in 4A Division I.
Pickle: Argyle and Lampasas aren't bad picks. Might sound odd but I think Brownwood is on the up-and-up and could sneak by some people in the next couple of years.
_____
Tanner Wilson: If they was ever a chance to play a #TXHSFB Game in a foreign country. Which country/countries could embrace it the most?
Tepper: I'd kind of love to see a Texas high school football team travel to Canada or Mexico. If you watch events like the International Bowl, pitting USA Football against teams from all over the world, you'll see that prep football is growing all over the world, but most especially in our North American neighbors. We've seen teams from Mexico travel to Texas to play high school teams (and they've won a handful of games, too); why not a return trip? What a great opportunity for a cultural exchange.
Ish: First bet is Mexico, second bet is also Mexico.
Stepp: I'd say simply due to proximity its gotta be Mexico
Pickle: The NFL pulls great numbers in London and they have the facilities.
_____
Aaron Flynn: What's Stepp's favorite BBQ place in Midland?
Stepp: This is gonna sound odd, but I really like the "True Texas BBQ" inside of the H-E-B right there near Grande Communications Stadium. KD's is good to, but if I had to pick one I'm going to True Texas and then getting my groceries afterwards!
_____
Kneeland Donnelly: How will you do the 2a rankings for next season? Obviously refugio, shiner, san augustine, post, Hawley, cisco thorndale, valley view, san saba, crawford?
Tepper: One thing I think is important to remember is that it's a realignment year — we'll get the new regions and new districts on February 3, so until then, we don't really know the road map for all of the teams. That said, 2A has been among the more top-heavy classes in the state, so I'd expect a lot of the same types of teams — the Marts, the Refugios, the Shiners, the Masons — to be in the mix in their respective divisions. If you're looking for a couple of early sleepers, keep an eye on Cisco, as they drop to 2A Division I from 3A Division II (even with a new coach, and Tenaha, who drops from Division I to Division II.
Stepp: It's still really early to think about rankings for next year, especially since we haven't started to collect questionnaires just yet, but in 2A-D1 Refugio and Shiner will be near the top, Post brings a lot back and should be outstanding as well and of course the big wild card will be powerful Cisco moving down from 3A-Division II. In 2A-D2 I think it's Mart and then everyone else still.
_____
Rob Hataway: What is Stepp's favorite place in the DFW to get a good chicken fried steak ..... other than Babe's?
Stepp: If I want a great chicken fry I'm going to Mary's Café in Strawn, but that's not DFW. There's few places that can beat Madea's in Everman, everything on the menu is great and the Chicken Fry is top notch. Yes it's a bit of a homer pick but the reviews online back me up on this one!
_____
Jacob Jon: If Refugio-Shiner was a "de facto" state championship game, were there any other games along the same lines, prior to the regional final in 2019? Or any others from recent years?
Tepper: It's a little easier to do in hindsight, but I think there's a fair argument to be made that Grandview over Cameron Yoe was a state championship-caliber win for the Zebras in 3A Division I. The only other one that springs to mind would be Pleasant Grove's regional final win over Gilmer in 4A Division II — they were No. 1 and No. 2 in the computer rankings at that point.
Stepp: There's been a lot of famous early round playoff games throughout history Southlake Carroll-Vernon 1992; Everman-Forney 2001; Southlake Carroll-Euless Trinity 2006 and I think Refugio-Shiner will be thought of in similar terms. I don't really think we had any more of those real titanic matchups prior to the regional finals this year where looking back it was clearly a 1 vs 2 deal. First one that comes to mind to me maybe was the 2016 DeSoto-Abilene game where DeSoto needed a late miracle to beat the Eagles in Wichita Falls, but again that probably wasn't a clear 1 vs 2 deal, since you had teams in Division I many thought were better. In 2011, Mason took on Ganado in the third round of the playoffs, both teams had byes in bi-district and Mason won 7-0, none of their other playoff games were closer than 22-points, that might be the most recent clear early round 1 vs 2 matchup. Ganado finished that season a tough luck 11-1.
Ish: Put some respect on Post's name, man! No, but I get your point, Gunter and Canadian was an insane game for a semifinal this year too and maybe last year's 2A DI Region IV final? Haha.
_____
Chad Patton: Who is Muleshoe going to hire?
Stepp: Clearly this is Lincoln Riley's job, seriously this is a good question, despite their struggles there's been some decent applicants but to my knowledge they haven't started interviews just yet. Although my sources say interviews could begin as early as next week.
_____
@Glenn_ster: Tepper, can QPR win the FA cup and get promoted in the same year? What tattoo would you get if it happened? #AskDCTF
Tepper: Promotion seems to be slipping away from our fair R's at the moment, but the FA Cup is a lofty and worthwhile goal! We can do it! As far as a tattoo is concerned, I'd have to get clearance from my permanent roommate on that one, and she's a tough sell.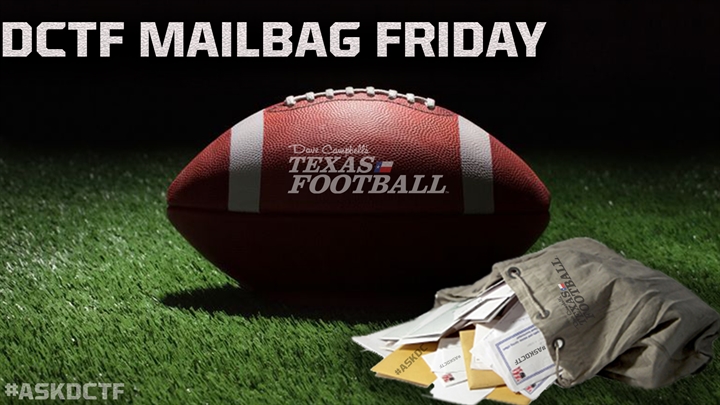 _____
Become a DCTF Insider today for exclusive insight from the best team of reporters in the Lone Star State! CLICK HERE!
Your subscription will include:
Instant access to all of our content that is marked Insider at www.texasfootball.com.

Includes exclusive podcasts, recruiting news, and our full High School Football rankings and score predictors

A mailed copy of the Dave Campbell's Texas Football Preview
A mailed copy of the Recruiting/Rising Edition of Dave Campbell's Texas Football
Access to Dave Campbell's Texas Football vast array of archived magazines