The 2019 season is officially over now that the LSU Tigers are national champions. It's time to turn to the 2020 season.
Baylor and SMU led the state of Texas in 2019 during breakout season. The Bears jumped out to an 11-3 season, tying the best single-season win mark in program history. SMU won 10 games for the first time since the Pony Express era of the 1980s.
However, the landscape of the state could shift dramatically heading into the 2020s. There's coaching changes at both of the previous schools. Senior quarterbacks at Texas and Texas A&M could mean a resurgence is on the horizon.
Here is our way-too-early ranking of the FBS programs in Texas for 2020.
12. UTEP Miners
There's no place to go but up for the Miners. UTEP was the only team in Texas without an FBS win in 2019. With improvements in San Antonio and West University, the Miners have another tough path to competing.
Running back Deion Hankins and quarterback Gavin Hardison will both have a full offseason in the rotation, which will help. However, there's little reason to expect UTEP to take a leap into the middle class of the state in 2020 – prove us wrong!
11. UTSA Roadrunners
The Roadrunners start a new era under head coach Jeff Traylor. Traylor is heralded as an elite recruiter and has a handful of exciting prospects to work with like running back Sincere McCormick and quarterback Frank Harris.
However, there's a lot of work to do with this team. Especially without knowing what Traylor plans at defensive coordinator, it's hard to know where exactly to project this team.
10. Texas State Bobcats
The Bobcats have a lot of work to do after another disappointing 3-9 season, but there's hope. Quarterback Brady McBride is eligible after transferring from Memphis, and we've heard great things about his upside.
Offensive coordinator Jacob Peeler helped develop DK Metcalf and A.J. Brown at Ole Miss. If he can get more out of the Bobcats' receivers, there's a light at the end of the tunnel.
9. Rice Owls
Few teams in the state ended 2019 as hot as the Rice Owls. Mike Bloomgren's team beat UTEP, North Texas and Middle Tennessee to end the year, and beat the Miners by two touchdowns on the road.
The Owls also are replacing an Ivy League grad transfer QB with another former Ivy League QB – Mike Collins from TCU and formerly from Penn should fit in seamlessly. If the Owls can find a few good offensive linemen, a combination of defensive experience and strong recruiting has this program poised to take another step in 2020.
8. North Texas Mean Green
The 2020 season always projected to be a tough one for the Mean Green, but there are plenty of surprises. Mason Fine is gone, yes, but so are both coordinators. At this point, there's no real frontrunner for the job.
Seth Littrell has recruited at an elite level in C-USA, so the dropoff shouldn't be steep. However, this is a full-on rebuilding season for the Mean Green.
7. Texas Tech Red Raiders
The Red Raiders fought through a difficult first season under Matt Wells, but there was plenty to be excited about. The defense took a major step forward in Keith Patterson's first season and now Todd Orlando is in to coach the linebackers.
If Alan Bowman can come back healthy and the defense can maintain without Jordyn Brooks in the lineup, Texas Tech has some unexplored upside heading into 2020. Wells is a process-oriented coach – this team will only get better.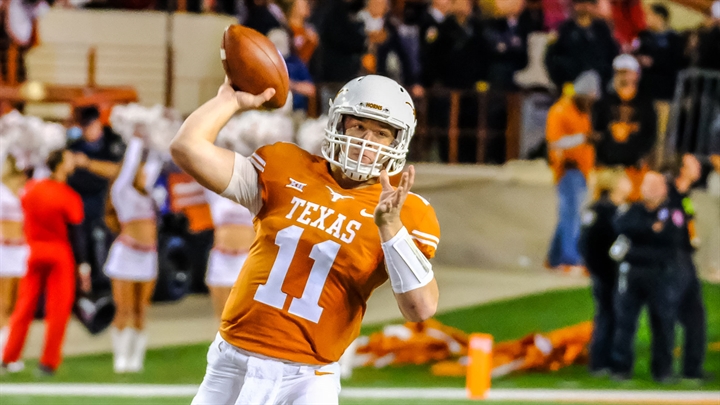 6. Houston Cougars
Houston effectively punted on the 2019 season. With D'Eriq King now officially exploring his options, the Cougars have a lot of work to do. Quarterback Clayton Tune showed some major signs and wide receiver Marquez Stevenson is one of the best in the state.
Most of the defense is back and the Coogs should get a boost from a couple of transfers. Still though, Houston has to improve dramatically to reach its potential. There were signs late in the year, but it was still on a 4-8 team.
5. TCU Horned Frogs
The Horned Frogs are in a difficult spot after a lackluster season in 2019. TCU might have its quarterback of the future and has multiple building blocks on defense. However, skill position talent and defensive ends doomed TCU a year ago.
For TCU to get back to Big 12 contention, Max Duggan has to make a sizable leap and the defense must be even better. Gary Patterson has earned almost unparalleled credibility in the state for a reason; he still has a lot of work to do.
4. Baylor Bears
On Jan. 14, who knows what Baylor will look like next season. The Bears don't have a head coach and have a tremendous amount to replace on defense after the early departures of James Lynch and Grayland Arnold.
However, the bones of Baylor's 11-win season are still back on both sides. Quarterback Charlie Brewer is back for his senior season and the offensive line is ready to take a step. If the Bears get the right coach in the door, Baylor still has plenty of top-end talent left on the roster.
3. SMU Mustangs
The Mustangs have many questions to answer heading into 2020. Gone are offensive coordinator Rhett Lashlee, wide receiver James Proche and a whole host of defenders. However, star quarterback Shane Buechele is back, wide receiver Reggie Roberson is back and a whole host of transfers are set to contribute.
SMU still has plenty of upside in Buechele's final season as starting quarterback. Getting back to 10 wins would be difficult with Cincinnati, TCU and Memphis on the schedule, but there's still plenty of opportunity for SMU to shine.
2. Texas Longhorns
The Longhorns will have a whole host of new faces on the coaching staff, including new voices at both coordinator spots. However, much of the roster will look the same. Quarterback Sam Ehlinger is back along with several top offensive linemen, all the major contributors at running back and most of the defense.
If Ehlinger can find a couple of new faces at wide receiver, the Longhorns have conference championship game upside. Of course, this will be a critical season if Tom Herman is to keep his job in Austin long term.
1. Texas A&M Aggies
The Aggies haven't sat atop the state since Johnny Manziel was on campus in 2012. After a lengthy hiatus, that could change in 2020. A year after posting one of the toughest schedules ever, the Aggies are rewarded with one that's Charmin soft. Clemson and Georgia are replaced with Colorado and Vanderbilt.
The two biggest tests – Alabama and LSU – will be replacing generational quarterbacks. Plus, the easy schedule coincides with a senior Kellen Mond, several senior linemen on both sides and a takeover of Jimbo Fisher recruits. All the pieces are there for Texas A&M to win 10 games in the SEC.
This article is available to our Digital Subscribers.
Click "Subscribe Now" to see a list of subscription offers.
Already a Subscriber? Sign In to access this content.