SAN ANTONIO -- From the second Jeff Traylor walked into the building for his introduction as head coach at UTSA, one thing was clear: the Roadrunners are going Texan.
A dozen of Traylor's former players at Gilmer and other high school football coaches took up seats at the AlamoDome for his introduction. Converse Judson legend and former executive director of the Texas High School Coaches Association D.W. Rutledge spoke.
Two days after Traylor was introduced, he drove 45 minutes up the road with athletic administration to meet with the board of the THSCA, still wearing the Roadrunners hat he donned at the introductory press conference.
"Everybody I talked to, especially over the last 10 days, said the connection to Texas high school coaches is so critical," UTSA president Taylor Eighmy said. "Not that we're not connected already, but to have the deep, deep connection is essential to taking it to the next level. That was the missing ingredient we needed to realize more than any other ingredient."
If Texas is what you want, Traylor is your man. He spent 15 years as the head coach at Gilmer High School in East Texas and won three championships with a pair of other state title game appearances. He spent time at the University of Texas and SMU before leading recruiting for Texas high school legend Chad Morris at Arkansas. His brother, Kurt Traylor, is the head coach at Tyler Lee. Texas football runs through his blood.
"It's the same game," Traylor said. "It's just played by bigger and faster guys in bigger stadiums. It's still ball. Ball is ball, played by players, players win games, it'll always be that way."
Traylor is so dang Texan that when he got the call last Friday night that UTSA athletic director Lisa Campos, he prepped by watching the movie "The Alamo." Well, at least he rewatched the pivotal scene of William B. Travis drawing a line in the sand about seven times so that he could set up his new recruiting hashtag, "#DrawTheLine."
All of these Texas shoutouts and ties are about one thing. UTSA wants Traylor to recruit the heck out of the state of Texas.
"I'm more prepared for this job than I've been for any other job," Traylor said. "Think about what I've done. I was a head coach for 15 years. I was an associate coach for five years at three different places. I've been the lead recruiter on three different staffs to get the deal closed and get players in. That's what the game is about. That's what we're going to do.
"We can't just lock down the city of San Antonio? The game is about players. It always will be about players. Somehow, in this great game of college football, we've lost sight of that."
Traylor is right in a sense. The best teams are built by recruiting the best players – that's why Alabama, Clemson and Ohio State win. Even at the C-USA level, Lane Kiffin built FAU into a consistent winner through strong recruiting. Rutledge recalled that another coach drove almost straight from his introductory press conference to the THSCA board meeting to build relationships: Mack Brown at Texas.
Traylor has a great product to sell. UTSA is in the seventh-largest city in America – and the single largest that doesn't have an NFL team. UTSA has a fertile recruiting footprint that is arguably among the best in the Group of Five. Mixing college football investment with untapped urban centers – Memphis, San Diego State, UCF – and you can create results.
Traylor has proven recruiting chops. He helped put together a pair of top 10 classes during his time at Texas and earned Big 12 Recruiter of the Year. Even as Arkansas stumbled out to a 2-10 record, Traylor helped tie together a top 25 class with many contributors from Texas. There's plenty of untapped potential at UTSA, one of the youngest major programs in America.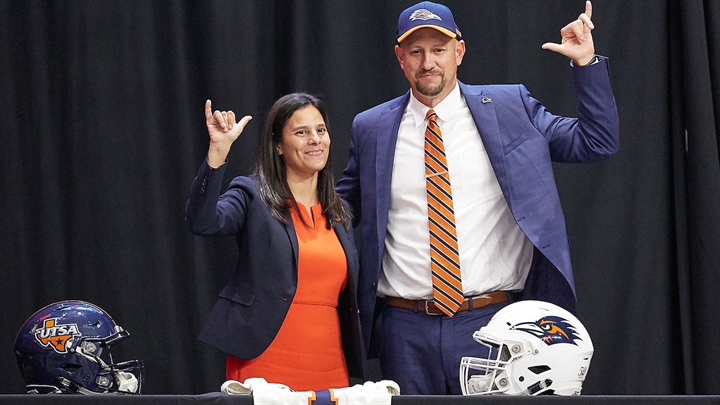 While Traylor doesn't have collegiate head coaching experience, he does have 15 years of building a championship-level program in high school. Just listening to him speak at the podium makes it obvious why players and fellow coaches hold him in high regard. Fans will fall in love soon enough. Traylor is confident enough in his ability to rally a community that his contract is heavily incentive-based, with plenty of perks for achieving both on- and off-field success.
"It is so important to recruit the players that are going to win championships," said Lisa Campos, director of athletics at UTSA. "It's so important to build the culture and it's so important to be a leader. He has proven himself as a leader in the high school ranks and being an associate head coach, he learned a lot about being a head coach at this level. As many people talk about, coaching is coaching, but he'll be able to bring the culture and the leadership."
It's worth mentioning that UTSA tried a similar strategy with its last hire. Frank Wilson was a recruiting coordinator from the SEC West with successful high school experience who was brought in to take Roadrunners recruiting to the next level. Under his watch, the Roadrunners put together the third-best recruiting class in Conference-USA in 2017.
Wilson reached a bowl in his first season with the program and posted a winning record in his second. After that, the Roadrunners went a combined 7-17 without a win against a team that won more than a quarter of its games.
However, the athletic department wasn't deterred from hiring another SEC West recruiting coordinator and running backs coach. While the backgrounds were similar, Traylor's deep ties in the state of Texas – and innovative offensive mind at the high school level – set him apart.
"We went for the person who was going to be the best fit for UTSA," Campos said. "Jeff fit that profile for sure."
That said, it's also worth mentioning that Traylor comes to UTSA from an Arkansas staff – led by Texas high school legend Morris – that arrived in Fayetteville with many of the same guiding philosophies. The Razorbacks went 4-20 in two seasons, the worst two-year stretch in the history of the university. Traylor was also at Texas when Charlie Strong was fired.
Traylor was vague when asked about what he learned from the failures of the Morris era, though did point to innovative recruiting strategies when discussing the successes. Specifically, Traylor lauded the social media strategy and how Morris built a recruiting footprint. Traylor is betting big on a few core members of that failed Arkansas staff. Four of the seven assistants Traylor hired were from that Arkansas staff.
Recruiting will immediately be top priority. On the field, things are a little more vague. Traylor repeated that his offenses are unpredictable, multiple and will push the envelope. The defenses will play aggressive press coverage. He declined to go into any specifics about schematics, citing a desire to look over his roster. Traylor did lead one of the most productive high school offenses of all time at Gilmer in 2014.
His first coordinator hire was Barry Lunney Jr., an experienced offensive assistant from Arkansas who served under both Chad Morris (spread) and Bret Bielema (power run). Lunney helped develop tremendous tight ends at Arkansas. Installing him as OC doesn't give much info about what UTSA will run. Traylor is still in the market for a defensive coordinator, even with the early signing period on Wednesday.
There's time to figure that all out, though. Games don't start for another nine months. For now, Traylor is doing what he does best – building relationships. He visited a UTSA basketball game and took photos with students and the mascot. He's sent his early staffers out on the road recruiting, visited the THSCA and met Gregg Popovich at a Spurs game.
UTSA has all the ingredients to become a consistently excellent program. The Roadrunners are just one hire away. Traylor, the ultimate Texan recruiter, knows it.
"Great administration, players, an unbelievable city in San Antonio? Come on, who can't get on board? This is a slam dunk. It's a piece of cake. Let's get it going!" Traylor said.
This article is available to our Digital Subscribers.
Click "Subscribe Now" to see a list of subscription offers.
Already a Subscriber? Sign In to access this content.