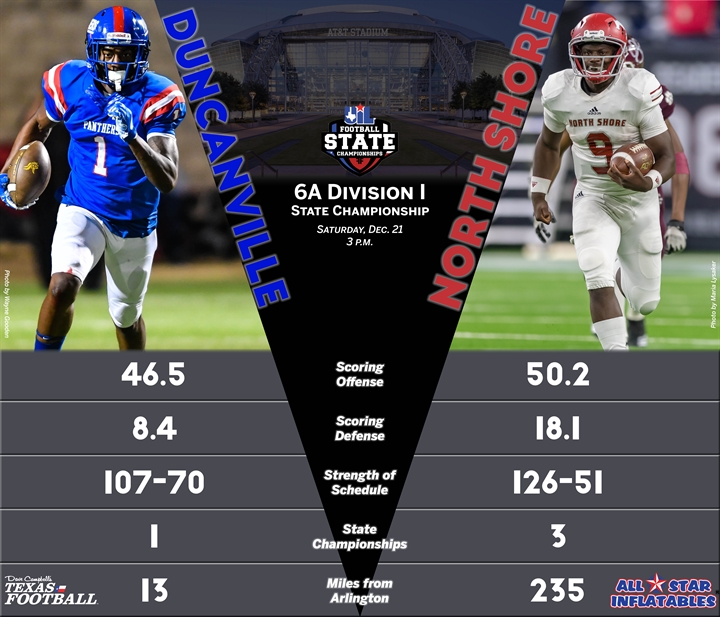 GAME PREVIEW
It's the rematch everyone has been waiting a full year for. Unfortunately, the story of this matchup may be who is NOT on the field for both teams rather than who is ON the field for unbeaten Duncanville and defending champion Galena Park North Shore.
Duncanville looked dominant in last week's 56-14 win over Rockwall, but the victory came at a cost with QB Ja'Quinden Jackson (Texas commit) going down with a knee injury late in the second quarter. As of Sunday night, there was no word on Jackson's status. But even if the star can go, it's incredibly unlikely he'll be his usual self.
North Shore has played the vast majority of the season without Texas A&M WR commit Shadrach Banks, who has battled a broken bone in his foot and missed the first six games. Banks played the final four games of the year, but then suffered an ankle injury in bi-district and was ruled out for the rest of the season.
Duncanville, before the Jackson injury, raced out to a 35-7 lead on Rockwall as Jackson had run and thrown for TD. The defense got in the act with a pick-six and Trysten Smith and Roderick Daniels both had long touchdown runs. Freshman QB Chris Parsons came in during the second half and looked poised beyond his years and he'll need that maturity if he's to make his first varsity start at AT&T Stadium in the state title game.
North Shore didn't have RB Zach Evans for most of the first half of last week's 49-38 win over Lake Travis as Evans was taking the ACT test, but it didn't matter as the Mustangs raced out to a 28-3 halftime lead and held off a couple of late LTHS rallies to get back to Arlington.
Evans finished with 176 yards and two touchdowns, while Roger Hagan filled in well with 114 yards and a touchdown for the Mustangs dynamic attack. QB Dematrius Davis, a Virginia Tech commit, finished with 226 yards of offense, three passing touchdowns and a rushing touchdown as well.
Duncanville will have its work cut out for them if Jackson is out and it's a lot to ask of a freshman QB to make his first start at this level, so expect the Panthers to trim down the passing game and rely a lot on their big offensive line and running game.
North Shore's run defense is their strength this year led by Miami LB commit Corey Flagg, so expect Duncanville to have to throw it some to keep them honest. Duncanville's defense is still elite and they got Auburn safety commit Chris Thompson back last week. They struggled to slow North Shore a year ago. Can they turn it up another level this week?
Stepp's Pick: Galena Park North Shore by 7
- Matt Stepp
_____
PLAYERS TO WATCH
Galena Park North Shore
Senior RB Zach Evans (HUDL)
Many consider Evans to be the top running back in the country. He has it all. The size (5-foot-11, 200 pounds), the breakaway speed, the patience to find the hole and the power to make his own. Everyone in the country wants him. LSU, Georgia, and Texas A&M appear to be the frontrunners.
Junior QB Dematrius Davis (HUDL)
The Virginia Tech commitment has already solidified himself as one of the Houston-areas best QBs, and that's in large part due to what he did a season ago in leading North Shore to an undefeated state title. Can change a game with his arm or his legs.
Senior OT Damieon George (HUDL)
The Alabama commitment is one of the top offensive linemen in the country. George, who is listed at 6-foot-6 and roughly 250 pounds, plays with a mean streak and is a big reason why this offense is as explosive as any in the country.
Duncanville
Senior RB Trysten Smith (HUDL)
The Central Arkansas commitment is one of the toughest players to bring down in the state. Arm tackles simply will not do the job. The 5-foot-9, 203-pound Smith has the power to run through you and the speed to run by you.
Junior OL/DL Savion Byrd (HUDL)
One of the top junior prospects in the country, Byrd is highly regarced as an offensive lineman but does most of his damage on defense for the Panthers. He's one of those players that can pretty much name the school he wants to go to. A five-star talent.
Senior S Chris Thompson Jr. (HUDL)
The Auburn commitment is the quarterback of Duncanville's defense. At 6-foot-2 and 200 pounds, Thompson is not afraid to come down to the box and take on any competition. He chose the Tigers over offers from Ohio State, Texas, USC and Alabama to name a few.
- William Wilkerson
_____
PREDICTIONS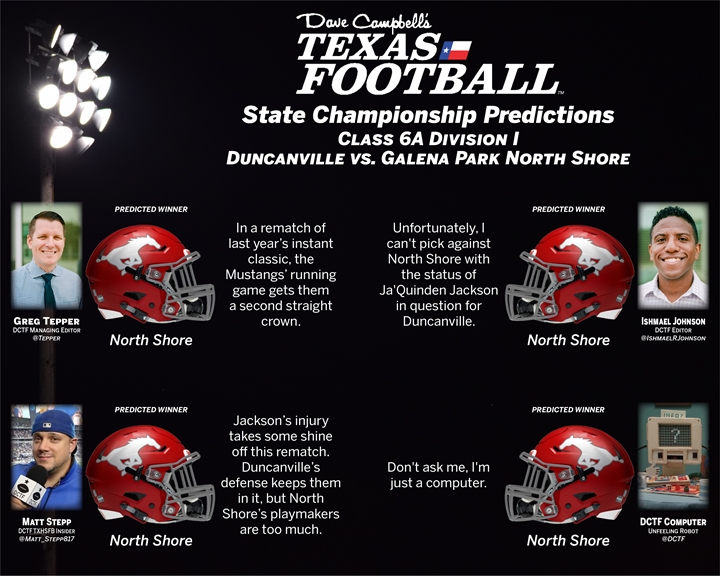 _____
TEPPER'S PICK
_____
Become a DCTF Insider today for exclusive insight from the best team of reporters in the Lone Star State! CLICK HERE!
Your subscription will include:
Instant access to all of our content that is marked Insider at www.texasfootball.com.

Includes exclusive podcasts, recruiting news, and our full High School Football rankings and score predictors

A mailed copy of the Dave Campbell's Texas Football Preview
A mailed copy of the Recruiting/Rising Edition of Dave Campbell's Texas Football
Access to Dave Campbell's Texas Football vast array of archived magazines