In evaluating a true Texas high school football rivalry, three criteria must be met.
The game should have some history to it. A healthy disrespect goes a long way, be it a heated community rivalry or on-field animosity. And the rivalry must be competitive.
What the Central Texas rivalry between Austin Westlake and Lake Travis lacks in longevity – the teams first met in 2006 – it more than makes up for in the other two criteria. In many ways, the Chaparrals vs. Cavaliers, which will hold its 2019 version at 7:30 p.m. on Friday at Lake Travis, has a college feel to it, both in environment and quality of play.
"For a high school game, it's like something you'd see on TV or in a movie," said former Lake Travis quarterback Michael Brewer, who won three state championships with Lake Travis and spent his final two college seasons quarterbacking Virginia Tech against the likes of Ohio State, Florida State, Miami and arch-rival Virginia. "This game in particular will have a crazier atmosphere than a lot of games I played in during college."
Like all good rivalries, the communities and student bodies turn out in droves; the game was sold out by Wednesday. In previous years, entrepreneurial fans tried to sell $8 general admission tickets to the game for upwards of $75 on Craigslist. Tailgaters will fill the parking lot adjacent to Cavalier Stadium.
Social media is abuzz with barbs that go back-and-forth, some civil and some not.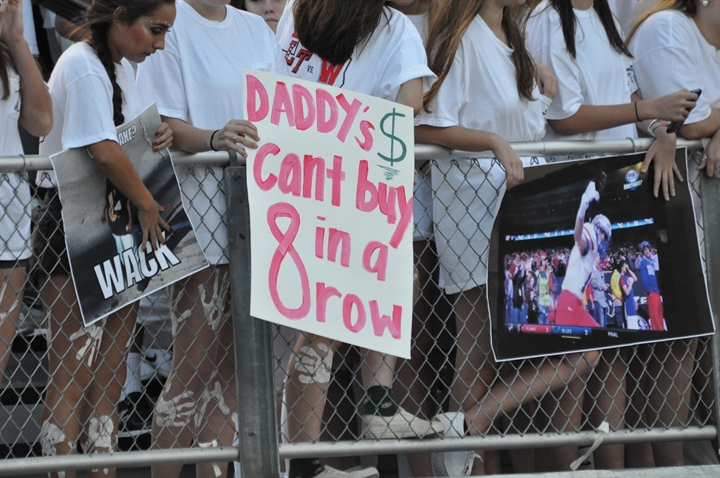 "This is a great week," Lake Travis quarterback Hudson Card said. "You can tell that the game's really important to the communities. And yes, there's some smack talk going around."
"This is what we live for," said Jason Protass, a Lake Travis graduate and a student body organizer. "They are our rival, and all I know is that we need to be as loud as possible."
"This is what high school football is all about," Westlake coach Todd Dodge said. "People want to talk about it all the time and I think that's great."
Lake Travis coach Hank Carter can attest to the fact that people want to talk about this game all the time. He heard about it over the summer. On vacation. From his mother.
"We're at the beach and she asked me if we were going to beat them this year," Carter laughed. "I had to say 'Yes mom, we're going to try and play better against these guys this year."
When the rivalry began in 2006 – a game brokered in large part by Chick-fil-A operators in each community – it was a way to get the neighboring school districts to meet on the field. Westlake was a 6A (then 5A) power and Lake Travis had yet to win a second-round playoff game at the 4A level. The early years saw some competitive games, but the rivalry truly heated up in 2010, when the Cavaliers – then 3-time defending state champions – had solidified themselves with Westlake as Austin's premier programs.
The game spent two seasons being played in the spacious confines of Darrell K. Royal Texas-Memorial Stadium, where upwards of 25,000 fans turned out to watch the showdowns. In 2012, realignment bumped Lake Travis up in classification, and the schools have been district rivals ever since. That, plus the return to cozy campus venues, added some spice to the rivalry.
"When we play Westlake, that's great for the two schools and communities," Carter said. "Oftentimes has district and playoff ramifications and things like that."
There's never been true animosity between the communities, not like some of the longer-standing rivalries that both coaches have witnessed first-hand. This rivalry, Carter said, tends to be more civil than others.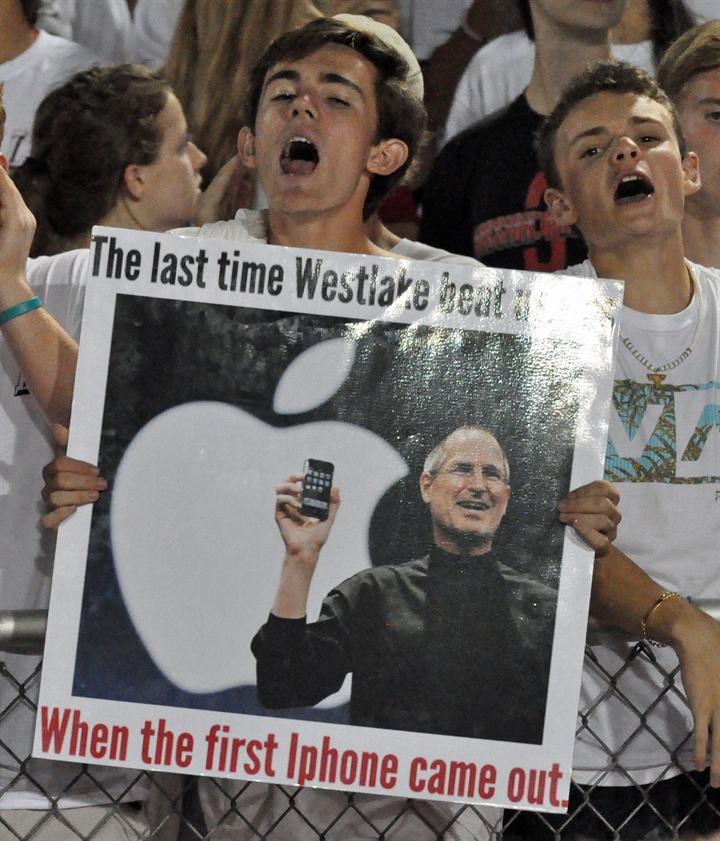 "The Bay City-El Campo rivalry was always a huge one for me," Carter said. "And Brownwood and Stephenville, that one is pretty nasty. This one, I think it's a little more civil. Sure, there's a little bad blood because both programs want to win…"
"People got mad at me because when I got here, I didn't really call this a rivalry," Dodge said. "They said, 'What do you mean? This is the greatest rivalry in Texas high school football.' Now, I think it's turning into one, but when we got here five years ago, we weren't holding up our end of the bargain. I remember growing up in southeast Texas, and Port Arthur Thomas Jefferson and PNG (Port Neches Groves). Now that was a rivalry."
As he's been so often in his coaching career, Dodge is right. For a game between two teams to be considered a rivalry, there has to be competition. While Westlake won the first two games, it had to endure a nine-year stretch that saw Lake Travis win 10 consecutive games, some in heartbreaking fashion. In 2012, Baker Mayfield's 96-yard touchdown pass with four minutes left gave the Cavaliers a 14-11 win. The next year, Westlake let a 27-14 fourth-quarter lead get away and Lake Travis escaped with a 28-27 win.
By Dodge's estimation, Westlake rejoined the rivalry in 2017, holding off Lake Travis 21-14. The Chaps won last year as well, this time 44-14.
"A rivalry is something where you see teams win every other year, or maybe one team wins two or three in a row once in a while," Dodge said. Ironically, his team is looking for its third straight win in the series.
To the victors go the immediate spoils – the winner of this game has won the district title every year. But that's not the end of the story, or what makes this game stand out.
Beyond the regular season meeting, both teams enjoy deep playoff runs. Since that 2006 game, either Lake Travis or Westlake and sometimes both have advanced to the state semifinals in every year but 2014. The teams have combined to reach 11 state championship games with six titles (all belonging to Lake Travis, how's that for bragging rights?). Both teams reached the 6A (then 5A) title games in 2015.
"Winning or losing this game hasn't been the end of anyone's season," Carter said. "Either one of these teams usually goes on to have a great season."
For Dodge, the most compelling piece of the rivalry is that the teams need each other. Everyone needs a rivalry game, for certain, but to have another high-caliber opponent on the schedule gives you an automatic measuring stick.
"I'm thankful that both of us have each other," Dodge said. "When you talk about Lake Travis and Westlake, it's that old deal of steel sharpens steel or iron sharpens iron. That's what these two programs do for each other. It lets us check ourselves right in the middle of the season."
But mutual need is a long-term thing. The immediate focus is on a single Friday night in early October, and someone has to walk away with bragging rights. And fans want to know, coach, what are we going to do to get those bragging rights?
"I told this story over the summer," Dodge said. "It's 2015 and about midweek of the Lake Travis game. A very good player on our team's mom calls me up. 'Coach, what are we going to do?' she asks. 'They are having a white out on Friday and all of their fans are going to be here wearing white. What are we going to do?!?' All I could say was, 'well, we're going to be wearing [our] red [jerseys] so maybe you want to wear red or something.'
"Sometimes in this game, the community kind of loses its mind."
A game that can make a community lose its mind? Now that's a rivalry.
This article is available to our Digital Subscribers.
Click "Subscribe Now" to see a list of subscription offers.
Already a Subscriber? Sign In to access this content.