San Angelo Central (3-2, 1-0) at Euless Trinity (5-0, 1-0):
A year ago, Trinity went into the Concho Valley and flat out destroyed San Angelo Central. The Bobcats would love nothing more than to return the favor as they visit the Metroplex to take on the Trojans. San Angelo raced out to a 28-3 lead at home last week but had to hang on late for a 45-38 win over previously unbeaten Weatherford. QB Malachi Brown was the key in the win, throwing for 281 yards and three touchdowns and adding 89 yards on the ground and three more rushing touchdowns. Central's secondary had trouble slowing the Weatherford passing game last week, but the challenge is much different this week as the Bobcats defense must contend with a Trinity offense that loves to run the ball behind a massive offensive line.
In last week's 42-7 win over Hurst Bell, Trinity had four different backs rush for at least 69 yards and all four reached the end zone. Trinity's defense was outstanding as well last week containing Bell to just nine total first downs and 167 yards of offense in the win. Trinity had big-play ability a year ago. It isn't quite as explosive on offense, but are still plenty efficient. Add in an improved defense that's allowing just over 13 points per game and you have the makings of a team that should cruise to the 3-6A title and get a comfortable win on Friday.
Stepp's Pick: Euless Trinity by 17
Southlake Carroll (4-0, 1-0) at Denton Guyer (4-0, 1-0):
A top 10 matchup in Denton this week as unbeaten Southlake Carroll visits unbeaten Denton Guyer in a game that likely decides the District 5-6A title. These two played in a classic last year, with a trick play being the difference for Carroll in a hard-fought win. Denton Guyer however has been on a revenge tour of sorts this year as it has knocked off Aledo and Cedar Hill already and would love nothing more than to beat Southlake Carroll and make it three for three against teams who defeated them in 2018. Both teams got off to slow starts last week in district openers, but hit the jets in the second half for easy wins. Carroll rolled past Keller 56-14 as sophomore QB Quinn Ewers threw for 280 yards and five touchdowns in the win.
Guyer drilled previously unbeaten Keller Central 49-10 as Eli Stowers threw for 167 yards and four touchdowns and added in 75 yards rushing and a score to lead the Wildcats. Guyer's big offensive line and lethal weapons at the skill spots have been nearly unstoppable this season, it'll be a massive test for a Dragons defense that hasn't seen a real potent offense. Expect a shootout as Guyer's defense hasn't been great early in the year, but the Wildcats have shown they can win these types of matchups.
Stepp's Pick: Denton Guyer by 6
Klein Collins (5-0, 3-0) vs Klein Oak (4-1, 2-1):
There's never an easy week in District 15-6A and for Klein Oak just a week after upsetting state-ranked The Woodlands on the road, the Panthers now tangle with another state-ranked squad in Klein Collins. In last week's 21-10 win over The Woodlands, Klein Oak's defense stole the show holding a potent Highlanders offense to just five first downs and just 230 yards of offense. QB Montreal Bolton was the catalyst for the Oak offense passing for 168 yards and two touchdowns, while also chipping in 127 yards on the ground. Defense was also the key for Klein Collins last week as the Tigers had no trouble with Conroe Oak Ridge in a 35-0 win.
Oak Ridge managed just 140 yards of offense, while the tandem of RB's Braelon Bridges and Jonathan Lewis combined for 292 yards on the ground, with Bridges scoring two touchdowns. QB Colby Powers was efficient throwing for 113 yards and a touchdown and adding in two short touchdown runs of his own. Expect a physical, low-scoring game between these two Klein ISD rivals, the edge may be with Collins in the this one. The Tigers are very good up front and that will be big late in this game.
Stepp's Pick: Klein Collins by 3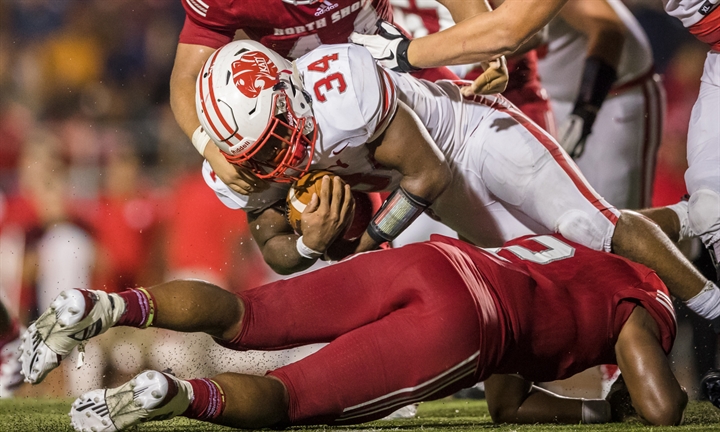 Katy (4-0, 0-0) vs Katy Tompkins (5-0, 1-0):
It's a Thursday night showdown in Katy as upstart Katy Tompkins will take its shot at the crown worn by super-power Katy. Katy had a bye last week and that week off to heal up after a tough non-district slate will be big for Gary Joseph's squad. The offensive triplets for the Tigers have been sensational with QB Bronson McClellan, RB Ronald Hoff and WR Jordan Patrick giving Katy's attack plenty of balance. Katy Tompkins burst on the scene a year ago with a run to the third round of the playoffs and Todd McVey's squad hasn't shown any signs of slowing down. The Falcons opened up district play last week with an emphatic 63-27 win over Katy Seven Lakes. QB Jalen Milroe (Texas commit) only threw 10 passes, but he made the most of those attempts throwing for 187 yards and four touchdowns. The running game was stout with R.J. Smith and Marquis Shoulders combining for 272 yards and five rushing touchdowns. The majority of Seven Lakes' points output came in the fourth quarter against the Tompkins backups.
Every year, Katy gets a test from whoever the second-best team is in KISD. In most years it's been Cinco Ranch and in most years, Katy makes a statement and blows the doors off any contender from inside the district. This Tompkins team has elite skill talent, but tangling with the Tigers is a major step up. The key is withstanding the early Katy barrage. If Tompkins can do that, it has a puncher's chance, but it's easier said than done.
Stepp's Pick: Katy by 20
Beaumont United (4-0, 1-0) vs Beaumont West Brook (4-0, 1-0):
A year ago, first-year school Beaumont United was trying to find its footing as a program after the combining of Ozen and Central High School, while West Brook was a budding power en route to an appearance in the state title game. The teams, at least so far in 2019, appear to be on more even terms as United is one of the state's real surprise stories at 4-0, while West Brook has taken care of business in its 4-0 start. The Timberwolves' defense was the key last week in a 17-7 win over Baytown Sterling. The United defense allowed just 162 yards in the victory. QB Zemaiah Vaughn accounted for both touchdowns for the Timberwolves offense, but the two interceptions are a concern as United can't give the explosive West Brook attack any short fields.
West Brook has been tested the last two weeks with close wins over Houston Lamar and Houston King, but the Bruins have a knack for finding a way in close games. Last week, when the Bruins rushing attack struggled QB Troy Yowman stepped up throwing for 276 yards and two touchdowns in the win. Expect West Brook to try and establish the running game this week in what should be a fascinating Alumni Bowl matchup as this is the first real litmus test for where Beaumont United stands.
Stepp's Pick: Beaumont West Brook by 10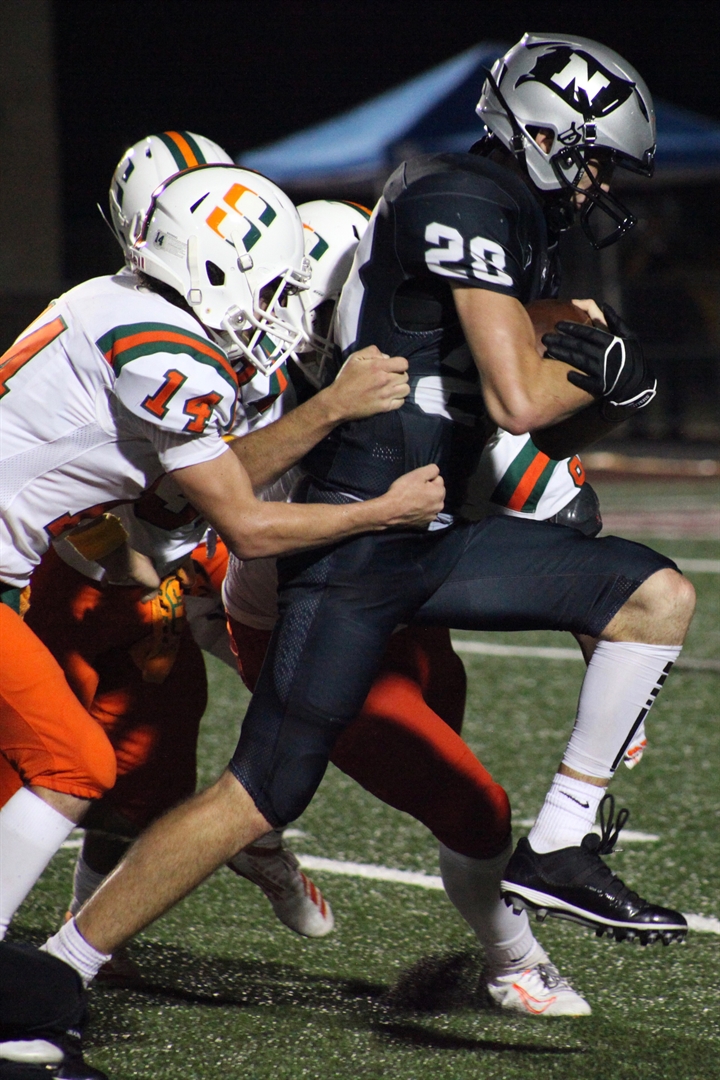 PSJA (2-2, 1-0) vs PSJA North (3-1, 1-0):
The District 30-6A race will take some shape this week in a battle of PSJA ISD's two Class 6A programs. PSJA opened up district play in style as the Bears got a big 70-14 win over La Joya last week. The Bears raced out to a 48-7 halftime lead off the strength of five first-half turnovers that were all converted into touchdowns. QB Justin Morales and RB JR Vasquez were the key catalysts for the Bear offense accounting for six touchdowns total.
PSJA North isn't as flashy as PSJA, but the Raiders are equally as effective as they improved to 3-1 with a 34-19 win over La Joya Juarez Lincoln. QB Izaiah Rangel tossed three touchdown passes and ran for another score as he returned from an injury and that added balance to the offense was a big boost for the Raiders. PSJA North has thrived in the underdog role, but that role no longer applies. This is one of the top teams in the Valley and will get a big win this week and it's because of their outstanding defense which makes the difference.
Stepp's Pick: PSJA North by 5
Lufkin (3-1, 1-0) at Magnolia (3-1, 1-0):
Lufkin, after dropping its season-opener to Longview, has quietly won three straight games including its district opener last week with a 42-13 win over Willis. The Panthers defense dominated early on and in the second half the offense got it going in a big way. QB Jordan Moore is improving each week and his outstanding receiving corps continues to be a menace for opposing defenses.
Magnolia got pushed last week by Waller, but the Bulldogs had answers in a 31-20 win. The running game was key as three different backs combined for 345 rushing yards and three touchdowns. Mitch Hall led the way with 212 yards, while QB Travis Moore ran for two scores and threw for another score. Magnolia's defense is going to have its hands full with the elite skill talent Lufkin brings to the table. The Bulldogs need to dominate up front and try to limit Lufkin's big plays.
Stepp's Pick: Lufkin by 9
Rosenberg Lamar (4-0, 1-0) at Bryan Rudder (3-1, 1-0):
Unbeaten Rosenberg Lamar will look to keep the momentum going against upstart Bryan Rudder who at least through four weeks has the feel of a team of destiny under first-year head coach Eric Ezar. Trailing 36-15 at the half last week against Montgomery, it appeared the Rangers were dead in the water, but for the third straight week, Rudder showed uncanny resiliency and rallied for an incredible 56-50 win. QB EJ Ezar and a bevy of young but talented skill players stepped up and the Ranger defense, which had an atrocious first half, woke up and found a way to hold Montgomery in check and allow the offense to rally.
Rosenberg Lamar rolled past Montgomery Lake Creek, 45-18, last week as the Mustangs were led by Taye McWilliams who had three touchdown runs of at least 70 yards. The Mustangs have made their way into the top 10 in 5A-Division II and have the feel of a real sleeper in Region III that's flying under the radar in a district that features A&M Consolidated and Huntsville.
Stepp's Pick: Rosenberg Lamar by 17
Brenham (3-1, 1-0) at Georgetown East View (4-0, 1-0):
After a down 2018 season, Brenham has found its footing under second-year head coach Elliot Allen and the Cubs appear to be a contender for the 13-5A Division II crown. Brenham rolled past Bastrop Cedar Creek 44-20 as QB Garrison Weiss threw for 210 yards and ran for two scores, while sophomore RB Javon Dixon rushed for 94 yards to lead a balanced attack.
East View is flying high under first-year head coach Jerod Fikac after the Patriots opened district play with an emphatic 44-6 victory over Marble Falls. Special teams keyed EVHS in the win as it had a punt return for a touchdown and recovered a fumble on the ensuing kickoff to build a quick 14-0 lead and never looked back. Isaiah Quinton-Jackson led the way with 90 rushing yards and two scores and the 71-yard punt return for a touchdown that opened the scoring. This is a pick'em type game, on paper both teams are evenly matched so we will lean to the home team in this one.
Stepp's Pick: Georgetown East View by 2
Alice (4-0, 1-0) at Port Lavaca Calhoun (3-1, 1-0):
Unbeaten Alice has a lot to play for, including keeping HC Kyle Atwood's incredible mustache that he's promised not to shave until the Coyotes lose a game. Last week, Alice rolled past Tuloso-Midway 50-13 as QB Isaiah Aguilar had another big night and the Coyotes special teams came through in a big way with a pair of touchdowns in the win.
Port Lavaca Calhoun's offense got rolling last week in a bizarre 56-34 win over Gregory-Portland in a game that lasted well into the night due to a power outage. Steve Johnson led the way again for the Sandcrabs rushing for 246 yards and three touchdowns on the ground. Expect a shootout in this one, both teams are elite level offensive teams. The key is can the Alice defensive line control the line of scrimmage and disrupt the Calhoun Slot-T offense? If they can pull that off, the Coyotes will get a big win but it's easier said than done in Port Lavaca.
Stepp's Pick: Port Lavaca Calhoun by 6
Mercedes (3-2, 1-0) at Mission Pioneer (3-1, 0-0):
The 16-5A Division II title won't be decided Friday night in Mission, but the winner of this matchup will go a long way towards reaching that goal. Mercedes struggled with arch-rival Edcouch-Elsa last week, but the Tigers found a way late in a 31-19 win, their sixth straight over Edcouch. RB Jared De Los Santos led the offense topping 100 yards on the ground and chipping in a pair of touchdowns after Mercedes fell behind 10-0 early.
Pioneer has one of the top offenses in the state led by QB Eddie Marburger and a talented group of receivers. Last week, the Diamondbacks were idle but two weeks ago they rolled past Brownsville Rivera, 50-28. Marburger threw five touchdown passes and ran for another two scores in the win. The Diamondback defense isn't one of the best in the Valley and yards and points can be had against them, but with that flamethrower offense Pioneer is more than happy to get into a shootout and more often than not they come out on top.
Stepp's Pick: Mission Pioneer by 12
Andrews (4-1) at Hereford (3-2):
Andrews and its high-flying offense will be tested in a big way this week as it visits Hereford which is consistently one of the toughest places to play on the South Plains. Andrews after a slow start got the offense going in a 45-17 win over Clint Mountain View last week. QB Brett Leach tossed four touchdown passes to four different receivers in the victory.
Hereford rolled past Plainview 28-7 last week to get its third win of the season. The Whiteface defense totally shut down Plainview's offense allowing only one long touchdown run. Hereford is outstanding against the run, but the dynamic Andrews passing game is a difficult matchup and the Mustangs could put up some big numbers in this one.
Stepp's Pick: Andrews by 18
Carthage (4-0) at Texarkana Pleasant Grove (5-0):
The game of the week in East Texas features the two major powers at the 4A level going at it in a fascinating showdown in Texarkana. Carthage has the look of a real state title contender with QB Kai Horton leading a balanced and diverse offensive attack and a defense which early in the season has been elite.
Pleasant Grove's multi-faceted Wing-T offense is led by a three-year starter at QB in Ben Harmon and BYU commit Bruce Garrett at RB, while the Hawks have an elite defense with three FBS recruits in the front seven. Garrett ran for 122 yards and three touchdowns, while Harmon tossed three touchdowns in an easy, 63-21, win over Tyler Chapel Hill. This game was a thriller a year ago and expects to be more of the same this year, Carthage's offensive line is going to be critical in this one, if they can give Horton time to throw the ball the Bulldogs will be in good shape. This Pleasant Grove defensive line is one of the best we've ever seen at the 4A level. Look for them to dominate and get a big home win.
Stepp's Pick: Texarkana Pleasant Grove by 7
Waco Connally (5-0, 1-0) at Lorena (3-2, 0-1):
Every week in 7-4A Division II the schedule will be full of elite level matchups and this week is no different as unbeaten Waco Connally tangles with a desperate Lorena team that can't afford to drop to 0-2 in district. The Cadets had a real test last week escaping Salado's upset bid with a 28-21 win. Washington commit Jay'Veon Sunday ran for 197 yards and four touchdowns, including a 55-yard jaunt with 3:46 left that proved to be the game winning score as Connally ended a three-game losing streak against Salado.
Lorena went on the road and suffered a disappointing 41-21 loss to Fairfield. The Eagles' run defense had some issues and that could be a bad sign going against one of the state's top backs.
Stepp's Pick: Waco Connally by 13
Pilot Point (4-1, 1-0) at Whitesboro (3-2, 1-0):
Just a week after an embarrassing loss to Gunter, Pilot Point opened up district play and made a major statement knocking off perennial power Brock, 20-14, as Ayden Cox's 48-yard touchdown reception proved to be the difference in a real heavyweight slugfest.
The Bearcats look to avoid a letdown on the road against a Whitesboro squad that appears to be rapidly improving under first-year head coach Cody Fagan. QB Cade Acker led Whitesboro to a 28-20 win over Paradise and his touchdown run in the fourth quarter was the difference as the Bearcats rallied from down 14-0 in the first half. Pilot Point's got elite skill talent and its playmakers will be really difficult for Whitesboro to match up with in this one.
Stepp's Pick: Pilot Point by 21
Weimar (5-0) at Flatonia (5-0):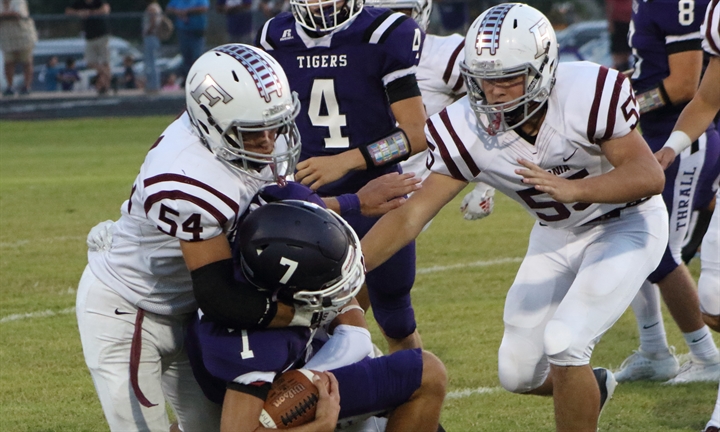 Non-district play closes with a major measuring stick game for these two unbeaten teams in Class 2A. Division I Weimar took on a tough private school program in Shiner St. Paul, but escaped with a 25-17 win as Ravon'Dre Wicks ran for 122 yards and three touchdowns for the Wildcats.
Flatonia rolled past Yorktown, 41-14, as Da'Kory Willis ran for 132 yards and three touchdowns, while Chris Johnston ran for 145 yards and a touchdown. Weimar is a bit bigger up front and the Wildcats will have a depth edge over their Division II opponents, so give them the edge on the road in what should be an outstanding game.
Stepp's Pick: Weimar by 6
Ballinger (3-1, 0-1) at Anson (2-2, 1-0):
A battle for second place in 4-3A Division II could take place in Anson on Friday night as two teams with playoff aspirations tangle in a key district game. Ballinger played powerful Cisco tough, but the Bearcat attack just couldn't get untracked in a 26-9 loss to the Loboes. Ballinger's offense struggled and a key third quarter interception and a blocked punt that gave Cisco a short field proved to be too much for Ballinger to overcome.
Anson had incredible balance in its 48-27 win over Bangs last week. The Tigers finished with 570 yards of total offense — 285 rushing and 285 passing with quarterback Drew Hagler not only throwing for 285 yards and three touchdowns while rushing for 140 yards and four more scores in the win. Anson's offense is really playing at a high level with Hagler leading the way and at home. The Tigers get the edge in what looks to be a shootout.
Stepp's Pick: Anson by 8
Crane (5-0) at Ozona (4-1):
Crane's offense, under first-year head coach Jeff Cordell, has been nothing short of sensational. The Golden Cranes are averaging well over 50 points per game and last week, kept that average up with a 56-7 win over Stanton. Sophomore QB Jaxon Willis threw for 570 yards and tallied five touchdowns to lead Crane in the easy win.
Ozona has been on a roll the past four weeks after dropping its season opener, pitching four straight shutouts including last week's 61-0 rout of Junction. The Lions held Junction to -13 yards of total offense in the win. Something has got to give in this one. Look for the edge to go to Crane. The Golden Cranes have faced the tougher schedule and that offense is emerging as one of the best in the Permian Basin.
Stepp's Pick: Crane by 14
Thorndale (4-1, 1-0) at Holland (5-0, 1-0):
If you are looking for an outstanding small school matchup in Central Texas, this is your game as powerful Thorndale hooks up with a Holland squad that has taken the area by storm. Thorndale drilled a rebuilding Rosebud-Lott squad, 63-0, to open up district play. The Bulldogs' ground game used multiple backs and had plenty of success in the win.
Holland has a test from an athletic Hearne squad but the Hornets scored the final 21 points of the game in a 34-19 win. QB Zane Spinn ran 168 yards and two scores and passed for 150 yards and two scores and paced the Hornets second half surge. Holland's offense has a lot of different weapons and its defense typically feats on one dimensional teams and that certainly is the operating procedure for Thorndale.
Stepp's Pick: Holland by 13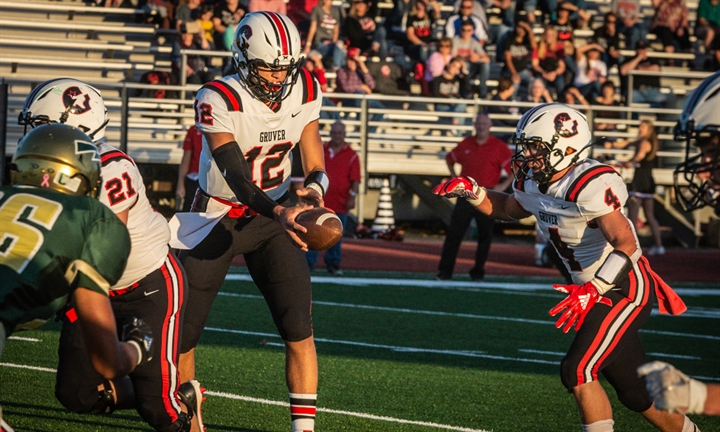 Gruver (4-1) at Wheeler (3-1):
Gruver has moved back into the 2A-Division II state ranking and the Greyhounds will have one more tough test before starting district play against a Wheeler squad that has been knocking on the door of the state rankings for a good part of the season. QB Jalin Conyers was sensational in a 51-6 win over Amarillo Highland Park throwing for 299 yards and five touchdowns and adding 73 yards rushing and two touchdowns on the ground.
Wheeler also played Amarillo Highland Park in their last game, two weeks ago beating the Hornets 49-8 as RB Heston Marshall ran for 170 yards on 17 carries with five touchdowns and caught five passes for 108 yards. On paper these two teams are evenly matched, but Gruver has the difference maker in Conyers at QB.
Stepp's Pick: Gruver by 11
Quick Picks
Round Rock (4-0, 2-0) at Austin Vandegrift (5-0, 3-0) Stepp's Pick: Austin Vandegrift by 5
Pasadena Dobie (4-0, 2-0) at Humble (5-0, 3-0) Stepp's Pick: Pasadena Dobie by 8
Abilene Cooper (5-0, 1-0) at Lubbock Coronado (3-2, 1-0) Stepp's Pick: Abilene Cooper by 10
El Paso Burges (3-1, 0-0) at El Paso Andress (4-1, 1-0) Stepp's Pick: El Paso Andress by 13
Jasper (3-1) at West Orange-Stark (3-1) Stepp's Pick: West Orange-Stark by 7
Gladewater (3-2, 1-0) at West Rusk (5-0, 1-0) Stepp's Pick: Gladewater by 3
Jefferson (5-0, 1-0) at Hughes Springs (4-1, 0-1) Stepp's Pick: Jefferson by 14
Jourdanton (4-0, 0-0) at Karnes City (3-2, 0-1) Stepp's Pick: Jourdanton by 21
Buffalo (3-1, 1-0) at Palmer (4-0, 1-0) Stepp's Pick: Palmer by 2
Burton (3-2) at Rogers (5-0) Stepp's Pick: Rogers by 24
This article is available to our Digital Subscribers.
Click "Subscribe Now" to see a list of subscription offers.
Already a Subscriber? Sign In to access this content.