Amarillo Tascosa (2-1) at El Paso Americas (3-0):
If you like physical football and teams who like to run, then this might be your game. Both Amarillo Tascosa and El Paso Americas have an identity and it lies with running the ball, not the spread. Both teams get it done in different ways. Tascosa lines up in the flexbone and comes at you from multiple angles with multiple ball carriers, while El Paso Americas likes to primarily use one of the state's top junior running backs in Aaron Dumas. Last week, Tascosa rolled past cross-town rival Amarillo Palo Duro, 49-7, in what can only be described as a total domination. The Rebels had 552 yards of offense, while allowing just 101 yards of offense to Palo Duro. QB Joseph Plunk ran for 165 yards and four touchdowns, pacing a ground attack that had six different backs gain at least 40 yards on the ground.
Americas went on the road last week, leaving the state and travelling to Las Cruces, N.M. and leaving with a big 55-14 win over Onate HS. The story of the game was both positive and negative for the Trail Blazers as RB Aaron Dumas went wild, rolling up 373 yards rushing and seven touchdowns, but head coach Patrick Melton can't be happy about all the penalties he committed. (Granted the rules in New Mexico are different and often times TXHSFB teams get high penalty numbers when playing out of state). The bottom line for Americas is the team needs to play a clean game to pull the upset at home. AHS will match up with Tascosa at the skill spots, but the Rebels have a big size advantage in the trenches. If the Trail Blazers can neutralize that edge and find ways to get Tascosa off schedule in the early downs, they'll have a chance to hang around in this one.
Stepp's Pick: Amarillo Tascosa by 13
Arlington Martin (2-0) at Rockwall (2-1):
Arlington Martin opened the season with a pair of impressive wins, then in an odd twist, took Week 3 off and will now play eight straight games to finish out the season. When we last saw the Warriors, they were involved in one of the oddest games of the year two weeks ago beating Hebron, 33-14. It was a game in which Martin actually held a 24-0 halftime lead despite -38 yards of offense in the first half. Martin ended with just 131 yards of offense and only nine first downs, but because of defense and special teams they found a way to get the win. They'll need to be a bit more efficiency this week on offense, because asking for a repeat performance against an explosive offense like Rockwall is a challenge.
The 'Jackets are putting up well over 50-points per game and last week's 58-33 win over previously unbeaten Arlington Bowie won't hurt the average. RB Khalil Catlett ran for 103 yards and four touchdowns, while WR Jackson Smith-Njigba had 158 yards receiving and a pair of touchdowns for RHS. The key in this game is Martin's advantage in the special teams this week will be negated as Rockwall is always outstanding in the kicking game as well, so this game will come down to the Martin defense. Can they find a way to slow Rockwall down enough to give their offense, (which isn't the most explosive) a chance to at least keep pace? Martin is the higher ranked team going into this one, but this looks like a bad matchup for the Warriors.
Stepp's Pick: Rockwall by 9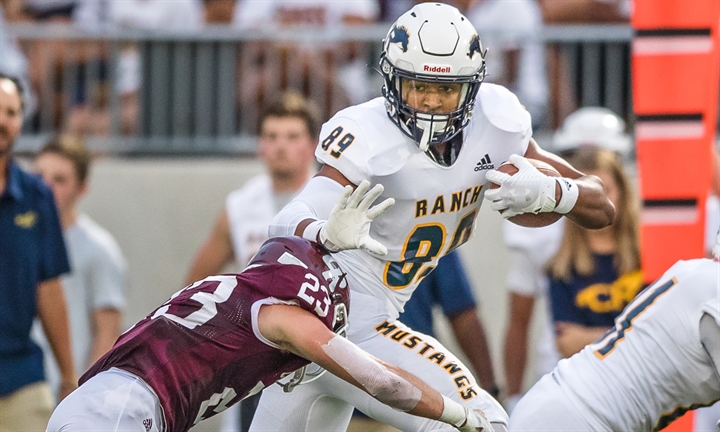 Cypress Bridgeland (3-0, 1-0) vs Cypress Ranch (2-1, 1-0):
Surprising Bridgeland will look to keep its momentum rolling this week against one of the Cy-Fair ISD powers in Cypress Ranch this week in a key District 14-6A matchup. Bridgeland opened up district play with an emphatic 38-0 win over Cypress Springs, earning its first shutout victory in school history. QB Conner Weigman tossed four touchdown passes in the win, while the Bear defense held Cy Springs to just 157 yards of offense.
Cy Ranch bounced back from its loss to Austin Westlake in Week 2 with an easy 55-7 win over Houston Langham Creek last week. The Mustangs had an efficient evening from QB D.J. Ciers who completed 13 of 17 passes for 204 yards and four touchdowns, while Elias Pino and Willie Eldridge combined for 158 yards on the ground and two touchdowns. This is the first real marquee matchup for Bridgeland in its young school history. It'll be interesting to see how the Bears handle what will be a bit of a spotlight. This is something Cypress Ranch is certainly used to as the Mustangs have playoff and big game experience. Look for Cy Ranch to race out to an early lead and that will put Bridgeland playing catchup the rest of the way.
Stepp's Pick: Cypress Ranch by 14
San Benito (2-1) at Laredo United (2-1):
One of the highlight games in South Texas this week features San Benito travelling West on I-2 out to Laredo to take on the United Longhorns, who are traditionally the best team in town. Last week, San Benito rolled past PSJA 34-13, as QB Smiley Silva had a monster night accounting for five touchdowns (three passing and two rushing) and the Greyhounds defense was outstanding containing an explosive PSJA offensive attack. Laredo United, behind three first half touchdown passes from QB Wayo Huerta jumped out to a 21-3 halftime lead but had to hold off a late San Marcos rally for a 28-23 win. The key matchup in this game is the San Benito defense and how it'll matchup with United's explosive spread offense. United at home has really caused some problems and this week, look for the Longhorns to pull off what many would consider a slight upset.
Stepp's Pick: Laredo United by 4
Fort Stockton (3-0) at San Angelo Lake View (3-0):
We thought Fort Stockton would have a strong team this year. After all, the Panthers brought back a wealth of experience from a team that won eight games a year ago. Not many would have predicted the start that the San Angelo Lake View Chiefs are off to as second-year head coach Hector Guevara has his squad off to a 3-0 start for the first time since 1983.
Last week, Fort Stockton rolled past El Paso Riverside 38-7 as Dominic Aguilar threw a touchdown pass, ran for a touchdown and also kicked a 35-yard field goal to lead the Panthers to a dominant road win over a 5A opponent. On Thursday, Lake View rolled past Snyder, 32-19, as Austin Bandy hauled in two touchdown receptions and had a 90-yard fumble return for a touchdown to lead the Chiefs. San Angelo Lake View's defense has been opportunistic all year coming up with key turnovers and it'll be interesting to see how Fort Stockton attacks the Chiefs, especially considering they were down to their third string QB at the end of last week's game.
Stepp's Pick: Fort Stockton by 6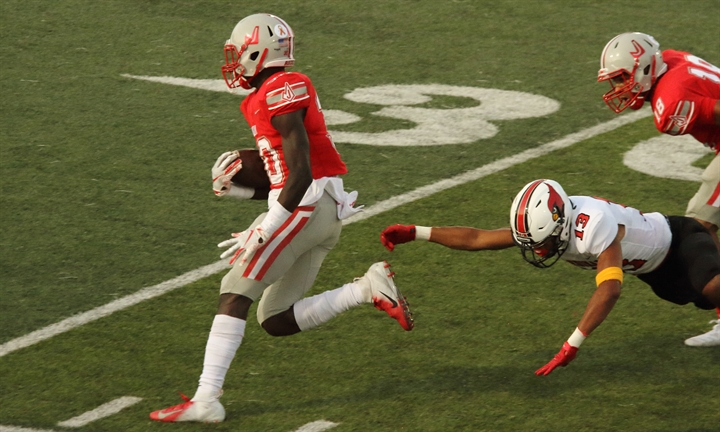 Converse Judson (3-0) at Cibolo Steele (3-0):
The Alamo City is buzzing as it appears, that after a couple of down years, the Steele Knights are poised to pose a legitimate challenge to the Judson Rockets, who have dominated the 210 for the past few seasons. Judson rolled past Harlingen last week, 39-0, as the defense held the Cardinals to just 163 yards and forced three turnovers. The Rockets got the running game rolling with De'Anthony Lewis and QB Mike Chandler, III combining for 273 yards and four touchdowns on the ground.
Steele's offense has been sensational early in the season, but the defense finally stepped up last week in a 28-0 shutout win over San Antonio Churchill. The Knights held the Chargers to just 74 yards of offense, while QB Wyatt Beagal accounted for over 200 yards of offense and a pair of touchdowns to lead the Knights offense. Both offenses are among the most dynamic in the San Antonio area. This game comes down to the defense and the difference in this one is Judson's defensive line, if they can get pressure on Beagal, they should control Steele's offense.
Stepp's Pick: Converse Judson by 8
Gilmer (2-1) at Carthage (3-0):
One of the best rivalries in East Texas at the 4A level is renewed this week as Gilmer, fresh off its first loss of the year will head southeast to Carthage to take on the No. 2 ranked Bulldogs out of 4A-Division I. Last week, Gilmer dropped its homecoming game to a strong Paris squad, 37-20. The Buckeyes had trouble slowing the run and couldn't get their running game going without RB Darrell Bush. Bush's status for this week is uncertain, but if he does play, Gilmer's chances of an upset are greatly increased. Carthage has dominated early in the year with three wins by a combined score of 135-13.
Last week the Bulldogs pitched a shutout against 5A Marshall rolling past the Mavericks 38-6. QB Kai Horton leads a balanced Carthage attack that had 426 yards of offense a week ago, 188 rushing and 238 passing which is the balance head coach Scott Surratt loves to have and it's the balance Carthage often has when they are elite. What separate this Carthage team is their defense and their ability to harass Gilmer's QB will be the catalyst to another statement win as the Bulldogs look to get back to the state title game.
Stepp's Pick: Carthage by 16
Crawford (3-0) at Holland (3-0):
Surprising Crawford already has one statement win on the season and will be looking to get another one this week as it visits unbeaten Holland who has a Week 2 win over Mart on their resume. Last week the Pirates rolled past Rice 28-7 as QB Tate Abel ran for two touchdowns and threw another touchdown, while the Pirate defense forced a pair of fumbles in the second quarter allowing CHS to put the game out of reach by halftime.
Holland had no trouble with Florence in a 59-7 win as Clay Cooper topped 300 rushing yards and ran for five touchdowns to lead the Hornets. Holland's explosive offensive attack will look to push the tempo in this one and put Crawford's ball control offense in a tough spot.
Stepp's Pick: Holland by 13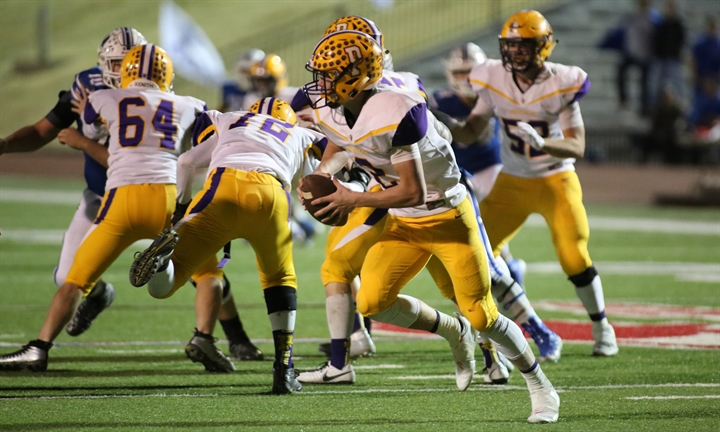 Panhandle (3-0) at Vega (3-0):
A big time small school matchup up in the Texas Panhandle this week pits aptly named Panhandle High a sleeper contender in Region I at the 2A-Division I level against a Vega squad that's off to a sizzling 3-0 start. Panhandle put the rest of the region on notice last week with a 54-13 rout of Childress a week ago. RB Houston Heck ran for 69 yards and two touchdowns and also returned the opening kickoff for a touchdown to pace the Panthers in the big win.
Vega's offense exploded in a 73-24 win over Amarillo Highland Park as QB Carson Kirkland ran for 289 yards and four touchdowns to lead Vega to a big win. The key in this matchup is Panhandle's depth and size up front, it'll have an edge on the smaller Longhorns from Vega.
Stepp's Pick: Panhandle by 11
Hawley (3-0) at Albany (2-1):
Hawley had a big win last week taking down the No. 1 team in 2A-Division II Hamlin, 46-44. RB Colton Marshall had a heavy workload last week with 35 carries for 224 yards and three touchdowns to pace the HHS attack that relies on its big and physical offensive line. Hawley's defense gave up its fair share of yards and points, but also came up with key plays late recovering three Hamlin fumbles.
Albany punched above its weight class last week and came up well short in a 60-28 loss to 3A-Divison I Eastland. Albany had no answers for a big and physical Eastland offense, so expect Hawley to try and utilize the same type of game plan. QB Ben West has the ability to keep Albany close. He threw for 320 yards and three touchdowns last week in the loss and if Albany's defense can find ways to get off the field, the Lions have the offense to pull off what would be considered a slight upset.
Stepp's Pick: Albany by 2
Quick Picks
Corpus Christi Flour Bluff (1-1, 0-0) at Corpus Christi Veterans Memorial (3-0, 1-0) Stepp's Pick: Corpus Christi Veterans Memorial by 6
Wichita Falls Rider (2-1) at Brownwood (3-0) Stepp's Pick: Wichita Falls Rider by 3
Red Oak (2-1) at South Oak Cliff (2-1) Stepp's Pick: South Oak Cliff by 17
Frisco Reedy (2-1, 1-0) at Denison (2-1, 1-0) Stepp's Pick: Denison by 3
Manvel (3-0) at Fort Bend Marshall (3-0) Stepp's Pick: Fort Bend Marshall by 13
Lubbock Estacado (3-0) at Hereford (2-1) Stepp's Pick: Lubbock Estacado by 6
Sealy (3-0) at Bellville (3-0) Stepp's Pick: Sealy by 8
La Vernia (2-1) at Lampasas (2-1) Stepp's Pick: Lampasas by 7
Decatur (3-0) at Graham (2-1) Stepp's Pick: Decatur by 10
Tuscola Jim Ned (3-0) at Mason (2-1) Stepp's Pick: Tuscola Jim Ned by 5
Pilot Point (3-0) at Gunter (2-1) Stepp's Pick: Pilot Point by 2
Grandview (3-0) at Malakoff (3-0) Stepp's Pick: Grandview by 11
Winnsboro (3-0) at Mount Vernon (3-0) Stepp's Pick: Mount Vernon by 10
Texarkana Pleasant Grove (3-0) at Gladewater (2-1) Stepp's Pick: Texarkana Pleasant Grove by 24
East Bernard (3-0) at Edna (3-0) Stepp's Pick: Edna by 3
Jourdanton (3-0) at Natalia (3-0) Stepp's Pick: Jourdanton by 13
Post (3-0) at Abernathy (3-0) Stepp's Pick: Abernathy by 18
Clifton (2-1) at McGregor (2-1) Stepp's Pick: Clifton by 14
Tenaha (3-0) at San Augustine (2-0) Stepp's Pick: San Augustine by 7
Hubbard (3-0) at Valley Mills (1-2) Stepp's Pick: Hubbard by 20
NOTE: Due to personal matters, this week's preview was truncated, but don't worry it'll be back to normal size in Week 5.
Leman Saunders' Six-Man Preview
Six-man insider Leman Saunders takes a look at some of the biggest games in Class 1A this week.
DI #3 McLean (3-0) v DI #4 Balmorhea (3-0) – Friday @ Gail, TX
Unquestionably the biggest game in 1A this week is Balmorhea taking on McLean in Gail, TX on Friday night. Mclean is riding a 18 game win streak and Balmorhea is one of the fastest rising 1A teams in 2019 under the seemingly immortal, legendary head coach Vance Jones. The Bears may be the trendy pick in this match up, but I'm sticking with McLean mainly due to the fact that Ben Crockett is in their backfield and he is arguably the best player in all of 1A, let alone on the field in this game. Watch out for Arron Mendoza over on the challenging Bears side. This should be a whopper of a game and hotly contested none the less, make the time to go watch this game! McLean 68 Balmorhea 52
DI Crowell (2-1) @ DII #5 Motley County (2-1)
A great regional game that pits a DI team vs a DII team. Crowell rolled last week over a formidable Aspermont easily to the tune of 54-8; Motley Co. on the other hand fell to Spur in what was arguably the best game in 1A last week 76-74. I expect Motley County to bounce back and triumph over the bigger Crowell squad in what should be a tight contest. Motley Co 50 Crowell 42.
Loop (2-1) v Rule (2-1) – Thursday @ Gail, TX
You love small school football? You will love this matchup! Rule has bounced back after rough 2018 season and are 2-1 coming off a 58-27 win over Benjamin. Loop is also 2-1 and coming off a tight win over Kress 50-44. This should be one of the most competitive games in 1A this week. Im going to take Loop squeaking out another win. Loop 48 Rule 46.
This article is available to our Digital Subscribers.
Click "Subscribe Now" to see a list of subscription offers.
Already a Subscriber? Sign In to access this content.