Welcome to our third week of college football superlatives at Dave Campbell's Texas Football. We're picking the best of the state's college football standouts in Week 3.
Coverboy of the Week: RB Darius Anderson, TCU (Richmond George Ranch)
Finally, we saw what a fully healthy Darius Anderson can do to Power Five defenses. Anderson broke away for 179 yards and two touchdowns on a ridiculous 11.2 yards per carry in a big win over Purdue, including a 32-yard run in the first quarter to give the Horned Frogs their first lead. He was responsible for 45.6 percent of TCU's all-purpose yardage against a Big Ten opponent. If he can keep this production up, TCU is a Big 12 title contender.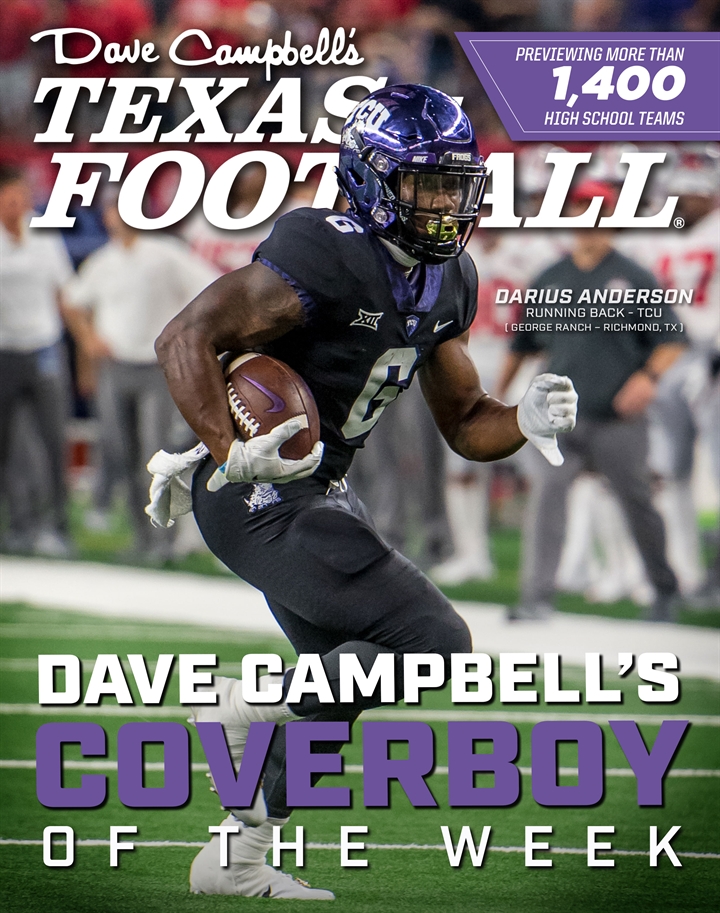 Defensive Player of the Week: LB Garret Wallow, TCU
Wallow was arguably the best player on the field on Saturday night in West Lafayette. That's saying something, considering that field had a pair of NFL wide receivers in Rondale Moore and Jalen Reagor. He led the way with 10 tackles and three tackles for loss, and even added a sack against a high-powered Purdue offense in a 34-13 blowout.
Swiss Army Knife: S Patrick Nelson, SMU
Nelson earned defensive player of the week from us last week, and he was just as good against Texas State this week. The senior led the Mustangs with seven tackles, but also broke through the lines for three sacks in a disruptive performance. Sonny Dykes said after the game that the defensive staff is doing a good job of letting Nelson be a football player and rely on his natural playmaking instincts.
The Rookie: WR Jake Smith, Texas
The reigning Gatorade Player of the Year wasted no time making his presence felt against Rice. He caught a 53-yard pass in the first quarter, and added another 12-yard touchdown catch in the middle of the second. He led the Longhorns with six catches for 75 yards, including the two of Sam Ehlinger's three touchdown passes.
Michael Dickson Award: P Austin McNamara, Texas Tech
McNamara was tremendous in his first game against a Power Five opponent. He punted the ball seven times. Three of them traveled more than 50 yards, four fell within the 20-yard line and the punts averaged 46.7 yards per boot. Michael Dickson is elite company, but he'd be proud of McNamara's all-around effort.
Remember the Name: RB Isaiah Spiller, Texas A&M (Klein Collins)
It might have been against Lamar, but true freshman Isaiah Spiller proved he can be a big time player against the Cardinals. The Klein Collins product rushed for 116 yards and two touchdowns on just 14 carries to lead all rushers. He'll need to be a big piece heading forward with Jashaun Corbin out for the year.
Small College Star: Bailey Zappe, Houston Baptist (Victoria East)
Houston Baptist won one freaking game in 2018, and hadn't beaten a Division-I opponent in more than two years. With 513 yards and five touchdowns in a monumental win against South Dakota, Zappe proved that his strong performance against UTEP in the opener was not a fluke, but a sign of things to come. Through three games – two wins and a tight loss to an FBS team – Zappe has completed 75.2 percent of his passes for 1,062 yards, 10 touchdowns and five interceptions.
Dave's Pick: RB T.J. McDaniel, SMU (Southlake Carroll)
Have a day, T.J. McDaniel. The true freshman from Southlake Carroll looked like he was playing against high schoolers again in a tremendous performance against Texas State. McDaniel carried the ball just eight times, but posted 159 yards and three touchdowns in a sensational performance. Expect to see his name more heading forward.
This article is available to our Digital Subscribers.
Click "Subscribe Now" to see a list of subscription offers.
Already a Subscriber? Sign In to access this content.