Dallas South Oak Cliff (1-0) at Duncanville (1-0):
South Oak Cliff with a late second-half rally, stunned Duncanville's district rival Skyline, 22-21, a week ago. The Golden Bears trailed 21-7 at the half, but Rodney Hudson's 58-yard scoring strike to DeMarco Moon lifted SOC ahead of Skyline with 2:02 remaining. This week, SOC will certainly have its hands full going against the No. 1 team in the state in Duncanville who is far from 100 percent as it's battling injuries to multiple starters.
The Panthers started slowly last week but worked their way past Lancaster, 24-3, as Texas commit QB Ja'Quinden Jackson threw for 218 yards and three touchdowns and the Panthers defense held Lancaster to just 196 yards of offense. That Duncanville defense and dominance in the trenches will be the key in this one as SOC keeps it competitive for a half, but Duncanville's just too big and too deep for South Oak Cliff.
Stepp's Pick: Duncanville by 23
Dickinson (1-0) at Allen (1-0):
One of the state's most intriguing matchups features Dickinson heading way up north on I-45 to the DFW area to visit the Allen Eagles who have yet to lose a game at Eagle Stadium (44 in a row). Dickinson had no troubles in their season-opener, blasting past Richmond George Ranch, 51-14. The Gators outscored GRHS 30-0 in the second half as QB Mike Welch leads an efficient pro-style attack and the Gators speed on both sides of the ball is outstanding.
Allen rolled past Cedar Hill, 41-28, as SMU commit QB Raylen Sharpe, in his first varsity start, was sensational accounting for 422 yards of offense and four touchdowns as Allen held off a Cedar Hill rally after the Eagles raced out to a 21-0 first quarter lead. Dickinson will present many similar challenges to Allen that Cedar Hill did, the key for the Gators is they can't come out and dig themselves a hole against Allen like Cedar Hill did. Allen's tough enough on their own at Eagle Stadium, giving them a head start is a recipe for certain disaster. Dickinson pushes the Eagles, but there's no way I'm picking against Allen at home, especially considering how impressive they were against Cedar Hill.
Stepp's Pick: Allen by 10
College Station A&M Consolidated (1-0) at Bryan (1-0):
The "Crosstown Showdown" pits the two oldest large schools in the Brazos Valley both fresh off of opening wins a week ago. A&M Consolidated, fresh off a 7-on-7 title this summer, has visions of a deep playoff run and have a dynamic offensive attack with FBS recruits at multiple spots. Last week, the Tigers rolled past Killeen Ellison, 49-6, as Texas A&M commit WR Devin Price hauled in two touchdown passes, while Oklahoma commit Brian Darby ran for 125 yards and a touchdown. Two-way playmaker Nate Floyd is another high-end recruit for the Tigers who should sign with an FBS program.
Bryan's defense was the story last week as the Vikings knocked off Waller 14-3, the Vikings forced three turnovers and had a key goal line stand late in the first half to keep their slim 7-3 lead. Adding spice to the rivalry is the attempted transfer of four Bryan players to A&M Consolidated last winter. Three of those players were ruled ineligible and are back playing at Bryan. One player, Kerry Brooks, was ruled eligible at A&M Consolidated and is expected to be a key contributor for the Tigers. This one will be chippy and Bryan's defense is excellent, but the Tigers have way too much offensive firepower and if their defense shows up consistently, they'll be a force in Region III in 5A-Divison II.
Stepp's Pick: College Station A&M Consolidated by 17
Austin Westlake (1-0) at Cypress Ranch (1-0):
Austin Westlake will make the trip east on 290 to the Houston area with revenge on their minds after Cy-Ranch stunned the Chaparrals a year ago in Austin. Westlake drilled Belton 48-0 to open the season behind a suffocating defense and an offense that rotated three quarterbacks into the game, all of whom were incredibly productive.
Cy-Ranch in Sean McAuliffe's debut at the helm blasted Katy Cinco Ranch 44-3 as Willie Eldridge ran for 101 yards and a pair of scores, while the Mustangs unleashed a more wide-open offense with QB D.J. Ciers throwing for 226 yards and three touchdowns. The key in this one will be Cy Ranch's ability to control the football and keep its defense rested against a dynamic and versatile Westlake attack. The Chaps will be focused after blowing a big lead in this game last year and their defensive ability is the difference in this matchup.
Stepp's Pick: Austin Westlake by 9
Katy (1-0) at Humble Atascocita (1-0):
The highlight matchup of the week features Katy fresh off an upset of Galena Park North Shore taking on a Humble Atascocita squad that nearly knocked the Tigers off a year ago. Katy unleashed RB Ronald Hoff on the state last week in their 24-21 win, Hoff a tough running back who moved to Katy from South Carolina ran for 206 yards and a touchdown in the win. QB Bronson McClellan gave the Tigers attack plenty of balance throwing for 233 yards and two scores, but the real story was the Tigers defense which shut out the North Shore offense in the second half.
Atascocita annihilated an overmatched Katy Taylor squad 69-7 as QB Brice Matthews accounted for five touchdowns. This game is going to be won by which team controls the tempo, Katy is balanced, but they want to grind Atasocita down and keep the score in the 30's or lower. If this game starts to get into the upper 30's and it becomes a shootout, that leans to the Eagles. The edge in this matchup lies with that Katy defense, their confidence will be sky high going into this matchup.
Stepp's Pick: Katy by 5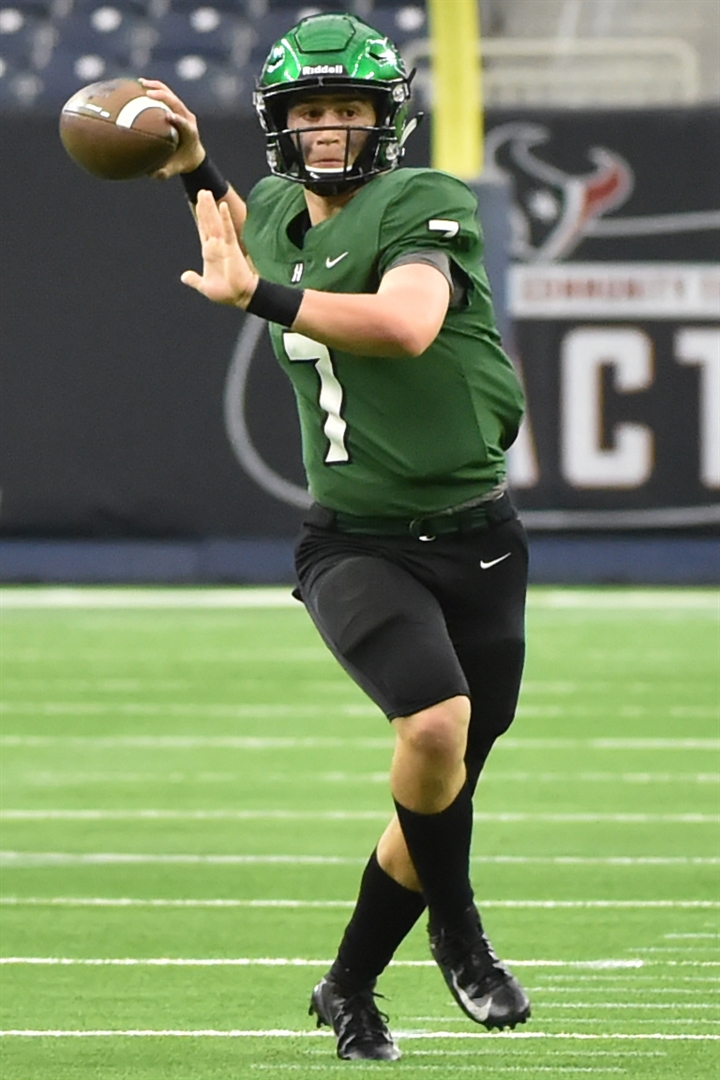 Port Neches-Groves (1-0) at Huntsville (1-0):
Two 5A-Division II powers in Region III meet at Bowers Stadium in Huntsville in a major measuring stick game for both squads. PNG took on 4A power Silsbee and after a back and forth first half, the Indians defense took charge in the second half for a 48-35 win. All the questions about PNG's offense after the graduation of Roschon Johnson seemed to be answered in a big way as new QB Blake Bost had total command of the attack.
Huntsville's veteran offense was clicking on all cylinders last week and it rolled past Willis, 55-22. RB Cameron Myers ran for two scores and hauled in a touchdown pass, but the big question is the status of QB Matthew Southern, who left the game in the second quarter with a sprained ankle. Southern likely won't play this week, so the Huntsville defense, which forced three turnovers last week, needs to be at its best against an explosive Port Neches-Groves attack. I look for that unit to be the catalyst this week and with a week to prepare Huntsville's offense, will manage the game well in Southern's absence.
Stepp's Pick: Huntsville by 7
Hutto (1-0) at Liberty Hill (1-0):
Hutto's defense totally dominated last week in a 41-21 win over West Mesquite in a game that wasn't as close as the score indicated. The Hippos held WMHS to just under 100 yards of offense through three quarters, building a 41-7 lead behind a dominant defensive line led by LSU commit Landyn Watson. Sophomore QB Grayson Doggett, in his first varsity start, looked poised as well throwing for 275 yards and a touchdown, while Mekhi Kimble ran for 174 yards and three touchdowns for the Hippos. Liberty Hill's demise has certainly been exaggerated after losing a great senior class.
The Panthers rolled past a solid 5A team in Leander Glenn, 41-13, a week ago. The key in the win? Liberty Hill ran for 442 yards with three backs topping 100 yards and held Glenn to just 44 yards on the ground. Hutto is much deeper than Glenn with basically Class 6A numbers at this point. The Hippos' combination of good size and athleticism at the skill spots is a major test for Liberty Hill. The real matchup here is can the Hutto defense, which got shredded a year ago in this game, can be disciplined enough and dominate the line of scrimmage enough to slow the vaunted Slot-T attack of Liberty Hill?
Stepp's Pick: Hutto by 4
San Antonio Wagner (1-0) vs Converse Judson (1-0):
The annual "Hammer Bowl" in Judson ISD was a thriller a year ago with older brother Judson knocking off Wagner in a seven-point game. Wagner has designs on playing for a state title in Class 5A this year and a big feather in their cap would be a win over the Rockets. The Thunderbirds, behind 146 yards rushing and three touchdowns from L.J. Butler rolled past Laredo United South 42-7 a week ago. The defense held USHS to just 128 yards of offense in the game.
Judson went over to Houston and after a slow start took care of a good Clear Springs squad, beating the Chargers 44-28 as RB De'Anthony Lewis and QB Mike Chandler proved to be a lethal combination for the Rockets attack. Expect a lot of points in this one, both teams are dynamic in their own way, but Judson's defense still has something to prove after a slow start. They'll load the box up and dare Wagner's option-based offense to beat them in the air.
Stepp's Pick: Converse Judson by 6
Corpus Christi Flour Bluff (1-0) at Corpus Christi Calallen (1-0):
The biggest matchup of the young season takes place on the north end of Corpus Christi as Calallen looks to avenge a loss to Flour Bluff a year ago. Both teams took road trips down to the Valley in tough environments against 6A opponents and came away victorious. Flour Bluff rolled past PSJA, 33-6. The Hornets were led by RB Isaac Miles, who ran for 136 yards and a pair of scores in the first half before sitting out most of the second half with the game well in hand.
Calallen had to scratch and claw for a 28-20 win over San Benito. The Wildcats were tied with the Greyhounds in the fourth quarter, 14-14, but their powerful ground game finally wore San Benito's defense down in the heat and humidity. That will be the formula this week as well. Flour Bluff's athletes will pose a test for Calallen, but the Wildcats' defensive experience will be key in containing a strong Hornet attack.
Stepp's Pick: Corpus Christi Calallen by 5
Canyon (1-0) vs Canyon Randall (1-0):
It doesn't matter what sport it is, when Canyon and Canyon Randall meet up, you know it's going to be intense. Canyon rolled past Amarillo Palo Duro, 50-7, last week as QB Jay Defoor, in his first varsity start, tossed three touchdown passes and ran for another as the Eagles rolled past their Class 5A opponents.
Randall took on Midland High, a 6A playoff team from a year ago, and the Raiders rolled to a 35-16 win with RB Jordan Norton rushing for 157 yards and three touchdowns. LB Brayden Beck had a monster night for the Raiders defense, helping contain an explosive Midland attack. This is a toss-up, but the X-Factor in this one is Canyon Randall QB Jakobe Norman. Look for a big play or two from the Raiders QB that will be big down the stretch.
Stepp's Pick: Canyon Randall by 3
Pharr Valley View (1-0) at Port Isabel (0-1):
Valley View, after its first-ever playoff appearance a year ago started out with a much tougher than anticipated test against Hidalgo, but the Tigers escaped with a 21-13 win. Port Isabel had a frustrating loss to Brownsville Porter last week falling 20-14 in overtime. Speedy Mac Strunk accounted for both Tarpon touchdowns with a kickoff return for a TD and took a short pass for a score as well, but the Tarpons struggled unleashing their running game and it caused their defense to get worn down late in the game.
Add in the frustration of a pair of missed field goals that could have won the game in overtime and you have what I imagine is an angry Tarpons bunch on Friday. Look for the Tarpons to come out with a purpose in their home opener and get back on the winning track this week.
Stepp's Pick: Port Isabel by 6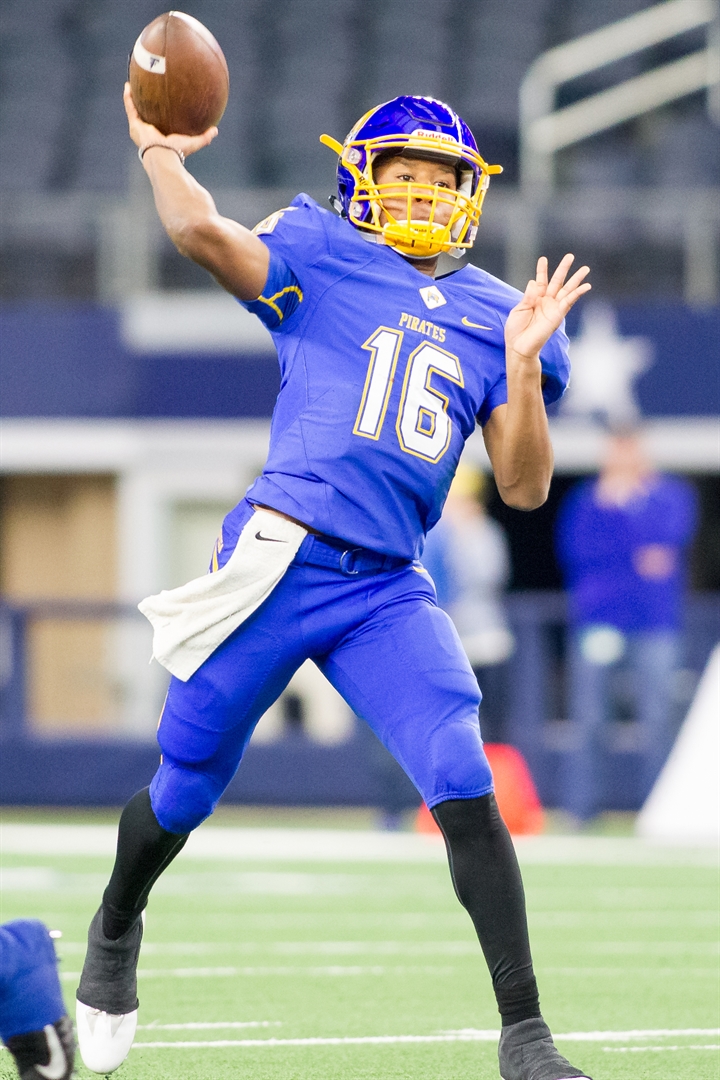 Argyle (1-0) at Waco LaVega (1-0):
These two split their two meetings a year ago with Argyle winning the regular season game in Argyle, but LaVega got its revenge in the regional finals and the Pirates eventually won a state title. A week ago, Argyle hammered LaVega's district rival Stephenville, 42-14, in a game that wasn't even that close as the Eagles led 35-0 at the half before shutting it down in the second half. QB Bo Hogeboom was sensational throwing for 358 yards and four touchdowns, three of which went to WR Alex Gonzales. Argyle's skill talent is impressive but in the trenches is where the Eagles are flat out capable of dominating teams.
LaVega was a bit sloppy last week with penalties and mistakes being plentiful in a 28-14 win over 5A Medina Valley. Junior RB Elisha Cummings ran for 121 yards and two scores and Landry Kinne, who moved to QB after playing in the secondary last year threw for a score and ran for another touchdown. Expect a much cleaner effort from LaVega this week at home. Argyle is fully capable of winning this game in a tough environment and will be motivated after last year's playoff disappointment but it's tough to pick against the Pirates at home.
Stepp's Pick: Waco LaVega by 2
Newton (1-0) at Silsbee (0-1):
Newton didn't waste any time making quite the statement last week as the Eagles demolished Kirbyville to the tune of 76-0. The Eagles put up 60 points in Drew Johnston's head coaching debut with RB Kevin Watson doing much of the damage in the first half with three rushing touchdowns. Silsbee took on a strong 5A program in Port Neches-Groves and the Tigers' young defense had a tough time in a 48-35 loss.
Silsbee will need to find that defense in a hurry against a Newton squad that showed it can still be plenty explosive despite losing three FBS caliber recruits on offense. Silsbee will keep this one close, but Newton owns one of the state's longest winning streaks at 31-games and the Eagles have won 44 of their last 45. That streak will continue with what looks to be a hard-fought win.
Stepp's Pick: Newton by 10
Wall (1-0) at Cisco (1-0):
Wall opened the season on Thursday night with one of the most impressive performances in the entire state blowing past defending 2A Division I state champion Mason 47-7 and ending the Punchers' long home winning streak. QB Mason Fuchs is operating the flexbone at a very high level and his ability to throw the ball gives the Hawks plenty of balance. Wall's defense also made quite the statement last week as it held Mason's powerful rushing attack to just 111 yards in the win.
Cisco rolled past Sweetwater 49-27 behind an offense that rolled up over 600 yards, including 522 on the ground. Jailyn Humphries rushed for 219 yards and two touchdowns and Gibson Hearne rushed for 165 yards and two more touchdowns to pace Cisco's onslaught. The Loboes' offense will need a similar effort this week as Wall's offense is going to be a handful for a Cisco defense that is inexperience.
Stepp's Pick: Wall by 14
Gladewater (1-0) at Atlanta (0-1):
Gladewater raced out to a 29-6 lead at halftime last week but had to hang on down the stretch for a 39-26 victory over Longview Spring Hill. The Bears had a balanced effort as D.J. Allen, Eligia Carter and Devin Walker combined for 230 yards rushing and four touchdowns in the win.
Atlanta had a tough opener falling on the road at Gilmer, 47-26. The Rabbits ran the ball well in the loss, but failed to have the balance that was a trademark in their run to the regional finals a year ago. Both teams are similar in identity at the moment and with the game being in Atlanta, the Rabbits will look to avenge a close loss to the Bears a year ago.
Stepp's Pick: Atlanta by 3
Abernathy (1-0) at Sundown (1-0):
Abernathy opened up the season with an impressive win over Amarillo River Road, 33-12. Senior QB Bryson Daily tossed three touchdown passes and ran for another as the Antelopes built a 33-0 lead at the end of three quarters before emptying the bench. Daily finished the night with 224 yards of offense and the Abernathy defense was certainly on top of its game containing the River Road offense.
Sundown trailed 17-7 at the half last week against Wink, but the Roughnecks rallied in the second half outscoring the Wildcats 28-6 to get a big win on the road in the Permian Basin. Abernathy has the look of a team that can definitely challenge for a regional title and should have no trouble with a smaller Class 2A program in this one.
Stepp's Pick: Abernathy by 24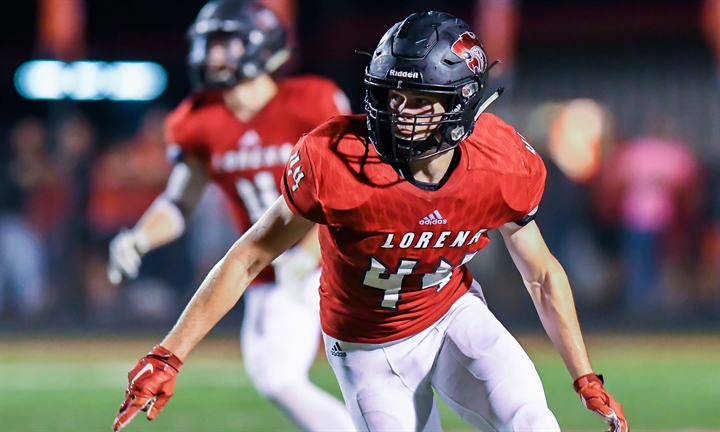 Franklin (1-0) at Lorena (0-1):
Franklin opened 2019 with an emphatic win as the Lions rolled past Hearne, 49-6, as QB Marcus Wade passed for two touchdowns and led a balanced rushing attack in the lopsided win. Franklin's defense may have been even more impressive as it shut down an extremely athletic Hearne offensive attack. The test will be much tougher this week as the Lions take on Class 4A Lorena who is looking to bounce back after a 42-21 loss to China Spring. QB Bradley Lina and that explosive Lorena offense will test the Franklin secondary and unlike last week against Hearne, Lorena should matchup much better in the trenches. Franklin's depth in the backfield and ability to control the clock will wear down Lorena in the second half but it'll be close.
Stepp's Pick: Franklin by 9
Garrison (0-0) at Crockett (1-0):
Garrison had the rare Week 1 bye, but the Bulldogs have had a full two weeks to gear up for this one as Crockett being a 3A opponent will have an edge in overall numbers. Garrison does have two-way superstar Sebastion Porter on their side, the dynamo at RB will carry a physical offensive attack, but he's got the speed to break off big runs.
Crockett is led by TE Allen Horace, who is a verbal commit to Arkansas, the Bulldogs opened the season last week with an impressive 44-21 win over a Buffalo squad that posted a 12-1 mark a year ago. We give the edge to Garrison who is a team that we think has regional title potential in 2A Division I Region III.
Stepp's Pick: Garrison by 3
Wheeler (1-0) vs Hamlin (1-0) at Childress:
It's a neutral site Class 2A Division II clash between two teams who could very well have a say in the Region II race come playoff time. Wheeler opened the season with an impressive 52-15 win over Lubbock Trinity Christian. The Mustangs, under HC Chris Evans, met up with Hamlin two years ago in the area playoffs and are looking for payback as many seniors saw plenty of action in that game as sophomores.
Hamlin used a stifling defense to get past Jones County rival Anson 27-7 as Brayden Warner and Jackson Sepeda combined for 183 yards rushing and three touchdowns to lead the Pied Pipers offense. The real key was Hamlin limited Anson to just 70 yards rushing on 17 attempts and that put AHS in unfavorable third down situations most of the night. Hamlin's dominance in the trenches against a smaller Wheeler squad will prove to be the difference in this matchup being played at Fair Park Stadium in Childress.
Stepp's Pick: Hamlin by 18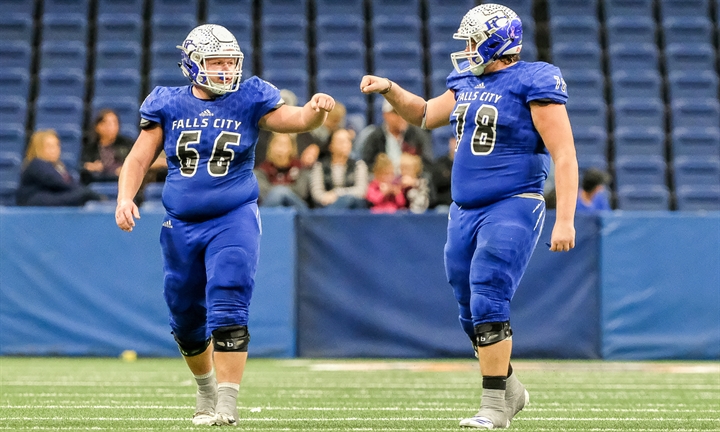 Falls City (1-0) at Poth (0-1):
Known locally as the "Polish Bowl" 2A powerhouse Falls City looks to make it two wins in a row over their 3A neighbors from Poth. Falls City opened the season last week with a 30-0 shutout win over Three Rivers and with Brady Lyssy leading the attack and a veteran offensive line, the Beavers will be tough to stop.
Poth had a lot of promise and high expectations heading into 2019 with a veteran offense and fresh off a State 7-on-7 crown, but the Pirates fell flat in the opener losing to Universal City Randolph 16-12. Poth will need that offense to be much better this week if they want to avoid an 0-2 start. Expect the Pirates to be more consistent but Falls City's edge in the trenches will be vital.
Stepp's Pick: Falls City by 7
Quick Picks
Marshall (0-1) at Longview (1-0)
Stepp's Pick: Longview by 24
Lubbock Coronado (0-1) at Lubbock Cooper (1-0)
Stepp's Pick: Lubbock Cooper by 10
Fort Bend Hightower (0-1) vs. Fort Bend Marshall (1-0)
Stepp's Pick: Fort Bend Marshall by 15
Eagle Pass Winn (1-0) at Uvalde (1-0)
Stepp's Pick: Eagle Pass Winn by 8
El Paso Parkland (1-0) at El Paso Austin (1-0)
Stepp's Pick: El Paso Parkland by 14
Azle (0-1) at Wichita Falls Rider (1-0)
Stepp's Pick: Wichita Falls Rider by 11
Texarkana Pleasant Grove (1-0) at Henderson (1-0)
Stepp's Pick: Texarkana Pleasant Grove by 13
Andrews (0-1) at Monahans (0-1)
Stepp's Pick: Andrews by 21
Yoakum (0-1) at Cuero (1-0):
Stepp's Pick: Cuero by 10
Anson (0-1) at Tuscola Jim Ned (1-0):
Stepp's Pick: Tuscola Jim Ned by 14
McGregor (1-0) at Bosqueville (0-1):
Stepp's Pick: McGregor by 3
Leman Saunders' Six-Man Preview
Each week, six-man insider Leman Saunders will highlight the must-see action in Class 1A. Get in touch with him on Twitter @lemansaunders.
Strawn (0-1) at Gorman (0-1)
Yet another big game for both these teams. In week one they both suffered defeats — Strawn losing a hard fought game against Borden County 55-26, and Gorman losing to Milford 54-30. Gorman has the edge in overall team speed, and Strawn has the pedigree that back-to-back state titles gives you and an edge on defense. Strawn struggled to find itself offensively against Borden County and that slow start may well continue into Week 2. The question will be if the Greyhounds can keep up or slow down Gorman's offense. I think Gorman's offense makes this win happen.
Leman's pick: Gorman, 48 Strawn 32
Blum (0-1) at Jonesboro (1-0)
This is an interesting early matchup between two solid DI programs out east. Both have plenty of moxie and both were impressive in their games last week. Jonesboro had a solid showing last week by defeating Newcastle 58-40. Blum played top three ranked McLean in Jayton and gave them a tough game, yet lost 65-38. Overall Blum may be the more well-rounded team and while Jonesboro will undoubtedly be ready for a fight, I feel the Bobcats should come away victorious.
Leman's pick: Blum 65, Jonesboro 32
Aspermont (1-0) at Jayton (1-0)
If you want to see some great running backs, head out to Jayton Friday night for great matchup against schools in close proximity to each other. The battle of running backs will be between Jayton's Tye Scogin and Aspermont's Rowdy Bradley— both are electrifying and don't shy away from running over defensive players. I think Jayton is the odds-on favorite in this game, but Aspermont should make a showing of it.
Leman's pick: Jayton 68, Aspermont 30
QUICK PICKS
McLean over Groom
McLean's win streak continues as they should handily one of the best teams in Region I of Division II
Blackwell over Highland
This is a big rivalry game so all bets are off, however Blackwell will be looking to make it three in a row in this series and should get the win.