Katy at Galena Park North Shore: This will be fifth meeting between these two teams since 2016 with North Shore holding a 3-1 edge, including two wins over the Tigers a year ago. Visiting Katy will be explosive on offense with the return of QB Bronson McClelland and dynamic WR Jordan Patrick. Katy also looks strong in the secondary, but there's definite concerns about youth and inexperience in the trenches on both sides of the ball. North Shore suffered some heavy losses across the front seven of the defense, but the offensive firepower the Mustangs have back is downright scary with QB Dematrius Davis, RB's Zach Evans and Arkansas-commit John Gentry leading the way.
North Shore does have a significant injury to deal with as Texas A&M commit WR Shadrach Banks is out for this game and likely all of non-district. Alabama commit Damieon George is a mountain of a young man and anchors the North Shore offensive line. Miami commit LB Corey Flagg is the unquestioned leader of the North Shore defense, but he'll need a young defensive line to keep him clean and allow him to roam and make plays. The secondary looks to be in good shape with Kansas State commit Joseph Wilson and Utah State commit Upton Stout leading the way along with talented young DB Denver Harris. LB Matthew Roberts holds multiple FBS offers and moved in from Kansas and could be a big help for the young defense. North Shore's defense may give up some points early, but they've got fewer questions than Katy at this point and handled the Tigers twice last year. Give the edge to the defending state champions in the first of what could be two meetings between the Houston titans.
Stepp's Pick: Galena Park North Shore by 6
Plano West at Frisco Reedy: Plano West under new head coach Tyler Soukup, who comes over from Hebron, will look to put an end to its 26-game losing streak. Although the Wolves expect to be improved, they'll be in for a real challenge against a Reedy squad that broke out with a 13-1 record at the 5A level. The Lions lost a lot of talent from last year's team, but there's some talent in the mix at QB with talented junior Ryan Jones and Jalen Kitna, who moved in from Brophy Prep in Arizona over the summer, when his father former Waxahachie head coach John Kitna was hired as an assistant on the Dallas Cowboys staff. Keep an eye on Will Harbour for the Lions. The LB posted over 100 tackles a year ago and also accounted for eight rushing touchdowns and also serves as the Lions kicker. Reedy's experience and size up front will overwhelm a Plano West squad that's still got a long way to go to be competitive with strong 5A programs, much less the giants in their 6A district.
Stepp's Pick: Frisco Reedy by 21
Denison at Sherman: The "Battle of the Ax" is one of the state's longest running rivalries and depending on who you talk to this will be the 122nd time these two have met. Denison has won six straight in the rivalry and looks like a good bet to make it seven in a row. The 'Jackets feature a veteran squad led by the one of the state's most dynamic young backs in Jadarian Price who ran for over 1,400 yards and 16 touchdowns as a freshman. DB Zaelin Winbush picked off seven passes a year ago and will lead the Denison secondary. Sherman started off slow a year ago, but made a surprise run to the playoffs in 5A-Division I last year and Coach Martinez's squad would love nothing more than to end the Denison winning streak in the familiar confines of historic Bearcat Stadium. RB Miketavion Brown will lead a veteran Sherman offense. The big key will be how QB Tate Bethel transitions from WR to QB. Denison rolled to an easy win at home last year, expect Sherman to stay in this one to the end as it is much improved from the team that lost in 2018.
Stepp's Pick: Denison by 7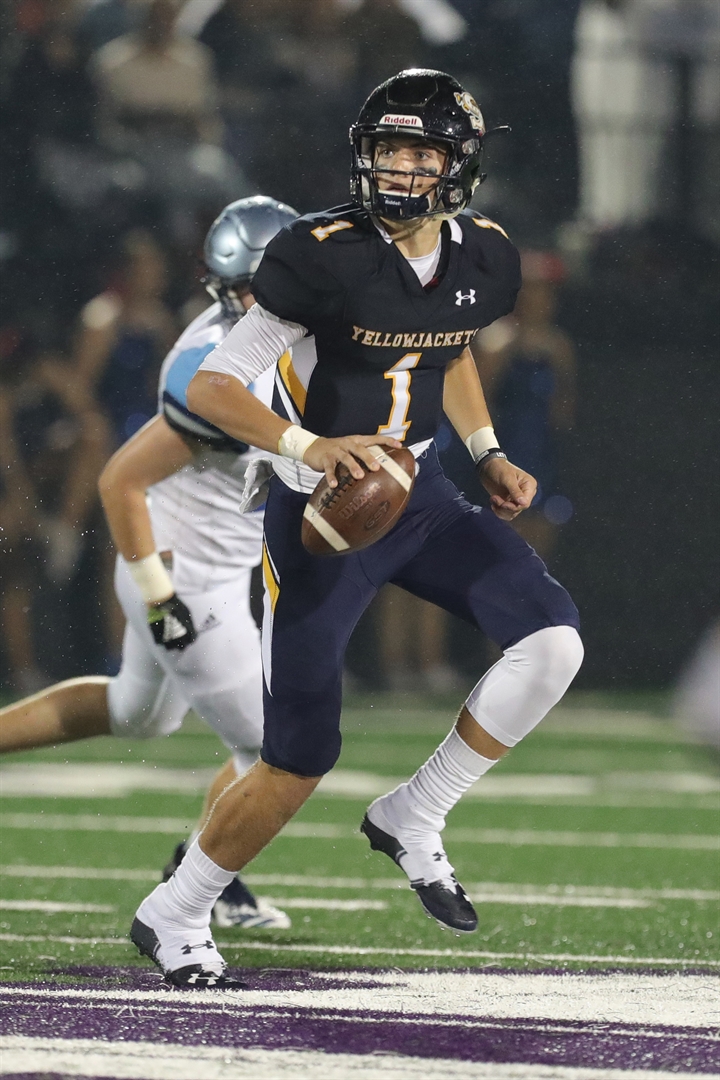 Argyle at Stephenville: Argyle heads to Erath County where the Eagles will help open Tarleton State's newly remodeled Memorial Stadium. The Eagles are once again on the short list of state title contenders led by a dynamic offense headlined by QB Bo Hogeboom (44 touchdown passes) and RB Tito Byce (26 rushing touchdowns).
Argyle's defense has a few holes to fill but the young players in the pipeline believe in its ultra-aggressive scheme and fill in the gaps well. Stephenville alum Sterling Doty makes his return to his alma mater as head coach and as always the 'Jackets have a big-time signal caller in North Texas verbal commit Kade Renfro who threw for 16 touchdowns a year ago. LB Quentin Walker leads a defense that will certainly have their hands full with that Argyle attack. Expect this one to be close, but Argyle's size and depth up front could be the difference in this one.
Stepp's Pick: Argyle by 13
Cedar Park at Austin Vandegrift: You know you've got a really good program when folks consider an 8-4 season a "down" year, but such was the case for Cedar Park who at various points in the past 10 years have been considered the top team in the Austin area. QB Ryder Hernandez leads what should be a potent offensive attack and, despite only returning five on the defensive side of the ball, expect the Timberwolves to improve on defense after allowing an unusually high (for them) 22 points per game in 2018.
Vandegrift had one of its best seasons in school history and certainly its best season at the 6A level, going 12-1 in 2018 before falling to eventual state champion Longview in the regional semifinals. The Viper defense looks to be one of the best in Central Texas with the return of LB Jax McCauley and DB's Tyler Mongauzy and J.J. Parker. The VHS offense has plenty of potential with QB Dru Dawson and WR Trey Mongauzy leading the way. Vandegrift's defense, especially early in the season, gets the edge in this matchup as this looks to be a low-scoring slugfest.
Stepp's Pick: Austin Vandegrift by 6
Mission vs Mission Veterans Memorial: The "Battle of Conway" is always a fun one to watch in the Valley and with the remodel of Tom Landry Stadium in Mission, it's also being played at one of the best venues in the area. Mission High came into last year's game as an underdog and stunned its little brothers from across town, this time the Eagles are considered slight favorites led by dynamic QB Jeremy Duran and RB Horacio Moronta. Mission Vets bounced back nicely after the loss winning 12 straight and advancing to the regional finals before their magical run and the career of record setting QB Landry Gilpin ended. HC David Gilpin has dismissed talk of a rebuild as the Patriots do return plenty of skill talent with WR's A.J. Gonzaque and Mikey Garcia and RB Danny Cantu. Although only three return on defense, there's high quality in the fold with LB's Mike Rodriguez, Jesse Gonzalez and DB Mike Gonzalez. With the roles reversed in this year's game, I'm going to lean to Mission Veterans Memorial to thrive in the underdog role and pull off a bit of an upset.
Stepp's Pick: Mission Veterans Memorial by 3
Amarillo Tascosa at Abilene: Less than a year ago, the Rebels were playing in the state semifinals at AT&T Stadium and nearly pulled off an epic comeback falling in a barn burner to eventual state champion Longview. Tascosa's unique option-based offense brings back trigger-man Joseph Plunk who operates the attack at an elite level, but many of last year's playmakers have moved on to college so young running backs will need to emerge. The Tascosa defense could be improved with the return of Texas Tech commit DE L.B. Moore, but Moore is battling injuries and likely won't play this week. Abilene's under a new head coach as former defensive coordinator Mike Fullen takes the reins of a veteran squad that's looking to get back to the post-season after a two-year absence. The key for Abilene is keeping QB Eric Abbe healthy. If AHS keeps him upright, it'll move the ball well with a veteran offensive line and several dynamic skill players, led by junior RB Phonso Dotson. The game is at Shotwell and that's a heck of a road trip to open the season for Tascosa. The Rebels have a lot of question marks, but the top end talent may still be enough to carry them to a big season opening win.
Stepp's Pick: Amarillo Tascosa by 6
Longview at Lufkin: Last year's state champions Longview opened 2018 on television and got one of their toughest tests in its title run escaping Lufkin at home. The Lobos have to replace a great group of seniors, but have one key piece back in Texas A&M commit QB Haynes King who had one of the great seasons in the history of the game a year ago. Longview has to replace a lot of skill talent around King, but junior RB Kaden Meredith, who excelled a year ago in a supporting role, now takes the reins as the lead back in Longview's versatile scheme. Longview's defense is led by a solid front seven, but a strong secondary has graduated and is a question mark. Lufkin definitely has the ability to exploit that weakness for Longview as the Panthers return a loaded crew of skill talent. Texas Tech commit WR JaLynn Polk leads the way along with talented junior QB Jordan Moore and junior RB Caleb Berry. The defensive line was hit hard by graduation but returns four-star DB Jerrin Thompson. This year's game is in Lufkin and it's one of those rivalry games that is generally always close, no matter the circumstances. The edge goes to Longview because of the experience at QB and its advantage in the trenches.
Stepp's Pick: Longview by 7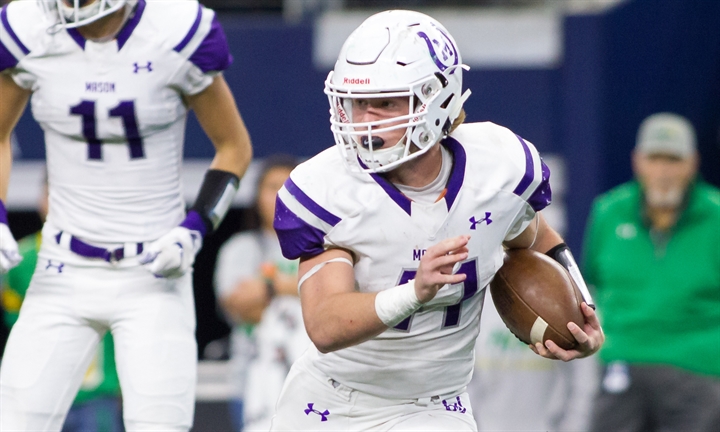 Wall at Mason: The first game of the Fox Sports Southwest Texas Football Days doubleheader features 3A Division I power Wall visiting the iconic Puncherdome to take on defending 2A Division I state champion Mason. Wall posted another strong season a year ago going 9-3 and its dynamic flexbone offense should be even better with QB Mason Fuchs back to direct the attack. He has a pair of solid running backs to use as weapons and most expect the Wall front seven to be much improved. Mason has a few question marks after former HC Kade Burns moved into campus administration this off-season and in steps DC Michael McLeod to lead the Punchers. Only four starters return on both sides of the ball, but what Mason lacks in quantity, they make up for in quality with RB Klay Klarener back after rushing for 35 touchdowns a year ago. Disruptive DL Slone Stultz is back after an MVP performance in the state title game as well. This will be an old-school, throwback game and it always seems to be close. Don't be surprised if Wall gets win here and ends Mason's 16-game winning streak. The Hawks always matchup well with Mason and have just a little more depth and experience returning.
Stepp's Pick: Wall by 4
Kerrville Tivy at Dripping Springs: This is an outstanding matchup in Central Texas to open the year as Kerrville Tivy heads north to take on 5A-Division I Dripping Springs. The Antlers have made back-to-back trips to the third round of the playoffs in 5A-Division II and look to be powerful once again with their two-headed quarterback duo of Cole Miears and Trapper Parnell. WR's Brooks McCoy and Colton Drake also return giving Tivy plenty of weapons at the skill spots. The defense, which struggled at times last year, brings back nine starters and will need to improve if Tivy wants to compete in Region IV. Graduation hit Dripping Springs hard as 33 lettermen have moved on along with 15 total starters. The defense led by LB Jakob Joy and a strong defensive line will be leaned on early while the young offense finds their footing. To beat this Kerrville Tivy squad you'll need to score points and early in the year, Dripping Springs' offense may not be hitting on all cylinders.
Stepp's Pick: Kerrville Tivy by 12
Smithson Valley at Midland Lee: It's the season opener in lovely Midland and beautiful Grande Communications Stadium will be the site for a big time Class 6A clash. Powerful Smithson Valley from the Texas Hill Country visits the Tall City to take on a Midland Lee squad with high hopes in 2019. Smithson Valley returns eight starters on both sides of the ball with QB Luke Gomert leading the offense, while DL Trey Witcher is back after accounting for ten sacks in 2018.
Midland Lee's defense will be the strength early as nine starters are back led by SMU verbal commit S Karl Taylor who picked off six passes a year ago. The Rebels also return all three linebackers and Coach Clint Hartmann thinks that will be the heartbeat of the defense. WR Loic Fouonji has double-digit FBS offers and leads the offense after hauling in 13 touchdown passes as a junior. QB Mikey Serrano threw for a school record 412 yards last year in the Rebels' playoff win and will take over the reins of the offense full-time. The big question mark for the Rebel offense will be settling on a feature back and replacing some key losses on the offensive line. Midland Lee went to Smithson Valley a year ago and stunned the Rangers. This time with the game being in Midland and the Rebel defense leading the way, expect the home team to start the season off on a high note.
Stepp's Pick: Midland Lee by 5
Edinburg Vela at Laredo United: Vela's been the top team in the Rio Grande Valley the past two years and there's no reason to think the Sabercats won't once again keep that spot with seven offensive starters returning led by QB Sotelo who tossed 25 touchdowns a year ago. WR Justin Cantu will emerge as the top target in the passing game and he'll need to draw lots of attention as several other playmakers have graduated. Vela's big edge may be in the trenches where the team is led by TCU commit OL Tyler Bailey. Vela's defensive line took some graduation hits, but its secondary has experience and that will pay off going against the dynamic spread offense of Laredo United. Three-year starter at QB Wayo Huerta is out this week and his loss in this game is a massive blow. The Longhorns have a lot of questions on defense as well and that's why the edge goes to Vela early on.
Stepp's Pick: Edinburg Vela by 14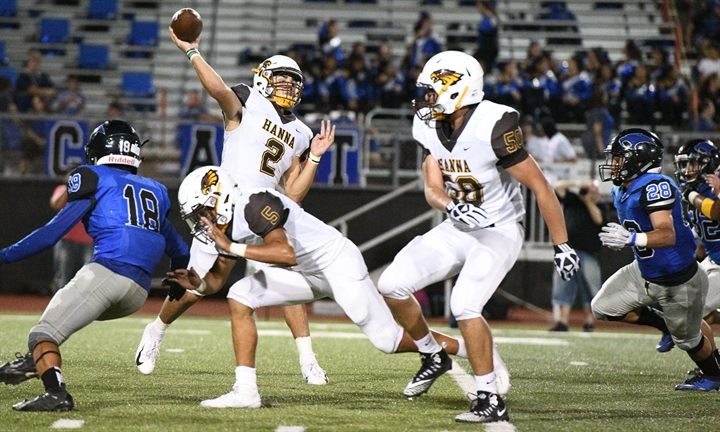 Brownsville Hanna at McAllen Memorial: A year ago, Brownsville Hanna opened up the season with an impressive win over McAllen Memorial and serving notice to the rest of the Valley that it'd be a real force. Graduation has gutted the ranks for Coach Guess' squad as just four starters total return but there's still quality led by QB Victor Campos and disruptive DT Brandon Esteves. In order for the Golden Eagles to remain at the top in the Rio Grande Valley, Hanna's going to need a lot of youngsters to adapt quickly to the level of play at the varsity level.
McAllen Memorial, who had quite the run of district titles recently, stumbled in 2018 to a third-place finish in district. The Mustangs have a veteran squad returning led by four-year starter and Navy commit RB Campbell Speights. That veteran experience will be the key for Memorial as it looks to re-establish themselves as one of the dominant 6A teams in the Valley.
Stepp's Pick: McAllen Memorial by 10
Refugio at Tidehaven: Refugio always plays a tough non-district slate and the season opener is indicative of that difficult schedule as the Bobcats visit Tidehaven, a team ranked in the Top 10 in Class 3A-Division II. QB Austin Ochoa is back to direct the Bobcat attack that has eight starters returning, RB Ysidro Mascorro and WR Jordan Kelly gives RHS a lot of weaponry at the skill spots. DL Daeron Willis will be counted to fill the role of the graduated Armonie Brown who signed with UTEP. Tidehaven has hopes of unseating district rival East Bernard as the team to beat in Region IV, as David Lucio's bunch has a ton of experience back in the fold. Refugio rolled past Tidehaven a year ago in the opener and the Tigers know a win over a name program like Refugio puts them in rarified air and give them much-needed confidence. The margin definitely won't be 35 points this year, but until proven otherwise, Refugio is the team to beat in this showdown.
Stepp's Pick: Refugio by 14
Port Neches-Groves at Silsbee: One of the top 5A programs in the Golden Triangle matches up with one of the top 4A squads in the Golden Triangle in a fascinating early season measuring stick contest. PNG has to replace record setting QB Roschon Johnson, but the cupboard isn't bare as junior QB Blake Bost steps in and will lead after seeing some action as a sophomore. He'll operate behind a strong offensive line anchored by Texas commit Jaylen Garth. As always, the key for PNG is going to be its defense, there's no doubt Coach Faircloth's squad will score points, the story is going to be told based on how well the defense performs. Silsbee had its best season in school history a year ago, pushing all the way to the 4A-Division II state semifinals and the Tigers could be even better this season. Silsbee has three exciting backs who can go the distance in Dralyn Taylor, Chris Martin and Antonious Arline and SHS also has QB Raymond Taylor back leading an explosive attack. The big questions for Silsbee are in the secondary where graduation took its toll. The Tigers are thinking state title this year and getting a win over a larger school at home would be a great confidence builder.
Stepp's Pick: Silsbee by 3
Lorena at China Spring: Lorena has sights on a deep playoff run but 4A football in the Waco area in either division is as loaded as it gets. The Leopards are a contender in Division II led by an offense that scored over 40 points per game a year ago. Three-year starter QB Bradley Lina is back after throwing 29 touchdowns and his top target WR Ty Moore is back as well. China Spring brings back a veteran squad as well as QB Brayden Faulkner and WR K.J. Peoples lead a bevy of talented skill players. The Cougars stumbled to a 1-3 record in district play and there's no doubt that won't sit well, if their young offensive and defensive lines can mature this is a team that is capable of multiple playoff wins.
Stepp's Pick: China Spring by 6
Cibolo Steele at San Antonio O'Connor: The feature matchup in the Alamo City pits two area powers looking to make amends in 2019 after surprising early playoff exits. Steele fell in the second round of the playoffs a year ago to Brandeis, just its second loss in the playoffs to a team from Bexar County in 25 tries. The Knights do have firepower with now junior QB Wyatt Begal who has started 21 games in two seasons, he's got skill talent in WR Daniel Jackson and RB DeQuavion Thomas, both of whom are garnering FBS attention. Thomas had a tough junior season dealing with injuries and his return to health is massive for Steele. Steele's defense hasn't been its usual dominating self the past two seasons. The secondary is elite with Texas A&M commit Jaylon Jones and Maison Sharp.
O'Connor rolled through the regular season in 2018 posting an impressive 10-0 mark, but the Panthers were upset in the bi-district playoffs in resounding fashion by San Antonio Reagan. The Panthers are loaded for a big run this season with eight back on offense led by QB David Dodd, a dynamic group of skill players and Texas commit OL Logan Parr. Expect a high scoring affair, both teams are incredibly dynamic on the offensive side of the ball. This one comes down to which defense is going to rise to the occasion and we'll give the edge to O'Connor who has won the last two meetings with Steele and is looking to make it three in a row.
Stepp's Pick: San Antonio O'Connor by 4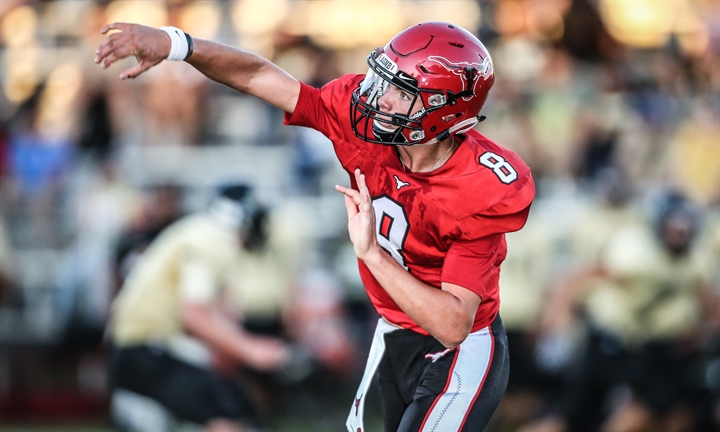 Eastland at Comanche: High-powered Eastland has some hopes to upset the balance of power in Region I and led by QB Behren Morton who can beat teams with his arm, his legs or his foot when kicking the ball, the Mavericks are dangerous. If that defense, which returns seven starters, improves then Eastland is definitely a dark-horse contender to win the region. Comanche has played in seven playoff games the past two seasons but are going to be very young in 2019. Stephen Hermesmeyer's squad will keep the game close with their ground churning Wing-T offense, but they won't have the firepower to keep up with a veteran Eastland squad.
Stepp's Pick: Eastland by 17
Denton Guyer at Aledo: The stars will be out for this game with FBS talent galore but can 6A Guyer keep it close and avenge what was an embarrassing season-opening loss at home to Aledo. Texas A&M commit, QB Eli Stowers looked overmatched in his first varsity start against that tough Aledo defense, but he's made big time strides and looks to turn the tables on Aledo. Guyer has firepower on offense with RB Kaedric Cobbs, WR's Seth Meador (Air Force) and K.J. Liggins who holds double-digit FBS offers. Guyer's secondary features as many as three FBS recruits as well.
The big key for the expected improvement in 2019 for Guyer is its veteran experience in the trenches, most notably Oklahoma State commit DT Grant Mahon who missed all of last year with an injury. Aledo fresh off an eighth state title and are heavy favorites to win a state record ninth title with Oklahoma commit RB Jase McClellan back for his fourth season toting the mail for the Bearcats. QB Jake Bishop is back to lead the passing attack with WR's JoJo Earle and Utah commit Money Parks returning. The Aledo secondary looks stout led by outstanding junior CB DeMarco Roberts and Fort Worth Southwest transfer Bryan Allen. Aledo has some question marks up front and will be young in the trenches. Expect this game to be much closer than last year as Guyer's had this one circled, but it's tough to picture anyone knocking Aledo off at home as it's an incredibly rare feat.
Stepp's Pick: Aledo by 8
Paris at Texarkana Pleasant Grove: Paris made a nice run to the third round of the playoffs a year ago before falling in a hard-fought game to eventual state champion Waco LaVega and the Wildcats feel like they have a chance to be even better in 2019. The big reason why is the return of a pair of 1,000-yard backs in Zy'Kius Jackson and Dorian Williams, where Paris may take a step forward this season could be its ability to throw the ball a bit more consistently in 2019. They'll have their hands full in Week 1 heading east on Highway 82 to take on the number one team in 4A-Division II in Texarkana Pleasant Grove. The Hawks have a three-year starter back to lead their high-flying Wing-T offense in QB Ben Harmon who can make all the throws and rises to the occasion in big games. BYU commit RB Bruce Garrett is another three-year starter back on offense. The Hawk defense could be even better in 2019 with two high end FBS recruits up front in Landon Jackson (returning from injury) and Marcus Burris along with dynamic OLB Nick Martin who is also a big-time recruit. The only real question mark for the Hawks is the secondary, but if that unit comes around, PGHS could be a real problem in 2019.
Stepp's Pick: Texarkana Pleasant Grove by 14
Quick Picks
El Paso Americas vs El Paso Eastwood
Stepp's Pick: El Paso Americas by 5
Cedar Hill at Allen
Stepp's Pick: Allen by 10
College Station at Richmond Foster
Stepp's Pick: Richmond Foster by 11
Iowa Park at Holliday
Stepp's Pick: Holliday by 3
Giddings at Rockdale
Stepp's Pick: Rockdale by 2
Wink at Sundown
Stepp's Pick: Sundown by 16
Belton at Austin Westlake
Stepp's Pick: Austin Westlake by 11
Bushland at Childress
Stepp's Pick: Bushland by 6
Odem at Corpus Christi West Oso
Stepp's Pick: Odem by 8
Liberty Hill at Leander Glenn
Stepp's Pick: Liberty Hill by 7
Gunter at Daingerfield
Stepp's Pick: Daingerfield by 7