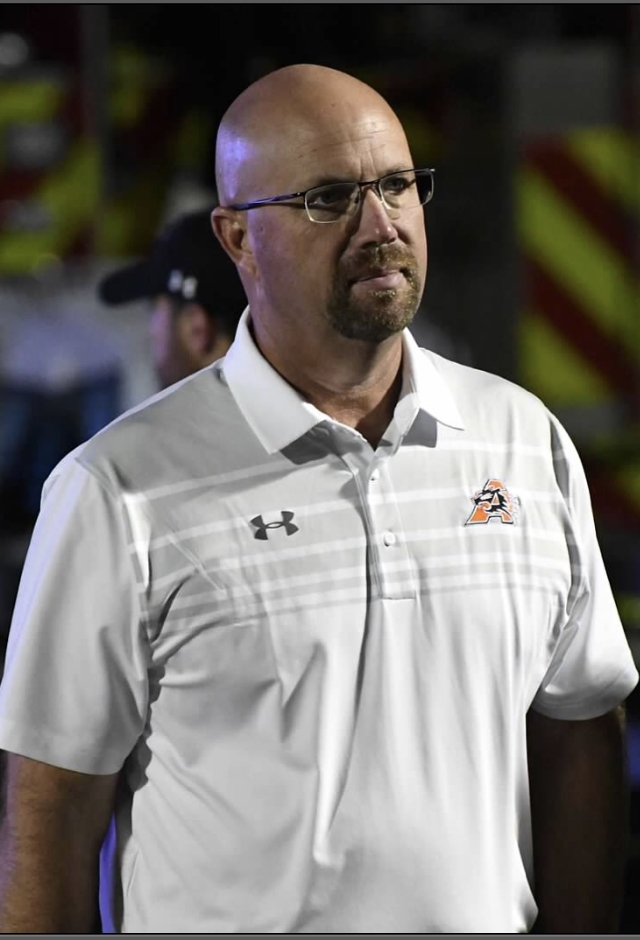 The Aledo Bearcats football program has experienced success unlike any other football program in the state over the last decade. That success is the culmination of hard work from coaches, players and the community. You know the coaches who have led the way, once and current head coach Tim Buchanan, and the man who took over for him between those stints, Steve Wood. Both coaches have become synonymous with the team's success. But the other coach who may have been just as pivotal to the team's rise and sustained dominance is a man very few outside of Aledo have heard of.
He is the team's offensive coordinator, but he is much more than just an offensive coordinator.
Since Robby Jones started calling the plays for Aledo, the Bearcats have been to eight state championship games, winning seven of those games. He does a lot more than just call the plays and work with the offense though. Aledo Head Coach Tim Buchanan said Jones is always at the football facilities working with athletes.
"You can't hardly walk in our football facility and Robby Jones not be there," Buchanan said. "He's also our head track coach, he's our equipment coach, he does everything. He's a fixture in this community and our football program."
To have the run of success Aledo has had this decade takes great coaches, and Aledo has them in coach Jones and Buchanan. It also takes some great players, and Aledo has had plenty of those as well, especially at the running back position and on the offensive side of the ball.
Coach Jones has had the opportunity to coach a lot of great players on offense over the last 10 years. He coached Jonathan Gray, who went to Texas and played briefly in the NFL. He's currently coaching Jase McClellan, a five-star prospect and OU commit.
Those players were the difference in taking a lot of Aledo teams from good to great. They played a big role in building the Aledo program into what it is now. But those players were all coached by Jones, who said he pushed the special players even harder to be the best they could be.
"I want them to be the best player they could possibly be," Jones said. "I also want to try to prepare them for success beyond high school. The highly recruited guys, like Jonathan and Jase, I don't want them to go to college and not be a success. I want them to do things [the right way] now so that when they do get to college, they continue to do things right. We just want them to be successful people in all walks of life."
With McClellan entering his senior year, Aledo will begin a new chapter after his graduation. That new chapter may include a new head coach, and Buchanan said Jones will be at the top of the list of potential candidates for his replacement when he is done coaching.
"I have had [other coaches] call and ask about [Jones]," Buchanan said. "I have put jobs out there to see if he wanted them and he's looked but he hasn't found anything that has made him want to leave. Eventually I really am going to retire and, if he wants it, Robby's going to be the next head football coach here. He's groomed and ready for it."
There isn't a more perfect fit for Aledo's next head coach than Jones. He has coached the youth clinic most every year in the last decade, making the younger kids who will come through Aledo's football program for the next decade familiar with him from a young age.
The community is familiar with him and Jones said the community and having found a great place to raise a family has been a big part of what has kept him in Aledo for as long as he has been there.
Winning seven state championships in a decade will give any program a great reputation. Over the last 10 seasons, Aledo has gone 146-9 and averaged 49.71 points per game, while only allowing 14.51 points in those games. In Aledo, that reputation has a name: Title Town. That name was also the title of the first season of the Star Telegram's original series: Titletown, TX. Having the high school version of "Last Chance U" was a unique opportunity for Aledo. Jones said even the coaches were excited to have the Star Telegram around to cover the team in such a capacity.
"That was a real neat deal," Jones said. "Even the coaches looked forward to when [the videos] came out every Wednesday. I think [the Star Telegram] did a pretty good job of representing us and what we're about and how we went about things."
Jones has been instrumental in building Aledo into the program it is today. Next season will mark his 20thseason coaching at Aledo and 25thseason as a football coach. Jones knows he's ready to take the next step and become a head coach and it's something he said he told Buchanan back when he interviewed for the job.
"When I came and interviewed with coach Buc, he asked me what my aspirations were," Jones said. "I told him that I eventually wanted to be an offensive coordinator and a head football coach. I told him I want to find a place that is stable. I found some stability here in Aledo."
What coach Jones didn't know in that interview was the impact he would have on the Aledo community and its football program over the next 20 years. Even now there are big things ahead for Jones. Whenever coach Buchanan decides he does want to retire, he knows the Aledo football program will be in great hands moving forward with coach Jones.
This article is available to our Digital Subscribers.
Click "Subscribe Now" to see a list of subscription offers.
Already a Subscriber? Sign In to access this content.