HOUSTON and ARLINGTON -- Jordan Whittington might still be running on the turf at AT&T Stadium.
Forget Eric Dickerson. Forget Jonathan Gray. Whittington's 334 rushing yards, 46 receiving yards and six all-purpose touchdowns for Cuero – with defensive MVP honors, by the way – stands alone as the best rushing performance in state title game history.
"That was a ridiculous game," Texas running backs coach Stan Drayton said. "That was unbelievable just watching that kid – I was impressed with the endurance alone."
With Whittington's performance in Cuero's state championship win over Pleasant Grove, you'd have no idea that he came into the game with just 31 carries for 512 yards as a senior. You'd have no idea that he virtually doubled his carry count for the year on one night.
But when the Texas offensive coaching staff saw what the five-star wide receiver prospect did in the state title game, their eyes shifted first to a loaded wide receiver class, and then immediately to a shallow running back room. Now, for the first time since middle school, Whittington is playing running back.
The reviews so far? Remarkable.
"I've never seen in my 22 years of coaching a young man having never played a certain position – even in high school – to come in and say, hey, kid, you're going to play tailback for us and say yes, sir, and take to it like a fish to water," Texas coach Tom Herman said at AT&T Stadium, on the same field where Whittington broke records. "He's a natural at it."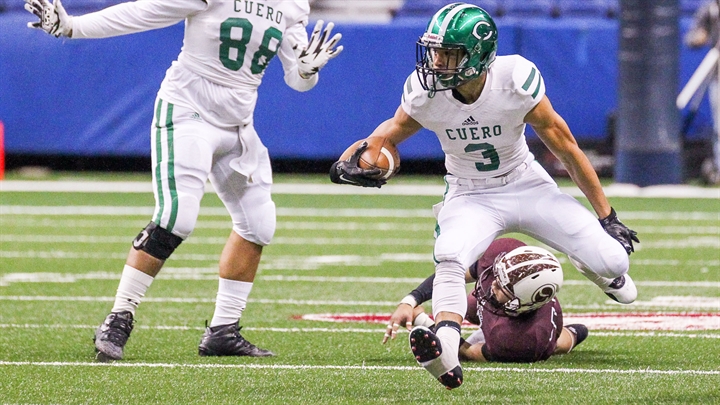 "Student of the game"
Cuero coach Travis Reeve thinks back to 2015, when Whittington first arrived at the South Texas high school as a bright-eyed freshman. J-Whitt's most important role didn't come on offense at all.
Reeve trotted Whittington out as a safety. The reason was simple.
"He started there primarily because he was the only guy who could call the secondary coverages – as a freshman," Reeve said.
Like many kids in Class 4A, Whittington had to learn to play both ways. Even at a consistently relevant program like Cuero, Whittington found ways to become an all-district and all-state performer on both sides of the ball.
After talking to everyone around Whittington, his attention to detail and desire to improve his craft is what stands out the most. When Cuero coaches would sit at the facility alone on the weekend and watch film, Whittington would ask to join so he could learn how to break down offense and defense.
"Whether it's workouts, whether it's film study, he has a passion for trying to be the very best he can be," Reeve said. "I think that's what sets him apart. I think it prepares him a lot."
When the 2019 signing class was completed, the Texas coaching staff went back to their roster board and saw a massive gap at running back. The Longhorns missed on two targets from IMG Academy late in the cycle. Toneil Carter (Sam Houston State), Kyle Porter (Houston), Tristian Houston (TBD) and leading rusher Tre Watson (graduation) are all gone. 2019 running back signee Derrian Brown suffering an unfortunate stroke in January made the need even more immediate. Talks quickly moved to Texas' early-enrollee receiver.
"We immediately started looking at who we were recruiting and where we needed help," Drayton said. "J-Whitt came up naturally. You saw the natural running instincts on film, you saw the ability to make a guy miss...it didn't take a complicated eye to see it."
Even though he played receiver throughout high school, Whittington was receptive to moving wherever would get him on the field quickest, and whatever would help the team. With playmakers like Collin Johnson, Devin Duvernay and Brennan Eagles locking down the outside, Whittington moved to help what was the No. 8 rush offense in the Big 12 instead.
Of course, running back wasn't the only position Whittington could have switched to. He posted 60 tackles and five interceptions at safety as a Cuero senior. We asked Texas defensive coordinator Todd Orlando whether he considered petitioning Herman to let Whittington play on defensive back. He just shook his head.
"If you were in our room watching that guy play running back, you would've given up on him playing safety too," Orlando said.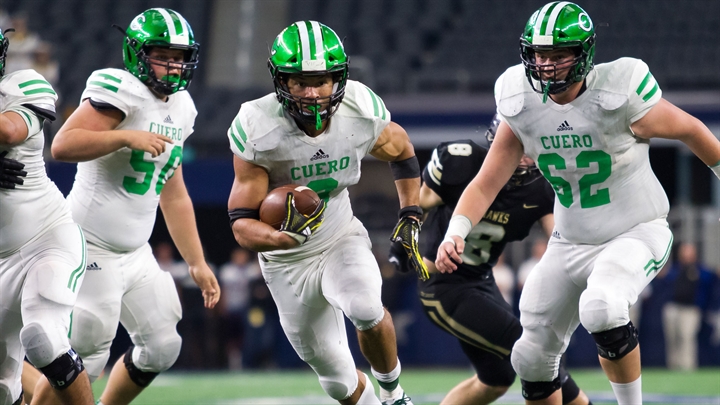 Winning on campus
Okay, so what's the big deal? A lot of players are special in high school football and flame out once they face off against higher competition. There's a huge leap in play when going from high schools with a couple hundred students to the highest levels of collegiate football.
"I saw some highlights [from the state title game] that people showed me," Texas center Zach Shackelford said. "I was just like, alright, high school, let's see what you can do in college."
The plan was simply for Whittington to work out a little as a situational running back, maybe for third downs in receiving situations. It became clear painfully quickly that those thoughts were downright laughable.
Whittington jumped from 200 pounds when he first got on campus to 220 pounds after offseason workouts and proved he could handle the physicality of Texas practices. After waiting in line behind Keaontay Ingram, Kirk Johnson and Daniel Young, Whittington finally got the ball in his hands. He made his teammates' eyes open wide.
Just like in the state championship game, Whittington flashed the big-play ability that made him a can't-miss recruit in spring camp. However, his patience and vision between the tackles also set him apart when talking about a player who is still learning about being a full time running back.
"I just saw his open field speed and it impressed me," Shackelford said. "It's different when you're on the field versus watching it on TV."
Drayton has worked with some excellent running backs during his time as a running backs coach in both college and the NFL. He's coached Ezekiel Elliott, Carlos Hyde, Jordan Howard, Matt Forte and Percy Harvin. Still, Whittington popped off the page.
"I'll be honest, I knew he was going to be good, but I didn't know he'd be that good that fast," Drayton said. "He still has a lot of work to do, but he was very natural in making that transition."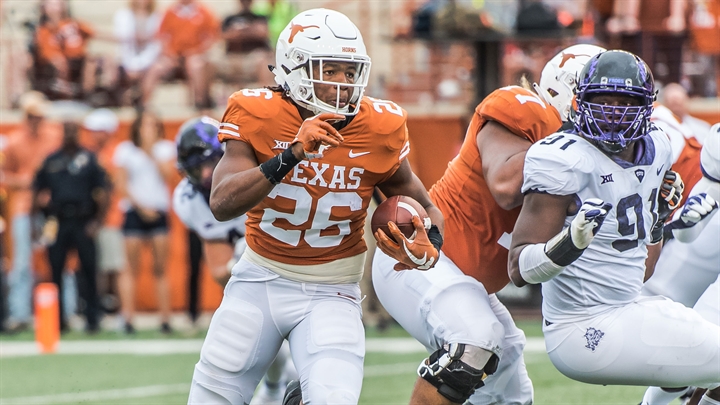 Reeve recalls going to a spring practice and watching Whittington play against the first team defense, filled with All-America candidates like Caden Sterns and Brandon Jones. Even they lost Whittington for big plays a few times.
"I went back home and told my guys, see, we're not the only ones having trouble defending this guy in practice," Reeve said.
Just like in high school, the off-field work was just as impressive as the on-field. Texas quarterback SamEhlinger recalled doing a film study with Whittington and working through protections. Whittington had never really played that way; most of the time, his runs came out of the Wildcat. It didn't matter. Whittington did his homework and seamlessly worked through it.
"That's just generally harder for the running back position," Ehlinger said. "He had it down. He really impressed me in the film room."
"I've been blessed to have some special talent over my time coaching, and I can honestly say there's only one other guy who's come in as a freshman with all those intangibles," Drayton said.
That player?
"Brian Westbrook. Brian Westbrook was a very sharp, versatile football player. You look over his career and he was used that way. J-Whitt really reminds me of Brian Westbrook, a lot."
Will Whittington set the NCAA record for all-purpose yardage – regardless of classification – and became an All-Pro running back like Westbrook? Only time will tell. But for an offense that averaged fewer than four yards per carry in 2018, his arrival is cause for excitement.
"His athleticism is unreal," Ehlinger said. "He's extremely athletic, blessed unbelievably from head to toe. He's a guy who can be full stride, hit one step and then head the other direction. A lot of other guys have to break down before they make a move, but he's extremely athletic, elusive, strong, I mean check the list. He's a special talent."
This article is available to our Digital Subscribers.
Click "Subscribe Now" to see a list of subscription offers.
Already a Subscriber? Sign In to access this content.