It's been a while since the state of the quarterback position in Texas was so strong. Six different incumbent starters have a case for top 30 nationally, and several other programs are on the upswing at the position.
There are dozens of factors you can take into account to rank quarterbacks. Sample size is a significant metric, and pushed some talented underclassmen down the list. Raw numbers are valuable, but will be contextualized. Playing in a quicker or more prolific offense helps your case, but won't be the deciding factor. Value is at the forefront of the list, both on and off the field.
To be clear, this is not a simple ranking of how these players performed in 2018. The situations – coaching staff, scheme, weapons – changed for multiple incumbent starters. This list is purely forward-looking.
Here's our ranking of all 12 projected starting quarterbacks at the FBS schools in Texas after the conclusion of spring camp. We've split the group up into four tiers. Please note, multiple quarterback competitions are still open, so this list could look very different by September.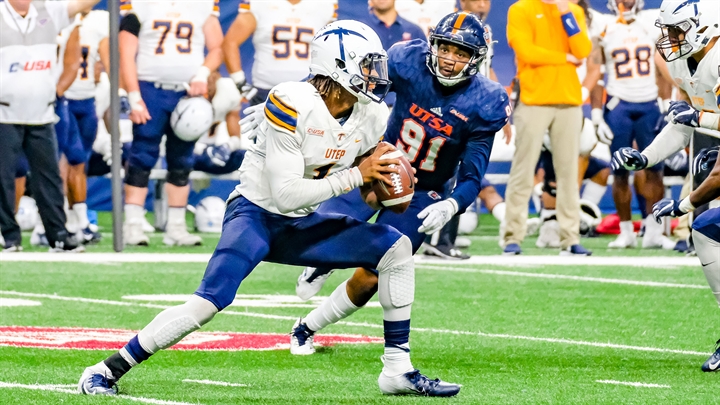 THE PROJECTS
12. Wiley Green, Rice
2018 stats: 621 yards, 51.1%, 3 TDs, 4 INTs
Will Green be the starting quarterback in the fall? It's hard to say, but Green showed potential against UNT and UTEP, and led the Owls to a win over Old Dominion in the last game of the year. Green still needs to get much better for Rice to compete.
11. Kai Locksley, UTEP
2018 stats: 937 yards, 49.1%, 3 TDs, 9 INTs; 340 yards, 6 TDs
UTEP fans got the full Locksley experience a season ago. The former blue-chip prospect flashed major athletic ability, but completed just 49 percent of his passes and threw nine interceptions. If UTEP is going to win any more games in 2019, Locksley has to take care of the ball and be much more accurate.
10. Gresch Jensen, Texas State
2018 stats: n/a
Jensen is a wild-card in San Marcos, but should be a natural fit. He excelled under former Montana coach and now Bobcats offensive coordinator Bob Stitt, throwing for 2,531 yards, 20 touchdowns and six interceptions for the Grizzlies. He'll try to revitalize a quarterback room at Texas State that threw for just 2,182 yards, 15 touchdowns and 12 interceptions as a group a year ago.
9. Frank Harris, UTSA
2018 stats: n/a
The word out of spring 2018 was that Harris was ready to prove why he was a strong Group of Five quarterback recruit, but an ill-timed ACL tear put that to rest. After a historically terrible quarterback year at UTSA, Harris should take over the position. He's a dynamic dual-threat option who was the top player in San Antonio as a junior in high school when healthy. For UTSA's offense to take a step, Harris has to be as good as advertised.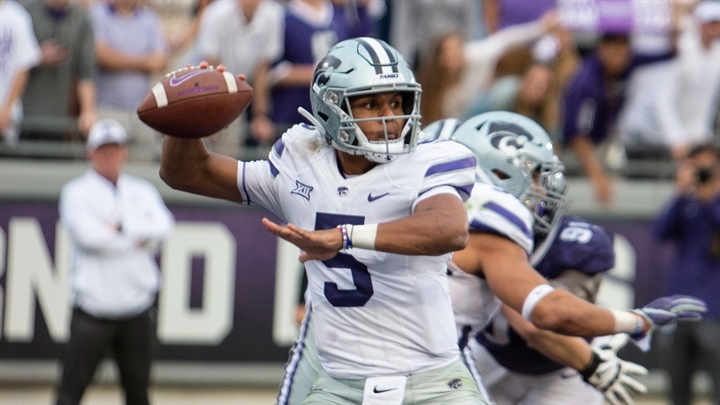 IMPACT TRANSFERS
8. Alex Delton, TCU
2018 stats: 554 yards, 55%, 2 TDs, 2 INTs; 234 yards, 2 TDs
TCU might be the hardest quarterback battle to pick, simply considering that we don't even know who's really ready to compete for the job. With three years of experience playing in the Big 12, Delton is likely the safest bet. The Kansas State grad transfer had an inconsistent arm at Kansas State, but excelled as a running option. Playing in a simpler passing system could help.
7. Shane Buechele, SMU
2018 stats: 273 yards, 68.2%, 2 TDs, INT
There might not be a more natural quarterback transfer this offseason than Buechele to SMU. The move brings him back to the Metroplex, and places him in an offense with Sonny Dykes that should take perfect advantage of his skillset. With two years of eligibility with the Mustangs, expect him to turn into an all-conference candidate over the next two seasons.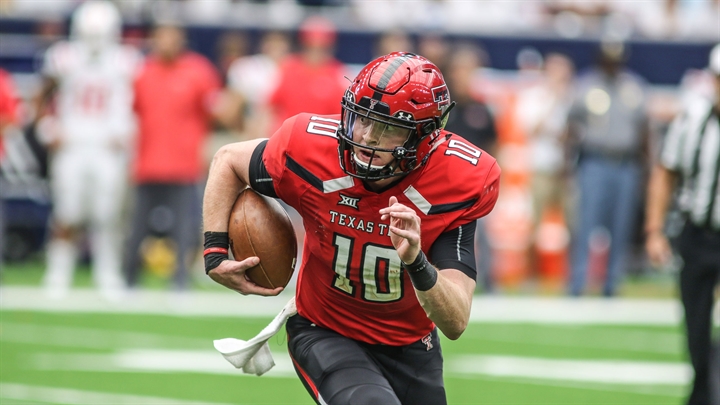 UP-AND-COMING
6. Kellen Mond, Texas A&M
2018 stats: 3,107 yards, 57.3%, 24 TDs, 9 INTs; 474 yards, 7 TDs
Mond sitting this far down the list says everything about how good the position is in the state this year, because he was excellent in 2018. The junior made massive strides in his first year under Jimbo Fisher, upping his completion percentage by six percent, his yards per attempt from 6.1 to 7.5 and tripling his touchdown total. He provides Texas A&M the first long-term answer at the quarterback position since Manziel. With Trayveon Williams gone, Mond has to keep growing.
5. Alan Bowman, Texas Tech
2018 stats: 2,638 yards, 69.4%, 17 TDs, 7 INTs; 1 TD
No one expected Bowman to start in his first year out of Grapevine, but the rising sophomore broke Pat Mahomes' freshman record for single-game yardage and showed major potential in Big 12 play. His accuracy and arm strength were on full display in the games that he played, and that should continue with a new coaching staff. The sample size was impressive, but was still too small. Bowman only played against one of the top three defenses on the schedule. The biggest key to taking the next step is simple: stay healthy.
4. Charlie Brewer, Baylor
2018 stats: 3,019 yards, 61.5%, 19 TDs, 9 INTs; 375 yards, 7 TDs
It's hard to contextualize just how much better Matt Rhule's Baylor has been with Charlie Brewer than any other quarterback. Even when dealing with inconsistent protection, Brewer kept the chains moving down the field and helped the Bears rank among the top teams in the conference in first downs. With a roster that's finally deep enough to compete consistently in Big 12 play, the task gets easier but the spotlight gets brighter.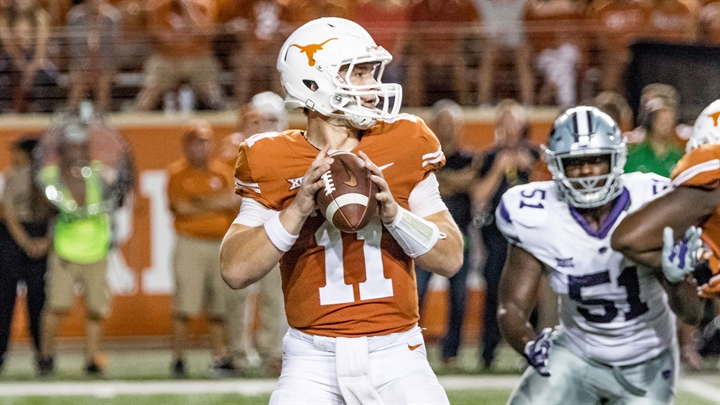 THE TOP TIER
3. D'Eriq King, Houston
2018 stats: 2,982 yards, 63.5%, 36 TDs, 6 INTs; 674 yards, 14 TDs
The unquestioned king of the end zone in Texas played at Houston last season. Despite missing games with injuries, King posted 50 freaking touchdowns in Kendal Briles' quarterback-friendly offense. The only questions about King are how quickly he will adjust to Dana Holgorsen's system, and if the transition back to the field after a torn meniscus will be seamless. A great performance against Oklahoma in the opener could push him to the top of the state.
2. Sam Ehlinger, Texas
2018 stats: 3,292 yards, 64.7%, 25 TDs, 5 INTs; 482 yards, 16 TDs
Ehlinger took the star leap as a sophomore. The Austin Westlake product dramatically improved his accuracy and decision-making, and went from being a turnover-prone player to setting the Big 12 record for consecutive passes without an interception. The offensive line development played a big part, but Ehlinger's growth on offense is arguably the primary reason Texas took such a big step in 2018. He'll be a dark-horse Heisman pick if he can keep growing.
1. Mason Fine, North Texas
2018 stats: 3,793 yards, 64.6%, 27 TDs, 5 INTs; 2 rushing TDs
It's hard to contextualize just what Fine means to North Texas, but the bowl game against Utah State was a good indicator. After Fine went down with an injury, the Mean Green gave up a 38-6 run. He's a heady, accurate quarterback who can make throws to every level of the field and makes the UNT offense go. If he was three inches taller, we'd be talking about Fine as a first round pick. Regardless, Fine should leave UNT with every passing record in the book. "Mean" Joe Greene will always be the most iconic player in program history, but Fine is making a strong case for No. 2.