Before John King became a beloved Texas high school football coach, he was one of the best players to ever take the field for Northwestern State University in Natchitoches, Louisiana.
A standout offensive lineman at Spring Hill High School in Louisiana, King stayed close to home to play at the next level and was a four-year starter for the Demons. He was best known for having played all five offensive line positions in one game.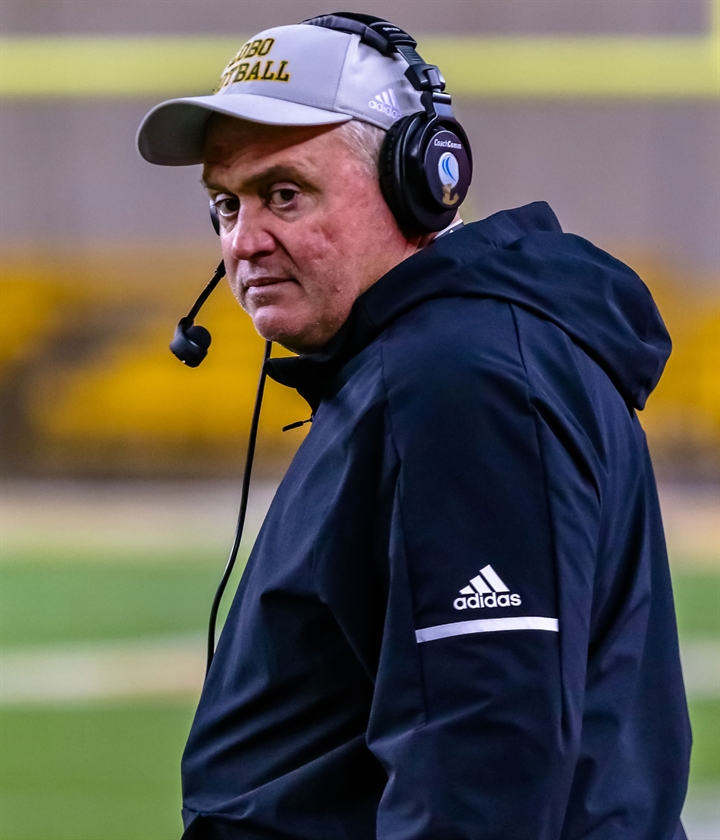 But even King's success on the gridiron, which included an All-American award in 1990, couldn't save him from being exposed to the harsh reality of the coaching business just a few short years later.
King, whose parents both worked in education but never pushed him toward the profession, always knew he wanted to be a coach and got his start at Many High School after graduating from NSU in 1992. King spent one season with the Tigers before receiving an opportunity to return to NSU as a restricted earnings coach.
Six months and one losing season later, though, King was fired by the same coach who recruited him to play for the Demons.
"That was kind of a wake-up call," King said. "It was the school I played at and I was coaching with guys who coached me. The head coach who signed me fired me. You understand the business side of things – it was a deal where we had a sub-.500 season and there were changes that had to be made. Nobody is safe, nobody is protected.
"You do your job, or they'll find someone else to do it. But there were no hard feelings and no ill will. I still think the world of my college coach and I understand those were tough decisions he had to make."
Of course, King responded just fine after the first set back he faced early in his coaching career. He was hired at Vidor High School in Texas and spent two years under Pat Murphy before Pat Collins tabbed King to join the staff at West Ouachita High School back in Louisiana.
King, who is quick to name Collins as his most influential mentor, took note of Collins' ability to relate to everyone – not just his football players – to make a much larger impact on those around him.
"He taught me how to treat people," King said. "Whether it was a football player, a parent, a band member, or a cheerleader, it didn't matter because they're all important. Pat was really, really good at that, and made people feel good about the whole process."
The lesson is something that has stayed with King over the years as he's made his own mark on the coaching landscape. King, who is 168-36 as a head coach, first took over at Longview in 2004 after spending four years as Collins' offensive coordinator.
Those around the program now point to King's ability to relate to even the smallest pieces of his program, and his commitment to emphasizing their importance, as one of the things that makes him so unique.
"One of my favorite things about him is if they're passing something out after practice, he knows every single one of their names," Longview News-Journal Lobo beat writer Hayden Henry said. "I'm sure a lot of coaches do, but Coach King will also have a joke about them. To see him interact like that, even with a ninth grade 'b' team football player, is special.
"He really knows his entire athletic program, and it's bigger than just football. Seeing him interact with the athletes – male, female, any sport – is always pretty cool."
****
As King continued to grow early in his coaching career under Collins, the two spent just one year at West Ouachita before making the trip across the Ouachita River when Collins took over at Ouachita Parish. The staff had a good amount of success in three years with the Lions, opening the door for a move to Texas when the Longview job opened up in 2000.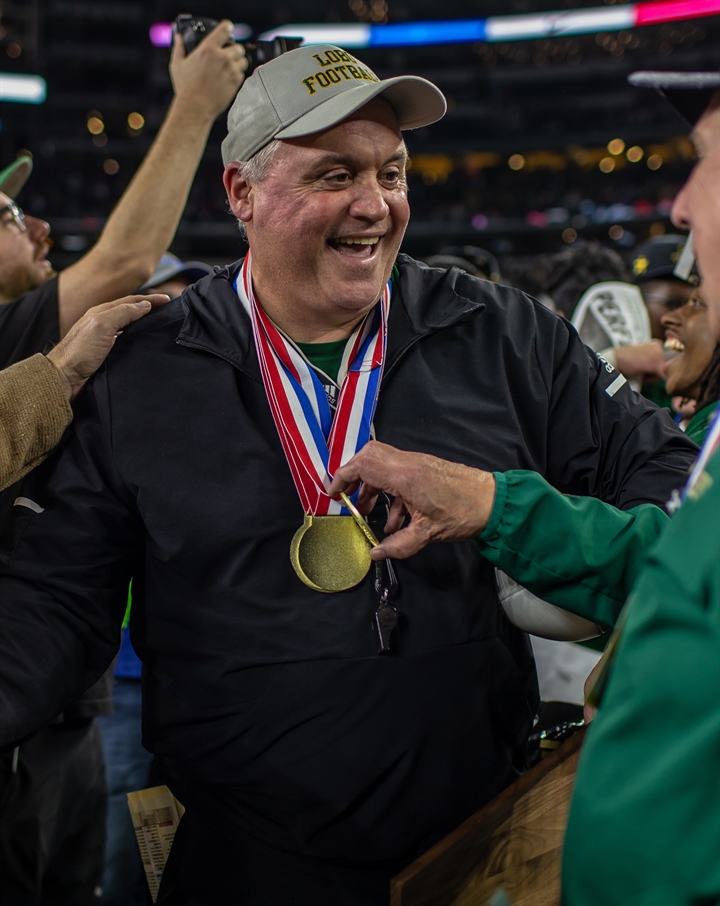 Collins replaced Robert Bero, who went 92-38-3 in 12 seasons, and quickly began making a positive impact on the program. The football team missed the playoffs in 2000 before going 7-5 in 2001, 10-4 in 2002 and 7-4 in 2003.
But Collins' impact stretched far beyond the football field. He implemented a 'no pass, no play' policy to hold his athletes accountable in the classroom. King, who was the associate head coach and offensive coordinator at the time, was given a significant amount of responsibility on the staff.
"I had a chance to grow under a great man," King said. "He was busy with things as the athletic director and would tell me to get something set straight, and I'd report back to him every day. He let me do my job and I had an opportunity to do it here with a lot of great kids and a lot of great assistants."
It took only a month for King to realize he was in a special place at Longview, and he started to compare the school to what he grew up around back in Louisiana. Though it was a bigger beast than King was accustomed to, Longview was a blue-collar town full of people who loved their football and their athletic program.
He fit right in.
When Collins made the decision to step away from coaching to focus on his role as athletic director before the 2004 season, King – despite a lack of head coaching experience – made perfect sense as his replacement.
With Collins' support, King was named the head coach about a week after the position came open.
"In my mind, I didn't see what the big deal was when they hired me as a first-year head coach, because I knew the kids and I knew I could do the job," King said. "Now that I've been a head coach for a few years, I can see how unique of an opportunity that was. These jobs are so hard to get. To have no head coaching experience and get the head job at Longview is kind of like finding a needle in a haystack. I got kind of lucky."
Lucky or not, the Lobos' football program took off under King's guidance and experienced a great deal of success from the get-go. Longview went 12-1 in 2004, 10-2 in 2005, 9-3 in 2006 and 12-2 in 2007, setting the foundation for a long run of success in East Texas.
But even after winning 168 games in 15 years, King's first loss still haunts him. The entire King family grew so accustomed to success after starting the 2004 season a perfect 12-0, which made the third-round playoff loss to Lufkin in front of about 25,000 people at Stephen F. Austin University all the more painful.
"Daddy, what's wrong with the Lobos," King recalls his daughter Steelie, who was three or four years old at the time, asking after the game.
"Baby, we lost."
"Well, why'd we lose?"
"I guess your daddy didn't coach very good."
"Well, you need to coach better next time."
"I'll never forget that," King said. "That loss was tough to get over."
****
As hard as it was to recover from that first loss in 2004, King experienced his fair share of heartbreak on a much larger scale after pushing through and guiding the team to the Class 4A DI state championship game in 2008.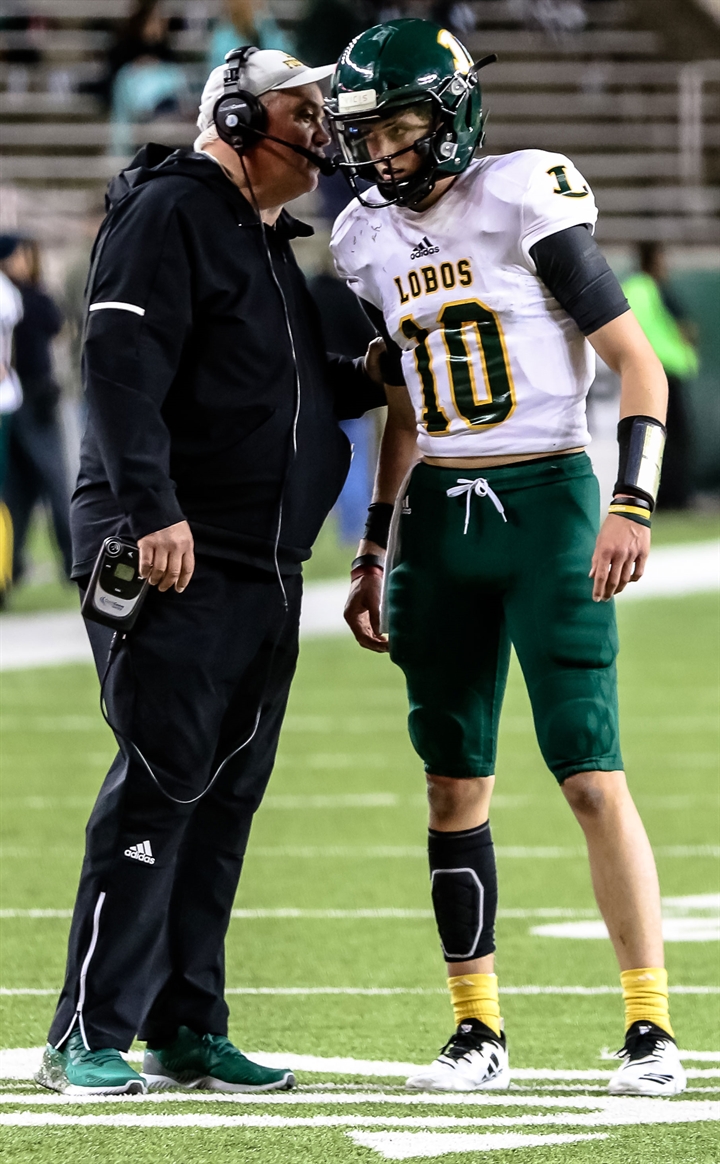 Longview, which hadn't won a state championship since 1937, finally had a chance to bring a title back home. But the Lobos were outplayed by Lake Travis and head coach Chad Morris in a 48-23 defeat at Floyd Casey Stadium.
Longview responded the following year without missing a beat, posting a 14-1 record en route to a second consecutive state championship game appearance for the first time in program history. The heartbreak was intensified in 2009 as the Lobos again faced Lake Travis but fell by a much tighter margin – 24-17.
The pressure to win a state title began to increase in the following years as several other East Texas programs were having success. Tatum won state in 2006 and 2007, Gilmer won state in 2010 and Carthage won state in 2009, 2010 and 2011.
But King never lost sight of what he was building, relying on his program's motto of 'No Days Off' to continue to steer the ship in the right direction.
"The Longview community is rabid about the Lobos, and of course there was all the success going on around us at the time," King said. "Gilmer, Carthage and Tatum were winning state titles and our fans wanted one too. They wanted to be able to brag about it. We just kept sticking to our guns, having a yearly plan and working that plan with the kids buying in.
"We kept doing what we thought we needed to do to win a title."
Longview would have had a chance to put King's plan to the test in another state championship game in 2010. However, a Denton Guyer blocked punt led to a go-ahead touchdown with 10 seconds remaining in the Class 5A Division II semifinals, pushing the Wildcats on to the title game and leaving the Lobos just moments short.
It took seven years for a similar opportunity to present itself in 2017, when King led the Lobos to the 6A Division II semifinals before another heartbreak – this time via a missed 29-yard field goal with just seconds remaining – which allowed Waco Midway to hold on for a 28-26 victory.
There was a silver lining after the 2017 loss, though, as King's son – sophomore quarterback Haynes King – emerged onto the scene after winning the full-time starting quarterback job in Week 5. Haynes King won 10 straight games before Longview fell to Midway, and he finished with 2,345 total yards and 27 touchdowns as a sophomore.
The Lobos went back to work after the loss to Midway and entered the 2018 season as one of the favorites in 6A Division II.
"It's not a very happy day around here after a loss, and that starts at the top," John King said. "We're not scared to put the work in, and that's year-round. There are games you win and lose in the offseason, and our guys weren't afraid to put that work in after that game."
***
John King always encouraged Haynes King to pursue a different position when he was younger, consistently warning about the pressures of playing quarterback in Longview. John emphasized the expectations of winning and reminded Haynes that only one quarterback gets to play as he was nearing middle school.
But Haynes never backed down from the challenge, working tirelessly to become exactly the quarterback Longview needed. The 2017 season was just a glimpse at what was to come, as Haynes dominated from start to finish in 2018 to solidify himself as one of the best quarterback prospects in the nation.
His success gave the Lobos one of the state's most potent offenses, and Longview put big numbers up from the start. The team averaged 48 points per game through non-district play and 53.5 points per game in district en route to winning the District 11-6A championship.
There was no stopping Longview at that point, as the Lobos went on to roll past Copperas Cove, Prosper and Vandegrift before edging Westfield in a 14-0 battle that pushed the team into the state semifinals.
Not to be denied, Longview rushed for 296 yards and defeated Amarillo Tascosa 45-42 to advance to the state championship game for the first time since 2009.
"They don't like losing," John King said. "Whatever it took, they would do. If that meant an extra segment of practice or someone making a position change, they were willing to do it. They've been that way since they were in middle school. Thirty nine seniors, and that was their mindset no matter the sport. They don't want to lose, and they worked to get to that situation."
Playing at AT&T Stadium put Longview's quest for a state championship on display for the fourth-largest crowd in UIL history as more than 48,421 people were on hand to see the Lobos take on Beaumont West Brook.
In an instant classic, Haynes King shined on the state's biggest stage. The junior threw for 423 yards and added 65 more on the ground to help Longview hold off a talented Bruins' squad in a thrilling 35-34 finish.
"It's pretty special," Haynes King said after the game. "In the early 2000s, when we went to the state championship, I'd be playing a little touch football game after the game. I'd just be thinking in my head that when I got my chance, I was going to try to go win it."
The emotional scenes that followed will forever be a part of the history of Longview football, from the Kings' embrace amidst the crowd of supporters on the field to the passionate press conference that followed.
The Lobos spent a good part of the last three months celebrating with parades, visits to the state capitol and, finally, the ring ceremony on April 4.
"I'm going to tell you this – Every kid that plays high school football has dreams and aspirations of winning a state championship," John King said. "Every coach that has a kid that plays has that same dream. That was unbelievable. I won a state championship as a player, but to win one as a coach with your son as the dang starting quarterback is the most unreal feeling. Other than the day my children were born, there hasn't been a better day. It was amazing."
***
Haynes and John King are just a few weeks away from officially beginning spring practice and the pursuit of a second state championship in what will be their final chance to do so before Haynes graduates in 2020.
Haynes' success last season has him ranked as the No. 31 player in the country by 247Sports, and the Kings spent time throughout the offseason traveling to visit a handful of the 23 schools that have extended him a scholarship offer.
Rather than basking in the national spotlight, though, Haynes King is focused on making his final season at Longview a successful one. He has never attended school in another district and grew up dreaming of playing for the Lobos, making this year a special one for the entire family.
"This is where he was born and raised," John King said. "It's his home – he wants to win games with his teammates. That's what I'm most proud of – he's a great teammate. He couldn't care less about any individual award. He knows the importance of teamwork."
That makes the goal for next season a simple one for Longview and the Kings, who will first take the field for spring practice on April 29. After snapping an 81-year title drought last season, even slightly lowering the bar for success would be veering drastically from the expectations that have made the Lobos a perennial power.
"Nobody puts more pressure on me than I put on myself," John King said. "I want to win another state championship. I'd like to do it every year. It's been great. Nothing much has changed around here as far as our day-to-day plan goes. I plan on coaching as long as I can and want to continue to do what's best for this high school."
This article is available to our Digital Subscribers.
Click "Subscribe Now" to see a list of subscription offers.
Already a Subscriber? Sign In to access this content.