National Signing Day features some of the biggest programs in college football, but that's not what we're drawn to at Dave Campbell's Texas Football.
Some of the most exciting and beloved players in Texas high school football were overlooked in this recruiting cycle. The major programs' losses are a gain for small colleges across the state.
In the Permian Basin, a finalist for Mr Texas Football will team up with a running back who led his team to two state championships. Out in West Texas, the leading rusher in Austin area history joins an undersized quarterback who did it all for a brand-new high school. Small college football is becoming must-watch if you're a fan of Texas high school football.
Here are some of our favorite under-the-radar signees from the 2019 signing class.
QB Landry Gilpin, Mission Veterans Memorial
Signed with: Southwestern
Gilpin became the first player from the Rio Grande Valley to win the coveted Mr. Texas Football Player of the Year award, and for good reason. The senior posted numbers that we have not seen since Kyler Murray, and led a big school Valley team to the fourth round of the playoffs for the third time in two decades.
When we awarded Gilpin the highest honor in Texas high school football, he wasn't receiving much – if any – collegiate interest. Last week, Gilpin announced that he will play college football at Division III Southwestern University. Gilpin has a great shot to have an offense that fits him at one of the youngest collegiate programs in the state.
RB Kenedy Snell, TCU/QB Miklo Smalls, Rice
Signed with: Texas A&M-Commerce
New Lions coach David Bailiff did not shy away from the FBS well when stocking his first roster at Commerce. He prioritized Snell, who starred next to wide receiver Jalen Reagor at Waxahachie. The underclassman should dominate at this level.
Smalls spent a year at Last Chance U, but previously played for Bailiff during his time at Rice. Both players should be able to play at a high clip at the Division II level, and provide a much-needed infusion of talent to a Lions roster that wants to continue winning.
OL Kerry Buckmaster, Independence Community College
Signed with: West Texas A&M
Buckmaster was arguably the breakout star in the hit TV show "Last Chance U" in season three. He spoke extensively about his experiences growing up in a rough situation, and how he dropped everything and drove to Independence, Kan., once head coach Jason Brown gave him an offer. Luckily, Buckmaster will continue his scholarship education in Canyon.
Buckmaster is not the only player from the show to play in the state. Former East Mississippi Community College quarterback DeAndre Johnson is transferring to Texas Southern after spending his junior season at FAU. Dakota Allen will try to be the first player from the show to be drafted into the NFL.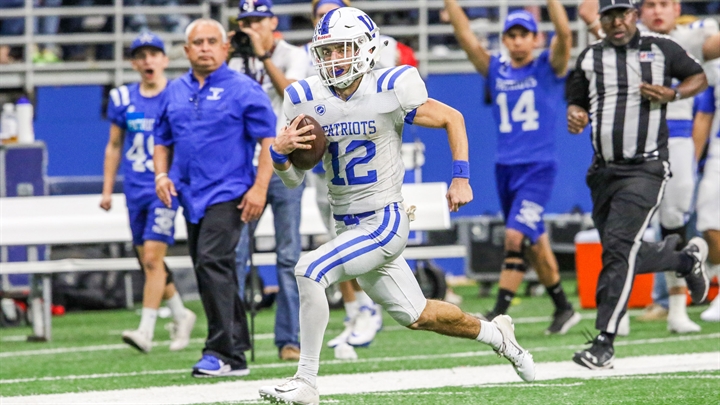 DT Carl Williams, Lufkin
Signed with: Stephen F. Austin
You'll be hearing plenty more about Carl Williams over the next four years at Dave Campbell's Texas Football. Williams is the top FCS recruit in the nation, and it's not particularly close.
Williams was ranked No. 82 among all recruits in the state, and his offer list is insane — the Lufkin product held offers from Oklahoma, Arkansas, Ole Miss, TCU, Oklahoma State, Houston and several other Power Five programs. As a 6-foot-4, 310-pound defensive tackle, Williams should massacre opposing offensive lines under Colby Carthel at SFA.
RB Kyle Harrison, Liberty Hill
Signed with: Tarleton State
Liberty Hill ascended to the top of 4A high school football a year ago, and might have taken home the title if not for a dominant La Vega team. The most important player on that Liberty Hill team, Harrison, is staying in the state for college.
Harrison posted the best single-season by a running back in Austin-area history, compiling 2,875 yards as a senior. He averaged 11.7 yards per carry on the year while playing in Liberty Hill's Slot-T. Now, he'll try to do the same at the next level.
QB JaMarian George, Shadow Creek
Signed with: Tarleton State
George was overlooked because of his size during the recruiting process, even though he helped lead Shadow Creek to an unlikely state title game berth in its first varsity season. He completed 62 percent of his passes for 2,961 yards, 33 touchdowns and just eight interceptions. Still, George had no major offers.
However, George found a perfect home in Division II Tarleton State, where he'll team up with Harrison.
"I think he's going to bring a great, competitive spirit," Shadow Creek assistant head coach Tyrone Green said. "He's 5-whatever, but he can throw the football. He can throw it really well. His ability to find guys running wide open is going to be huge for Tarleton."
ATH Dylan Jantz/ATH Braiden Clopton, Gunter
Signed with: Texas State, Sam Houston State
Two of the most important players behind Gunter's dominant run at the 3A level both graduate in 2019. Jantz and Clopton both helped lead the Tigers to a state championship in 2016, a runner-up finish in 2017 and a magnificent 14-1 season that was cut just short in 2018. Both found great locations to hone their craft.
Sam Houston State coach K.C. Keeler jumped all over Clopton's potential as an athlete and inked him during the early signing period, honoring the scholarship offer despite a season-ending injury. Jantz was one of new Texas State coach Jake Spavital's first offers after taking the job in San Marcos. The school lists him as a wide receiver, which should fit his physical profile perfectly at the next level.
QB Michael Black, Haltom
Signed with: UT-Permian Basin
Most of our 10 finalists for Mr. Texas Football — save Gilpin — received some level of scholarship attention. It took until Halloween of his senior season for Black to receive his first scholarship offer. Division I offers never came, even though he kept dominating teams in 6A.
No matter. Black will be unstoppable in the Permian Basin. Black completed 60 percent of his pass attempts for 2,528 yards, 26 touchdowns and two interceptions. He added 1,584 rushing yards and 18 touchdowns on 7.1 yards per carry. There was no real reason he didn't get offers – Black will make Division II teams pay.
RB Tyrek Horne, Mart
Signed with: UT-Permian Basin
Horne leaves Mart as one of the best players in school history – and that's saying something. He posted 5,298 rushing yards, 867 receiving yards, 86 total touchdowns and 12.0 yards per carry, all while leading the Panthers to a pair of state championships.
Concerns about his skinny frame and level of competition kept him from the major college level. That just means Horne will team up with Michael Black at UT-Permian Basin to form one of the most electric backfields in the state. The 2-9 Falcons will get an immediate influx of production.
TE Luke Laufenberg
Signed with: UTEP Miners
Back in 2016, Laufenberg gave up some offers to walk on at Texas A&M. Soon after, the son of former NFL quarterback Babe Laufenberg was diagnosed with leukemia and took leave to fight the disease. Just months later, Laufenberg fought and won – he was declared cancer-free.
After some time at Mesa Community College, Laufenberg signed a scholarship offer with UTEP as part of a mammoth recruiting class. The cancer survivor will be a welcome addition to UTEP, which is still struggling to find consistent blockers and playmakers.