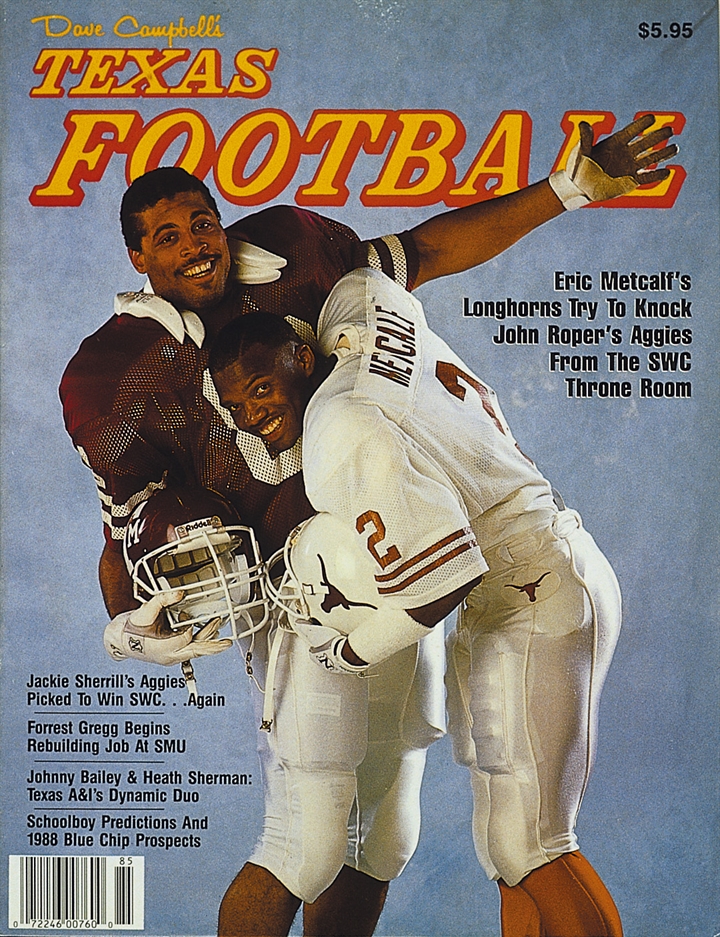 There are infectious laughs and then there's Eric Metcalf's laugh. From the first moments we started our conversation Metcalf's laugh had me in its clutches. It's the type of laugh in which the listener has no choice but to bust out in a belly laugh as well. It's honest. It's big. And it's awesome.
That fun-loving personality is perfectly captured on the 1988 cover of Dave Campbell's Texas Football, the first topic of our conversation.
"Man I remember that cover so well," Metcalf said from his Seattle home. "Anytime you're going to be on a front cover is a big deal. Being on the cover of that magazine, and all that it means to Texas, that was a huge deal."
When it comes to iconic covers in the history of this historic magazine, the Eric Metcalf/John Roper cover that previewed the 1988 season always springs to mind. Metcalf, a Heisman candidate coming into his senior season, was the magazine's preseason Offensive Player of the Year. In the fantastic cover story written by Brad Buchholz, the dynamic Longhorn was compared to none other than Michael Jordan.
For Metcalf, arguably the best pass-catching running back in Texas Longhorn history, his cover shoot memory starts as a road game. "I had to drive to that city for the shoot with (John) Roper. Enemy territory for sure," said Metcalf before letting out a seismic laugh. "I never liked going to that town and we certainly didn't seem to like it as a team, but I was happy to do it that day because I was going to be on the Dave Campbell's cover.
"It was me and Roper, the best offensive and defensive players in the conference. It was the first time I had met John and I remember having a great time taking the pictures. I love the results."
John Roper, the Aggies amazing linebacker, posing with one arm raised above Metcalf as the Longhorn's dynamo gets close enough to tackle remains an indelible image for the Lone Star rivalry. Unfortunately for Metcalf, the rivalry was way too one-sided during his tenure in Austin.
"We just couldn't beat those guys and that was a major bummer," Metcalf said. "We just never figured out how to get over the top on them and big John Roper was one of the main reasons. That guy was everywhere on the field."
Metcalf covered plenty of territory as well. A world-class long jumper and sprinter in high school and college, Metcalf was a triple threat as a runner, pass catcher and return specialist. He remains the all-time leader at Texas in receiving yards as a running back.
"I loved my time at UT and still closely follow the Longhorns," said Metcalf, who recently made the trek from Seattle to Arlington for the Big 12 championship game. "I'm really excited about where the program looks to be going. Playing in the Sugar Bowl this year against a great team like Georgia are the types of big games that should be a regular deal at Texas. I think they're on the right track again and that's exciting."
Eric credits his dad, Terry, for his plethora of athletic gifts. It's hard to recall any father-son duo who were more of a mirror image of one another – right down to the jersey No. 21. "When I joined the Browns, I did all I could to grab No. 21. I wore it to honor my dad's career for sure."
Eric, who until recently was an assistant track coach at the University of Washington, played 12 seasons in the NFL for seven different teams. Drafted 13th overall by the Cleveland Browns, Metcalf would go on to play for Atlanta, San Diego, Arizona, Carolina, Washington and finally Green Bay. His trade from San Diego to Arizona (which also included a pair of first rounders and a second rounder) lives in infamy in Chargers history since it led to them picking Ryan Leaf.
Although Metcalf finished his career with more than 14,000 all-purpose yards, he will always think of what could have been if he had played in the current era of wide-open offenses.
"In Cleveland I played for Bill Belichick when Bill was three-yards and a cloud of dust coach. When I see how he now uses James White for the Patriots, it drives me a bit crazy," explains Metcalf, who remains the only player in league history to have more than 7,000 yards of offense from scrimmage and more than 7,000 return yards.
"If I played in today's game with today's rules I would have run wild," he says with another thunderous laugh.
When he was not working with aspiring track athletes, the three-time Pro Bowler debuted on the Browns' TV broadcast this past season. The commute to and from Cleveland was a bit much but he said he definitely would like to do more games. Considering the tough luck in recent years for the Browns' franchise, Eric's high-energy personality and unforgettable laugh seem like perfect fits.
"I feel very fortunate to have had a great college experience, a great NFL career and still be walking and talking and laughing," Metcalf says. "But man, if I played for the Rams or Chiefs now . . . "
He trails off. Then, of course, laughs.