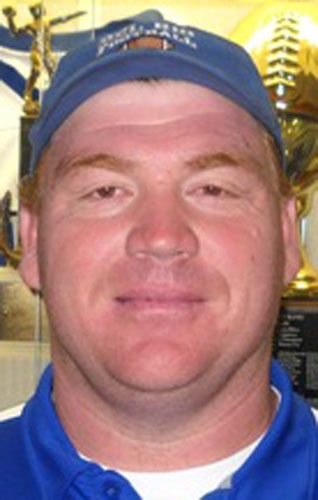 New Hays Consolidated High School Names Their First Ever Head Coach; While Corsicana Nears a Replacement
During the state championship games in late December, Johnson High School, which is located south of Austin in Buda, named Stephen Hoffman their first ever head football coach. Hoffman has spent the last six seasons leading Corsicana where he posted a 32-31 overall record, the Tigers posted a 9-3 mark in his final season at the helm in 2018. Prior to his time in Corsicana, Hoffman spent six seasons as head coach at Del Rio where he posted a 46-24 mark. Hoffman has ties to the area as he was an assistant coach at Schertz Clemens before getting his first head coaching gig at Del Rio in 2007. Johnson High School is the third high school in Hays Consolidated ISD and will likely be a Class 5A Division I school when they begin varsity play in 2020. As for Hoffman's old gig in Corsicana, look for a homecoming of sorts from a notable coaching name in the DFW area who has a state title as a head coach.
DeSoto Moving in a New Direction
Once again DeSoto will be looking for a new head football coach as the DeSoto ISD decided to move Mike Robinson into an assistant athletic director position after just one season in which he posted a 9-3 record. This move comes after an off-season of turmoil in which Todd Peterman resigned in January 2018 after three years and a 32-8 record (including a state title in 2016). With nearby Duncanville taking the reins as the powerhouse in Southwest Dallas County, its imperative that DeSoto gets this hire right as the lack of stability at the top of the power structure is beginning to impact the football program as depth and talent at the lower levels is depleted. Officially, DeSoto will begin formal interviews for the job on January 16-17, with three finalists selected shortly thereafter. The finalist will be named on February 11. Sources indicate an initial interview list of five candidates will be named sometime this week, several current head coaches from across the state are in contention along with a couple of surprise candidates, don't be surprised if an "outside the box" candidate eventually gets this job, I've got a hunch DeSoto is looking to really shake things up.
McKinney Boyd Update
Sources indicate McKinney ISD has targeted at least two and possibly three current head coaches who have won state titles in the past few years as their primary candidates for their vacant head football coaching opening. Don't be surprised if a couple of internal candidates are brought in for interviews (which begin next week), but the internal candidates are young and this interview opportunity may simply be for experience purposes only, as all indications are the district is zeroing in on a candidates with state title pedigree or who have a strong resume of winning at the varsity level.
Sun City Movement
The coaching carousel in El Paso typically moves quickly in December and this off-season has been no exception. We've already had four jobs in the city open up with two of those gigs already getting filled. El Paso Parkland OC Eric Scogin was named as the new head coach at El Paso Bel Air on December 19, Scogin replaces Tony Cervantez who stepped down after an 0-10 season in 2018. Scogin has been the OC at Parkland the past two years and helped lead one of the city's most dynamic offensive units. El Paso Riverside named their new head coach on December 18 as El Paso Coronado OC Gary Recoder moves from west side of town to the Lower Valley, to lead the Rangers who were 3-7 in their final season under head coach Tony Pallanez. Expect Recoder to install a more wide open offense, which has seen success at Riverside in the not so distant past under former head coach Eric Frontz who is now head coach at Parkland. Pallanez installed a run heavy veer offense and it never took hold at Riverisde who only won nine games in Pallanez's three seasons. At the 6A level, El Paso Socorro, who is mired in the state's longest losing streak at 37 games will be looking for a new head coach after Marcus Graham stepped aside after three seasons in which he failed to lead the Bulldogs to a victory. Finally, for the first time in ten years El Paso Bowie will have someone other than Robert Padilla roaming the sidelines after he stepped down in late December. Padilla posted a 60-48 mark leading the Bears, including earning a playoff win in 2013.
Kattwinkel Goes to Athletic Director
After six incredibly successful seasons at fast growing Lubbock Cooper, head coach Max Kattwinkel moves into an athletic director only role as Cooper ISD decided to have a stand-alone athletic director position as more growth is anticipated. Kattwinkel was highly successful leading the Pirates to a 57-18 mark in his six years, including an impressive 13-1 mark a year ago. If this job is posted externally, it'll be one of the most attractive gigs in all of West Texas.
Monahans Upheaval
In a gig that I referred to as one of the most attractive in West Texas a year ago on Texas Football Today, Monahans is once again looking for a new head coach after the sudden departure of Mel Maxfield after just one year. Maxfield stepped into a job where expectations are high, but in reality with a very young squad most expected Monahans to take a step back and they did, going 5-6 and losing in the first round of the playoffs to Levelland in blowout fashion. The Loboes stumbled down the stretch losing four of their last five games and needing an overtime win over 1-9 Sweetwater just to get into the playoffs. Monahans will now be on their third coach in three years and what was once considered a prime 4A job in West Texas has to be looked at a bit differently at this point considering the fast divorce from a respected coach like Maxfield.
Tom Allen Retires at Sinton
After a dozen years leading one of the Coastal Bend's premier programs, Sinton head coach Tom Allen announced on December 20 that he will be retiring to focus on his health. Allen has coached the Pirates the past three years while battling incurable Multiple System Atrophy and remaining an inspiration to many across the state. Allen's teams were 106-40 in his twelve seasons, all the more impressive considering 17 of those losses came in his first season and last year's difficult 2-8 campaign. In the other ten years Sinton was 103-23, with ten straight playoff appearances, eight district titles and two trips to the state semifinals. Sinton, despite the tough go in 2018 is still a very good gig, the district is looking to hire a new head football coach sometime in February with applications closing on January 18.

Davis Retires on Top
Brad Davis on Tuesday announced his retirement just a couple of weeks after leading the Zebras to a state championship, the first in school history and his first as a coach. Davis spent two incredibly successful years at Grandview posting a 26-4 overall record, he spent 13 years as a head coach posting a 126-36-1 record with eleven of those years spent as head coach at Wolfforth Frenship. Grandview likely will stay inside with this hire, the Zebras bring back a ton of talent from their title game and it would be smart to keep the tremendous momentum that they have going.
Irion County Makes the Move to Six-Man Football
In a move that had been rumored since last realignment, Irion County's school board decided that beginning in 2019 they will play six-man football. Because this move is taking place mid-realignment cycle there's plenty of ripple effect for this move in Class 2A Division II. The first item is for Irion County themselves, who will play an outlaw schedule in 2019 that will prevent them from being eligible to compete for a playoff spot. They'll join a 1A UIL district in the 2020 realignment. This also causes some scrambling when it comes to schedules, as every team on Irion County's schedule now has an extra open date that they've got to fill in the middle of a realignment cycle. It's always a difficult decision for schools whose enrollment is shrinking and they are facing the dilemma of taking the six-man football plunge, but when the decision comes mid-alignment cycle it makes things even more complicated.
— — — —
It's officially clinic season in the state of Texas and if you have coaching clinic information that we are missing below by all means send it our way! You can e-mail it to me at matt.stepp@texasfootball.com or reach out to me on twitter @Matt_Stepp817.
January 11-12: Coastal Bend Coaches Clinic, Corpus Christi
January 18-19: Alamo City Clinic, San Antonio
January 18-19: Piney Woods Clinic, Longview
January 25-26: DFW Clinic, Grapevine
January 25-26: City of Palms Clinic, McAllen
January 26: Texan Drive Clinic, Porter
February 6: THSCA FAST Tackling Clinic, Lubbock
February 8-10: Lone Star Clinic, College Station
February 13: THSCA FAST Tackling Clinic, McAllen
February 15-16: Hill Country Clinic, Fredericksburg
February 15-16: South Plains Clinic, Lubbock
February 20: THSCA FAST Tackling Clinic, Longview
March 6: THSCA FAST Tackling Clinic, El Paso
May 3-4: I-45 Clinic, The Woodlands
May 3-4: El Paso Football Clinic, El Paso
June 11-13: Angelo Football Clinic, San Angelo
July 21-23: 2017 THSCA Coaches Convention & Coaching School, Houston
———
Matt Stepp is the Texas High School Football Inside for Dave Campbell's Texas Football. Find him on Twitter: @Matt_Stepp817.